Lesson 5: How to Crochet the Linen Stitch
I love the crochet linen stitch! It's perfect for a beginner stitch pattern because it only uses single crochets and chains, but still makes a lovely pattern. The linen stitch makes a dense fabric that is ideal for so many projects from dishcloths to scarves to tops.
Usually the linen stitch is a two row repeat and you need to keep track of which row you are on. However, I'm teaching a different method that only has a one row repeat so you can just keep going. This pattern is one of my favorite for hanging out by the pool with the kids or watching a movie because you don't need to count stitches or pay close attention to your work. Seriously, it almost crochets itself!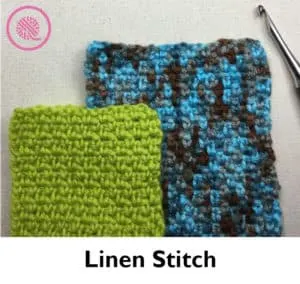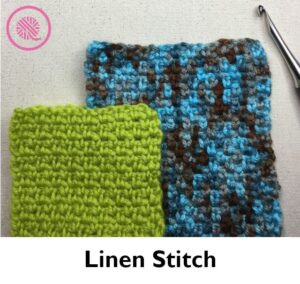 As you can see in the picture above the linen stitch is an ideal one for trying out color pooling. In case you don't know, color pooling is when a variegated yarn makes a pattern, usually plaid, when worked up. Don't you love how it looks?
If you need a reminder on how to work the basic crochet stitches check out Lessons 1-4 in my How To Crochet series for beginners.
Linen Stitch:
Pattern repeat:
Multiple of 2 + 1
Abbreviations:
ch – chain
ch-1 space – chain 1 space refers to the space created the chain on the previous row
ch-2 space – chain 2 space refers to the 2 chains from the beginning of the previous row
sc – single crochet
turn – turn you work around to crochet back in the other direction
Instructions:
Chain an even number plus 1.
Foundation row: Sc into 3rd chain from the hook, *ch 1, skip 1, sc in next chain, repeat from * to end of row.
Row 1: Turn, ch2, *sc into ch-1 space, ch 1, repeat from * to last stitch, sc in ch-2space.
Repeat Row 1 until desired length. Cut yarn, pull loop through and weave in ends.
Techniques Covered in this Tutorial:
• Chain the correct number for the stitch pattern
• Linen stitch foundation row
• Linen stitch pattern repeat
• Taking out extra foundation chains if you miscounted
PIN THIS LESSON!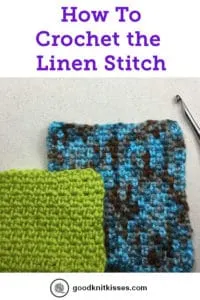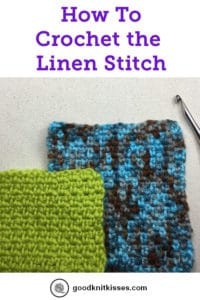 ---
Watch the video below to learn the Linen Stitch!
Right handed


Left handed
---
Be sure to check out all the lessons on the How to Crochet Series: