I am so excited about my new video series! I first learned to crochet as a child and it's stuck with me through the years. Although I now do a variety of yarn crafts I still love crochet and I want to share that love with you. This summer I decided to put together a "How To Crochet" video series designed with the beginner in mind.
PIN IT!

so you can come back later as each video is added.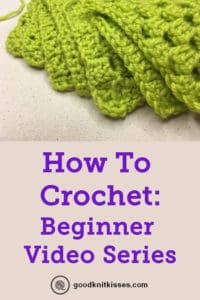 This series will walk the crochet novice through every step of beginner crochet. I'll start with true basics like how to hold a crochet hook and how to manage tension on the yarn. Then we'll progress into making a chain and using that as the foundation for your project. After that we'll get started with the stitches.
I want everyone that has the desire to learn how to crochet to gain a solid understanding of how to make each stitch. With that in mind I've included some slow motion replay segments in each video so you can clearly see how the yarn and hook move to make a stitch. I'll even cover how to fix a mistake. (Not that I expect you'll make any, but I sure do!)
What am I going to teach about crochet?
The first half of the series will concentrate on learning four basic stitches in addition to the chain stitch:
• Single crochet (sc)
• Half double crochet (hdc)
• Double crochet (dc)
• Triple crochet (tr)
After you've completed those lessons we will combine these stitches to learn some common crochet stitch patterns:
• Linen Stitch – This stitch is used in color pooling patterns and makes a quick dishcloth.
• Granny Square – I love this classic pattern that can be made as a standalone or joined with others.
• Solid Granny Square – This is a sturdier version of the classic Granny that you will love.
• Corner to Corner (C2C) – Get your graph paper ready! C2C is an amazing technique for creating pictures and graphics with yarn.
I'll be publishing 1-2 lessons every week throughout June so watch for them!!
What supplies do you need to start crocheting?
• Crochet hook – There are a wide variety of crochet hooks available. They can be made from plastic, wood, aluminum, stainless steel and more. The material can affect how smoothly the yarn glides across the hook, but you can learn using any hook. Crochet hooks are marked with a letter (or number) that indicate the size of the hook. The size is measurement in millimeters (mm) around the shaft above the handle. The larger the size in mm the bigger the stitch will be. I used a Furls Odyssey 5.5 mm (size I) hook in this video series. (aff. link)
• Yarn – Again, you can use any yarn you have on hand. The most important thing is use a yarn that is the right size for your crochet hook. Look at the yarn label to see the recommended hook size. You can also use a hook that is close to that size. If the yarn label recommends a 5 mm hook and you have a 4.5 mm that is just fine! I used Red Heart Chic Sheep yarn in color Green Tea in this series. (aff. link)
That's really all you need! For a full project you will also want scissors, a tapestry needle for weaving in ends and blocking mats and pins to block your work. For more about blocking see this video on How to Wet Block.
NOTE: This series is taught using U.S. crochet terminology to see the equivalent U.K. terms see my chart.
So… are you ready to learn How to Crochet? Move on to the next page to get started.