I love lace knitting. There's something truly satisfying about seeing the pattern form row by row. You may think that knitting lace is a skill just for advanced knitters, but it's not. Even a beginner knitter that understands knits and purls can create lace. This two-part video class teaches you how to knit lace. Be sure to scroll all the way to the end to see both closed-captioned videos.
I'm using the book Beginner's Guide to Lace Knitting from Leisure Arts (used with permission) and showing the Winter Lace Afghan pattern. (Thanks, Leisure Arts, for sending me this wonderful book of patterns! Use the link I provided to get the book from Leisure Arts and help out GoodKnit Kisses too!)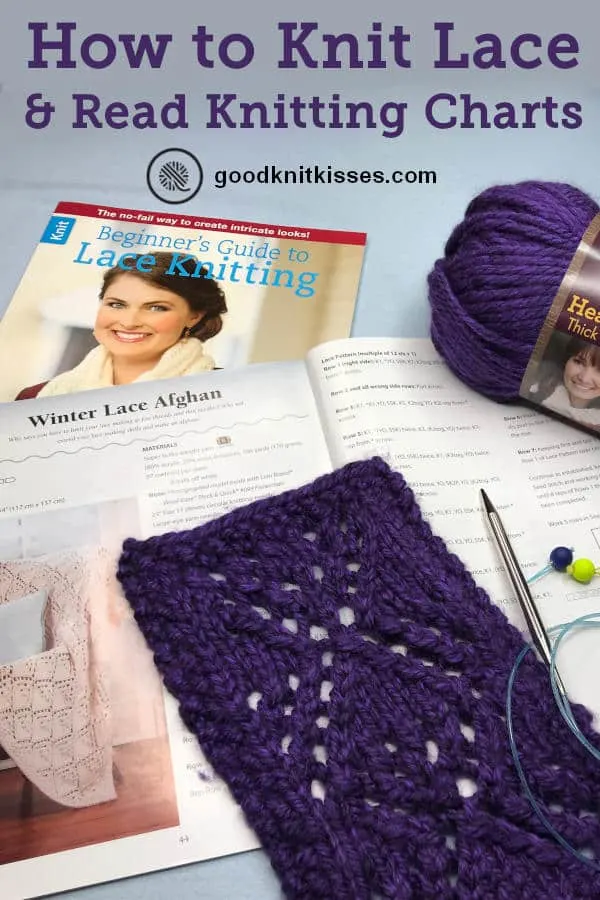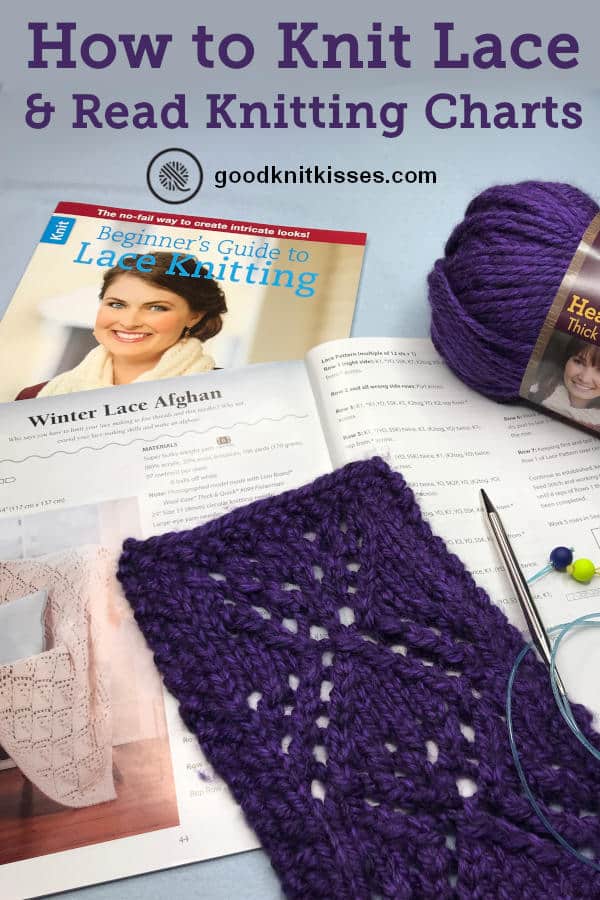 How to Knit Lace Video Class!
Yes, I know. Most of the time I just dive right into a pattern tutorial with a "Grab your yarn and needles and let's get started!" But I realize that if you are truly new to lace knitting I needed to take some time to talk about pattern reading. Both parts of the class are at the bottom of this post.
Part 1 of the class, Read a Knit Chart, walks you through how to read a knitting pattern, make a gauge swatch and follow a knit chart. If you're new to lace you're going to learn very quickly that most lace pattern use charts to map out your stitches. It's a great way to visualize where you are in the pattern. I love charts!
Part 2 of the class, How to Knit Lace, takes you through the Winter Lace Afghan Pattern and how to follow the row by row instructions. As always, I like to start you off with the cast on and take you all the way through to finishing. I also included a section on using a lifeline to save your knitting just in case you drop a stitch or make a mistake that needs to be fixed.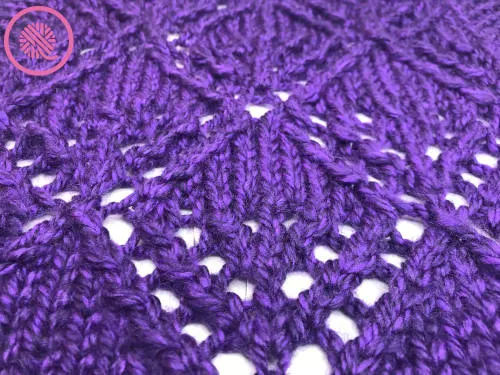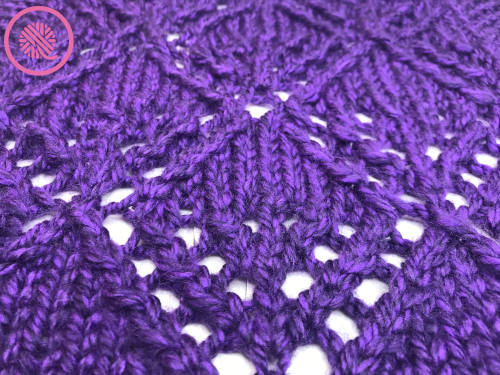 ---
Be sure to check out my other pattern reading videos for needle knitters:

How to Read Knit Patterns: Basic Hat on Straight Needles

How to Read Knit Patterns: Ribbon Mug Cozy


---
Now are you ready to learn How to Knit Lace?
I now return you to your previously scheduled tutorial.
The Pattern
Winter Lace Afghan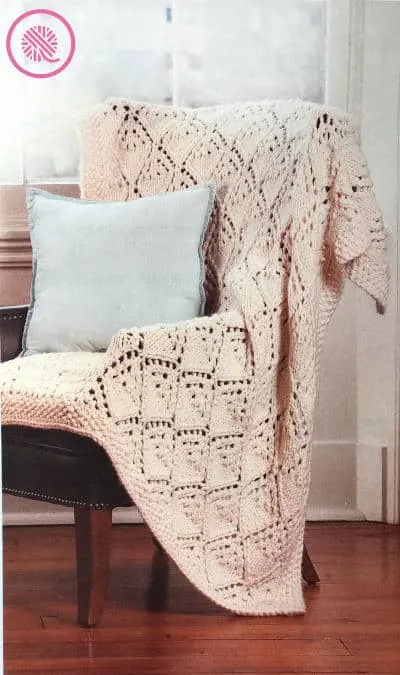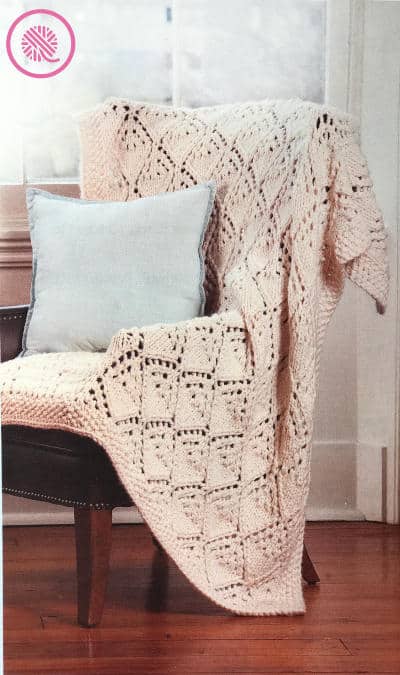 The Winter Lace Afghan features a diamond pattern with a solid knit bottom half and openwork upper portion. It creates a beautiful lace that is still warm and cozy. The pattern is found in the Beginner's Guide to Lace Knitting eBook from Leisure Arts.

Beginner's Guide to Lace Knitting eBook
from:
Leisure Arts, Inc.
The Materials
Yarn – Lion Brand Heartland Thick & Quick in color
(Thanks, Lion Brand Yarn, for supplying the yarn for today's tutorial!)
Needles – US 11 (8 mm) circular needle with a 29 in. cable
Tapestry needle (for weaving in ends)
2 stitch markers
Size
46″ x 54″ (117 cm x 137 cm)
Stitches
K – knit
P – Purl
K2tog – knit 2 together
SSK – slip, slip, knit
SK2P – slip 1, knit 2 together, PSSO (pass slipped stitch over)
YO – yarn over
PIN IT!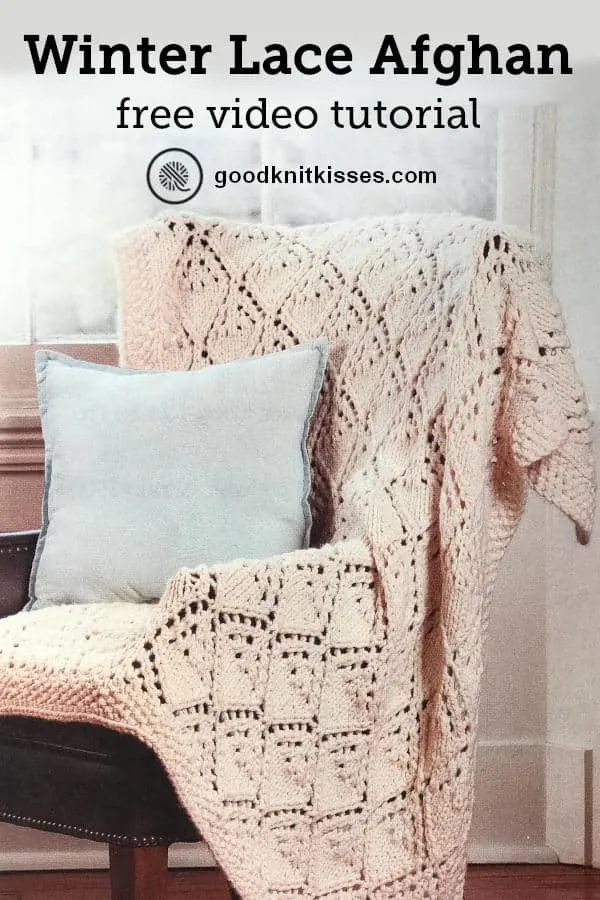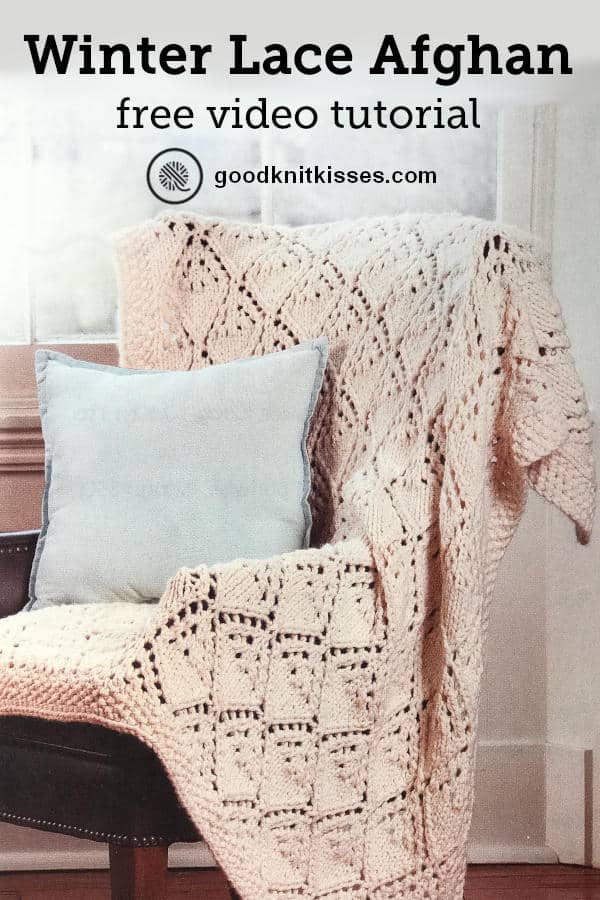 ---
Helpful Video Links:

How to Knit
How to Purl
Knitted Cast On
Bind Off
Wet Blocking


Notes about Wet Blocking:
I included a link above that teaches you how to wet block your knits. In all honesty I don't block everything I knit, but with lace it is essential to get the eyelets to open up. This blog post explains more about the technique and why it's important.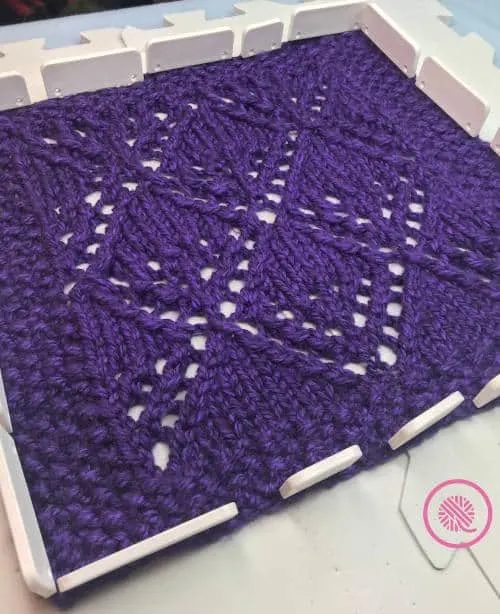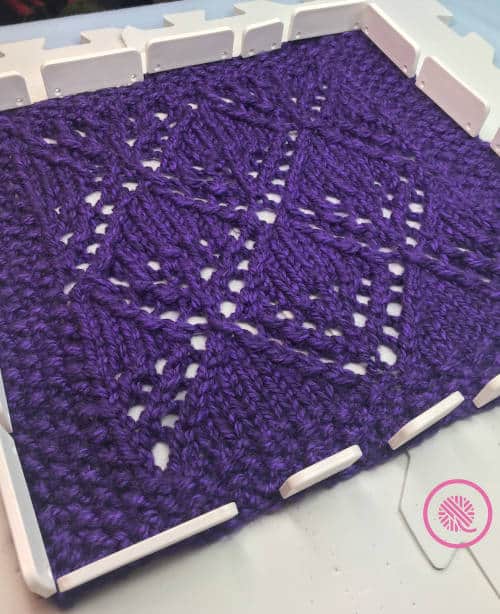 ---
Part 1 – How to Read a Knit Chart – Lace Knitting
---
Part 2 – How to Knit Lace – Lace Knitting
NOTE: In this tutorial I list the cast on as 35 stitches. That is for the swatch ONLY. For the full afghan you will need to cast on 95 stitches.
---