I'm A Hoot Knit Owl Hat | Yarnspirations
Whooo's the most adorable baby? Well, the one wearing this cute knit owl hat, of course!
(You'll be happy to note I only put one owl pun in this post.)
Seriously, I love the playful cuteness of animal hats for babies. Especially when they're so well designed. The Yarnspirations designers have outdone themselves this time. The Knit Owl Hat pattern blends a simple flat panel hat with multiple embellishment techniques. The combination of all those little touches gives this hat its appeal.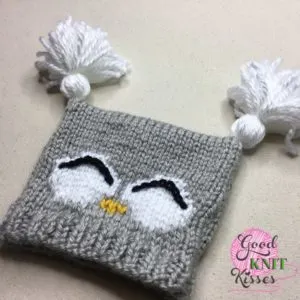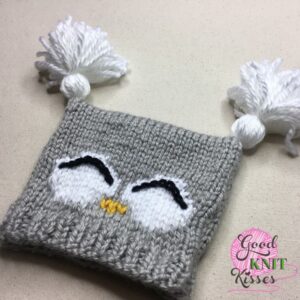 This pattern includes a variety of techniques to build your skills: colorwork, chart reading, duplicate stitch, chain stitch embroidery, and tassel making. But don't worry! Although rated as intermediate skill level my tutorial walks you through each step to bring your skills to the next level. A small baby hat gives you the opportunity to learn each technique on a small scale making this project the ideal learning tool.
The Yarn: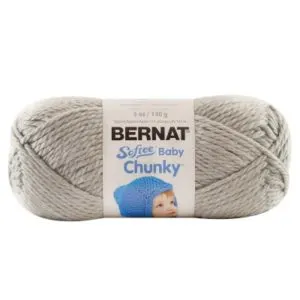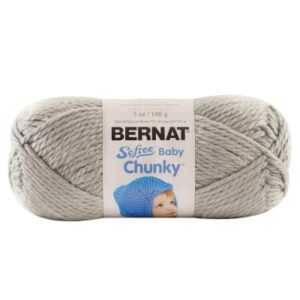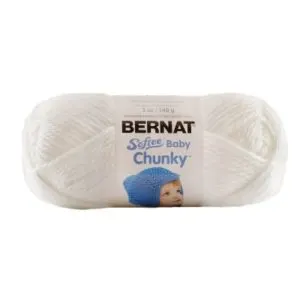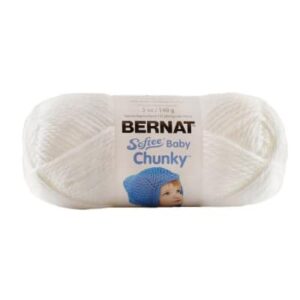 As always, Bernat Softee Baby Chunky is wonderful to work with and is the perfect yarn for this project. The softness and stitch definition allow the colorwork to shine while the chunky weight allows you to finish this hat in no time. Like all the Bernat baby yarns this one is safety certified and approved according to the OEKO-TEX Standard 100 certification. This means it has been tested for over 300 harmful substances and is safe for your baby!
I'm A Hoot Knit Owl Hat
Pattern
Click here to get the I'm A Hoot Knit Owl hat pattern from Yarnspirations.
Yarn
Main Color (MC) – 1 ball Bernat Softee Baby Chunky in Cozy Gray
Contrast A – 1 ball Bernat Softee Baby Chunky in Fluffy Cloud White
Needles & Supplies
Size U.S. 10½ (6.5 mm) knitting needles or size needed to obtain gauge
2 yds. each of yellow and black worsted weight yarn
scissors
blunt tapestry needle (for duplicate stitch and weaving in ends)
Skill Level
Intermediate
Sizes
To fit baby head sizes 6-12 (18-24) months.
Gauge
13 sts and 17 rows = 4″ [10 cm] in stocking st.
Skills Demonstrated in Tutorial
Longtail Cast-on
K- Knit stitch
P-Purl stitch
Reading a knitting chart
Colorwork using butterfly bobbins
Cast off (Bind-off)
Duplicate stitch
Seaming
Making tassels
Weave in tails
If you need a slow motion video on the main stitches or techniques, please check out my slower tutorials on GoodKnit Kisses YouTube playlist.
---
[table type="striped_minimal"]
[trow]
[thcol]NOTES FOR LOOM KNITTERS[/thcol]
[/trow]
[trow]
[tcol]Yes! We have another great pattern that can easily be converted to the loom. I recommend a regular (5/8″) gauge to large (11/16″) gauge loom with a minimum of 27-29 pegs. The purple Knifty Knitter 48-peg hat loom and the 31-peg large gauge hat loom will work. You will want to make a test swatch to check your gauge![/tcol]
[/trow]
[trow]
[tcol]Complete notes for loom knitters are included in the video description. Click this video link to read the whole description![/tcol]
[/trow]
[/table]
---
Let's get started…
The Knitting Techniques
First, we'll start with the longtail cast on and then we'll knit the hat brim in a K1, P1 ribbing. The ribbing gives the brim some extra stretch for a great fit.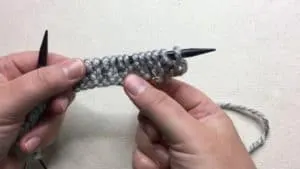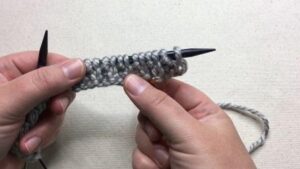 We will knit the main portion of the hat in stockinette stitch. It's just a few rows of knitting before we reach the first new technique: stranded colorwork. We'll be working with a butterfly bobbin to allow us to switch colors easily without having two full skeins of yarn to move. I'll teach you how to twist the yarn together when you are changing colors so you won't have any gaps where the colors meet. You can see the butterfly bobbin of white yarn below.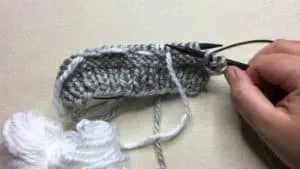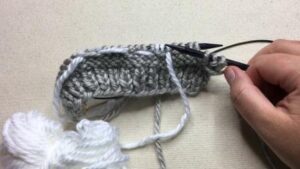 This also marks the beginning of our chart! If you've never used a chart before you are in for a treat. It lets you visualize where you are in your pattern in a wonderfully simple way. I'll walk you through each step of how to follow a chart while you knit. Trust me it is easier than you think!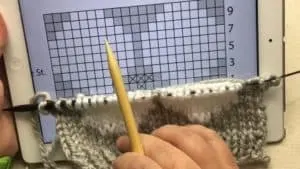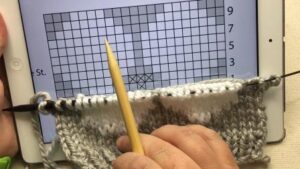 After finishing the colorwork on the chart we'll knit the remainder of the hat in basic stockinette and ribbing. Way to go! You've knit the whole hat.
The Finishing Techniques
Now for the REALLY fun part! Get ready for some eye-catching embellishment techniques. Let's get started with the duplicate stitch. If you're looking for a simple alternative to stranded colorwork for a small section of your knitting you've found it. Using a needle you will stitch in yellow on top of some of your existing stitches to make the beak.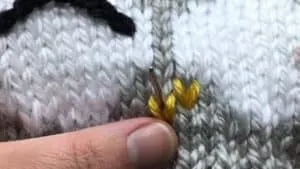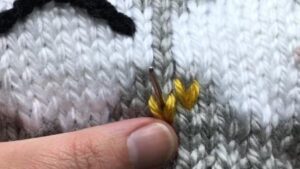 Next we'll use the chain stitch embroidery technique to add the eye detailing. Use this technique for adding details on top of your knitting. Once you master this you'll be able to add facial features to stuffed toys, swirls, flowers, leaves or any shape you can imagine to your knit items.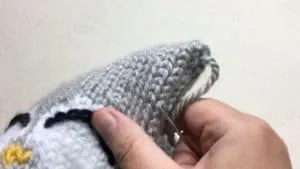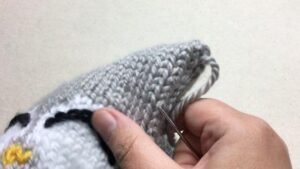 Lastly, we'll seam up the sides and make tassels for the corners. These tassels are what give the hat its telltale owl ears. So cute!
You've done it! I hope you've enjoyed knitting the I'm A Hoot Knit Owl Hat with me.