Owl Knit Lovey | Yarnspirations
Hi, I'm Kristen Mangus, the knitting video host and designer behind the GoodKnit Kisses YouTube channel. It has been my pleasure to be the knitting host for Yarnspirations this year. I hope you enjoy the latest blog and tutorial for YOU.
Today we're working on the Knit Lovey!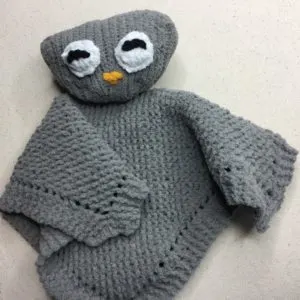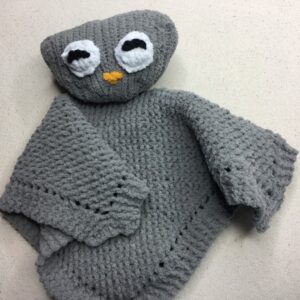 Knit Lovey
I seriously love the latest Baby Shower Lookbook from Yarnspirations! It's full of adorable patterns and even more adorable babies. The Owl Hat jumped off the page and I know I had to knit that one. As I kept flipping back and forth between the Owl Hat and the Knit Lovey I couldn't shake the feeling that these two needed to be a set!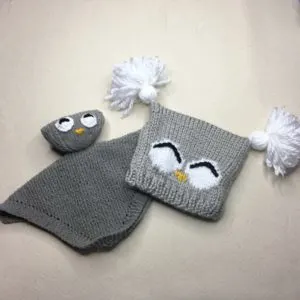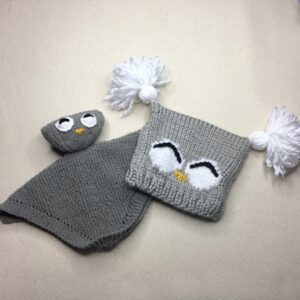 I am excited to show you how take this Knit Lovey Pattern and turn a cat into an owl. The basic shape is already perfect for an owl so I could just follow the pattern. Win, win!
There's a new kid on the block you're going to want to meet! Your old favorite Bernat Blanket Yarn has a new little cousin. Bernat Baby Blanket Tiny Yarn is the same soft, squishy yarn you've grown to love, but in medium weight. It is the perfect weight for a lovey!
This is an easy pattern, and I want to make sure you can make this project from start to finish. If you have never knit a stitch before I do recommend learning some basics first. I have some beginner videos to teach you the longtail cast on, knit and purl.
So whooo's with me as we knit this adorable project together?
The Pattern.
Yarn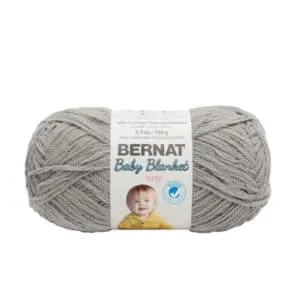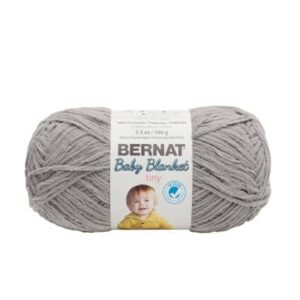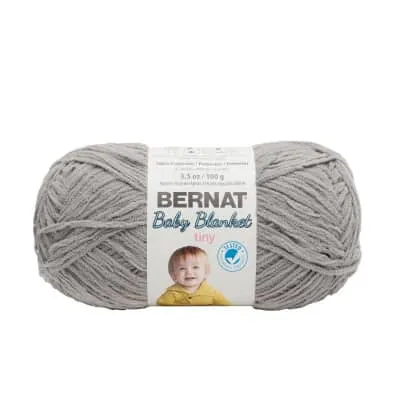 Bernat Baby Blanket Tiny Color Grey Owl (1 ball)
Bernat Baby Blanket Tiny Color Sunflower – 3 yds.
Bernat Baby Blanket Tiny Color Snow Cap – 3 yds.
Bernat Super Value Color Black – 3 yds.
Needles & Supplies
Set of 4 double pointed needles in size U.S. 3 (4 mm)
Size U.S. 6 (4 mm) knitting needles
stuffing
stitch marker
scissors
tapestry needle
Skill Level
Easy
Size
Approx 12" [30.5 cm] square
Gauge
18 sts and 24 rows = 4″ [10 cm] in stocking st with larger needles.
Skills demonstrated in tutorial
Working with double pointed needles (DPNs)
Longtail cast-on
Knit stitch
Purl stitch
Kfb – knit front and back
K2tog – knit 2 together
Ssk – slip, slip knit
Grafting
Backstitching
Weaving in ends
The Stitches.
The Body
Let's get started with the body. We'll be knitting a simple square on the diagonal or corner to corner. It's very similar to the Grandma's dishcloth pattern that you grew up knitting. If you're new to this style, don't worry the increases and decreases are simple and I'll walk you through.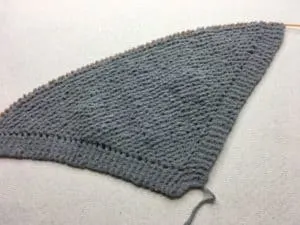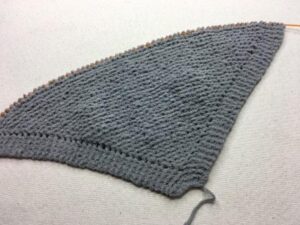 The Head
Now that our lovey has a body let's get to work on the head. The head is knit from the bottom upward so we only have a few stitches to cast on before we start increasing. The first few rounds you may feel like you are all thumbs working so few stitches on the DPNs because you have to hold them so close together. Just stick with it and it gets much easier after Round 5.
[NOTE: The cast on and increase rounds are shown on Size U.S. 11 (8 mm) needles using Bernat Blanket Yarn. This is done so you can clearly see the stitches and how to work the increases in a small round.]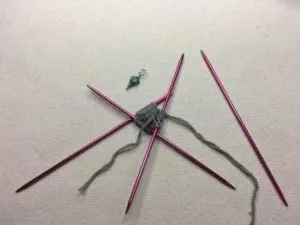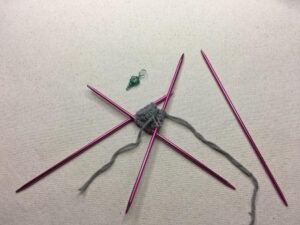 The increases are worked using a Kfb (knit into the front and back of the stitch) and I show you three different ways to work this increase. I'll admit it is a little tricky maneuvering the DPNs in such a tight space when getting started, but my tips for working these increases will get you past the tough part.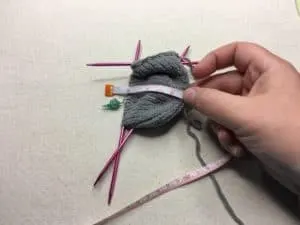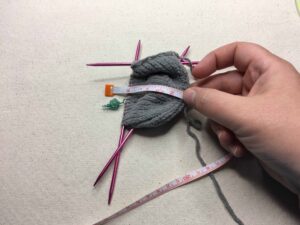 The ear shaping comes next and a few rounds later you're ready to add the face.
The Face
The eyes are knit separately and attached.
NOTE: The eyes are NOT included in the original pattern, but the instructions are written below:
Owl Eyes [make 2]
With white yarn, cast on 3 sts.
1st row: (RS). Kfb. K1. Kfb. 5 sts.
2nd and alt rows: Purl.
3rd row: K1. Kfb. K1. Kfb. K1. 7 sts.
5th row: K1. ssk. K1. K2tog. K1. 5 sts.
7th row: K1. ssk. K2tog. 3 sts.
Cast off purlwise.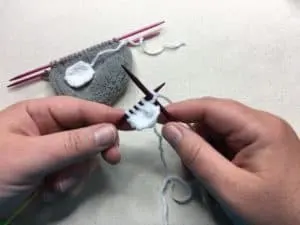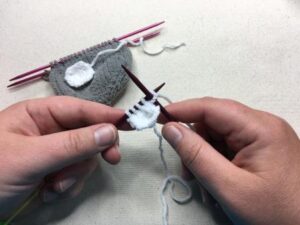 Sew the eyes on to the face going all the way around the edge of each eye. Using the backstitch technique as shown in the pattern embroider the eyelids and beak of the owl. Yay! Our little friend has a face.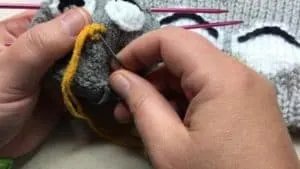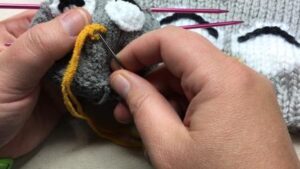 Finishing
Now that our owl has a face, let's stuff and finish him. Stuff the head while it is still on the needles. The head is closed by grafting so it appears seamless. This is an excellent technique to learn and you'll find dozens of uses for it.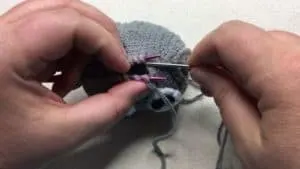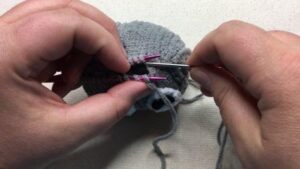 Sew the head securely to the middle of the body. This lovey is sure to be a cuddly pal for the little one in your life.
Happy Knitting!
Kristen Mangus
Are you ready to create this project with Bernat Baby Blanket Tiny Yarn with me? We'd love to see your photos!
If you post on Facebook, Instagram, Twitter or Pinterest also use the hashtag #Yarnspirations and #GoodKnitKisses as much as you like.
P.S. If you are joining me for the first time, thank you! I am a YouTuber teaching how to loom knit, needle knit and crochet in addition to other fun crafts. Please join me on the GoodKnit Kisses FB Page for my weekly broadcast every Monday at 9 am (Central Time) and more tutorials on YouTube. Happy Crafting!
This blog & Video is a Sponsored Post and may contain affiliate links.