By Kristen Mangus

Fold over baby booties with a twist! These simple baby booties are a classic foldover design with an added pop of color and texture. The Half Latvian Braid gives them a decorative rope trim that stands out against the garter stitch background.

I've got a loom knit version of the pattern too. All toes can be cozy!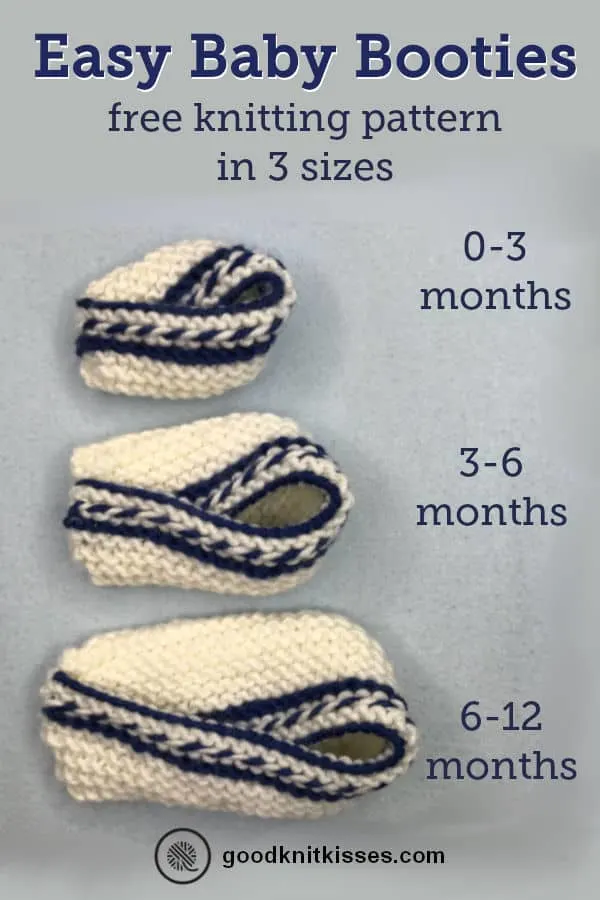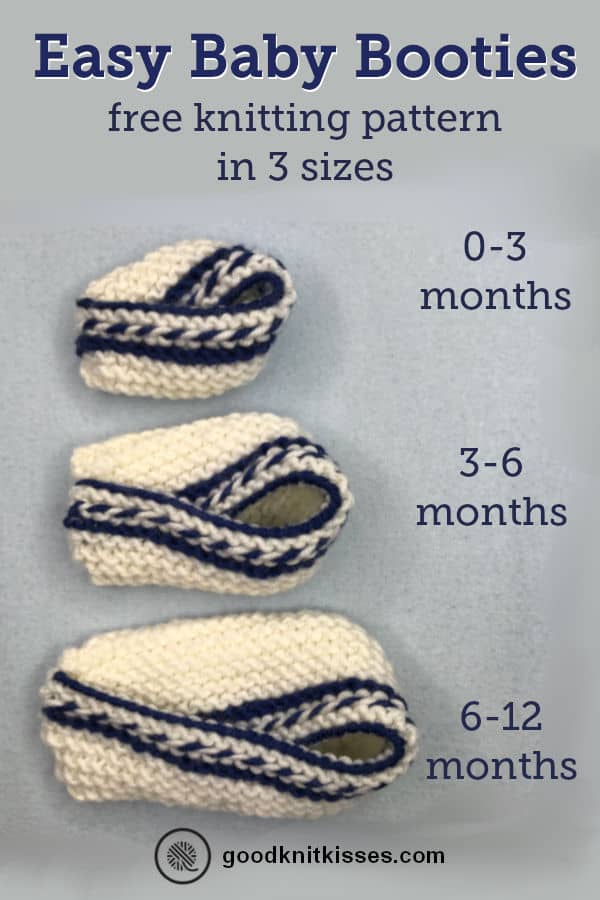 ---
Knit Two Color Baby Booties Pattern
A downloadable PDF of this pattern is available on Ravelry.com.

MATERIALS
Materials list may contain affiliate links to products I use.
Contrast A Red Heart Chic Sheep (100g / 3.5oz, 170 m / 186 yards) Lace [white]; 30 yards
Contrast B Red Heart Chic Sheep (100g / 3.5oz, 170 m / 186 yards) VIP [blue]; 8-10 yards
Needles US 8 (5 mm) knitting needles or size needed to obtain gauge
Tapestry needle

ABBREVIATIONS
K = Knit
K2tog = knit 2 together
P = Purl
Rep = Repeat
RS= Right Side
St(s) = Stitch(es)
WS= Wrong Side
GAUGE
5 sts x 10 rows in 1" (2.5 cm) in garter stitch

SKILL LEVEL
Easy+

SIZES
Baby 0-3 (3-6, 6-12) months.

MEASUREMENTS
0-3 month(s) – 1.75" x 2.25" long (4.4 x 5.7 cm)
3-6 months – 2" x 3.25" long (5 x 8.3 cm)
6-12 months – 2.125" x 4.25" long (5.4 x 10.8 cm)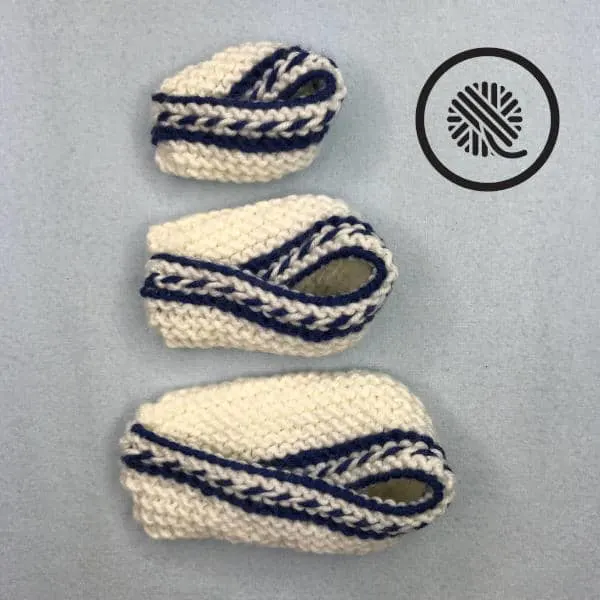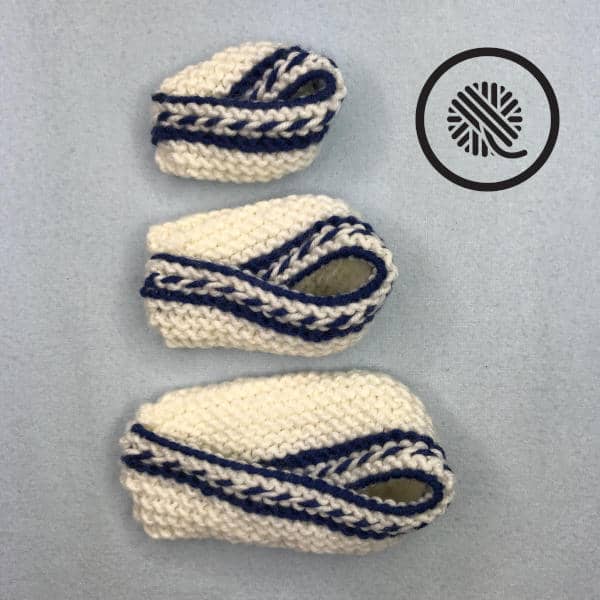 NOTES

Two color long tail cast on: Leaving a 6" tail in Color B and an 18" tail in Color A, tie a slip knot with both strands held together. Place slip knot on needle. You will not be working this as a stitch later. The longer tail will be used for seaming. Using slingshot method holding color B toward you (on your thumb). Use this video to see the long tail cast on: https://youtu.be/lBX8Aw9ltDU

Half Latvian Braid: This two-color technique is similar to Fair Isle knitting and creates a twisted rope of color on the right side of your fabric. It involves alternating two colors while twisting the strands between each stitch. It's a simple technique that has a striking look. You need to be sure to always pick up the new color from under the color you just used. This will twist your two working strands as you knit. See my note below about using a butterfly bobbin to make this easier to manage.

Using a Butterfly Bobbin: Make a butterfly bobbin with Color B to make working the Half Latvian Braid easier since your yarn will get twisted. You will need about 8-10 yards. See my video for making the butterfly bobbin here: https://youtu.be/ZfENMppCYiA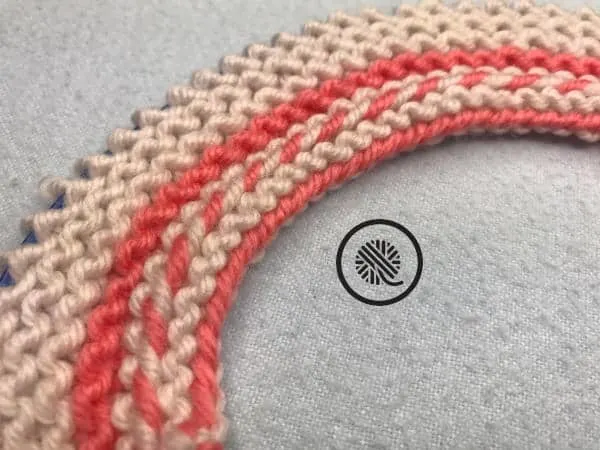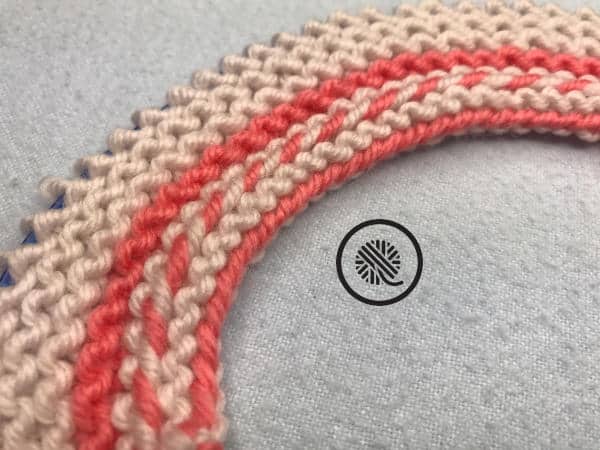 INSTRUCTIONS

Make 2

Cast on 30 (38, 50) stitches using two-color long tail cast on.

Row 1 (WS): With A, K to last st before slip knot. Drop slipknot off needle and pull to take out knot.
Row 2 (RS): K to end.

Half Latvian Braid (see Notes above)
Row 3 (WS): *With A K1, With B K1 rep from * across row picking up new yarn from under last color used.

Accent color rows
Row 4: With B knit to end.
Row 5: Knit to end. Cut B leave tail to weave.

Switch back to Color A
Row 6: With A knit to end.
Rep Row 6 5 (7, 9) more times.

Bottom edge of shoe
Row 7 (RS): Knit bind off 11 (15, 20). K to end. 19 (23, 30) sts remain.
Row 8 (WS): Purl bind off 11 (15, 20). K to end. 8 (8, 10) sts remain.

Bootie sole:
Row 9: K to end.
Rep Row 9 18 (30, 40) more times.

Toe decrease:
Row 10 (WS): K1. K2tog. K2 (2, 4). K2tog. K1.
Row 11 (RS): K6 (6, 8).

Knit bind off. Weave in all B tails before seaming.

Seaming Bootie:
Follow diagram to sew seams. Seam on the outside of the bootie.
Seam as follows:
Place bootie piece with right side of fabric face down on your work surface.
Fold one side over the top of the Footbed/Sole.
Stitch Side C to Side D (blue lines in diagram) first.
Align Toe A to Toe B (red lines in diagram) and stitch together.
Repeat Steps 2-4 with other side of bootie. (See NOTE below.)
NOTE: You will need to overlap each bootie differently to get a right and left bootie.
Right Bootie: To make the right bootie seam the Left Side FIRST then overlap the Right Side and seam it.
Left Bootie: To make the left bootie seam the Right Side FIRST then overlap the Left Side and seam it.
Baby Bootie Assembly Diagram
(Right side of fabric face down)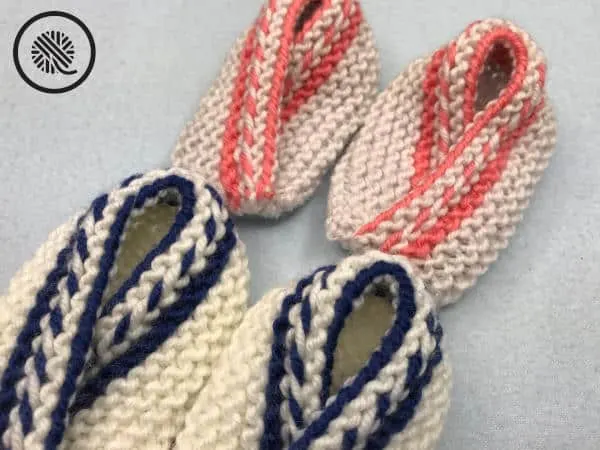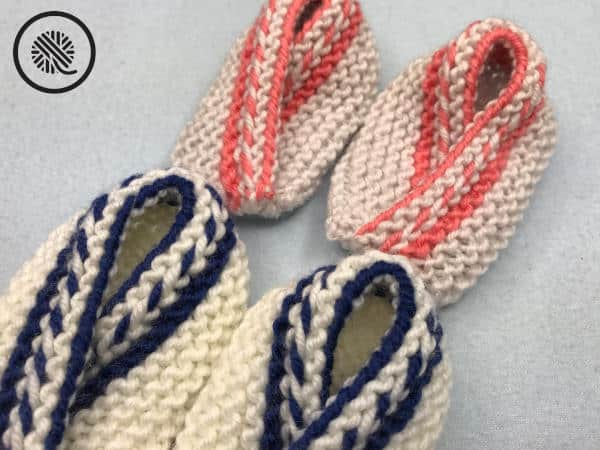 ---
Two Color Baby Booties Right-handed Tutorial
Two Color Baby Booties Left-handed Tutorial