Loom Knit Easy Life Placemat
Needle Knit Pattern Conversion
Easy Life! It's what we all want. Okay, so I can't guarantee that your life will be easy if you knit these placemats, but I can guarantee that you will look long and hard to find a pattern as simple and stylish as this one. Perfect for outdoor dining whether you're having the kids' softball team over for hot dogs after a game or having a romantic candlelight dinner for two on the patio for a staycation.
Bernat Home Maker Dec is the perfect yarn choice. The lightly textured stitch pattern shows off the stitch definition of the durable, soft cotton blend. The cotton makes it casual enough for using outside, but the addition of the nylon gives it a lovely finish you don't typically see in a cotton yarn.
Loom Knit Easy Life Placemat
Pattern
Click here to get the Easy Life Knit Placemat pattern from Yarnspirations.
NOTE: This is a NEEDLE Knit pattern. I will teach you how to convert this pattern to the loom.
Yarn
3 balls (695 yds./635 m) of Bernat Maker Home Dec (Steel Blue/Aqua)
Note: Makes 4 placemats

Loom & Supplies
3/8″ Small Gauge (SG) loom with at least 46 pegs used in sample. For tight knitters you can go to a RG 1/2″ up to a 5/8″ LG loom (ex. Purple Knifty Knitter type). The video talks about this more in depth.
loom tool
tapestry needle
Skill Level
Beginner
Size
Approx. 13″ (33cm) wide by 18″ (45.5 cm) long.
Skills Demonstrated in Tutorial
K- Knit stitch
P-Purl stitch
Cast off (Bind-off)
Weave in tails
NOTES FOR LOOM KNITTERS
You are going to love how simple it is to convert this pattern to the loom! I recommend a 3/8″ gauge loom with a minimum of 46 pegs (or 50/54/58 pegs for a larger mat). The KnittingBoard (KB) All in One will work well; other 3/8″ looms are the KB Hat loom in 3/8″ setup, Small Gauge Kiss loom, Knit UK Loom, CinDwood, a Boye/Wilton small gauge or a Martha Stewart in 3/8″ setup.
These placemats are knit using a simple 4-row repeat of the Box stitch. Once you've done the first few repeats you'll find the pattern very intuitive making it a great relaxing project after a busy day. I'll teach you how to work both the knit and purl stitches and how to put them together to make the stitch pattern.
Let's convert a pattern!
When converting a needle knit pattern that is knit flat you need to convert every other row. To do that you change all knits to purls and purls to knits to work the opposite of what is written. Remember that a knit stitch is also called a reverse purl.
Typically, you convert the even rows. So for the Easy Life Knit Placemat convert only Rows 2 and 4 of the stitch pattern! All the Knits should be purled and Purls should be knit. It really is that simple! This is what the pattern
Cast on 46 stitches.
Row 1: *K2. P2. Repeat from * to last 2 sts. K2.
Row 2: Repeat Row 1
Row 3: *P2. K2. Rep from * to last 2 sts. P2.
Row 4: Repeat Row 3
Repeat these 4 rows for Box St Pattern until work measures about 18″. Bind off in pattern. (That means when binding off knit the knits and purl the purls as you bind off.)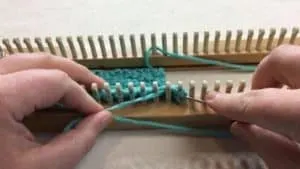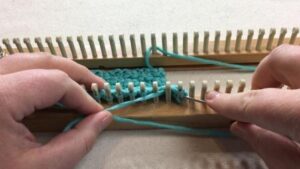 Watch the video tutorial below! (The loom knit conversion begins at minute 22:45. The video should start at that point.)
This post and video are sponsored by Yarnspirations.