Outdoor Living Lookbook | Yarnspirations
Sunshine, good friends and grilling! I'm so excited for some outdoor time and the new Outdoor Living Lookbook is all about dressing up the patio. Comfy seating, inviting table settings and sassy decorations make the new pattern collection perfect as we gear up for some summer fun. Whether you want to create the perfect place to have a crowd over for a cookout or make a quiet haven where you can curl up with an iced tea and your knitting after a busy day the Outdoor Living Lookbook has patterns to fit your style.
Pattern Features
The table runners featured in the lookbook this month are both gorgeous! What do you think of the the sleek and stylish Mosaic Knit Table Runner? Or perhaps the fun and funky Flower Power Crochet Table Runner is more your style. Whichever you choose you won't be disappointed. I know what you're thinking… "Table runners outside won't survive." Both of these beauties were made with Lily Sugar & Cream cotton yarn making them durable and outdoor-friendly.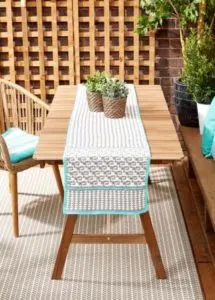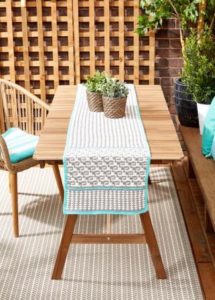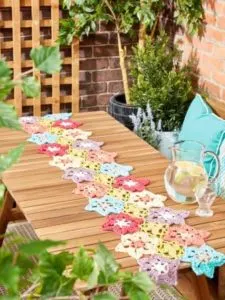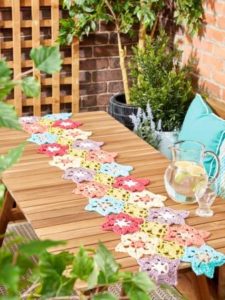 When I saw this picture it made my crafty heart flutter. I have three words for you: Mason. Jar. Cozies. This crochet pattern is brilliant to cover and dress up your those mason jars that we all have in the back of the cupboard. For those of you like to sip out of a mason jar in the summer, but don't like drippy condensation all over the outside look no more. This pattern has your name all over it!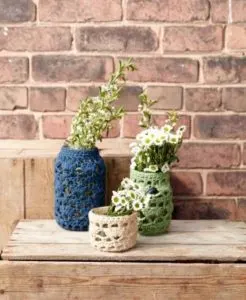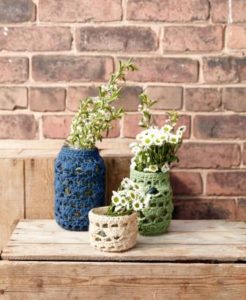 Sometimes I like my patio to be a quiet spot for me to unwind. There are days where all I want is peaceful, cozy place to sit, sip and knit. There are several patterns for dressing up your outdoor space to make it the inviting having you want. Knitters are going to love the Knit Textured Throw and the Crazy Corners Knit Pillow. Don't worry, crocheters, there's plenty for you too! Circles are your theme this month. The Full Circle Crochet Pillow is bold, bright and fun while the Round in Circles Crochet Wall Hanging is an eye-catching delight.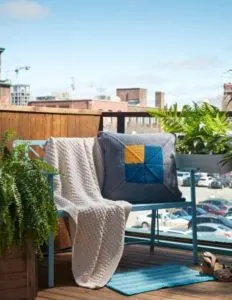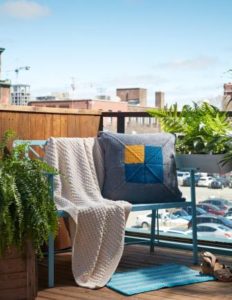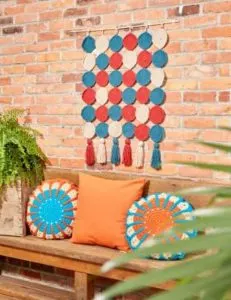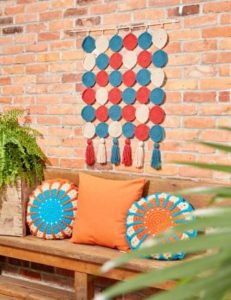 I'll be making video tutorials from two of the patterns this month. First, keep an eye out for the Easy Life Knit Placemat. This beginner knit pattern features Bernat Maker Home Dec yarn. This bulky yarn has a blend of cotton and nylon that makes it wonderfully soft. It knits up beautifully! Later this month I'll be showing you how to make the Knit Seat Cushion. What a fast, simple way to give your patio furniture a makeover! (Don't worry, loom knitters, both of these patterns are a breeze to work on the loom with my tips.)