Loom Knit Rolling Waves Cowl
By Kristen Mangus
Just like the constantly shifting waves of a wind-tossed sea the Loom Knit Rolling Waves Cowl is full of texture and movement. I won't say that you can smell the salty air when you wear it, but you can almost feel the ocean breeze.
I designed this project on needles as part of the DFW Designer's Collection, Vol. 2. The stunning knit and crochet patterns were all created by designer's in the Dallas-Fort Worth area of Texas and I'm honored to be part of such a talented group. After I finished the needle version, my first thought was to convert the pattern to the knitting loom.
You guys won't believe how easy this pattern is knit up! It is essentially stockinette stitch with a pattern of oversized eyelets that are super simple to make. I also designed the pattern so you join the cowl and bind off at the same time so there's nothing to sew. So grab your Extra Large Gauge Loom and chunky yarn and let's loom knit the Rolling Waves Cowl together.
Pin the Loom Knit Rolling Waves Cowl!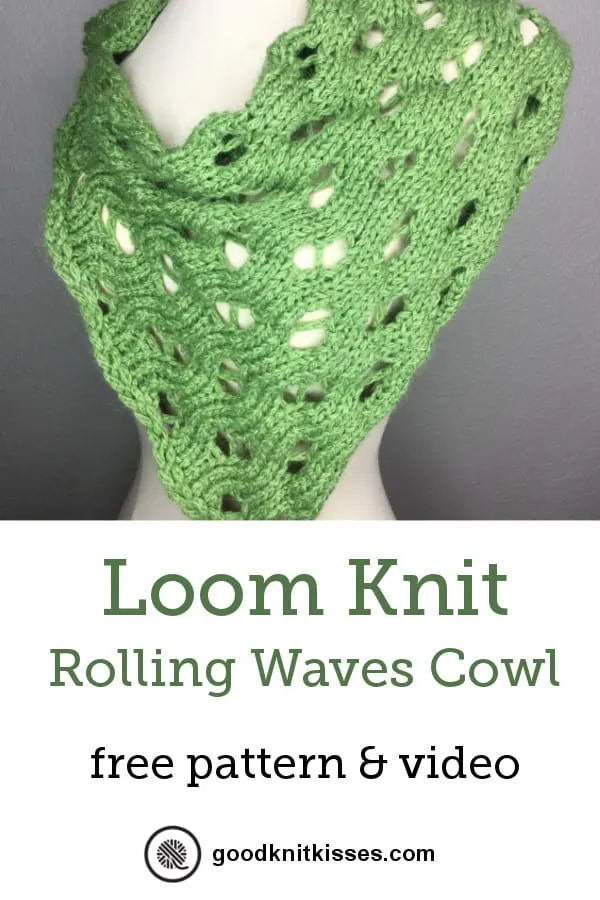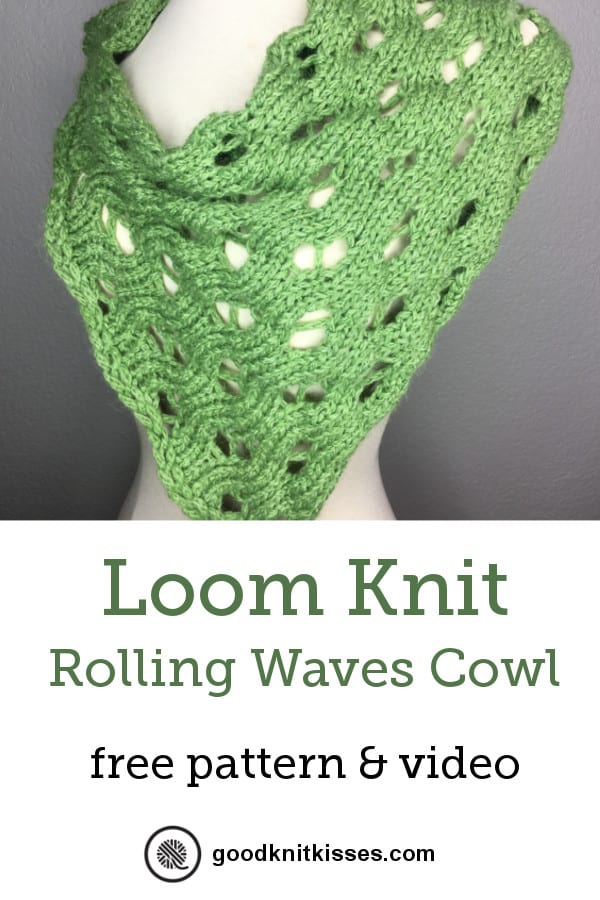 YARN
Classic Elite Yarns Chateau (1.76 oz/50 g; 98 yds/89.16 m) 2 balls. (aff. link)
Since publishing this pattern Classic Elite Yarns has closed its doors and the yarn will not be available for much longer. Another alpaca or alpaca blend yarn or the same weight can be used. Please check your gauge if you change yarn! I checked yarnsub.com for alternatives. I haven't tested these but the fiber content and drape look like they would work.
• Debbie Bliss Paloma
• Schachenmayr Select Tweed Deluxe
• Schachenmayr Select Trendf Deluxe
• Hikoo Oh!
• Vicki Howell Woolpaca Chunky
• Knit Picks Wonderfluff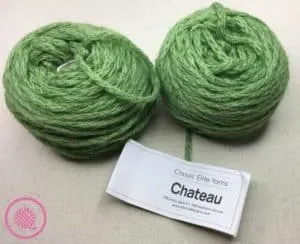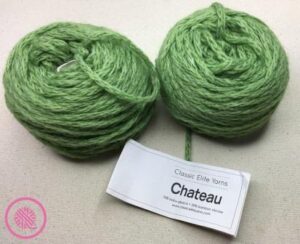 MATERIALS
¾" Extra Large Gauge (XLG) Loom with at least 33 pegs; 40 peg Boye extra Large Hat (aff. link) loom used in sample.
Tapestry Needle
2 stitch markers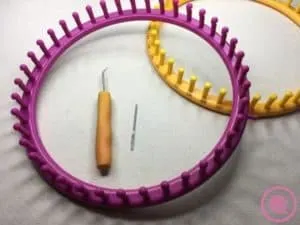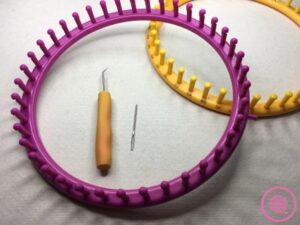 ABBREVIATIONS
K = Knit
K2tog = Knit two together
P = Purl
Pat = Pattern
Rep = Repeat
Sl1-ssk-psso = Slip 1, Slip 1, knit 3rd stitch. Place on 2nd and knit over. Place on 1st stitch and pass slipped stitch over the ssk. Decrease 3 to 1.
St(s) = Stitch(es)
T = Turn work in opposite direction without wrapping (short row)
SKILL LEVEL
Easy
MEASUREMENTS
12" (31.75 cm) x 36" (91.5 cm) approx.
GAUGE
12 sts and 18 rows per 4" x 4" (10×10 cm) in stocking st.
NOTES
This cowl features a stockinette body with large staggered openings. The pattern uses a unique one row repeat. This row is knit using short rows to create multiple small panels in the same row. Treat each panel of the row as a single stockinette panel. When one panel is finished you move on to the next one leaving the yarn attached. The short row panel sections are designated by square brackets [ ] in the pattern.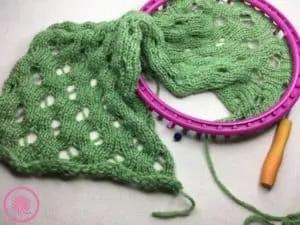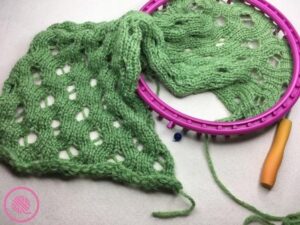 ---
INSTRUCTIONS
Cast on 33 sts using true cable cast on method. (Mult 6+3)
Foundation row: Purl across
Row 1: *[K6, T K6] 3 times, T; K6; rep from * to last 3 sts, [K3,T; K3] 3 times, T; K3.
Row 2: same as Row 1 working opposite direction.
Rows 1-2 form the Lacy Stockinette stitch pattern. Rep Rows 1-2 nine (9) more times for total of 10 pattern repeats.
Row 3 *Sl1-ssk-psso, rep from * to end of row. 11 sts. Pull slack out before moving on.
Row 4: Knit.
Bind Off and Join:
Picking up stitches along the selvedge edge you seam and bind off the cowl at the same time.
With wrong sides together pick up the first selvedge stitch above the cast on from the back. This will be the corner opposite your cast on. Make sure that you don't twist your knitting or wrap it around your loom before binding off. (See diagram below.)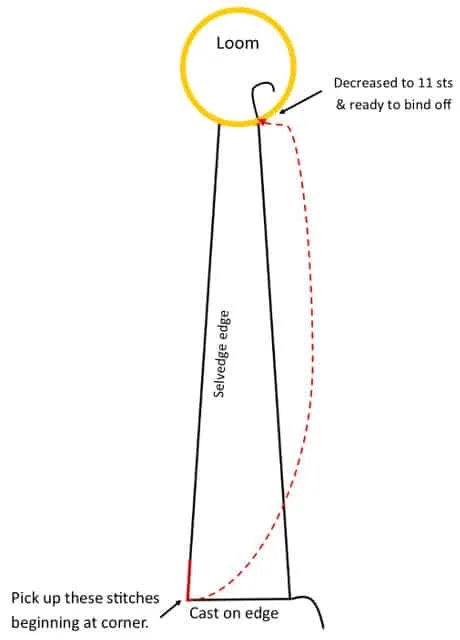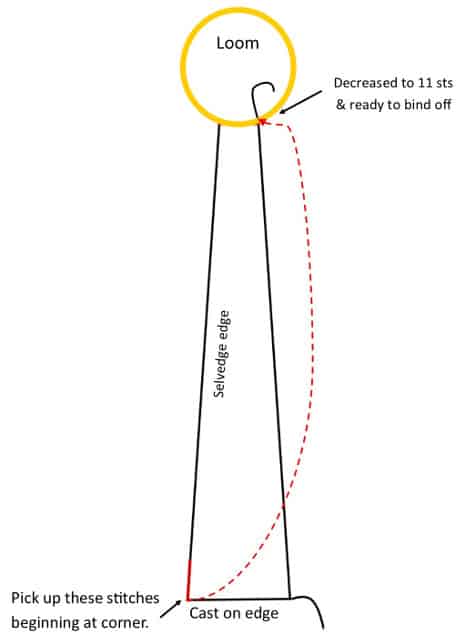 Place selvedge stitch on the first peg; this is the peg with the working yarn coming from it. Make sure the working yarn isn't trapped by placing towards the empty pegs to the right.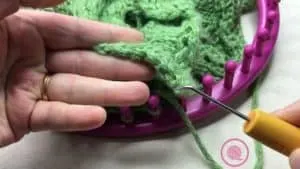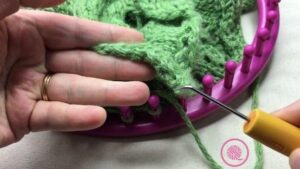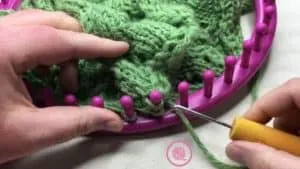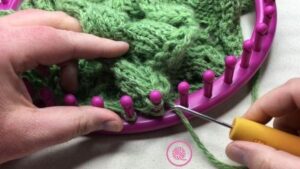 Knit both stitches on Peg 1 together using a U-wrap knit peg. *Place next selvedge stitch on Peg 2, K2tog, move Peg 2 to Peg 1 and knit off to bind off 1. Move stitch 1 peg to left; Repeat from * to end to complete bind off. Weave in ends and lightly steam block with a steamer (aff. link).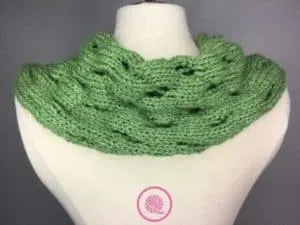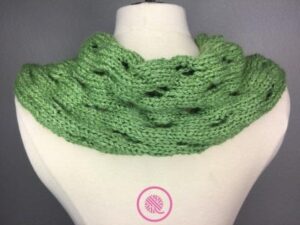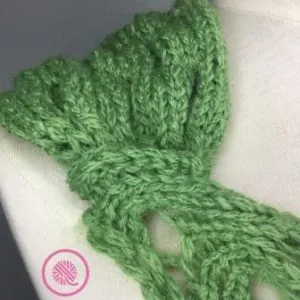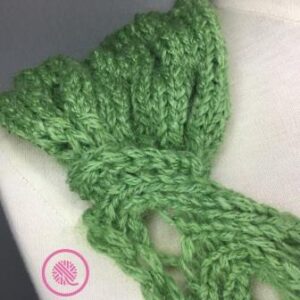 Watch the full video tutorial to make your own Loom Knit Rolling Waves Cowl!
Select videos are available to GoodKnit Kisses YouTube members only. To get exclusive access to GKK VIP-only content, free PDF patterns, weekly Zoom meetup and more, sign in to YouTube and join as a VIP Member today! Find out more about GKK Membership HERE!