Loom Knit Santa Mug Hug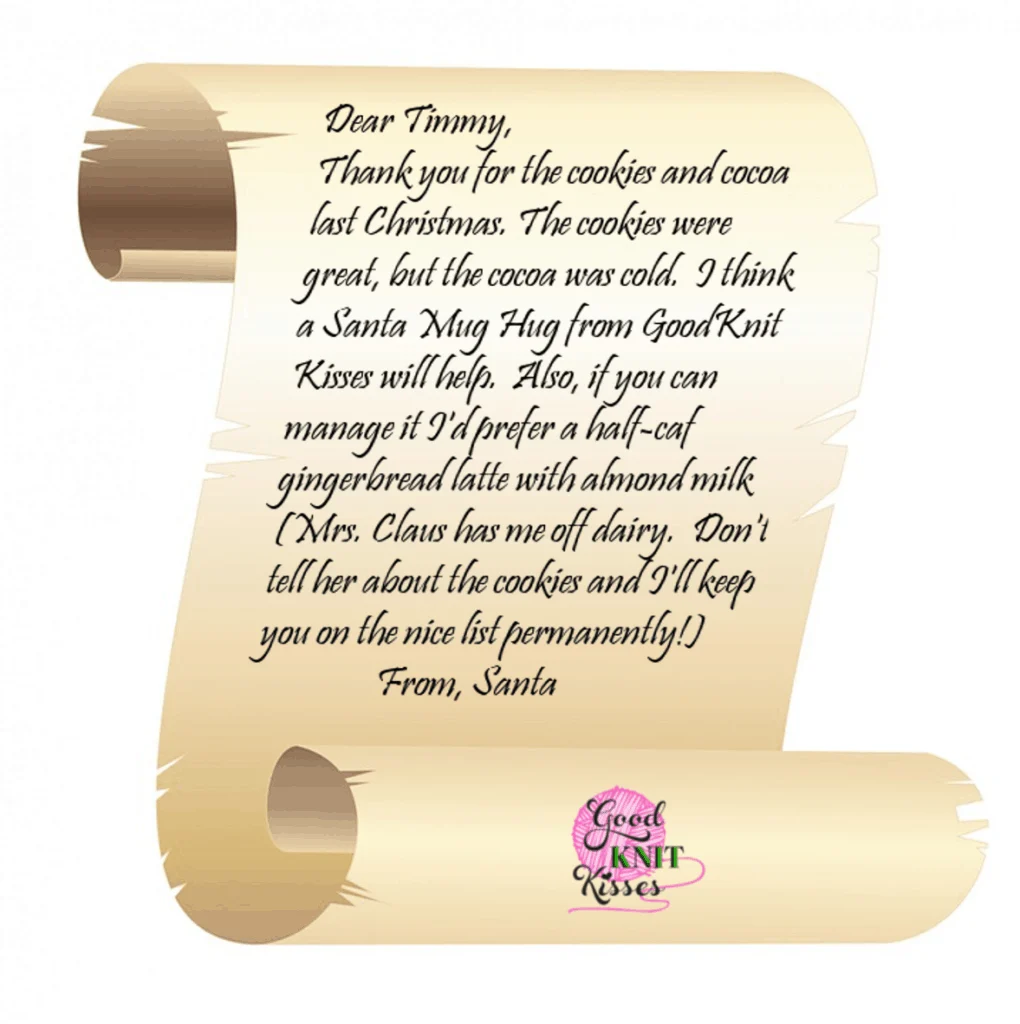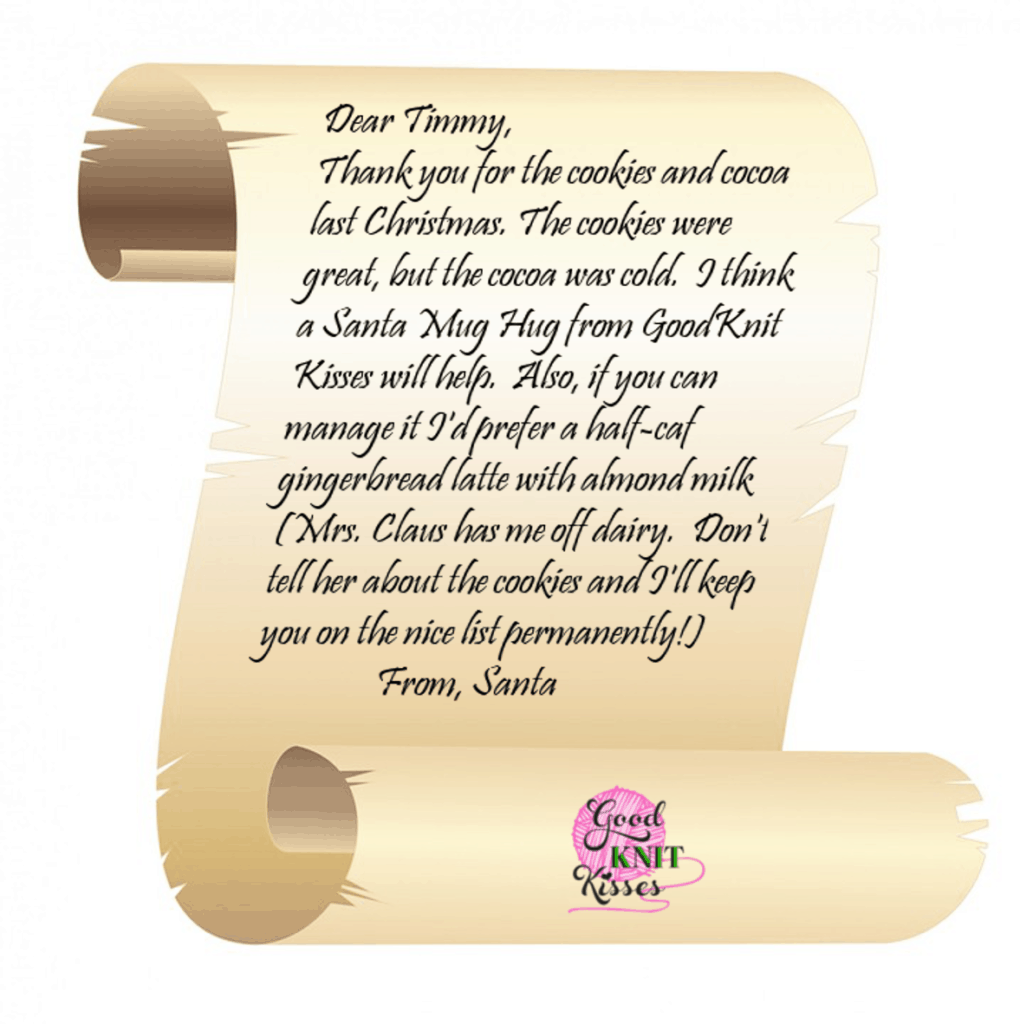 You don't want to end up on the naughty list, do you? Let's keep Santa extra jolly this year with a Loom Knit Santa Mug Hug. I designed this fun, whimsical cup cozie to slide onto your mug so it's great for an on-the-go treat whether you're just out shopping or pulling an all-nighter delivering gifts around the globe.
This pattern is knit using the Bernat family of yarns: Bernat Handicrafter Holidays and Bernat Handicrafter combine vibrant colors with the easy care of cotton and no Santa suit is complete without the soft furry trim from Bernat Pipsqueak.

Needle Pattern (reference for conversion; see further below for LOOM Pattern):
Yarn:
Bernat® Handicrafter® Holidays™ (2.8 oz/80 g; 138 yds/126 m)
Contrast A Red Sparkle (48705) 1 ball or 45 yds/41 m
Bernat® Pipsqueak™ (3.5 oz/100 g; 101 yds, 92 m)
Contrast B Whitey White (59005) 1 ball or 6 yds/5.5 m
Bernat® Handicrafter® Cotton™ (1.75 oz/50 g; 80 yds/73 m)
Contrast C Black Licorice (01040) 1 ball or 5 yds/4.5 m
Contrast D Pale Yellow (01030) 1 ball or 2 yds/1.8 m
Note: 1 ball each of A, B, C and D makes approx 3 Hugs
Loom and supplies:
3/8″ small gauge loom with at least 38 pegs
(Large gauge option- 5/8" LG loom with at least 28 pegs)
Loom hook
Tapestry needle for seaming and duplicate stitch
Size:
Approx 3″ [7.5 cm] diameter x 2½"[6 cm] long approx.
Skills taught in this tutorial:
Cast on
Knit stitch
Purl stitch
Kfb increase – knit into the front and back of the stitch (in this pattern I'll use a hack)
Bind off
Seaming
Duplicate stitch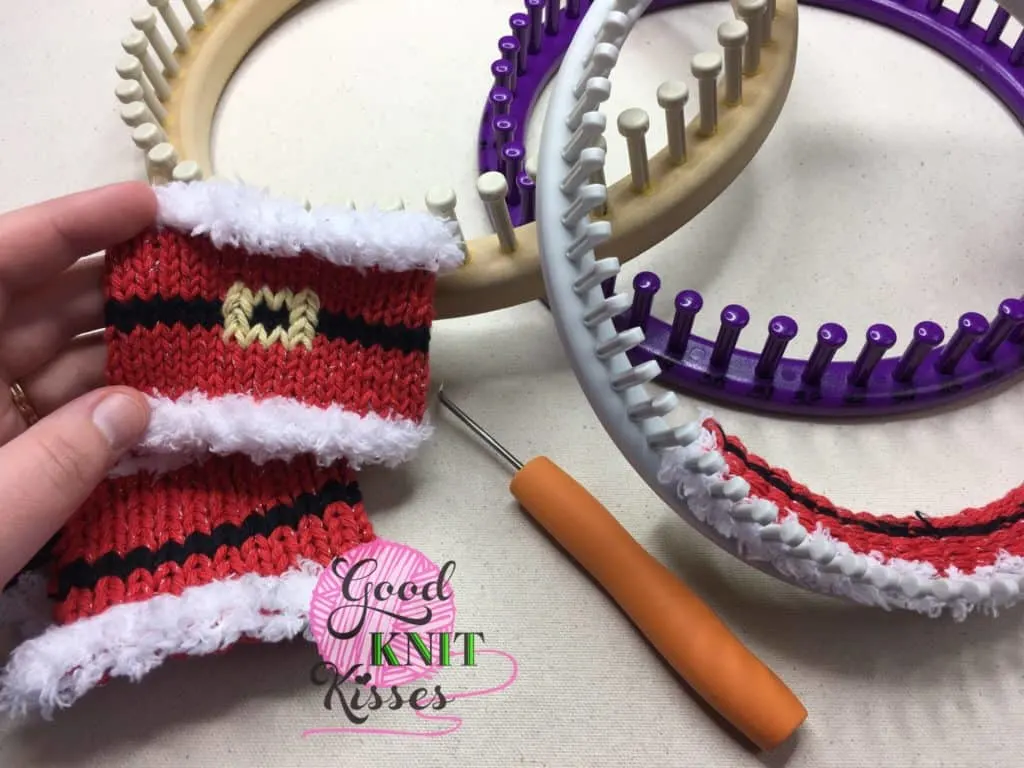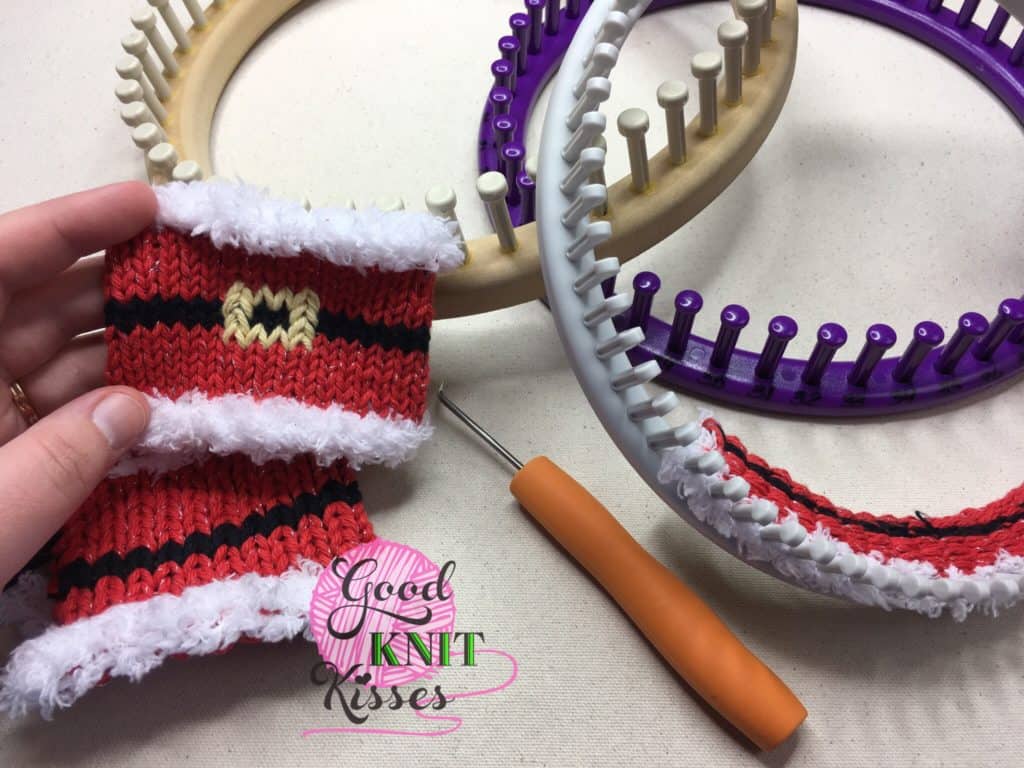 ---
Let's get JOLLY!
This pattern includes a chart to show the placement of the duplicate stitch belt buckle, but the row instructions are also important so pay close attention. Start with a backward loop cast on (Also called a Half Hitch or Thumb cast on). I want the Bernat Pipsqueak to stay super fluffy so a loopy cast on is perfect. You just purl one row with the Pipsqueak yarn and then we switch colors and begin our red section.
The main body of the mug hug is all stockinette stitch. There are a couple Kfb increases to widen the mug hug as you knit. This shaping allows for a perfect snug fit.
Before you know it you'll be ready to switch to black for the belt. Since you sew the seam when you finish you can just keep your red yarn attached and carry it up the side. After the two belt rows are finished switch back to red and continue. Before you know it you reach the top and switch back to the pipsqueak to finish it off.
Finishing touches
Once you finish knitting it's time to add the belt buckle using the duplicate stitch. This technique uses a yarn and needle to sew a contrast color on top of the existing stitches. It is a great way to add some pops of color and fine details without having to switch colors while knitting.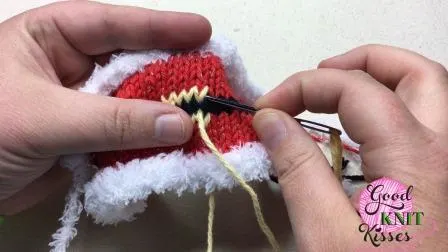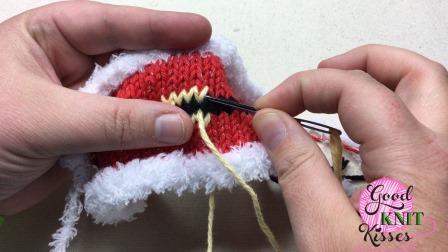 Last, seam up the sides using a tapestry needle a red yarn tail! You want to make sure to keep your black belt rows lined up when you are seaming. After you seam, weave in the yarn tails and you are done.
Wasn't that fun, fast and easy? Check out the video below for the full tutorial:
Loom Knit Santa Mug Hug
By Kristen Mangus
MATERIALS
Contrast A Bernat Handicrafter Holidays (80g / 2.8 oz, 126 m / 138 yards) Sparkle Red
Contrast B Bernat Pipsqueak (100g / 3.5 oz, 92 meters / 101 yards) Whitey White 5 yds.
Contrast C Bernat Handicrafter Cotton (50 g / 1.75 oz, 73 meters / 80 yards) Black Licorice
Contrast D Bernat Handcrafter Cotton (50 g / 1.75 oz, 73 meters / 80 yards) Pale Yellow 2 yds.
LOOM(S)
SG= Small Gauge loom. ⅜" loom with at least 38 pegs; main pattern.
LG= Large Gauge loom ⅝" loom with at least 28 pegs; alternate gauge. May need to adjust buckle duplicate stitch to smaller width as needed.
ABBREVIATIONS
Approx = Approximate(ly)
Inc = Increase(ing)
K = Knit
Kfb = Knit front and back
P = Purl
Pat = Pattern
Rep = Repeat
St(s) = Stitch(es)
SKILL LEVEL Easy
MEASUREMENTS 2.5" (6.5 cm) x 8.5" (21.5 cm) approx.
INSTRUCTIONS
With B cast on 34 sts. (Large gauge loom cast on 24 sts holding two strands held together on colors A, C & D; follow rest of pattern as written).
1st Row: Purl. Break yarn.
Attach Contrast A.
2C2nd row: Knit.
3rd row: Knit
4th row: K1. Kfb. Knit across.
5th row: Knit
Rep last 2 rows. Carry yarn.
Attach Contrast C.
6th row: Knit.
7th row: Knit. Break yarn.
Attach Contrast A.
8th row: Knit.
9th row: Knit.
10th row: K1. Kfb. Knit across.
11th row: Knit.
Rep last 2 rows. Break yarn and leave long tail for seaming.
Attach Contrast B.
12th row: Purl.
Rep 12th row.
Cast off. Pull downward on all columns of knit stitches to ease tension as the loom has it stretched too far side to side. This will lengthen the main pattern of the mug hug.
Add buckle with Contrast D using duplicate stitch. Seam edges together with yarn tail in Contrast A.
PIN THE Loom Knit Santa Mug Hug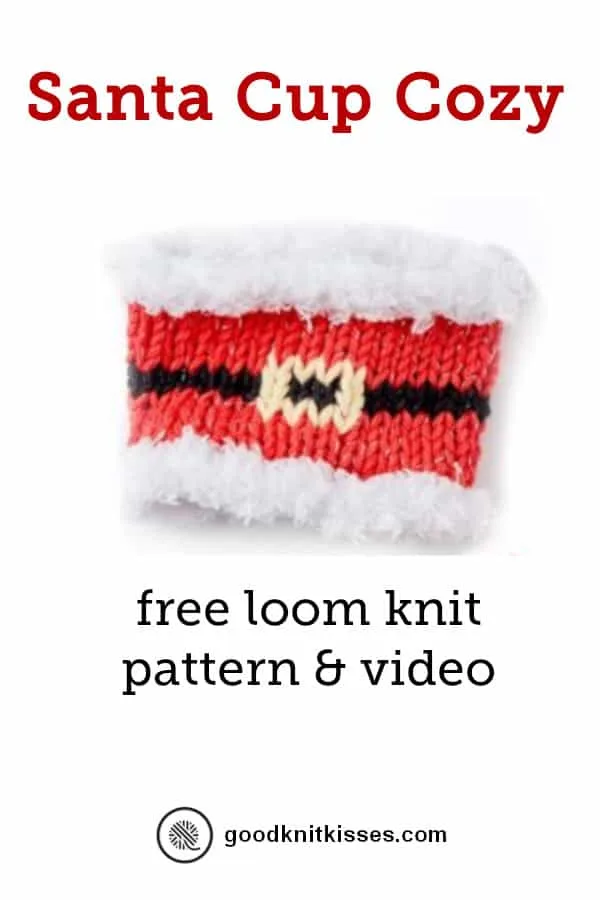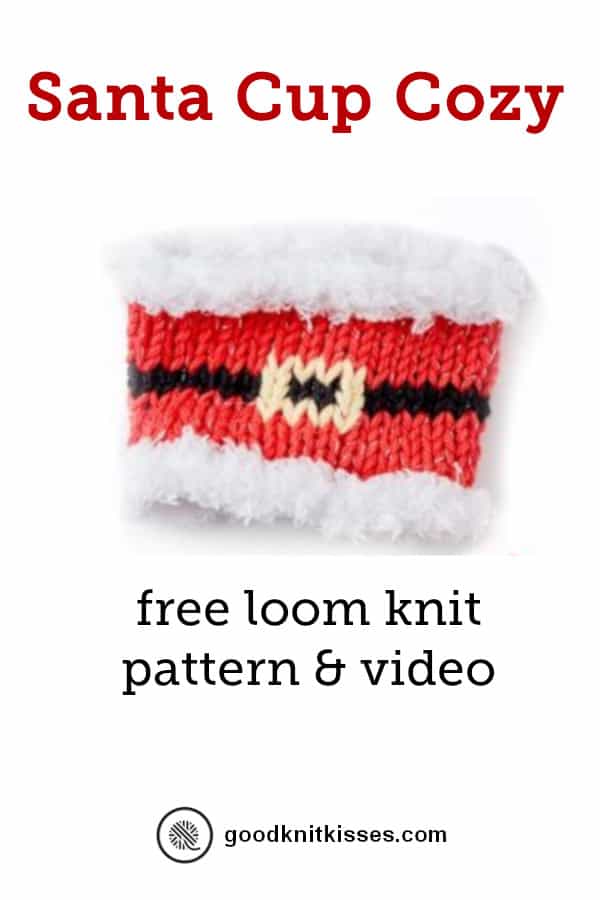 Check out the video tutorial below!
If you prefer to needle knit, I've got a tutorial for that too!
Thanks for joining me to make the Loom Knit Santa Mug Hug! If you make this or any of my projects please share them with me on social media using #goodknitkisses.
Happy Holiday Knitting!!
This post and video are sponsored by Yarnspirations.