By Kristen Mangus

Meet the textured sister of the Sisal Stitch: the Seagrass Stitch! (See full details and videos of both stitch patterns in this post.) This stitch has a natural slant to it depending if your are whether you work it to the right or left. The Seagrass Slouchy Beanie quickly knits up in the round as a woven spiral and looks fantastic in the reverse as well!
This quick knit pattern works up in no time in a stitch that resembles natural seagrasses in the ocean. This pattern is perfect for beginner knitters because the seagrass stitch is easily worked in the round. You will need to know how to connect in the round as well as purl for the brim. The Seagrass stitch pattern is demonstrated in a video tutorial.

Grab the companion pattern for the Sisal Cowl or the Sisal Scarf for a unified look. Both stitch patterns have a distinctly woven look that you're sure to love.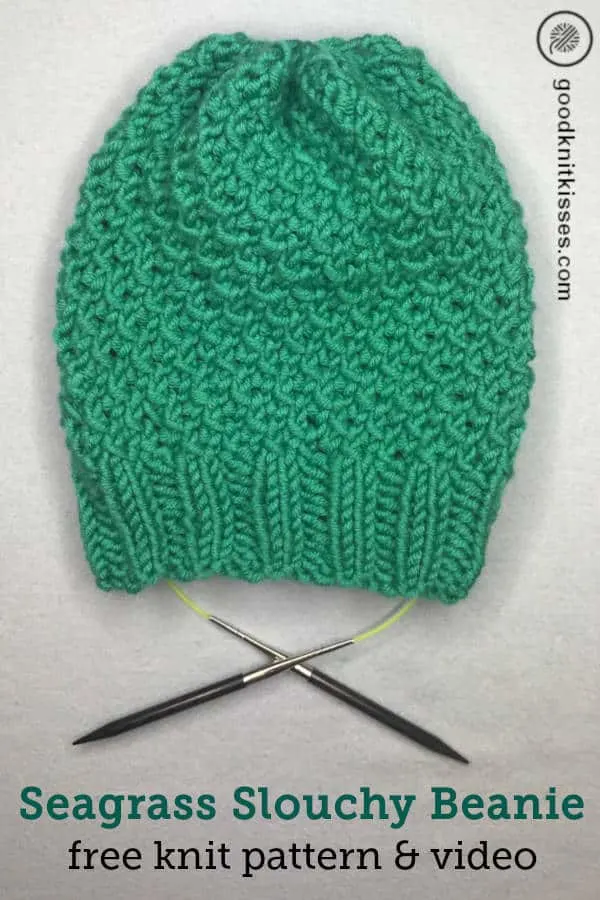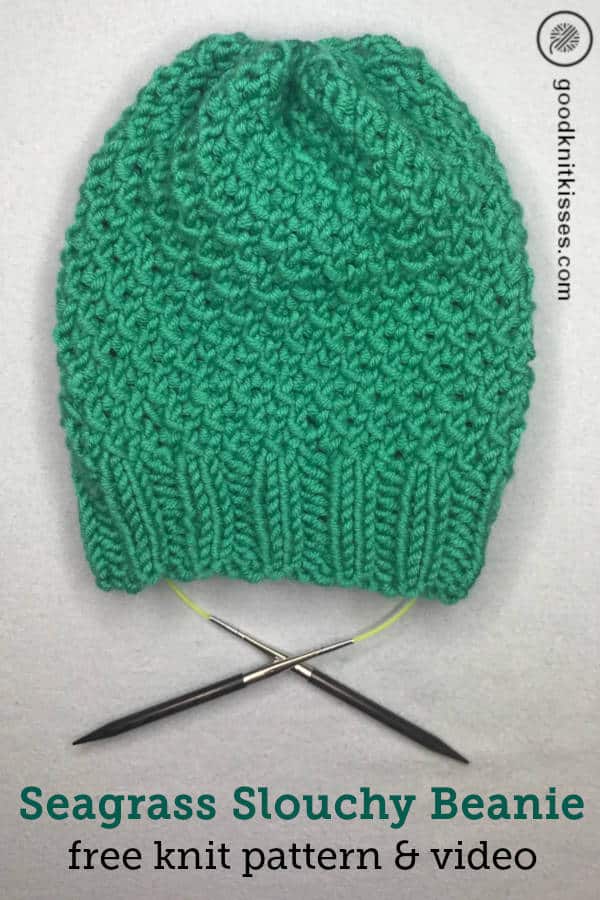 Loom knitters, see the Loom Knit Seagrass Slouchy Beanie or Loom Knit Sisal and Seagrass Stitches for you versions.
---
Needle Knit Seagrass Slouchy Hat Pattern
A PDF download of this pattern is available on Ravlery.com.

MATERIALS
Premier Everyday Bulky (100g / 3.5oz, 80 m / 87 yards) 1 ball. Color Mint used in sample.

US 10.5 (6.5 mm) 16-20" circular needles. Knitters Pride Dreamz Interchangeable Needles used in sample; use DPNs or magic loop as needed for brim. If substituting yarn; use needles approximately 2 sizes smaller than recommended on yarn label.
Notions
Tapestry needle
1 Stitch marker to mark beginning of round

ABBREVIATIONS
K = Knit
Knit BO = Knit Bind off – Knit 2 stitches, lift 1st stitch over 2nd to bind off.
P = Purl
Rep = Repeat
Rnd(s) = Round(s)
St(s) = Stitch(es)
Thumb CO = Thumb Cast On – also known as an 'e-loop' or 'backward-loop' cast on. A simple cast on which twists a yarnover in the opposite direction. Do not substitute for another cast on.

GAUGE
5 sts x 9 rows in 2" (5 cm) in seagrass stitch pattern

SKILL LEVEL
Easy

MEASUREMENTS
18" circumference [fits 23" head] x 9.5" high (45 cm [fits 58 cm head] x 24 cm)

SIZE
Teen/Woman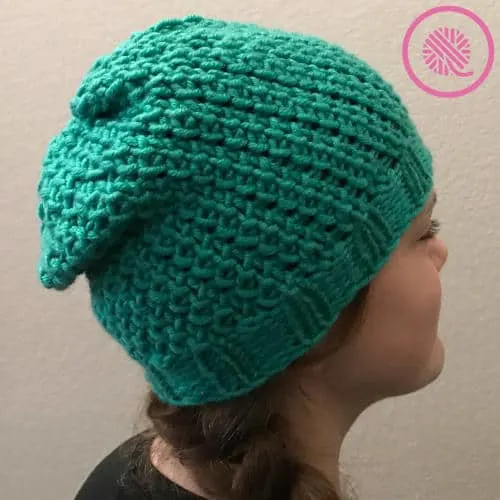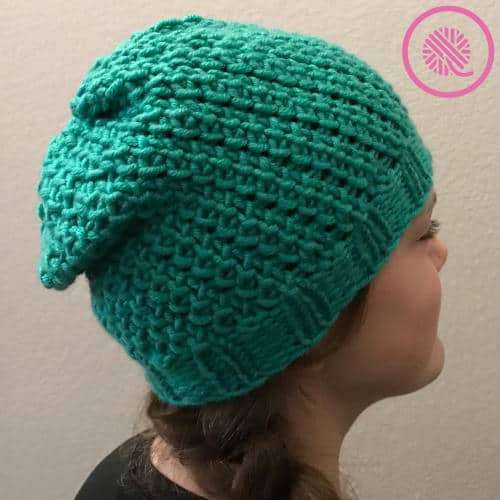 NOTES
Beanie is worked in the round.

I recommend the Longtail cast on, but you may use another cast on method if you prefer.

To change yarn or needle sizes cast on a multiple of 4 for best results on stitch pattern and brim ribbing. Main stitch pattern is a multiple of 2.

The following tutorial videos will teach all the skills to knit the Seagrass Slouchy Beanie:
Cast On (circulars)
Cast On (DPNs)
Seagrass Stitch
Shape Hat Top
Weave tails (ribbing)
INSTRUCTIONS

Cast on 48 sts, PM and connect in the round.

Brim:
Rnd 1: *K2, P2 rep from * to end of rnd.
Rep Rnd 1 eight more times or until desired length of brim. 2" (5 cm) brim shown in sample.

Seagrass Stitch Pattern:
Rnd 1: *Knit BO 1, Thumb CO 1 rep from * to end of rnd. Do not overtighten.
Rnd 2: K all sts.
Rep Rnds 1-2 until knitting measures 9" (76 cm); end after completing a Rnd 2.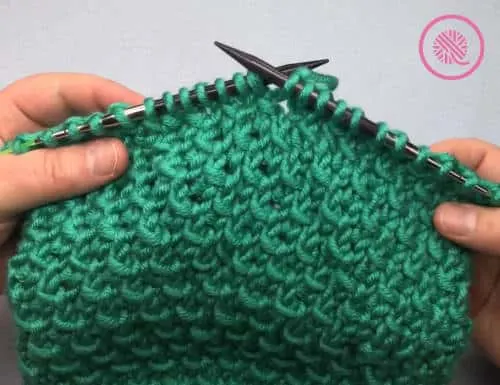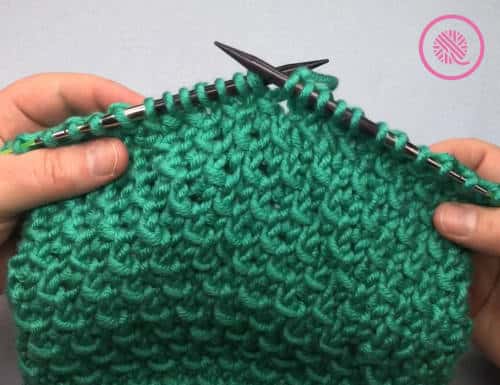 Shape Top:
Rnd 3: *Knit BO 1 rep from * to end of rnd. (NOTE: Knit two stitches and bind off once. Work next two stitches and bind off. Same as Seagrass Stitch Pattern without the Thumb cast on added.) [24 sts]
Rnd 4: *K2tog rep from * to end of rnd. [12 sts]

Break yarn, leaving a long end. Thread end through rem sts and draw up tightly. Fasten securely. Weave in tail carefully.

---
Needle Knit Seagrass Slouchy Hat Tutorial Videos:
Right-Handed
Left-Handed
Hat Crown Shaping