By Kristen Mangus

I hope you've been enjoying my Sisal Stitch series of patterns. This stitch pattern is so versatile that I've been wanting to show off different ways to use it. like in the Sisal Cowl. This week I have the needle knit Sisal Scarf for you.
This chunky textured scarf is great for an experienced beginner knitter. I know, I know. "Experienced beginner" is an odd way of saying it, but it's the best way to talk about the skill level. It's not difficult, but it may be a bit too much for true newbie knitter.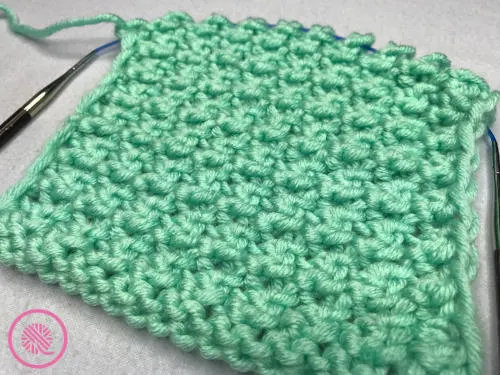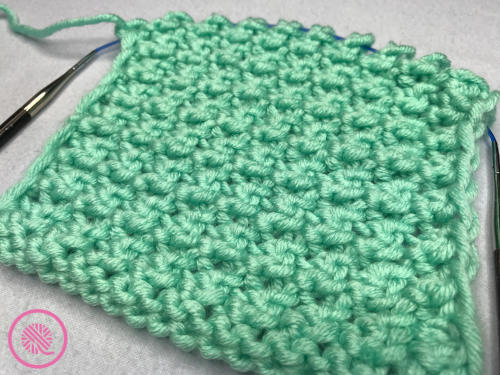 Loom knitters, you can knit the Sisal Stitch Cowl and Scarf too!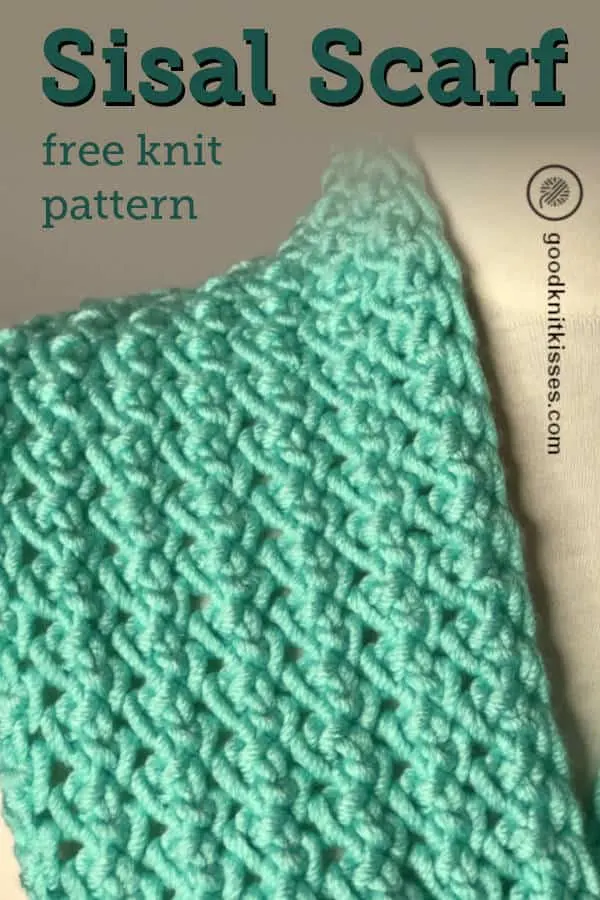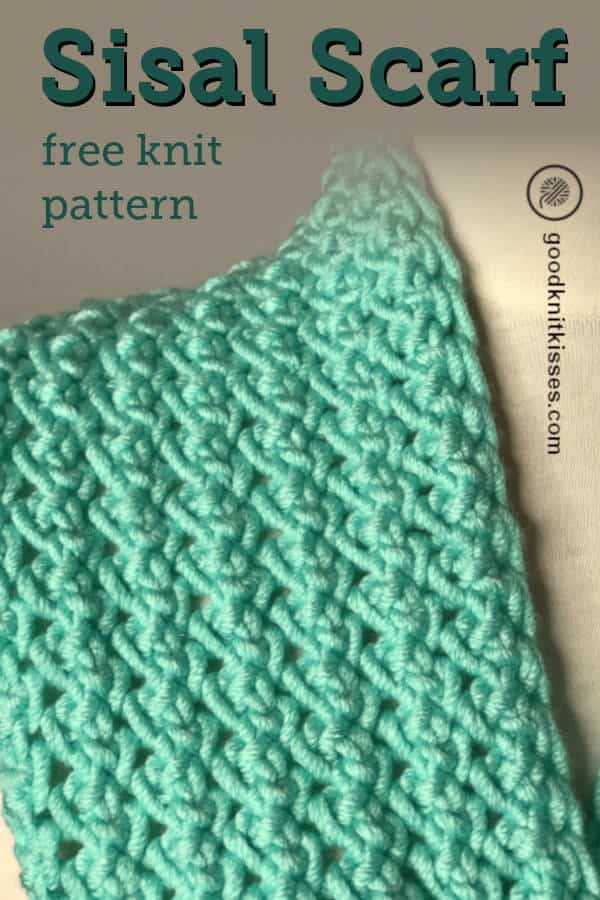 ---
Needle Knit Sisal Scarf Pattern
A PDF download of this pattern is available on Ravelry.com.

MATERIALS
Materials list may contain affiliate links to products I use.

Yarn
Premier Everyday Bulky (100g / 3.5oz, 80 m / 87 yards) 2 balls.
Color Aqua used in sample.

Needles
US 10.5 (6.5 mm) needles. Knitters Pride Dreamz Interchangeable Needles used in sample. If substituting yarn; use needles 2 sizes smaller than recommended on yarn label.

Notion(s)
Tapestry needle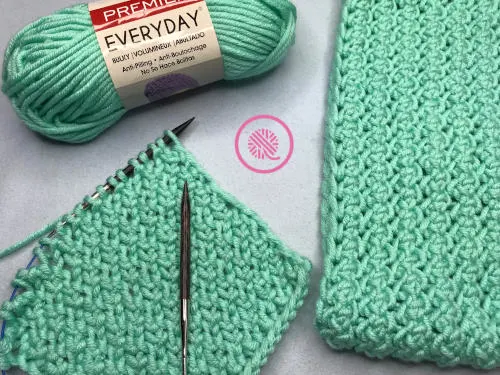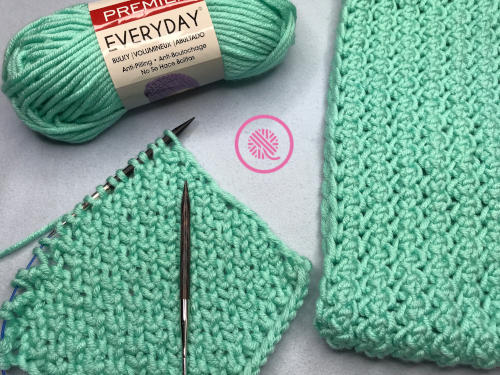 ABBREVIATIONS
K = Knit
Knit BO = Knit Bind off – Knit 2 stitches, lift 1st stitch over 2nd to bind off.
Purl BO = Purl Bind off – Purl 2 stitches, lift 1st stitch over 2nd to bind off.
Rem = Remaining
Rep = Repeat
RS= Right Side
Sl 1 KW = slip 1 knitwise; slip st as if to knit.
Sl 1 PW = slip 1 purlwise; slip st as if to purl.
St(s) = Stitch(es)
WS= Wrong Side
Thumb CO = Thumb Cast On – also known as an 'e-loop' or 'backward-loop' cast on. A simple cast on which twists a yarnover in the opposite direction. Do not substitute for another cast on as it is needed to set up the next row sisal stitches.

GAUGE
6 sts x 5.25 rows in 2" (5 cm) in sisal stitch pattern

SKILL LEVEL
Easy+

MEASUREMENTS
6.25" x 60.5" (14.5 cm x 153.5 cm)

NOTES
Scarf is worked as a flat panel..

For a wider scarf cast on additional stitches. Make sure you cast on an even number of stitches.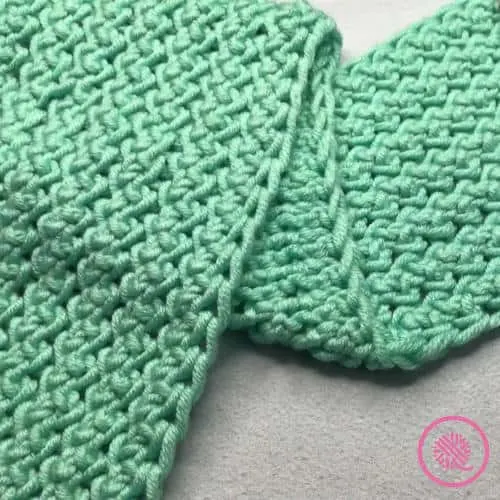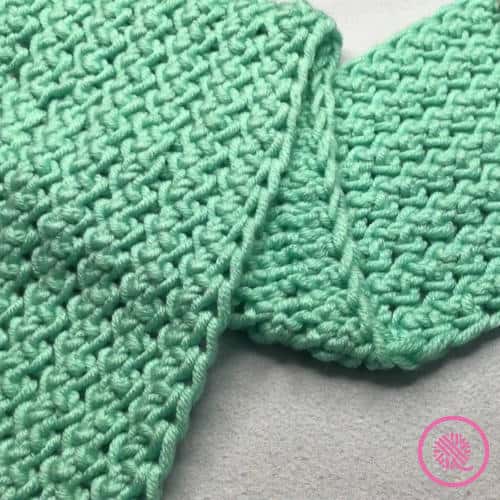 INSTRUCTIONS

Cast on 20 sts.

Foundation row (WS): Sl 1 PW, P rem sts.

Row 1 (RS): Sl 1 KW, *Knit BO 1, Thumb CO 1 rep from * to last st. K1. Do not overtighten.
Row 2 (WS): Sl 1 PW, *Purl BO 1, Thumb CO 1 rep from * to last st. P1.
Rep Rows 1-2 until knitting measures 30" (76 cm); end after completing a Row 2.

Row 3 (RS): Sl 1 KW, K rem sts.

Bind off purlwise leaving a long tail (about 2-3 times the width of your cowl). Thread yarn tail onto tapestry needle and seam cast on and bind off edges together using the mattress stitch. Weave in ends.

---
Sisal Stitch Tutorial Video
Sisal Stitch Left-handed Tutorial Video
PIN The Video!