By Kristen Mangus

It's almost time to hit the beach! Can't you just picture the rolling waves, the sand, the long tufts of seagrass waving in the breeze? I designed the Seagrass Stitch back in the 2013 to capture the look of a woven seagrass basket. Recently I decided to use the stitch to create some new patterns. The loom knit Seagrass Slouchy hat brings this stitch to life.
This stitch has a natural slant to it depending if your are whether you work it to the right or left. Since this hat is knit in the round you can see the gentle spiral pattern.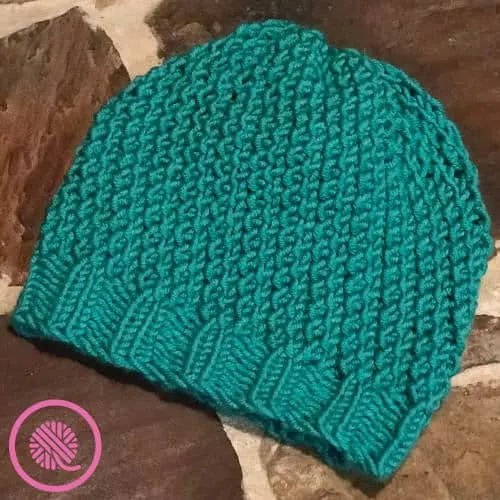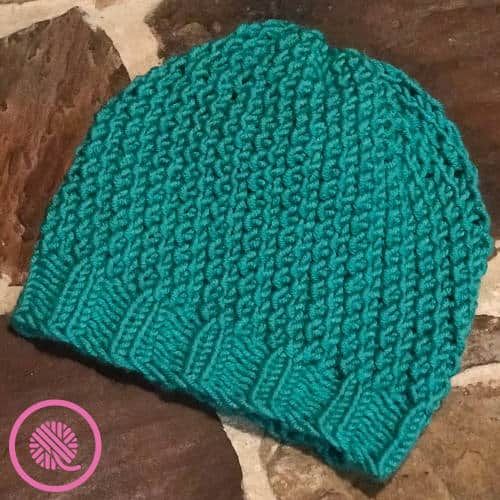 The pattern features a ribbed brim, seagrass stitch pattern and modified gathered bind off. The bind off is less bulky than a standard bind off and allows you to continue the textured stitch onto the hat crown.
This quick knit pattern works up in no time in a stitch that resembles natural seagrasses in the ocean. This pattern is perfect for beginner loom knitters. All you need to know is how to knit, yarnover and bind off to make this stitch pattern.

If you like the Seagrass Stitch, you'll love the Sisal too! Check out these patterns using the Sisal Stitch: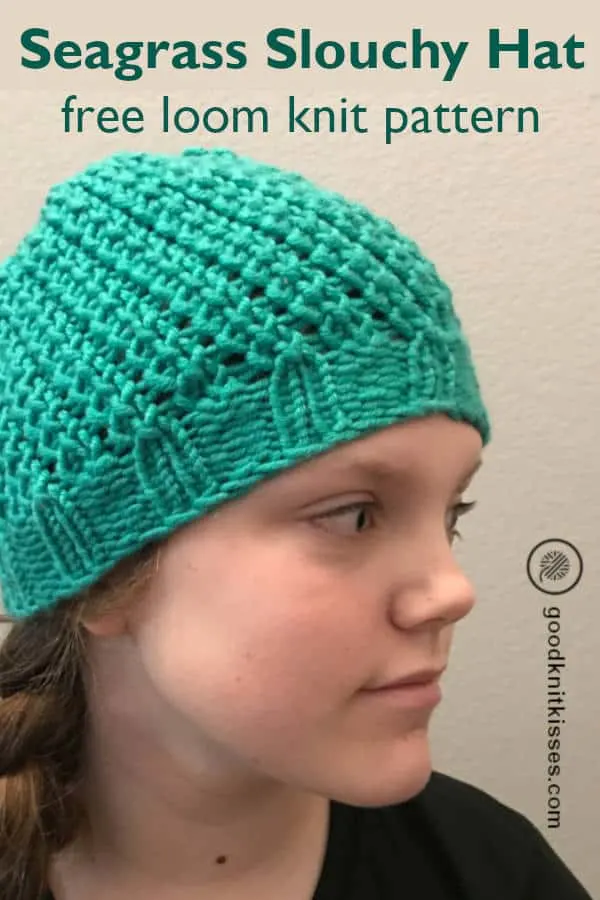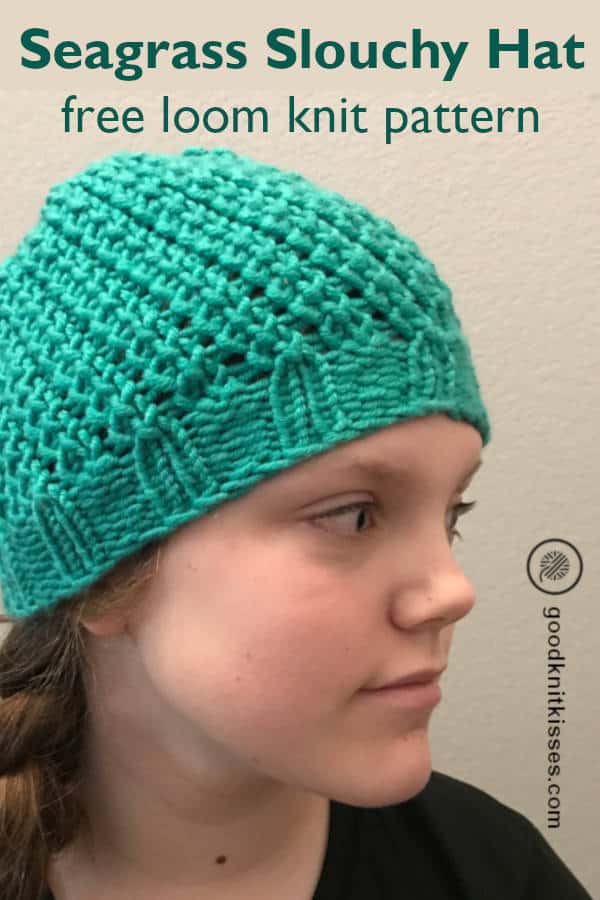 ---
Loom Knit Seagrass Slouchy Hat Pattern
A PDF download of this pattern is available on Ravelry.com.

MATERIALS
Materials list may contain affiliate links to products I use.

Yarn
Premier Everyday Bulky (100g / 3.5oz, 80 m / 87 yards) 1 ball. Color Mint used in sample.

Loom
5/8" Large gauge (LG) loom with 48 pegs.
Suggested looms:
Knitting Board 'Premium' Chunky Round Knitting Loom (48 pegs); sample loom.
Kiss Looms Small Gauge Short 2-Way Adjustable Loom (set up to use 48 pegs in the round) [NOTE: This loom has an adjustable gauge so you can insert 3 washers to increase the gauge to 5/8".]
CinDWood 5/8″ gauge Adult Hat Loom (48 pegs)

Notions
Tapestry needle
1 Stitch marker to mark starter peg 1
Optional: 24 stitch markers of different color to mark yarnovers.

ABBREVIATIONS
BO = Bind off – Knit Peg 1, knit Peg 2, move 2 onto 1 and knit off (bottom loop over top).
EWYO = EWrap Yarnover – Ewrap the empty peg. [NOTE: Peg must be Ewrapped to set up the stitch correctly. Do not use a yarnover that wraps only the front of the peg.]
K = Uwrap knit
Rem = Remaining
Rep = Repeat
Rnd(s) = Round(s)
Sl = Slip Stitch – Skip the peg.
St(s) = Stitch(es)

GAUGE
5 sts x 9 rows in 2" (5 cm) in seagrass stitch pattern

SKILL LEVEL
Beginner+

MEASUREMENTS
18" circumference [fits 23"] x 9.5" high (45-58 cm x 24 cm)

SIZE
Teen/Woman

NOTES
Beanie is worked in the round.

I recommend the Longtail cast on in the video, but you may use another cast on method if you prefer.

To change yarn or loom sizes cast on a multiple of 4 for best results on stitch pattern and brim ribbing. Main stitch pattern is a multiple of 2.

The following tutorial videos will teach all the skills to loom knit the Seagrass Slouchy Beanie:
Cast On, Seagrass Stitch, and Modified Bind off tutorials.

INSTRUCTIONS

Cast on 48 sts and connect in the round. Place marker on Peg 1.

Brim:
Rnd 1: *K2, P2 rep from * to end of rnd.
Rep Rnd 1 eight more times or until desired length of brim.

Seagrass Stitch Pattern:
Rnd 1: *BO 1, EWYO rep from * to end of rnd.
Rnd 2: K all sts.
Rep Rows 1-2 until knitting measures 9" (76 cm); end after completing a Row 2.
Rnd 3: *BO 1, Sl 1 rep from * to end of rnd. 24 sts remain.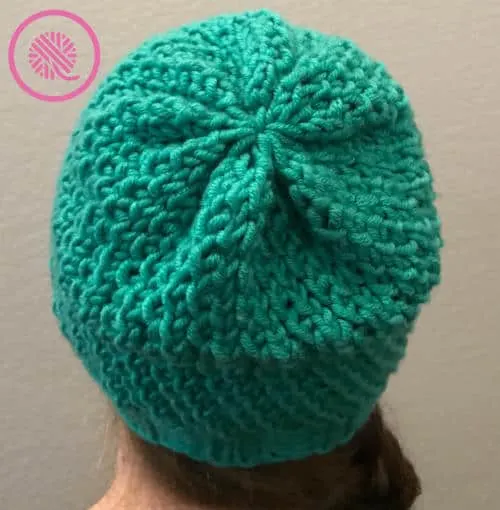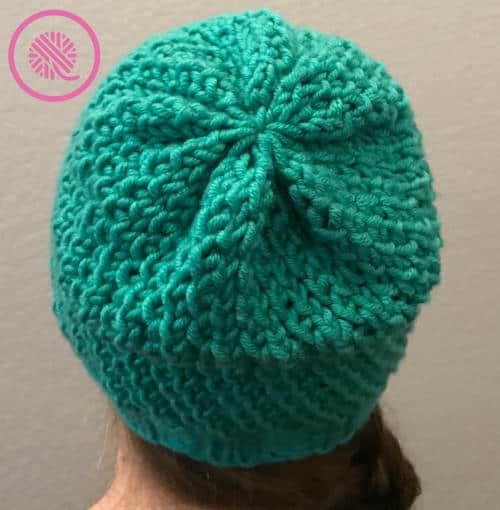 Modified Gathered Bind-off:
Rnd 1:
Step 1: Wrap working yarn around entire loom circumference one and a half times and cut yarn.
Step 2: Place working yarn below the stitch on the first peg, and pull up a loop as if to purl. Pull the yarn all the way through and take stitch off peg.
Step 3: Passing the working yarn behind the next peg and skip this peg.
Repeat Steps 2 and 3 all the way around the loom. At the end of this round every other peg will be empty. Do not fully tighten or pull the slack yet.


Rnd 2:
Step 4: Place working yarn above the stitch on the first peg, and pull down a loop as if working the true knit stitch. Pull working yarn all the through and take stitch off of peg.
Pass the working yarn behind the empty pegs and repeat Step 4 for the remaining stitches. Continue until all stitches are off the loom.


Turn knitting inside out and gently start pulling on the working yarn to tighten the top of the hat.
Tip: It helped me to place my finger in the opening and tighten the drawstring around my fingertip as a guide while tightening. Make sure all the stitches are tightened fully before tying off.

Tie a knot and weave in ends.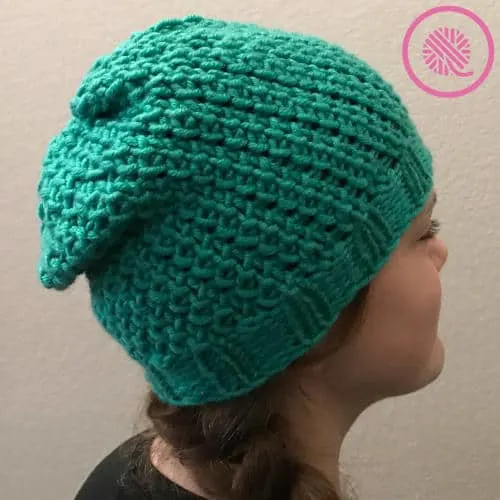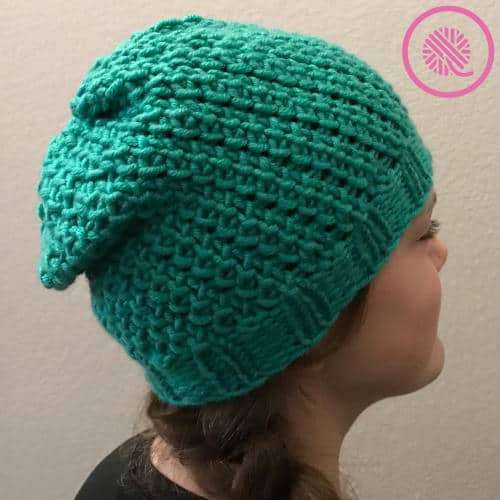 ---
Loom Knit Seagrass Stitch
Use these videos for make the Loom Knit Seagrass Slouchy Hat: