Inside: Get the needle knit striped mitered square pattern plus tutorial video below.
This 2 color striped pattern showcases the unique design of the mitered square. The eye-catching stripes highlight the directional change of the row. The mitered square is knit by casting on two sides of the square then working a series of decreases in the middle of the row. The squares are beautiful alone or combined to create colorful blankets or ponchos.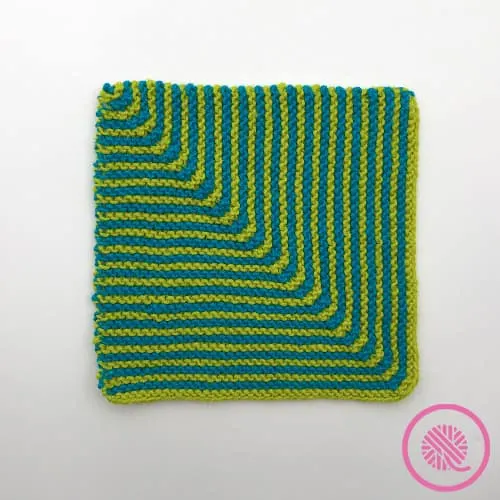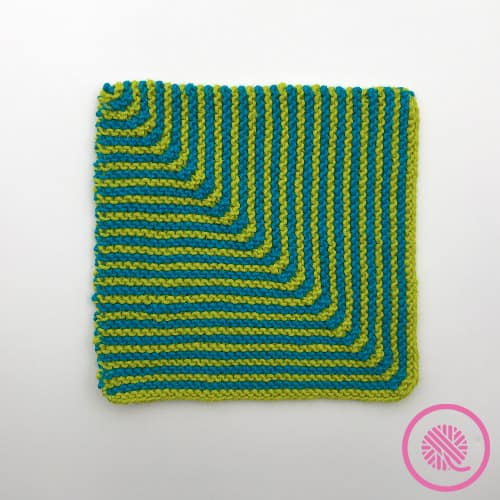 Striped Mitered Square Pattern
by Kristen Mangus
MATERIALS
Links below are affiliate links to products I used to create this pattern/video. Clicking the links costs you nothing, but helps support GoodKnit Kisses.
Yarn
Medium weight (#4) Red Heart Chic Sheep (100g / 3.5oz, 170 m / 186 yards)
Contrast A – Color Green Tea used in sample.
Contrast B – Color Poolside used in sample.
Needles
US 8 – 5mm
Knitters Pride Dreamz Interchangeable used in sample.
Stitch marker(s)
Tapestry needle
ABBREVIATIONS
Approx. = Approximately
CDD Central double decrease
K = Knit
K2tog = Knit 2 together
Rem = Remain(ing)
Rep = Repeat
RS = Right side
Ssk = Slip, slip, knit
St(s) = Stitch(es)
WS = Wrong side
New to knitting? I've got a How to Knit Beginner Video Series to teach you ALL the basics.
GAUGE
19 sts x 40 rows in 4" in garter stitch
SKILL LEVEL Easy
MEASUREMENTS
8" x 8" (20.3 x 20.3 cm)
NOTES
This pattern is adjustable to any size square using any weight yarn. Be sure to cast on an even number.
Design Tip: If you want to plan a specific design using various width stripes use the following guideline. The number of sts you cast on ONE side of the square equals the number of garter ridges in your square.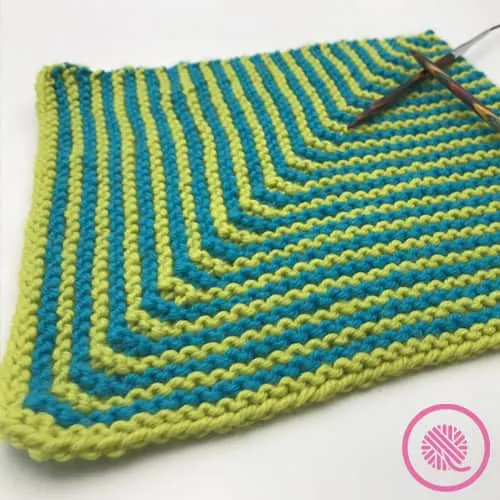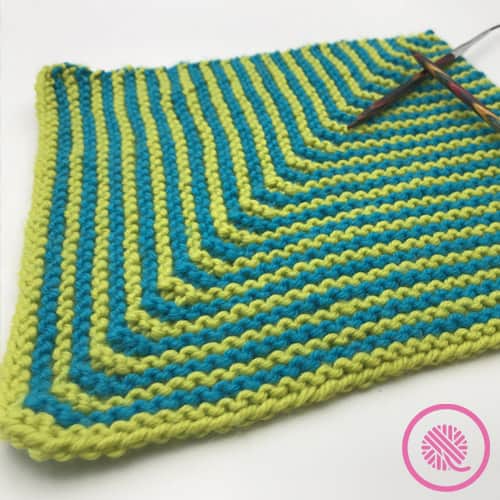 INSTRUCTIONS
With A, cast on 76 sts.
Row 1 (WS): K 38, pm, k38.
Row 2: (RS): With B, k to 2 sts before marker, k2tog, slip marker, ssk, k to end of row.
Row 3: K all.
Row 4: With A, k to 2 sts before marker, k2tog, slip marker, ssk, k to end of row.
Row 5: K all.
Rep. Rows 2-5 until 4 sts rem ending on either a Row 3 or a Row 5
Row 6: With contrast color, k2tog, ssk.
Break yarn and pull tail through last 2 sts. Weave in ends.
I've also got a solid mitered square pattern that looks great with self-striping yarn if you don't like changing colors:
---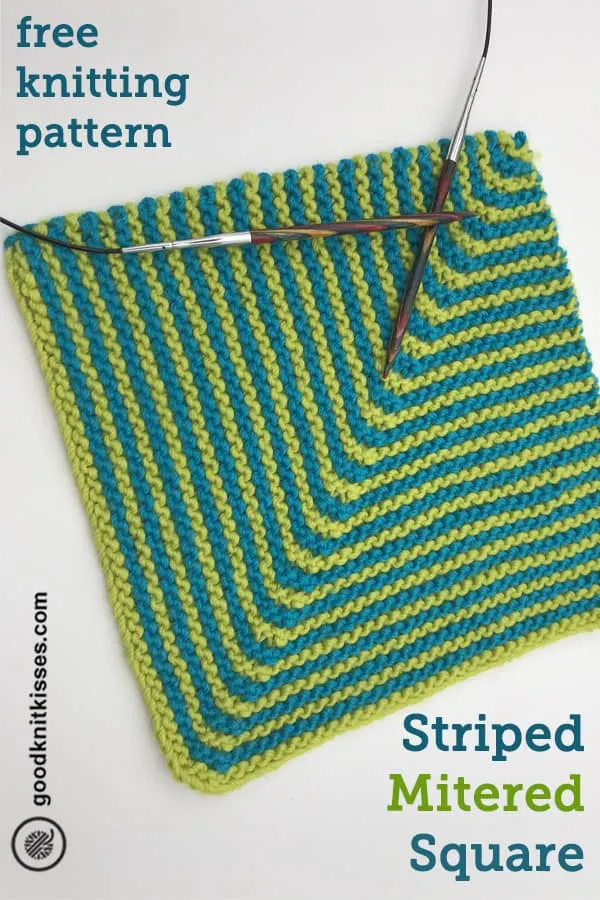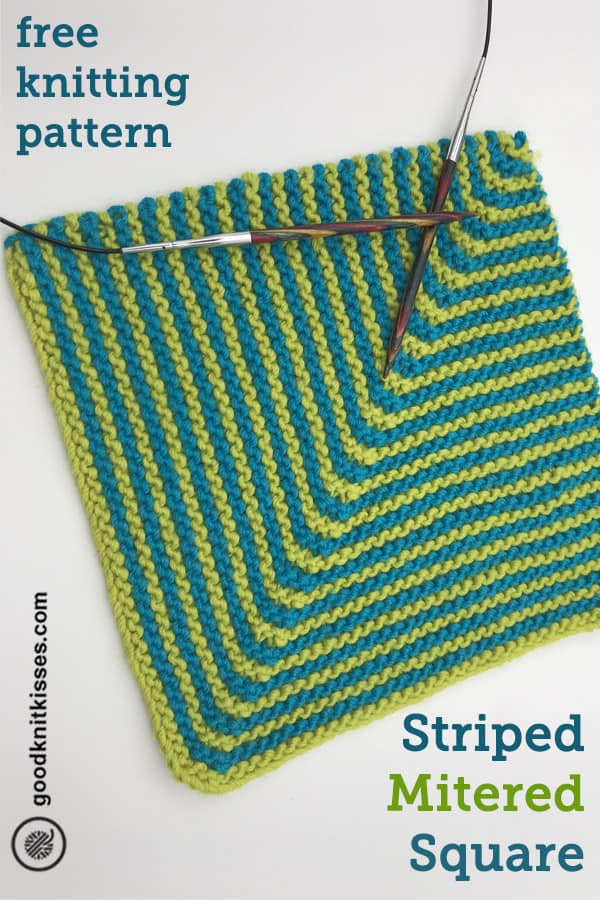 ---
Striped Mitered Square Tutorial Videos
Select videos are available to GoodKnit Kisses YouTube members only. To get exclusive access to GKK VIP-only content, free PDF patterns, weekly Zoom meetup and more, sign in to YouTube and join as a VIP Member today! Find out more about GKK Membership HERE!
Right Handed
Left Handed
So grab your yarn and start making your own Striped Mitered Square today! Be sure to share on social media and tag me so I can see your project.
---