One of my biggest requests has been how to loom knit the chevron stitch. Wait no longer! Learn how to knit the Bernat Ripple and Ridge Knit Blanket from Yarnspirations featuring Bernat Beyond yarn! (See the needle knit version of the afghan HERE.)
This blog &video tutorial are sponsored by Yarnspirations and contain affiliate links to their beautiful yarn.
This blanket is both cozy and stylish. The ripples are a throwback to the chevron afghans grandma used to make and the vertical ridges and colorblocking give it an up-to-date makeover. While this beautiful blanket is a showstopper draped across a chair, it is beyond soft for cuddling up too. Featuring Bernat Beyond yarn this blanket wraps you in cozy softness.
Bernat Beyond from Yarnspirations brings a new kind of texture to the bulky yarn offerings. This bulky (#6) weight yarn is made of 85% acrylic and 15% nylon fibers to give it a squish factor that is off the charts! You notice the springiness of the yarn when you first touch the skein – one squeeze and it bounces right back. But once you begin to knit with it the stitch definition and fullness of the fabric will win you over for good.
Are you ready to make a Loom Knit Ripple and Ridge Afghan?
Pattern
Bernat Ripple and Ridge Knit Blanket (Needle Knit Pattern)
Remember it is a NEEDLE pattern but I will go through how to convert it to the loom. It is super easy and all you need to do is print your copy and make a few notes! (For more help see my blog post, How to Convert A Needle Knit Pattern to the Loom.)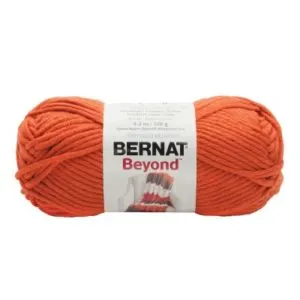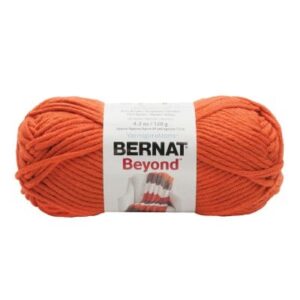 Yarn
Bernat Beyond color Cream (7 balls). Contrast A
Bernat Beyond color Slate (4 balls). Contrast B
Bernat Beyond color Pumpkin (4 balls). Contrast C
NOTE: For Lovey size – 1 ball each color.
Loom & Supplies
Loom: LG Large Gauge loom 5/8″ or 11/16″ spacing with at least 48 pegs for lovey size or 139 for blanket size (Try CinDwood Looms, Kiss-looms).
[NOTE: You can also use this stitch pattern on any loom size with appropriate weight yarn and even change the color repeats. Table 2 lists several looms with their maximum cast on counts for your convenience.]
scissors
stitch markers or rubber bands to mark chevron pattern in 3 colors (See Table 1 below about exact numbers needed.)
tapestry needle
loom hook
Skill Level
Easy
Size
Aghan: Approx 50½" x 60″ [128.5 x 152.5 cm].
Baby Lovey: 15"x 19"
Skills demonstrated in tutorial
Double E-Wrap Cast-on
Knit Stitch
Purl Stitch
K2tog – decrease
YO – increase
Bind off
Weaving in ends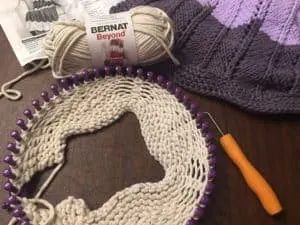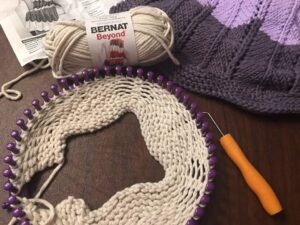 The blanket begins with a garter border then jumps right into the ripples. The ripples are created with a simple 2 row repeat that includes the K2tog (knit 2 stitches together) increase and the YO (yarnover) decrease. That's right only two distinct rows to learn!
My video tutorial walks you through the entire pattern from start to finish. We'll spend most of our time focusing on the 2 rows of the ripple pattern to make sure you have a good understanding of the techniques. Once you begin working, the ripples will fall off your loom quickly and you'll reach the first color change before you know it. Then I'll show you how to add in a new color so whatever colors you choose your transitions will be smooth. We'll also discuss and show how to weave in the tails for color changes on a garter stitch and for the ending tail. Lots of tips included!
If you need videos on basic stitches (double ewrap cast-on, knit, purl & bind-off) or other techniques, please check out my beginner tutorials on GoodKnit Kisses YouTube Beginner Loom Knit playlist.
NOTES:
Stripe Pat
With A: 20 rows.
With B: 20 rows.
With C: 20 rows.
These 60 rows form Stripe Pat.
Stitch Marker Placement for Chevrons
Border Markers: Mark first 4 stitches and last 4 stitches. These are the garter stitch border.
Color 1 Markers – Mark 5th peg (from beginning) in Color 1 (blue). * Skip 5 pegs. Mark next 2 pegs in Color 1 (blue). Skip 5 pegs. Mark next peg in Color 1 (blue). Rep from * to last 4 pegs.
Color 2 Markers – Mark 6th peg from beginning Color 2 (orange). Mark 6th peg from end of row Color 2 (orange). Place a Color 2 (orange) marker on either side of each SINGLE blue marker across the row.
INSTRUCTIONS
With A cast on 139 sts using double e-wrap cast on method. (The stitch pattern is a mult 13+9; see notes at bottom for more cast on peg counts. This cast on yields 10 pattern repeats). Do not join.
Working back and forth across loom in rows, proceed as follows:
Garter Border
Row 1: Knit.
Row 2: Purl.
Rep rows 1-2 seven times more (total 8 rows garter stitch).
Proceed in Stripe Pat as follows:
Row 1: K4. *K1. yo. K4. (K2tog) twice. K4. yo. Rep from * to last 5 sts. K5.
Row 2: P4. Knit to last 4 sts. P4.
Last 2 rows form pat.
First 2 rows of Stripe Pat are complete.
Rep rows 1-2 nine times more. Cut yarn.
With B rep rows 1-2 ten times. Cut yarn.
With C rep rows 1-2 ten times. Cut yarn.
Continue in pattern as established in Stripe Pat directions until 200 rows have been completed or until desired length.
With A, Knit Garter Border.
Bind off and weave in ends.
That's it! Your grandma would be so proud of you. Now you can loom knit chevrons like a pro!
---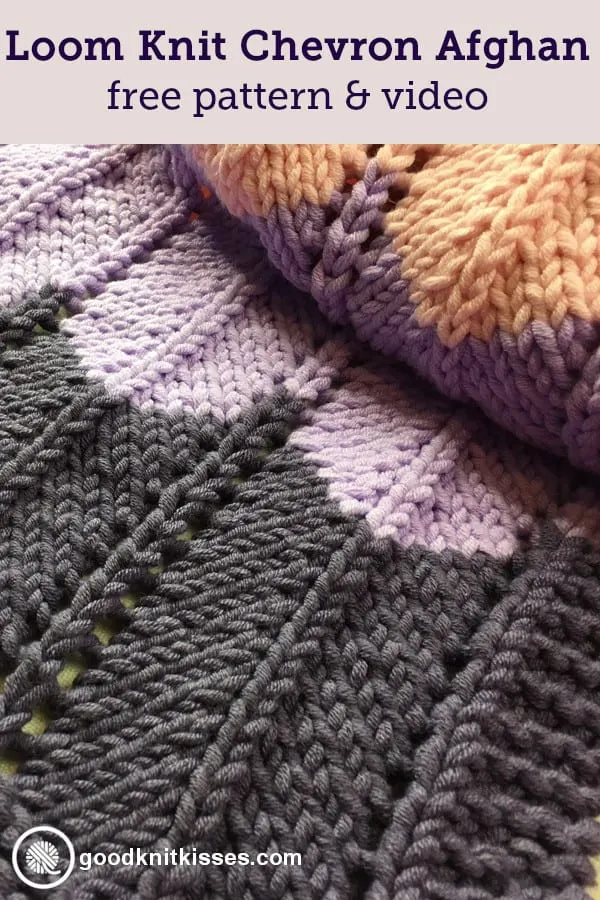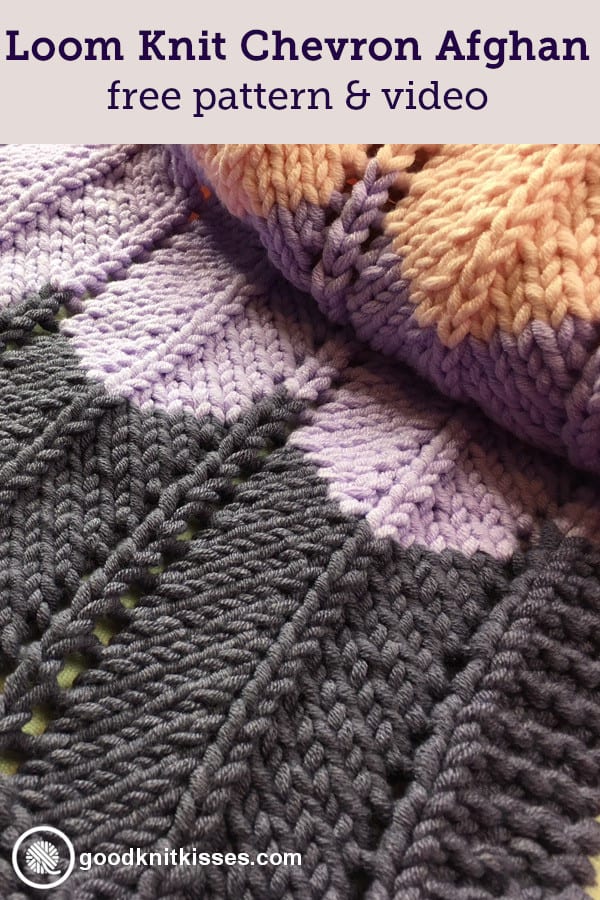 Loom Knit Ripple and Ridge Afghan Cast On Counts and Loom Suggestions
How many pegs should I cast on?
The stitch pattern is a multiple of 13+9; This means for each pattern to repeat you need a main stitch count that is divisible by 13. Then you add 9 stitches to that total.
But don't worry if math is not your thing I've done the work for you.
Table 1 (below) lists the number of stitches you will need to cast on for a select number of pattern repeats.
Table 1: Cast On Count (PLUS needed stitch marker counts)
Pattern Repeats
Cast On
Color 1 (Blue)
Stitch Markers
Color 2 (Orange) Stitch Markers
1
22
4
2
2
35
7
4
3*
48
10
6
4
61
13
8
5
74
16
10
6
87
19
12
7
100
22
14
8
113
25
16
9
126
28
18
10**
139
31
20
11
152
34
22
12
165
37
24
13
178
40
26
14
191
43
28
15
204
46
30
16
217
49
32
17
230
52
34
18
243
54
36
19
256
57
38
20
269
60
40
21
282
63
42
22
295
66
44
*Lovey size shown in video knit on 5/8″ (LG) Purple Knifty Knitter Adult Hat Loom.
** Blanket size given in written pattern.
Which loom should I use?
Table 2 lists some common looms and the maximum number of stitches you can cast on for this pattern. This is NOT an exhaustive list. Many other looms like Kiss Looms or CinDWood's new X looms are also good alternatives.
Keep in mind that the larger the gauge of the loom the wider your finished project will be. You will want to knit up a test swatch of 2-3 pattern repeats on the loom you plan to use. Then you can estimate how many repeats you will want to do for a full blanket.
Table 2: Suggested Looms by Cast On Count
Loom Name
Gauge-C2C
Max Cast On
Knifty Knitter Purple Adult Hat Loom
(or equivalent)
LG – 5/8″
48
KB All N One (w/ 5-peg sliders)
SG – 3/8″
100
KB All N One (w/ 20-peg extenders)
SG – 3/8″
126
KB 28″ Loom (w/ 20-peg extenders)
SG – 7/16″
165
KB Afghan S Loom
SG – 7/16″
191
KB 38″ Loom (w/ 20-peg extenders)
SG – 7/16″
204
CinDWood 60″ Universal S Loom
RG – 1/2″
243
KnitUK Infinity Loom (using all pegs)
SG – 3/8″
295
---
Loom Knit Ripple and Ridge Afghan Tutorial Video
How to Set Up Your Loom to Knit Chevrons