Spring Refresh Lookbook | Yarnspirations
Spring is finally here and it's time to freshen things up around your home. The Spring Refresh Lookbook from Yarnspirations is full of patterns to renew and revive your decor. From dishcloths and potholders to baskets and bags this pattern collection puts the fun in functionality with clever designs and bright colors. Each project features Lily Sugar 'n Cream cotton yarn and showcases its versatility.
When you think cotton yarn, I know the first thing that pops into your head is … DISHCLOTHS! Am I right? The dishcloths featured in this month's Lookbook have something for everyone. The Breakfast Trio is not only whimsical, but is a great project for learning to use texture and color. The Rise and Shine Dishcloth uses purl stitches on a stockinette background to give depth to the words and is an ideal project for learning to read a chart. The Bowl and Egg Dishcloths introduce you to colorwork and bring some fun into your kitchen. The Tidy Up Knit Dishcloth and Basket Set is a simple garter dishcloth with matching basket. What a perfect shower gift!
Feeling prickly after a long winter? These adorable Crochet Cacti bring brightness and cheer to your home. Once you've finished this cuddly pair they're care free. I call them the ideal houseplants. No watering, no repotting and they're great for using up leftover yarn. If you miss the spines on your cactus use it as a pincusion for your sewing pins.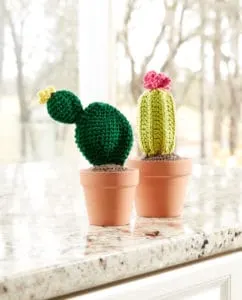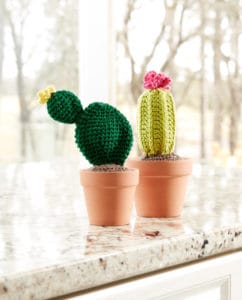 When I first saw these little beauties my brain was flooded with ideas on how to use them. Whether it's potted plants, hand towels or Easter eggs the Scallop Edged Crochet Baskets are perfect for any room in your house. How would you use them?
Is it just me or do I see project bags everywhere I look? The Knit Market Tote and Crochet Handy Basket are both great tote options: one for on-the-go projects and the other for keeping your WIPs organized next to your favorite chair.
These few patterns are only the beginning of the Spring Refresh Lookbook.