Bernat Pop! Knit Triangle Shawl | Yarnspirations
It's all about the Pop! Bernat Pop, that is. The Bernat Pop! Knit Triangle Shawl from Yarnspirations is perfect for showing off the bold colors and striping of this unique yarn. The long color changes give this shawl wide bands of color with no pesky ends to weave in. I call that a win!
I love this kind of pattern because it looks complicated, but the yarn does all the work for you. Even a new knitter can look like a pro with this shawl.
Knit Triangle Shawl
Pattern
Click here to get the Knit Triangle Shawl pattern from Yarnspirations.
Yarn
2 balls of Bernat Pop! – Paisley Pop shown in photos above, Full Spectrum shown in video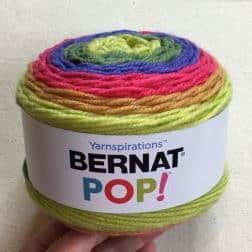 Needles & Supplies
Size U.S. 8 (5 mm) circular knitting needle 36″ [90 cm] long or size needed to obtain gauge
stitch marker
scissors
blunt tapestry needle (for weaving in ends)
Skill Level
Easy
Size
Approx 16″ [40.5 cm] deep x 70″ [178 cm] long.
Skills Demonstrated in Tutorial
Backwards Loop (Thumb) Cast-on
K- Knit stitch
K2tog – Knit 2 together
Kfb – Knit front and back
Add new ball of yarn
Cast off (Bind-off)
Weave in tails
[table type="striped_minimal"]
[trow]
[thcol]NOTES FOR LOOM KNITTERS[/thcol]
[/trow]
[trow]
[tcol]This is a simple pattern to convert to the loom. I recommend a 1/2″ to 5/8″ gauge loom with at 140-160+ pegs. The KB 28″ knitting board or a KB or CinDwood afghan loom will work well and ensure you have enough pegs make a full size shawl. [/tcol]
[/trow]
[/table]
---
PIN IT!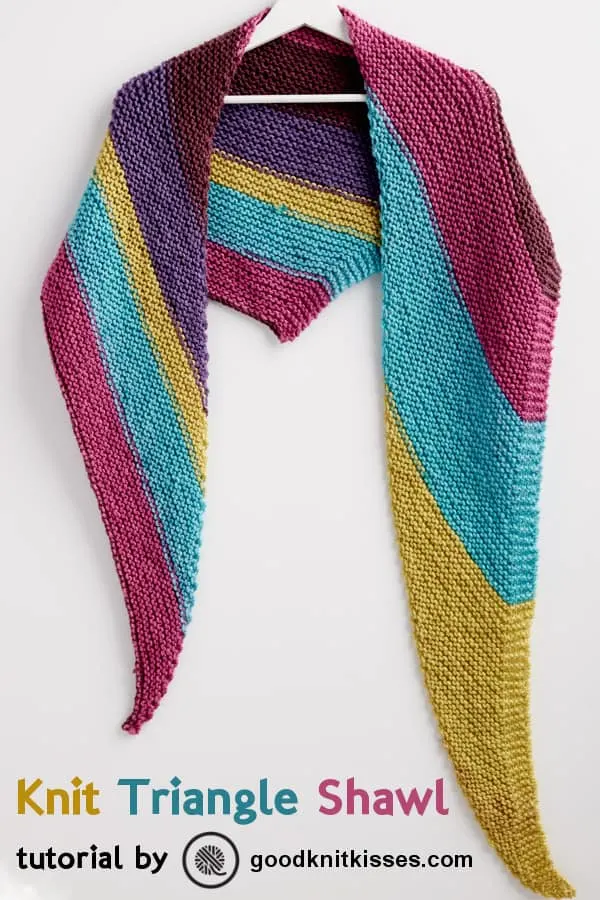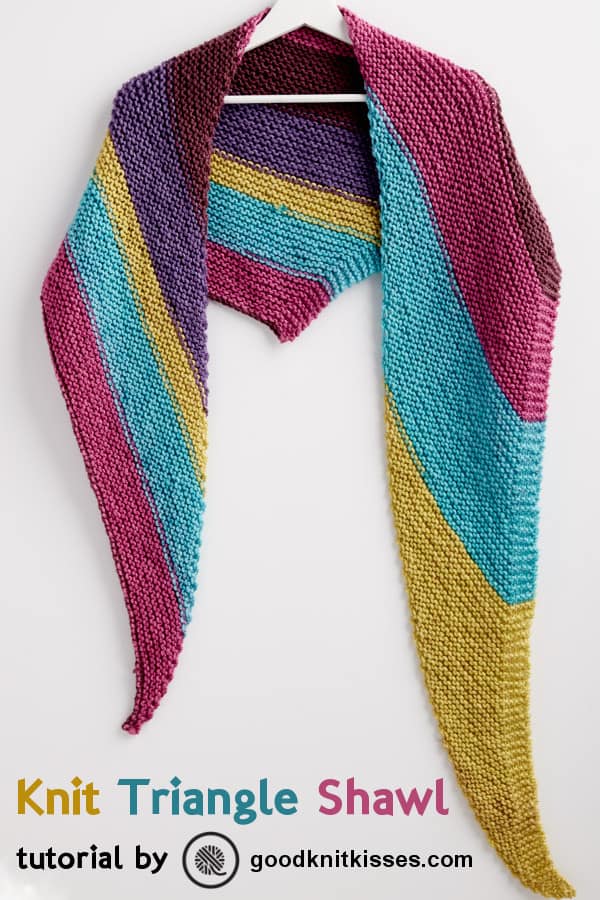 The Techniques
The Bernat Pop! Knit Triangle Shawl begins with 2 stitches. Yes, you heard me right – only 2. Using increases and decreases the shawl grows from one side to the other. You won't be easing into this pattern because the first stitch in Row 1 is a Kfb increase (that's Knit into the front and back of the stitch). Don't worry I'll show you exactly how to work the stitch on the video. I hope you're ready to turn into a Kfb pro because this stitch appears in every row of the pattern.
The next stitch you may need to learn is the K2tog decrease or Knit 2 stitches together. Again, I'll demonstrate the technique for you several times as we go through the pattern row by row. I know what you're thinking. How is my shawl going to grow if I am decreasing my stitches? You only work the decrease every other row so there are more increases than decreases. This stitch combination gives the Knit Triangle Shawl it's unique shape.
As you reach the end of your first ball of yarn I'll show you how to attach the new ball. Even if you know the technique of starting a new skein there is a trick to working with Bernat Pop! Yarn with a long color change can begin or end on any of the colors and if you want your stripes to follow a certain pattern you will need to pay close attention to how the ball is wound.
One of my favorite things about this pattern is how easy it is to adjust the size up or down. You can cast off at any point in the pattern after finishing a Row 13. Using just over 1 ball of yarn I was able to make a shorter version for my daughter. I've even got a handy trick for estimating how many more rows you will need to knit to reach your desired length.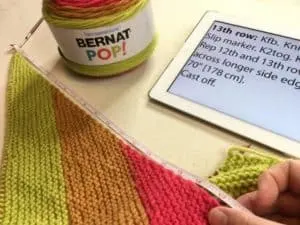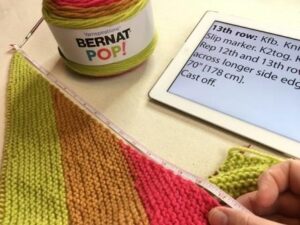 Lastly, I'll show you how to cast off and weave in the ends. I know you'll love the Bernat Pop! Knit Triangle Shawl with its softness and gorgeous colors.
If you need a slower video on the main stitches or techniques, please check out my slower tutorials on GoodKnit Kisses YouTube playlist.
WATCH VIDEO TUTORIAL! https://youtu.be/rRgvddQpQ9s