Feeling trapped after being stuck inside all winter? Got the winter blahs? Well, since yarn makes everything better I can help. Let me show you some new crochet patterns from Annie's to get you ready for warm weather. The Spring Spirit Pattern Collection has 20 stunning, new designs from Lena Skvagerson, the Lead Designer for Annie's Signature Designs.
To help kick off the new collection Annie's has generously offered to host a giveaway just for you. I'll give you the rest of the details below, but as a teaser I can say that there is yarn involved. But first you've got to get in mood for Spring by checking out these gorgeous patterns.
Spring Spirit for Your Home
This spring is all about the color! The Rhapsody Afghan is full of colorful detailed stitches that combine to make the perfect harmony. Personally, I think this would be an ideal scrapghan project because of the frequent color changes.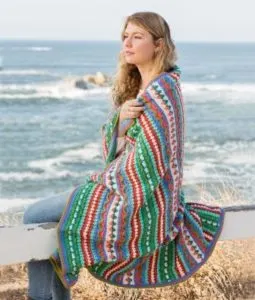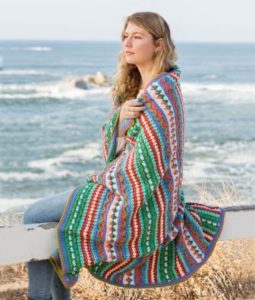 Have you jumped on the coloring book craze? Maybe pencils aren't really your thing. That's okay because now you can crochet your way into those brightly colored mandala patterns with the Color Burst Coasters and the Alegria Afghan. Stunning!
Here's another fun one for you! The Blooming Bowl can be the first blossom of springtime at your home. Bursting with colors that bring the outdoors in this crochet bowl is sure to brighten up any room.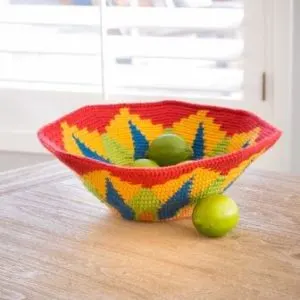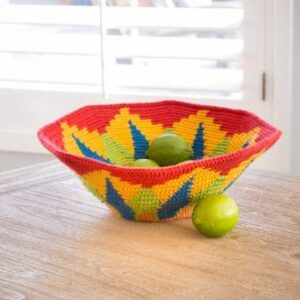 There's lots more patterns for your home in the collection that you are going to love.
Spring Spirit for You
Lena has outdone herself with these designs. They're wearable art! The Sand Dollar Cardi is squared mesh in the front with a striking circle design on the back. Oh, and did I mention the bonus crochet necklace pattern that come with it. Y'all know I love my crochet jewelry!
Okay, so we're not there yet, but flip flop weather is coming. I promise! The Coral Reef Set gets you in the mood for a day at the beach. The matching hat, bag and flip flop design are just what you need for a fun day in the sun.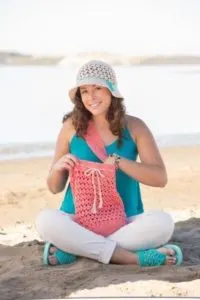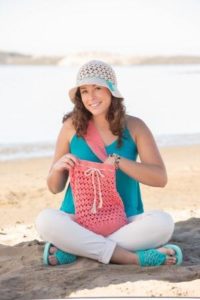 The Cresting Waves Tunic makes a great lightweight pullover and the Seashell Cardi features a delicate scalloped edge that can dress up a casual outfit.
These patterns are just the tip of the quickly melting iceberg as get ready for spring. There are 20 patterns in the entire Spring Spirit Crochet Collection and I know you're going to find one that fits your style and taste.
Annie's Spring Spirit Collection Giveaway FAQ!
What can I win? We've got two (2) different prizes for this giveaway.
Prize 1: Sand Dollar Cardi and Necklace digital crochet pattern download AND enough skeins of Berroco Medina yarn to make the pattern in your choice of color.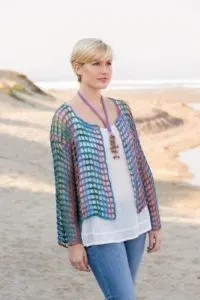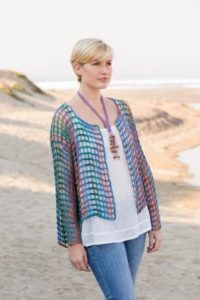 Prize 2: Blooming Bowl digital crochet pattern download AND 5 skeins of Berroco Comfort Chunky yarn in your choice of colors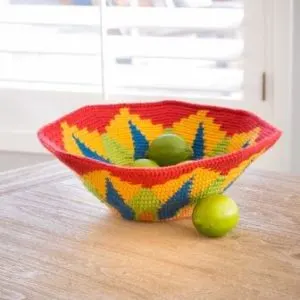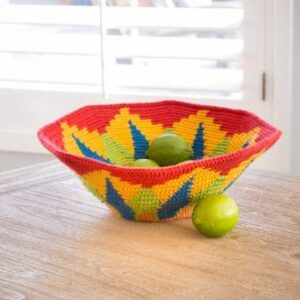 How many winners will you choose? We will be choosing TWO (2) winners (one winner for each prize).
Who may enter? Anyone 18 years of age or older living in the United States.
When is the giveaway? The giveaway starts on Monday, Feb. 19, 2018 at 12:00 AM and runs through Sunday, Feb. 25, 2018 at 11:59 PM.
How will I know if I win? Watch GoodKnit Kisses live Facebook broadcast on Monday, Feb. 26th at 9 am (Central Time) to see the winners announced. Winners will also be notified by email and their names posted on this page following the broadcast.
Enough already, how do I enter? Use the raffle entry widget below and follow the directions.
All entrants and subject to the full terms and conditions of the giveaway found HERE.