NOTE: Sometimes the calculators do not load correctly after system updates.
Please comment below and we'll fix the problem!
HELP!!!!
How many stitches should I cast on for a baby blanket? What is the number of rows to loom knit a man's scarf? How much yarn will I need to knit a queen size blanket? The Interactive Knitting Calculators are here to help!
I get these questions all the time and they can be tricky to answer. You need quick answers so you can start your project. These free online tools take the guesswork out of your project. They make it easy for you get your answers and get knitting.
These calculators work for both needle knitting or loom knitting projects. Use them right here on the website. (Be sure to bookmark this page for later.)
It's simple. Enter some details about your project and yarn. My own personal math elves will crunch the numbers for you. How easy is that?
What can I calculate?
You can calculate the following for your project (links take you directly to the calculator):
What do I need to use the calculators?
For Cast On or Row Count:
A gauge swatch (more about that below)
A ruler or tape measure (you can measure in inches or centimeters)
The width and length you want your finished project to be. (You can find this on the pattern you're using or you can enter the measurements you want to have if you're not using a pattern.)
For Yardage Calculator:
The yarn label from your yarn. (If you lost the label, you can look up the details in the yarn database at Ravelry.com.)
A postage or kitchen scale that can weigh small amounts (grams or ounces)
Making a Gauge Swatch
The interactive knitting calculators below use the measurements off a gauge swatch. A gauge swatch is a small (usually a 6″ x 6″) square knit in the stitch you plan to use for your project.
Start by knitting a small square in the yarn for your project. If you are planning an ewrap scarf make sure you use ewrap for your swatch. For more detailed help, check out this blog post, Swatching or Making a Gauge Swatch.
PIN IT!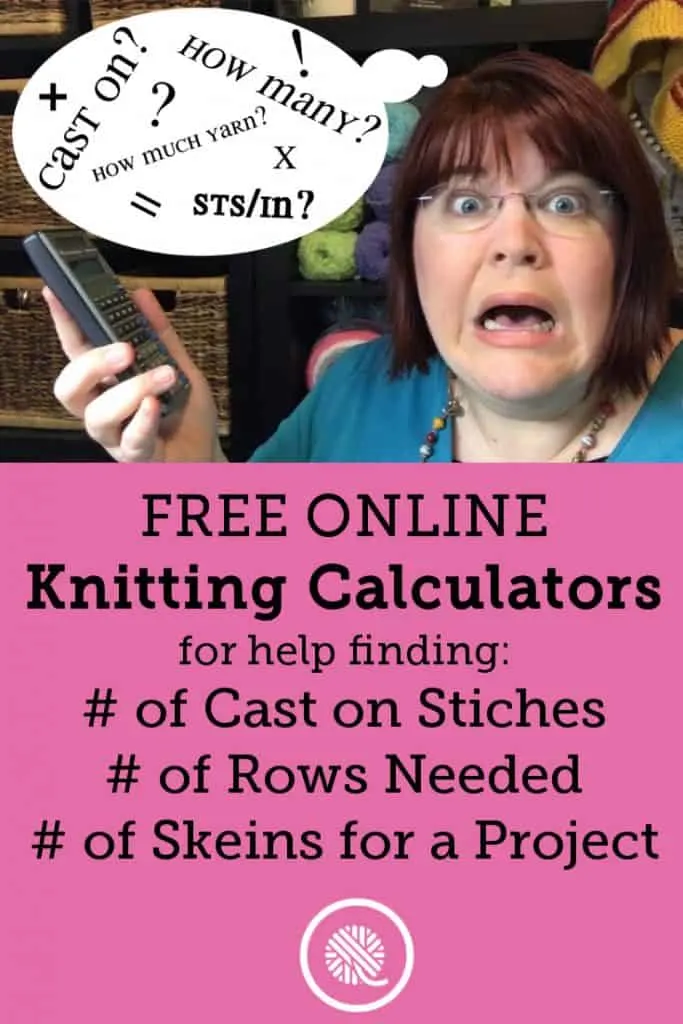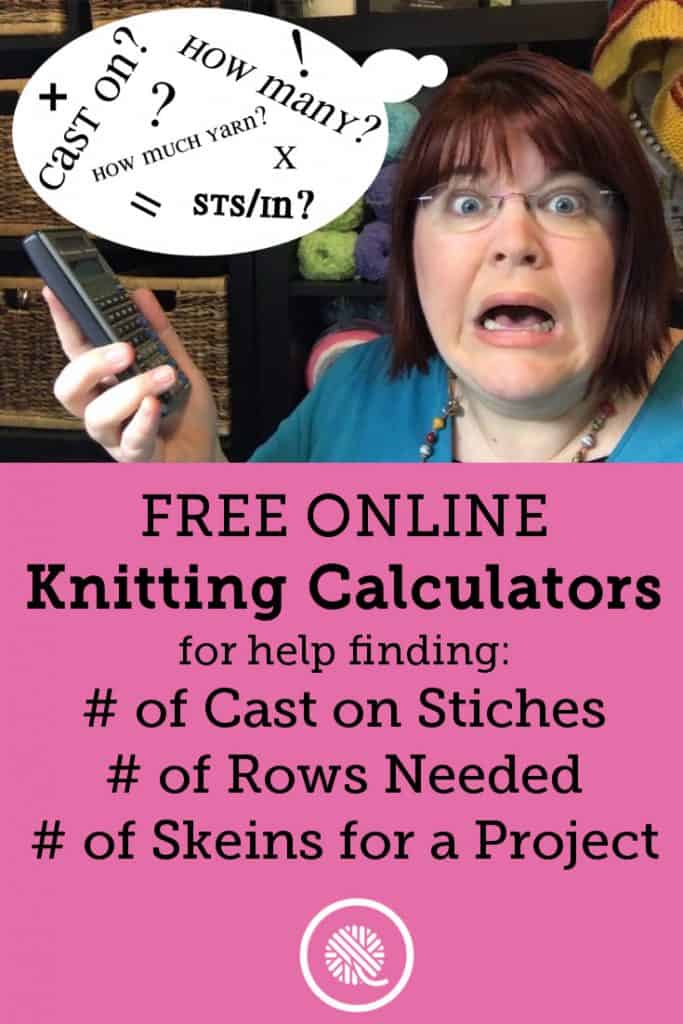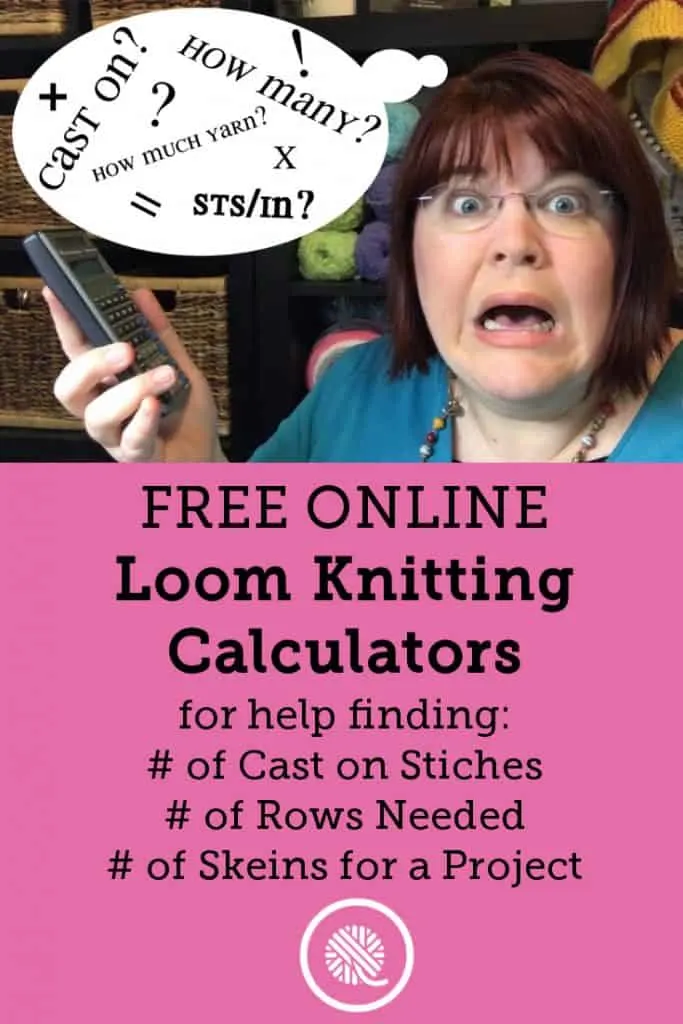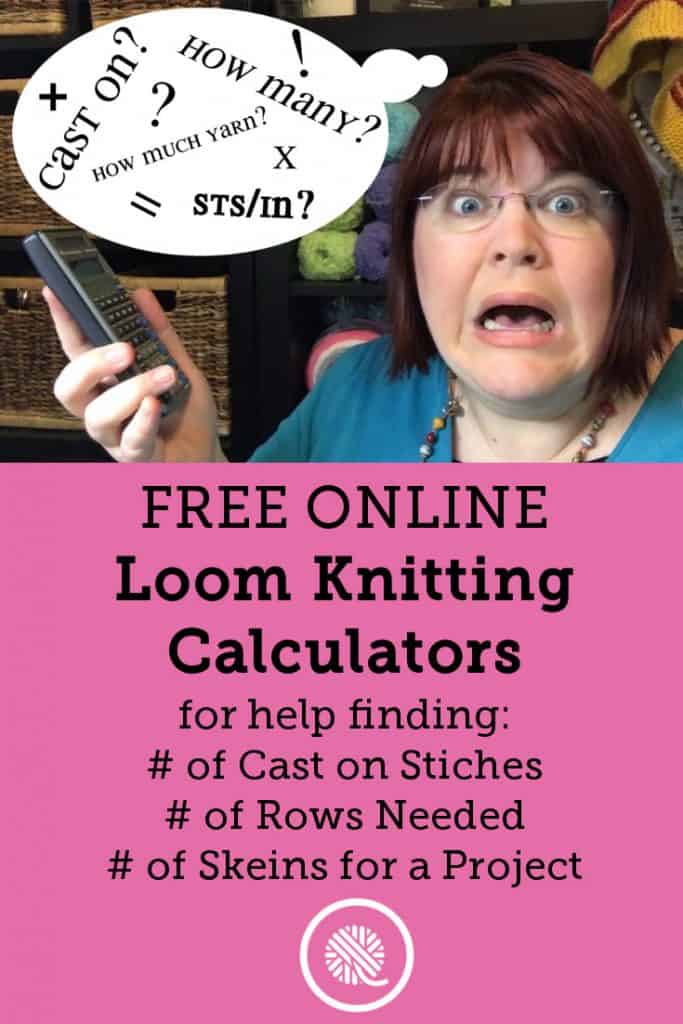 ---
Cast On Calculator
You can't get started without your cast on. Figure out exactly how many stitches you need to get an exact width.
When you want to knit a simple blanket that's 48″ wide this tool calculates how many stitches you need to cast on. You can even calculate a new cast on for pattern if you want to change the loom gauge or yarn.
---
Row Count Calculator
The Row Count Calculator tells you how many rows you will need to complete your project.
Knowing your row count helps when knitting blankets in panels, stripes or for those of us who race to fit a specific number of rows into one episode while Knitflixing. This one a must for planning your temperature blanket so you don't end up with a 12 foot blanket at the end of the year!
---
Project Yardage / # of Skeins Calculator
The Yardage Calculator tells you approximately how many yards (or skeins) of yarn needed to complete your project.
How much yarn will I need to make a ________? It's the most asked question I hear. It's also challenging to figure out because there are so many pieces of the puzzle. I've simplified it, but there's still a lot of information about your project you need to provide.
Put some extra thought into consideration if your project is not a square or rectangle. For a triangle, like a shawl, use the full length and full width measurement from your pattern but divide the yardage calculation in half.
NOTE: This is NOT an exact calculation. This calculator gives a ballpark estimate. It will be close, but it can't be perfect. If your blanket uses multiple stitch patterns, like garter and stockinette, it will be less accurate since each stitch pattern uses a different amount of yarn. Also as your tension varies throughout a project you many use more or less yarn overall.
---
Video Tutorial to show you how to use these calculators!
Example of how to use the Cast On Calculator for the Loom Knit Free Spirit Topper (Ruana):
I hope you enjoy using these Interactive Yarn Calculators! Please let me know on social media if you find them helpful by tagging me with #goodknitkisses.