Brioche Accent Knit Cowl | Yarnspirations
Thrills then terror! When you see the Brioche Accent Knit Cowl for the first time you typically have this reaction. You're thrilled by the texture and mesmerized by the depth of the stitches. Your first thought is… "HOW is it possible? I must learn brioche knitting!"
Then your good friend, Google, tells you all about brioche knitting. At first you're still fascinated by all the gorgeous pictures then you start to read instructions and the doubt begins to creep in. By the time you get around to the Sl1Pwyib you've convinced yourself that brioche knitting is highly overrated and there are a select few experts that developed the technique to torment their fellow knitters.
Ditch the fear because I am here to tell you that brioche is accessible for the casual knitter. I'll walk you through the pattern step by step and show you tips and tricks to keep track of your brioche knitting.
This pattern is featured in the F/W Fashion Lookbook. If you're looking for gorgeous wearables for this fall and winter, look no further. From sweaters and ponchos to scarves and cowls these knit and crochet patterns were designed with style in mind.
It's time to let go of the fear so grab your yarn, hit the play button, and let's get to learning!
Brioche Accent Knit Cowl
The Pattern
Yarn
Color Scheme 1 (shown on video):
Bernat Softee Chunky Lavendar (2 balls)
Bernat Softee Chunky Seagreen (2 balls)
Color Scheme 2 (shown in photo above):
Bernat Softee Chunky Clay (2 balls)
Bernat Softee Chunky Forest (2 balls)
Needles & Supplies
• Size U.S. 11 (8 mm) 36" circular knitting needle
• tape measure
• scissors
• tapestry needle
Skill Level
Intermediate
Size
Approx 12" [30.5 cm] deep x 50″ [127 cm] around.
Gauge
11 sts and 14 rows = 4″ [10 cm] in stocking st.
Skills demonstrated in tutorial
Long tail cast-on
Knit stitch
Two-color brioche technique
Bind off (cast off)
Let's get knitting the Brioche Accent Knit Cowl!
We'll start with the cast on. I chose the longtail cast because of the beautiful uniform edge it gives. If you prefer a different cast on you're welcome to use your favorite.
Let it Go… Let it Gooooo!
It's brioche time. Yeah, you get to relax through the familiarity of the cast on and then we jump right in with both feet. Round 1 is our setup round and only uses 3 different stitches. Knit 1 – well that's easy. YO – hey, you know that one too. Sl1Pwyib – slip one purlwise with yarn in back – this one is actually much simpler to do than say. Holding your working yarn to the back, slip one stitch purlwise. That's all.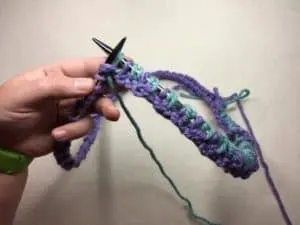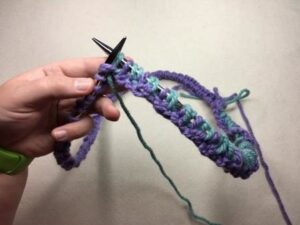 Now we get to the heart of brioche. Rounds 2 and 3 are repeated until you have the length you desire. They add one additional stitch to the ones we used in Round 1. Either a K2tog or P2tog is added to the repeat. It's the combination of slipped stitches and K2tog/P2tog stitches that gives brioche knitting its unique texture.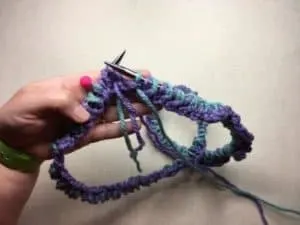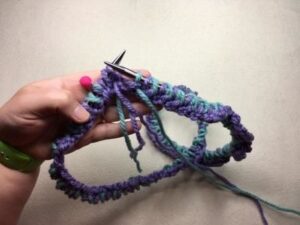 You do have to pay attention to your stitch pattern, but I've got tips to help avoid some common problems. I'll show you how to tell where you are in the repeat by looking at your stitches. I'll also teach you how to recognize when your stitches are crossed so you can keep them straight. Before you know it you'll be ready to bind off.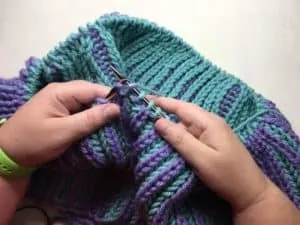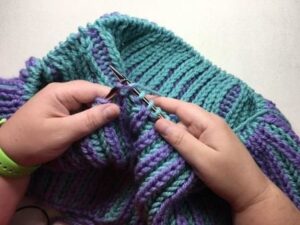 Feel the freedom! Can you believe you learned how to knit two-color brioche? I knew you could do it!
I hope you enjoyed working on the Brioche Accent Knit Cowl with me today and learning a fun technique to add to your skill library.
If you're a loom knitter and you want to make this cowl check out this blog post for instructions.
Happy Knitting!
Kristen Mangus @ GoodKnit Kisses
Are you ready to create this project with me? We'd love to see your photos!
If you post on Facebook, Instagram, Twitter or Pinterest also use the hashtag #Yarnspirations and #GoodKnitKisses as much as you like.
This blog & video are sponsored by Yarnspirations.com.