2017 Bernat Blanket Stitch Along Clue 4
Wow! We're already halfway through the Stitch Along. I know you all loved the slipped stitch tweed pattern from last week as much as I did. How can the designers top that beautiful tweed? Click HERE to get the 2017 Bernat Blanket Stitch Along Clue 4 from Joann.com to find out.
If you're just joining the Stitch Along you can find the previous clues below.
Clue 1 – Clue 2 – Clue 3
You can never have too much …
… Tweed! (Haha! You thought I was going to say yarn, didn't you?) This week's clue brings us a gorgeous Shaker Tweed stitch pattern and we finally get to use all the three colors together. The stitch pattern uses techniques you already learned in Clue 2 so there are no new stitches to learn. I know you got plenty of practice with the K1below and you'll be glad you did because that is the featured stitch.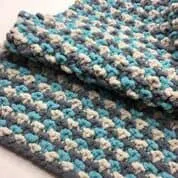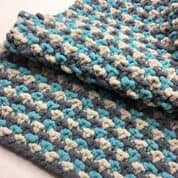 So what's new?
Since you already know all the stitches used in this pattern now you get to see how combining them in different ways can give you a totally unique look. This Shaker Tweed pattern has a longer 12-row repeat that alternates colors every other row. Keep a locking stitch marker handy to mark your right side row and to help you keep your place in the pattern. If you move your stitch marker and put along Row 12 each time you finish a repeat you'll be able to easily see each
Switch it up.
Initially it may seem tricky keeping track of three colors, but I've got a few tips to keep you untangled and on track. First, the good news. You carry all the colors of yarn up the side of your knitting so there are fewer ends to weave in. Now for the challenging part; you have three skeins of yarn to work with at once. So when you turn your knitting at the end of a row switch directions each time to keep the three strands of yarn from getting twisted. Most of us turn our work the same direction every time, but in this case switching back and forth makes this project must easier.


This post and video are sponsored by Yarnspirations.
Notes for Loom Knitters:
I am so excited to see so many loom knitters participating in the stitch along this year. You guys are loom knitting ambassadors and YOU are helping show what's possible on a loom.
You are going to love this week's clue! We're doing a throwback to Clue 2, with some fun color variations using the SlwyifP and K1below stitches. You saw how beautiful the stitch pattern is by itself, but staggering the stitch pattern with some color changes makes it incredible.
Join my live broadcast each Monday at 9 am central time on the GoodKnit Kisses Facebook Page for a loom knitting demo of the clue. If you miss it, I'll be linking the video of the broadcast below.
2017 Bernat Blanket Stitch Along Clue 4:
Instructions:
Make 1 strip
Shaker Tweed Section
With A , cast on 27 sts.
Row 1: With A, P1. *SlwyifP, P1. Repeat from * to end of row.
Row 2: With C, K1. *K1below. K1. Rep from * to end of row.
Row 3: With C, P2. *SlwyifP, P1. Repeat from * to last 3 sts. Slwyifp. P2.
Row 4: With B, K2. *K1below. K1. Rep from * to last 3 sts. K1below. K2.
Row 5: With B, P1. *SlwyifP, P1. Repeat from * to end of row.
Row 6 and 7: With A, repeat Rows 2 and 3.
Row 8 and 9: With C, repeat Rows 4 and 5.
10th and 11th rows: With B, repeat Rows 2 and 3.
12th row: With A, repeat Row 4.
Repeat these 12 rows for Shaker Tweed Pattern until work from beg measures approx 48″ [122 cm] (or length to fit along side of Strips from Week 1 and Week 2), ending on an even row.
Bind off all sts.
Clue 4 loom knitting demo:
Thank you for joining me for the 2017 Bernat Blanket Stitch Along Clue 4!
Be sure to share your progress pictures and color schemes on Joann's Bernat Blanket Stitch Along Facebook page and share on social media with the tags #handmadewithjoann and #goodknitkisses
I can't wait to see all the beautiful blankets!