2017 Bernat Blanket Stitch Along Clue 3
Two weeks into this and I know you're ready for the new clue! Do you find yourself trying to figure out what the designers will throw at you next? That's the fun of mystery stitch along. I do not want to keep you waiting because this weeks clue is beautiful. Click HERE to get Clue 3 for the 2017 Bernat Blanket Stitch Along from Joann.com. This week is another single panel, but it is much wider than the previous weeks. You have all week to think about how all these clues are going to turn into a single project!
If you need a recap …
Clue 1 – Clue 2
Mixing it up…
We've worked with two colors on first two clues, but now we get to use them together. I absolutely love the stitch pattern to this week. The Slipped Stitch Tweed really shows the contrasting colors and uses the squishy softness of the Bernat Blanket yarn to it's advantage.
The stitch pattern uses a 4-row repeat and combines knits with slipped stitches to create this amazing texture. Our new technique of the week will be the slipped stitches: Sl1Pyf and Sl1Pyb.
Now you're speaking my language…
Sl1pyb = slip next stitch purlwise with yarn in back of work
Sl1pyf = slip next stitch purlwise with yarn in front of work
Don't let these long abbreviations scare you off. it's much easier than it sounds. They key to working this stitch pattern is make sure all your slipped stitches and up on the wrong side of your work.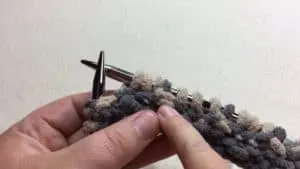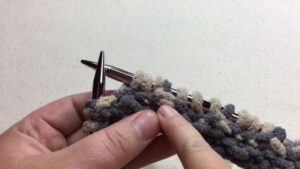 Practice makes perfect…
Once your stitches are cast on you jump right into the tweed. The slipped stitch tweed is worked over 4 rows: 2 rows in color A and 2 rows in color C. You will have to pay very close attention the first couple repeats to make sure you are slipping the yarn on the correct side. However, I have some great news for you. Once you have some of the stitch pattern knit up is becomes very easy to see when you are on the right side or wrong side. Tweed looks completely different on the front and back.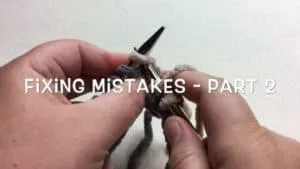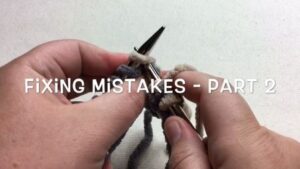 Uh oh…
Thankfully, if you accidentally slip your yarn on the wrong side, it is easy to fix. You don't even need to undo any of your knitting. You can fix it on the next row!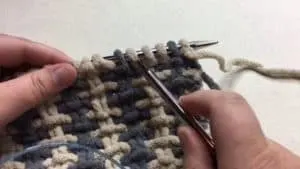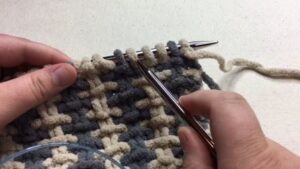 That's a wrap!
Knit until you have 48″ ending on a WS row then bind off. You notice in the picture below the cast on and bind off are in different colors. It's perfectly fine if you reach the length and bind off in the same color. It will not make any difference on the finished blanket.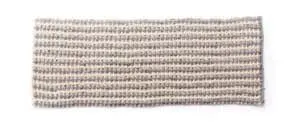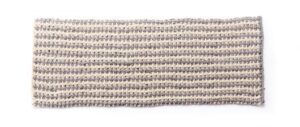 This post contains content sponsored by Yarnspirations.
[wpdevart_youtube]xuSi_-0w4PQ[/wpdevart_youtube]
Notes for Loom Knitters:
Whew! We're on to week 3 of the Stitch Along and you may not realize it, but you had a much easier time than the needle knitters on Clue 2. The Knit 1 below is an easy stitch to work on the loom, but takes skill and concentration to work on needles. But you don't time to sit back and rest there's a new clue to knit up!
Join my live broadcast each Monday at 9 am central time on the GoodKnit Kisses Facebook Page for a loom knitting demo of the clue. If you miss it, I'll be linking the video of the broadcast below.
Clue #3:
You guys get another break this week! While the finished stitch is incredible to look at it, you'll be surprised by how simple it is to knit on the loom. It's a combination of knits, purls and slipped stitches. In this case simply skip the peg to work the slipped stitch.
Instructions:
Make 1 strip
Slip Stitch Tweed Section
With Contrast A cast on 43 sts.
Row 1: With A, K3. *Sl1. K3. Repeat from * to end of row.
Row 2: With A, P3. *Sl1. P3. Repeat from * to end of row.
Row 3: With C, K1. *Sl1. K3. Repeat from * to last 2 sts. Sl1. K1.
Row 4: With C, P1. *Sl1. P3. Repeat from * to last 2 sts. Sl1. P1.
Knit until piece measures 48″ ending on Row 2 or 4. Basic bind off all sts.
Clue 3 loom knitting demo:
Thank you for joining me for the 2017 Bernat Blanket Stitch Along Clue 3!
Be sure to share your progress pictures and color schemes on Joann's Bernat Blanket Stitch Along Facebook page and share on social media with the tags #handmadewithjoann and #goodknitkisses
I can't wait to see all the beautiful blankets!