Head in the Clouds Pillow Loom Knit
"Get your head out of the clouds!"
That's something you'll never hear from me especially when it comes to converting a wonderful needle knit pattern to the loom. If you've been dreaming about trying the Head in the Clouds Knit Pillow loom knit version I'm ready to make your dreams come true! This is not a rewrite of the original pattern as I do not have permission, but these are my notes and tips to guide you through converting a needle knit pattern to the loom.
You can see the original needle version of the Head in the Clouds Pillow here!
Pattern:
Head in the Clouds Knit Pillow
Loom:
1/2″ RG (Regulare Gauge) loom with at least 53 pegs
Yarn:
2 balls of Bernat Pipsqueak color Whitey White
1 ball (10 yds max) of Bernat Super Value color Black
(WILL MAKE 3 Cloud Pillows)
Stitches used:
Knit – True knit stitch or loose U-knit stitch (Ewrap may be used, but it will likely be too open for the fabric to hold the polyfill. (
Decrease using K2tog – Knit two stitch together
AND
Ssk – Slip, slip knit (optional – use all K2tog since the direction of the decrease won't show with the Pipsqueak yarn.)
Increase using M1 – Make one stitch
OR
Kfb – Knit into the front and back of the stitch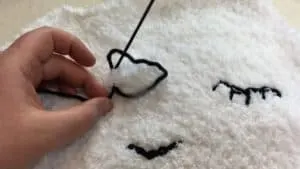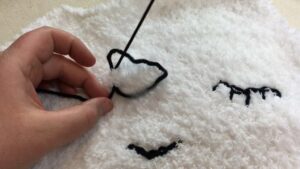 Converting the pattern:
Check out THIS POST on converting needle knit patterns to the loom for basic instructions.
NOTE: All even rows are worked as knit (not purl).
Since this pattern follows a chart it is very easy to convert. Just keep track of your rows!
The needle knit video shows you basic instructions for following a chart and for seaming, stuffing and embroidering the face.
I hope you enjoyed this loom knit conversion! If you decide to loom knit this pattern please share it on social media and tag me #goodknitkisses!