We, loom knitters, have come a long way since the handful of simple hat patterns we started out with. We now have dozens of designers creating shawls, mittens, scarves, sweaters, baby clothes and blankets all for our looms. Ravelry has over 3,500 loom knitting patterns! But what about when you see a needle knit pattern that just speaks to you? I'm going to show you how to convert a needle knit pattern so you can work it on the loom.
Whenever I make a video for a needle knit project, one the first comments I receive is, "How can I make this on the loom?" That's why I try to make a loom knit version as often as I can. Now I'm going to crack open the door and let you see first hand what I do when I convert a pattern.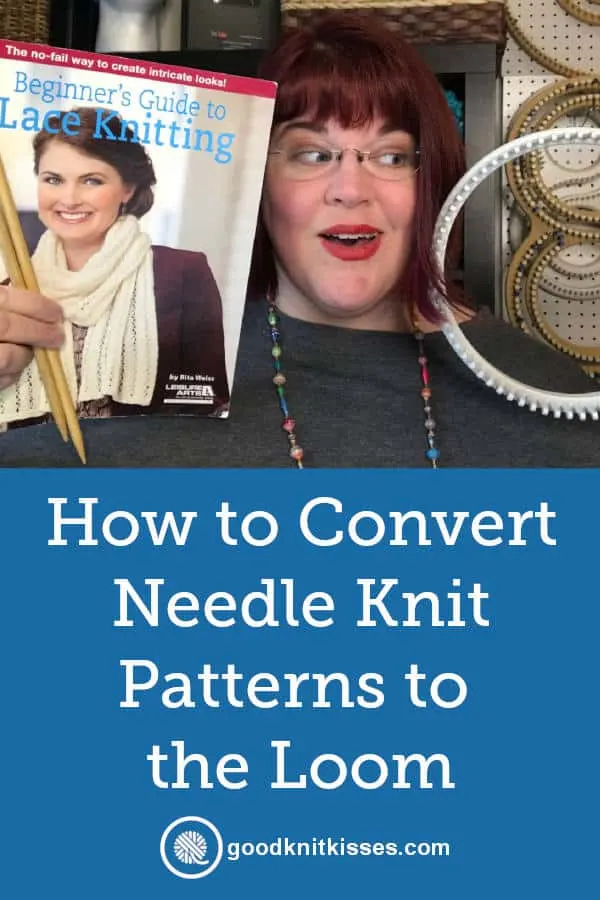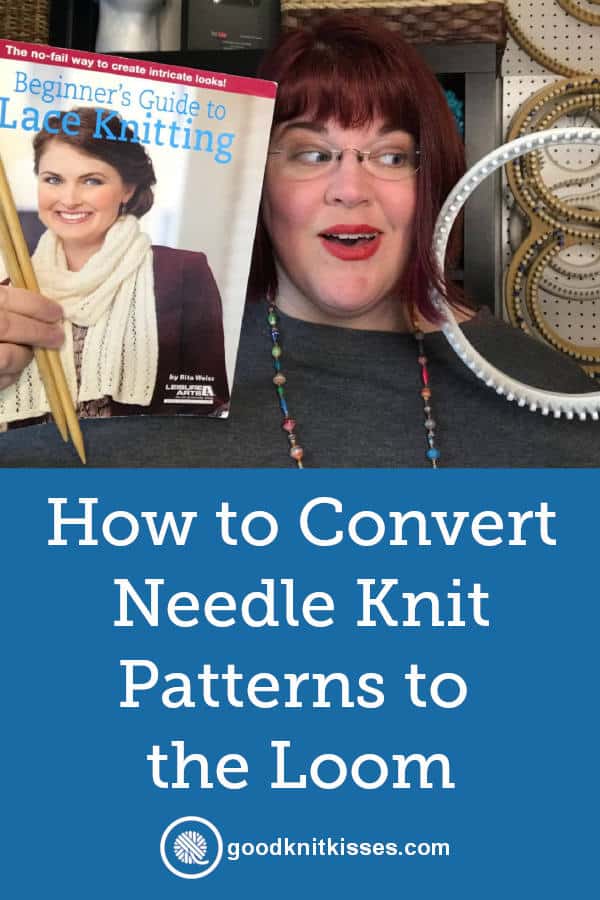 What's the first step?
Start by reading all those important pieces of information at the beginning of the pattern. This is the step many loom knitters skip. This is just as important as converting the row instructions because if you don't use the correct gauge loom for the project it won't look like the needle knit pattern.
Yarn – look at the weight. It will be listed as a name and/or number. I'm talking about worsted, bulky, sock, etc. For a complete list of yarn weights go to the Craft Yarn Council Yarn Weight System Chart.
Needle Size – The size knitting needles used in the pattern will help you decide what loom gauge to choose.
Gauge – This is the pattern gauge. It tells you how big the stitches are. You also use this to help you choose the correct loom.
Number of cast on stitches or largest number of stitches used in the pattern – This is essential because for each stitch you will need a peg to put it on. This tells you the minimum number of pegs you will need to have on your loom.
Once you have all that information it's time to start putting together. If a pattern calls for worsted weight yarn what is the best gauge loom to choose?
I've got a resource page that explains all about loom gauge in great detail. You may want to bookmark the Loom Gauge Charts, Notes & Looms. This page also has charts of different looms so you can find one that has the correct gauge and number of pegs that you need.
What if I want to use a different yarn or loom?
Funny you should bring that up because that's exactly what I just did. I converted the Winter Lace Afghan needle knit pattern to the loom. If you want to loom knit this one too you can get the Loom Knit Lace Afghan pattern on my blog.
The original pattern was knit using #6 Super Bulky weight yarn and has a cast on of 96 pegs. I already know that there aren't any Extra Large (XLG) gauge looms with that many pegs so instead of giving up on the pattern I decided to look for an alternative loom that I could use with #4 worsted weight yarn.
Looking through the loom gauge charts I decided to test the pattern on a 5/8″ Large Gauge (LG) loom. It looked great! Plus that gave me the gauge swatch I needed to figure out how many stitches to cast on.
You can see on the video how I figured out the stitch multiples and used my Interactive Knitting Calculators to calculate the number of cast on stitches for me. Best.Tool.Ever!
Now you're ready to learn how to convert a needle knit pattern row by row.
First, look and see if the pattern is knit flat or in the round. If it's knit in the round you're good to go and can knit the pattern exactly as it is written.
Needle patterns knit in the round can be followed without converting the instructions!
For pattern that are knit flat you have to do some work before you can start knitting. But I need to give a little needle knitting lesson first….
When you knit a flat panel on needles you are knitting on BOTH sides of your project. You knit one row on the front and then turn your project around and knit the next row on the back. And if you've ever seen a needle knit pattern you'll see they refer to the right side (front) and the wrong (side).
The big difference between knitting on the loom and knitting on needles is loom knitters are always knitting on the front of the project. We don't have a right side and a wrong side while we knit.
This is very important to understand because a knit stitch on the right side looks like a purl on the wrong side and vice versa.
So to convert a needle knit pattern to the loom…
All the wrong side rows need to be converted using the opposite stitch.
Wait, what? Opposite stitch? Yes. every stitch has an opposite. A knit and a purl are opposite. A k2tog (knit 2 together) is the opposite of a p2tog (purl 2 together). Don't worry, I have a chart that shows you the most common stitches and their opposites to help you convert the row instructions very quickly.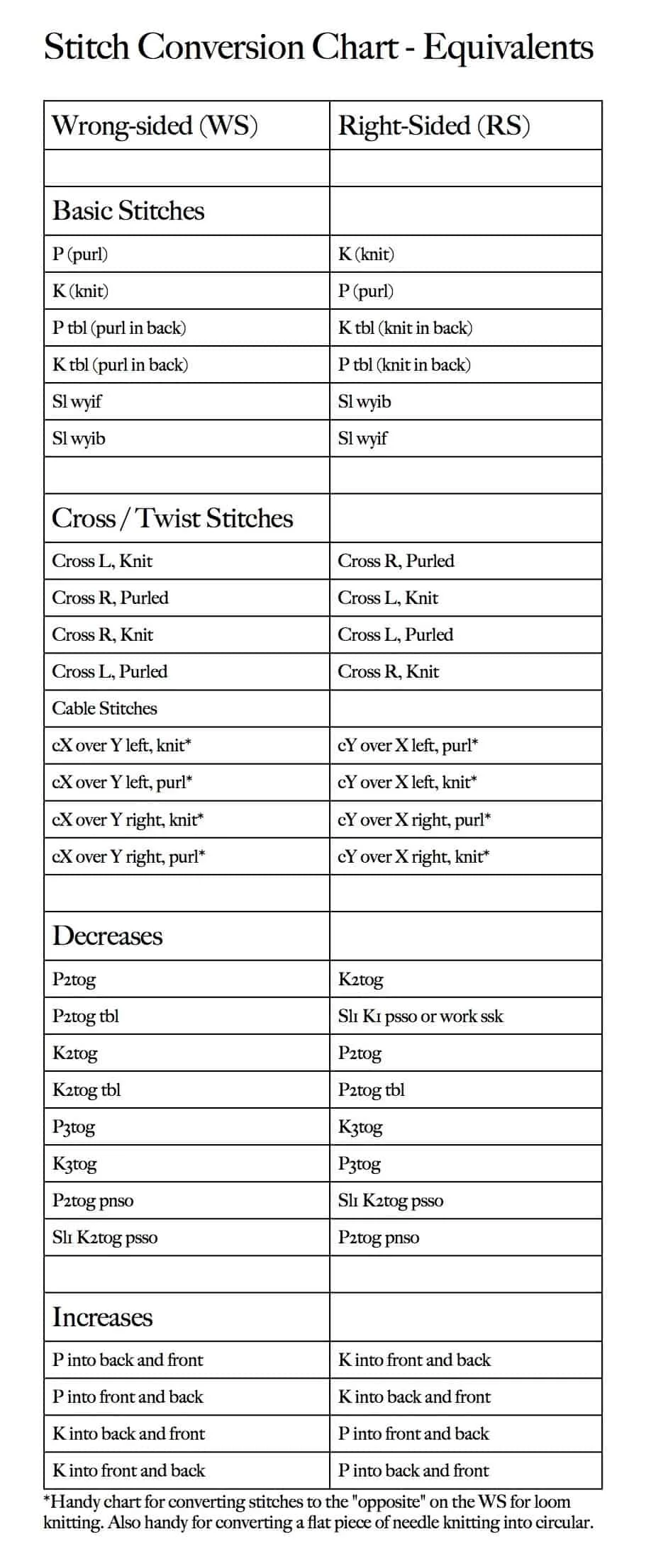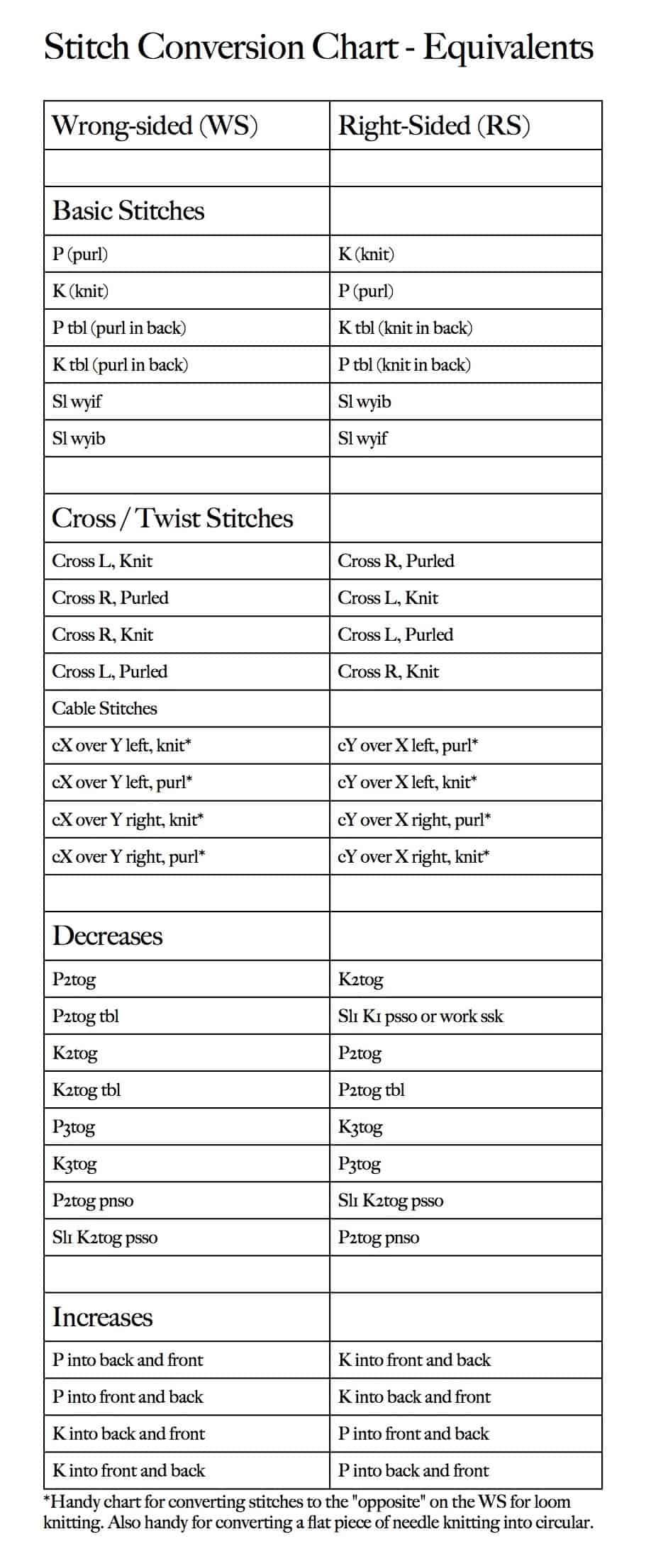 Once the row instructions are converted then it's time to grab your yarn and loom. You can cast on confident that the pattern will turn out great because you did you research!
---
Watch how to convert a needle knit pattern to the loom below: