Inside: Free pattern for the crochet Spiral Bag Handle including written instructions and tuttorial videos.
Why can't I get a handle on this?
It seems like such a little thing, but I've tried so many crochet, loom and needle knit handles for market bags and purses. And I've never been really happy with one. They either stretch too much, are too narrow or just plain weak and flimsy.
Until now! This is, by far, the best handle or strap I've ever made.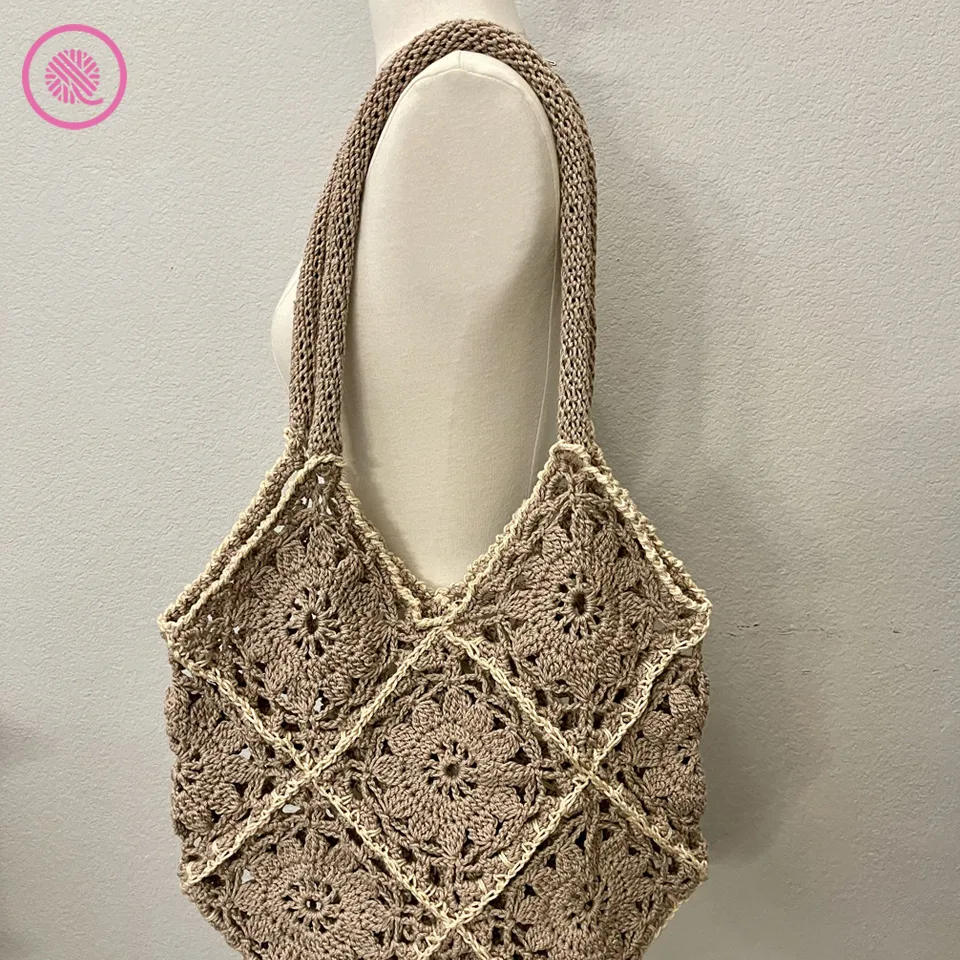 Goodbye, i-cords and overstretched panels! This crochet Spiral Bag Handle makes a perfect strap that is strong enough for a market bag. The thick rope-like design is soft enough to wear on your shoulder all day.
Even if you don't crochet (YET!), I encourage you to learn the basics just so you can make this handle. It really is easy enough for a beginner and the results are well worth the effort.
This pattern includes written instructions and tutorial videos for both right and left handed crocheters.
Crochet Spiral Bag Handle
By Kristen Mangus
A downloadable PDF of this pattern is available in my Etsy store or from Ravelry at the links below:
MATERIALS
(Materials list may contain affiliate links to products I used to make this project. Using these links cost you nothing, but helps support GKK.)

Yarn
Medium (#4) worsted weight yarn – 85 yds. (Makes two 22″ handles.)
Yarn Bee Fundamental Cotton (164 yds./3.5 oz., 150 m/100 g) Colors Camel and Aqua used in samples. 1 ball needed.
Hook
US Size H-8 (5 mm) hook
Furls Odyssey (5 mm size H) in Black & Nickel used in sample.
Notions
Tapestry needle
ABBREVIATIONS
Beg = Beginning
Ch = Chain
Rem = Remaining
Rep = Repeat
Rnd = Round
sc = single crochet
St(s) = Stitch(es)
If you need a refresher, be sure to check out my How to Crochet series!
SKILL LEVEL Easy+
MEASUREMENTS (see notes below)
Unstretched handle: 2" x 22" (5 x 56 cm)
Fully stretched handle: 2" x 31" (5 x 79 cm)
NOTES
The spiral handle is worked in the round without slipping to join at the end of each round.
You work into the third bar of the stitch (see picture) which causes the top edge of your work to roll inward. Be sure to watch the tutorial video below to get a clear picture of which stitch to crochet into.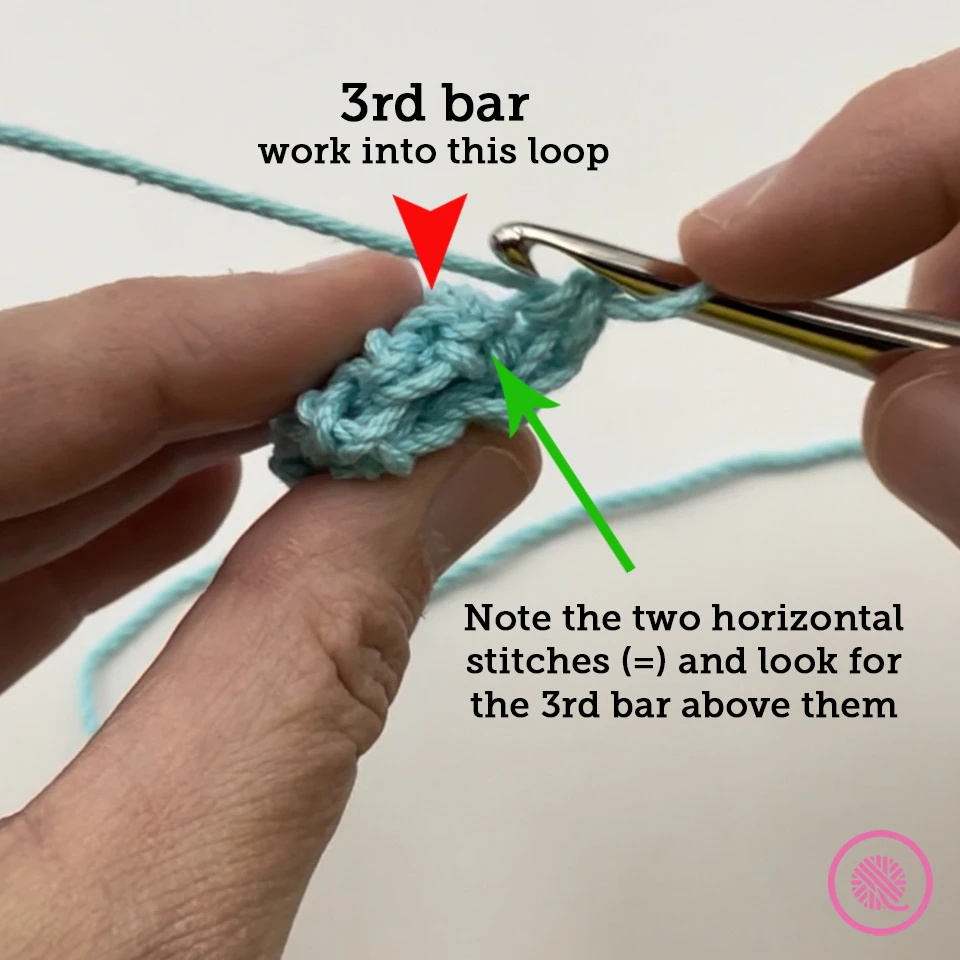 Note: You must keep your tension loose when working the handle. If your tension is too tight it will be difficult to work in the third bar.
Measuring – Hold tape measure at beginning of your handle and stretch handle as far as you can. This mimics the weight on the bag as you wear it on your shoulder. Check measurement to see if you've reached your desired length. If it's too long, pull out a few rounds and remeasure. NOTE: For my project, the handle length was perfect at 22". This stretched to 31" once I attached it to my bag.
INSTRUCTIONS
Make 2
Start with a magic circle; leaving a long tail for sewing to bag.
Rnd. 1: Sc 8 times in magic circle. (8 sc)
Gently tug beginning yarn tail to close magic circle. NOTE: Do NOT join.
Rnd 2: *Sc in back loop only. Rep from * to end of rnd.
Rnd 3: Look at the two horizontal/parallel lines, and note the loop coming out the top. This is the third bar of the stitch. Sc in this bar. *Sc in next bar. Rep from * to end of rnd.
Rep Rnd 3 until the handle measures 22" (56 cm) before stretching it out or to desired length. Rope will be a continuous spiral and stretchy.
Cut leaving a long tail for sewing to bag. Using tapestry needle, weave tail through next 8 sts and pull through to tighten. Make a knot to fasten off. At magic circle, pull tail to tighten and make a knot to fasten off.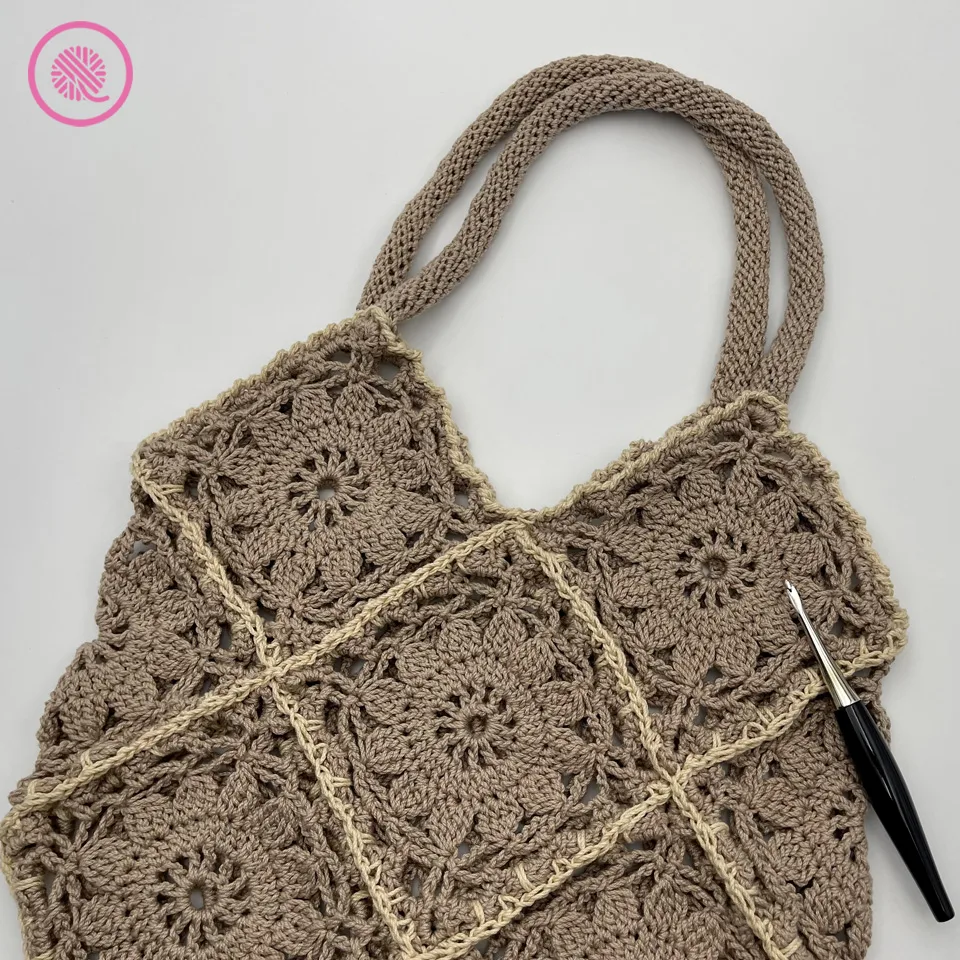 ---
PIN IT!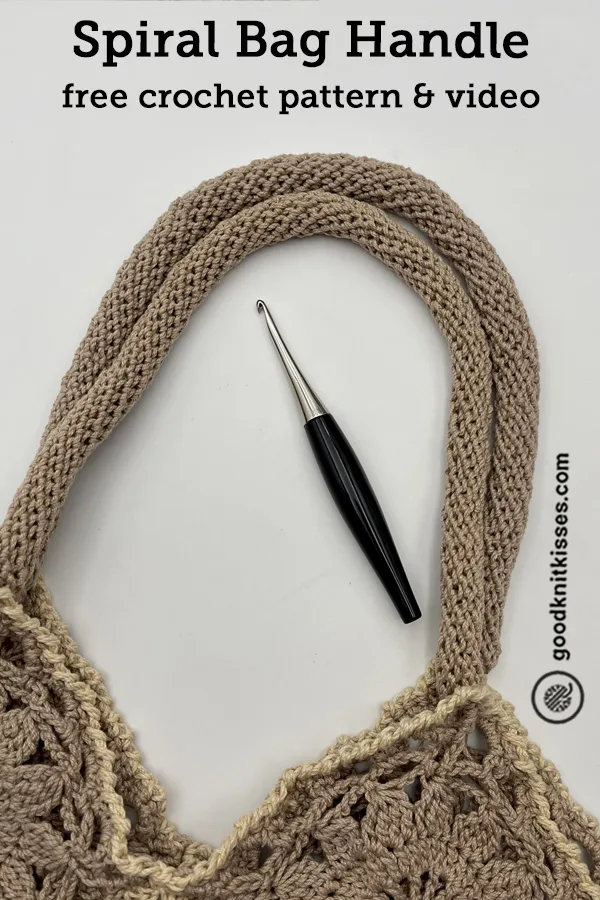 ---
Crochet Spiral Bag Handle Video Tutorial
Select videos are available to GoodKnit Kisses YouTube members only. To get exclusive access to GKK VIP-only content, free PDF patterns, weekly Zoom meetup and more, sign in to YouTube and join as a VIP Member today! Find out more about GKK Membership HERE!
Right handed


Left handed