INSIDE: Feather Lace stitch pattern instructions for loom knitters with free baby blanket pattern and video tutorial.
I don't know about you, but sometimes I get tired of the same ol' stitch patterns. Stockinette is like your favorite gray sweatpants. Easy going, comfortable and as interesting as milk. We all need it, but it's not exciting. The Feather Lace Stitch takes your loom knitting from dull and flat to vibrant and textured. And, don't worry, it's much easier than it looks.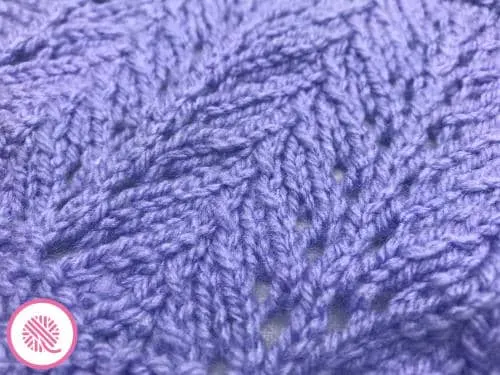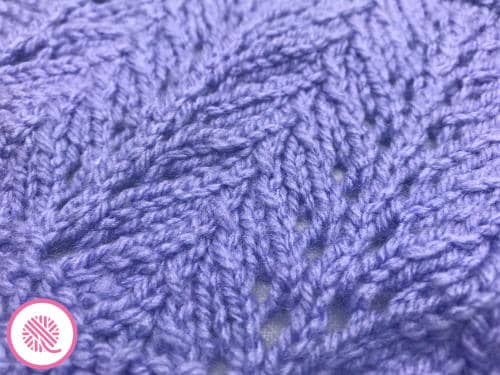 This simple stitch pattern is easy to knit on your loom and creates a striking, eye-catching texture. Flanked by eyelets of lace the columns of feathers climb the length of your project.
You keep saying easy, but how can THAT be easy?
Well, for starters, with a 4-row repeat the lace pattern flies along as you knit. Use stitch markers to remind you where to place your yarn overs creating an intuitive pattern that is easy to follow visually.
Also, every other row has only knit stitches. Can you believe this beautiful stitch pattern is half stockinette?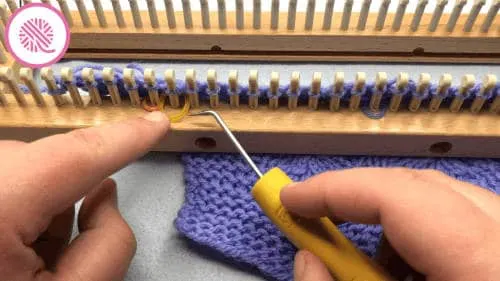 What can I make with the Feather Lace stitch?
Since the stitch pattern can be loom knit as a flat panel or in the round the possibilities are endless. Hat, scarf, couch cover for your grandma. Anything you want.
Keep in mind with a multiple of 10 stitches you may be limited on hat sizes. A multiple of 10 stitches means you will be limited to hats with 20, 30, 40, 50… stitches.
Does the Feather Lace Stitch curl?
Yes. If you use the stitch as a flat panel, like in the Lacy Baby Blanket below, you need to add a border. I used a garter stitch border of 6 stitches.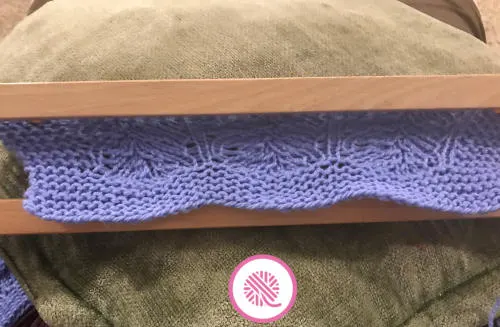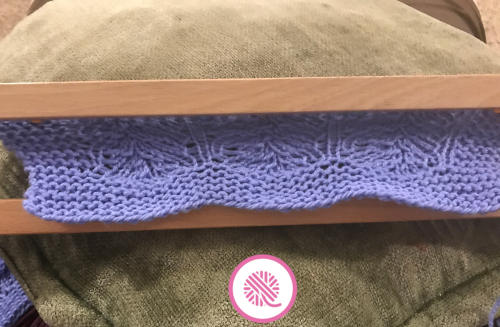 Feather Lace Stitch Pattern Details
Multiple of 10 stitches.
ABBREVIATIONS
EK = Ewrap knit
UK = Uwrap knit
K2tog = Knit 2 together
Ssk = Slip slip knit
Rep = Repeat
YO = Ewrap Yarn over
Row 1: *UK1, YO, UK2, Ssk, K2tog, UK2, YO, UK1. Rep from * to end.
Row 2: UK all.
Row 3: *YO, UK2, Ssk, K2tog, UK2, YO, UK2. Rep from * to end.
Row 4: UK all.
Rep Rows 1-4 for stitch pattern.
Feather Lace Stitch Chart: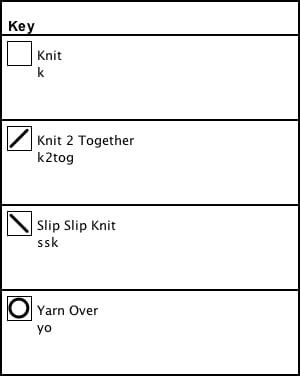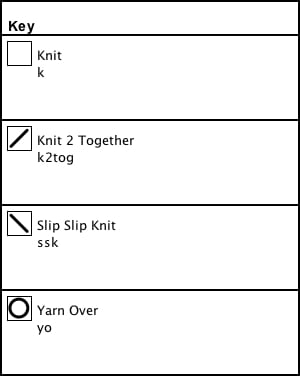 PIN This Post!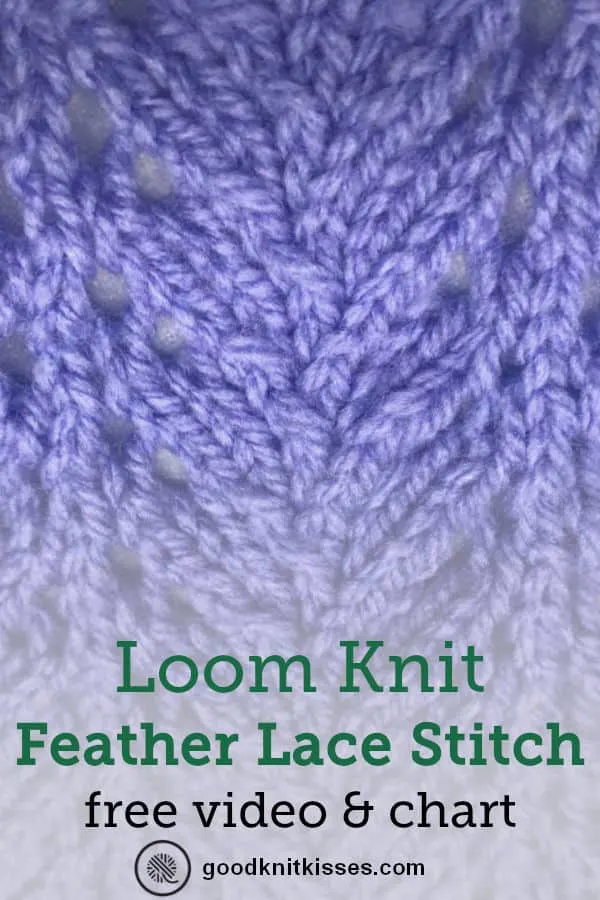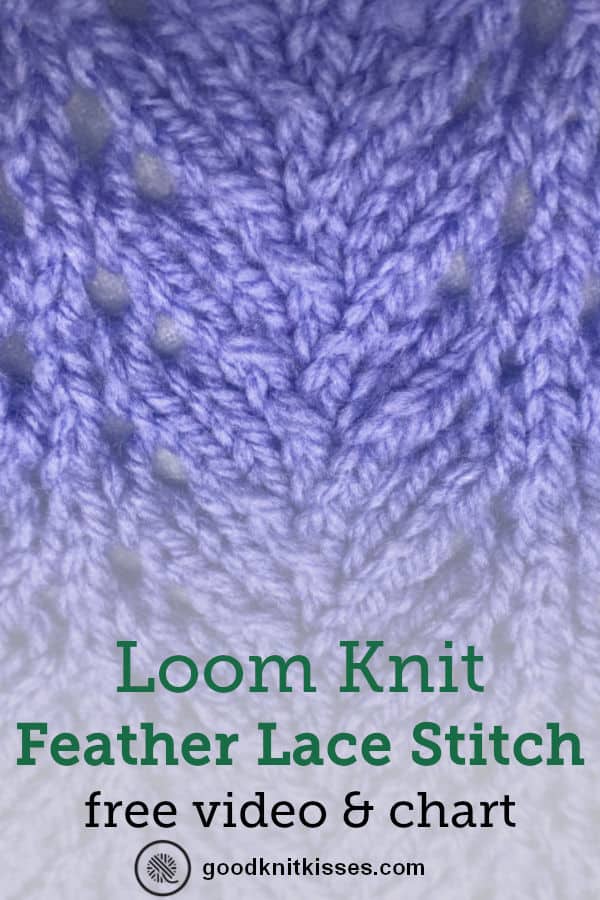 ---
Lacy Baby Blanket Pattern
You'll appreciate seeing the Feather Lace stitch as part of a pattern. The loom knit Lacy Baby Blanket is based on the needle knit pattern from Yarnspirations I demoed a couple years ago.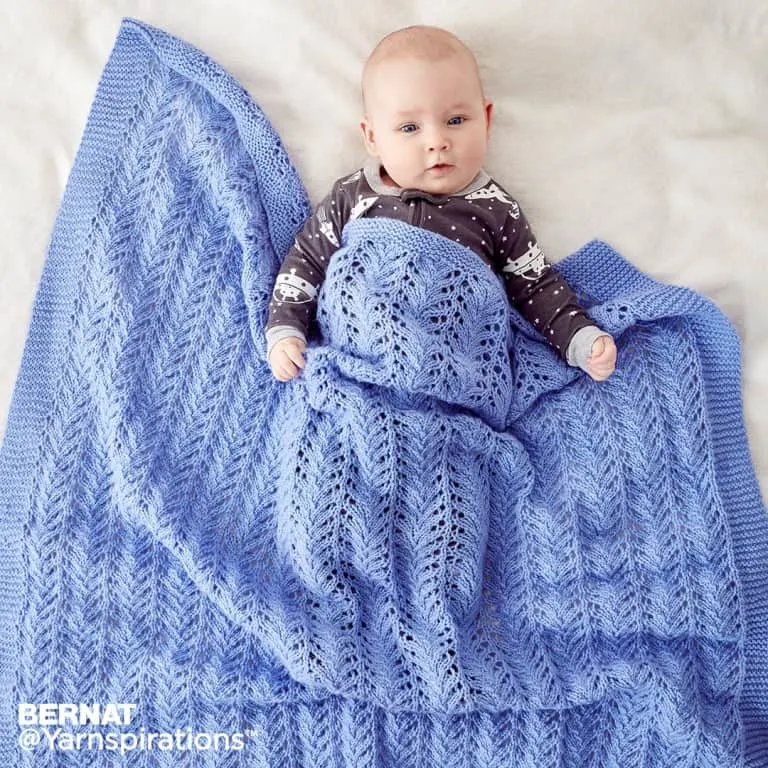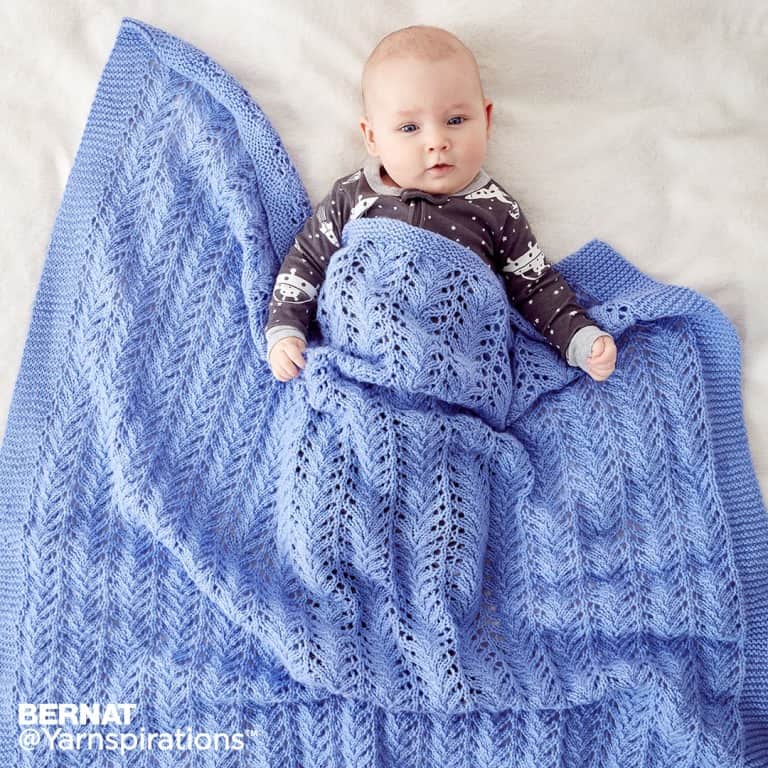 Loom knit a lovely heirloom lace blanket for your baby. This lightweight baby blanket is ideal for summer and is available in two sizes.

The simple four-row repeat of the feather lace stitch pattern is quick to knit. The easy-to-follow row instructions, lace chart and tutorial video make this a great pattern for learning how to loom knit lace.
A downloadable PDF of this pattern is available on Ravelry.com.

MATERIALS
Using the affiliate links below costs you nothing, but helps support GoodKnit Kisses so I can keep providing free videos and patterns. Thanks!
Yarn: Bernat Baby Sport (12.3 oz/350 g; 1256 yds/1148 m) Color: Lilac 1 ball
Loom: ⅜" gauge loom with at least 132 (162) pegs.
KB All in One with 20 peg extenders used in sample. Alternately use KB 28" loom with peg extenders.
Stitch markers
Tapestry needle
ABBREVIATIONS
Approx. = Approximately
EK = Ewrap knit
UK = Uwrap knit
P = Purl
K2tog = Knit 2 together
Ssk = Slip slip knit
Rep = Repeat
St(s) = Stitch(es)
YO = Ewrap Yarn over
GAUGE
10 sts x 4 rows in lace stitch pattern = 2.5" x 0.5"
SKILL LEVEL
Easy
MEASUREMENTS
Rectangle: Approx 33" x 40" (84 x 101.5 cm)
Square: Approx 41" x 41" (104 x 104 cm)
NOTES
This pattern uses both Ewrap and Uwrap knit stitches. The uwrap stitches need to be loose. If it's too tight use the true knit stitch to replace the uwrap knit stitches.
I recommend the long tail cast on with this pattern.
To make eyelets more open do the following on the even rows:
Lift yarn over off peg.
Untwist the yarn over. (It will be twisted from working an Ewrap yarn over.)
Place stitch back on peg.
Knit the stitch.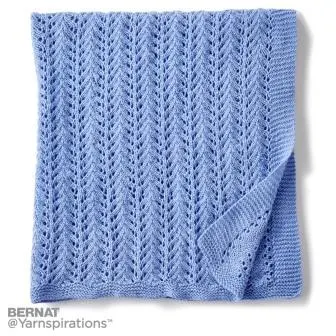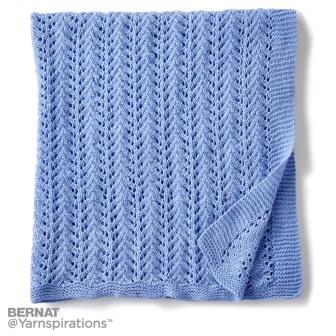 INSTRUCTIONS
Cast on 132 (162) stitches.
Border:
Row 1: P all.
Row 2: EK all.
Rep Rows 1 and 2 four more times. Rep Row 1 once more.
Feather Lace Stitch Pattern (see chart and video for more info):
Row 3: EK6. *UK1, YO, UK2, Ssk, K2tog, UK2, YO, UK1. Rep from * to last 6 sts. EK6.
Row 4: P6. UK to last 6 sts. P6.
Row 5: EK6, *YO, UK2, Ssk, K2tog, UK2, YO, UK2. Rep from * to last 6 sts. EK6.
Row 6: P6. UK to last 6 sts. P6.
Rep Rows 3-6 until work from beginning measures approx 39″ [99 cm], ending on Row 6.
Border:
Row 7: EK all.
Row 8: P all.
Rep. Rows 7 and 8 four times. Rep Row 7 once more.

Bind off. Weave in tails.
---
See the Feather Lace Stitch tutorial video to see the stitch in action: