We've all been there. You just found the perfect pattern. So you grab your yarn and favorite hook, set up the snacks and settle in for an evening of binge-watching on Netflix. Then you get wrapped up in the plot and can't follow the pattern. Or you try to stick to the pattern and keep having to rewind because you missed the cliffhanger. It's too bad you didn't have my crochet marshmallow stitch pattern handy.
This stitch is so easy you can keep crocheting through the joys and heartaches of everyone at Downton Abbey. It's so easy you can hang with your friends through a Marvel marathon weekend. It even easy enough to stand up to the series ending of Game of…. well, maybe not. (I better not go there, huh?)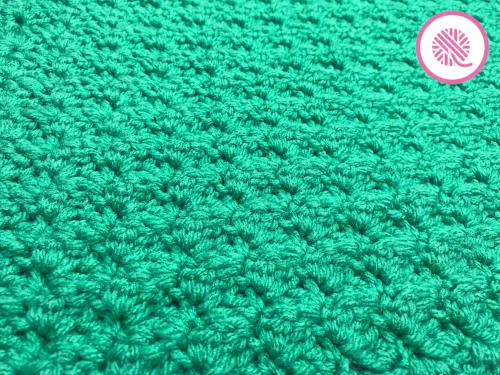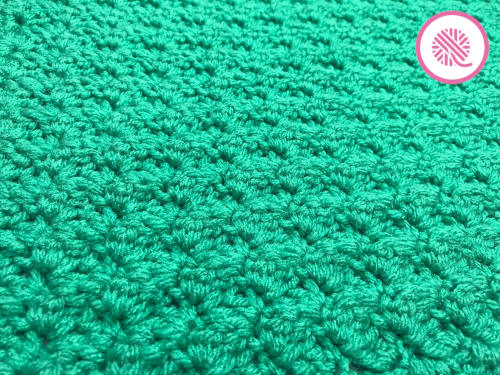 What makes it so easy?
Do you like reading patterns? Part of me hopes you do since I write patterns (and I have a free one for you coming up), but another part of me realizes that it's not a skill everyone wants to learn.
Sometimes, like with a beautiful lace project, it's worth painstakingly following each line.
But sometimes I want a relaxing pattern. The kind I can glance at and never need to look at again after the first couple rows.
The crochet marshmallow stitch is this kind of pattern. It's a one row repeat.
Yup. Just one.
Even if you can't read a whole crochet pattern, you can follow one row. (Seriously though, if you can't read a pattern at all. You'll want to scroll down to the bottom of this post and just watch the video.)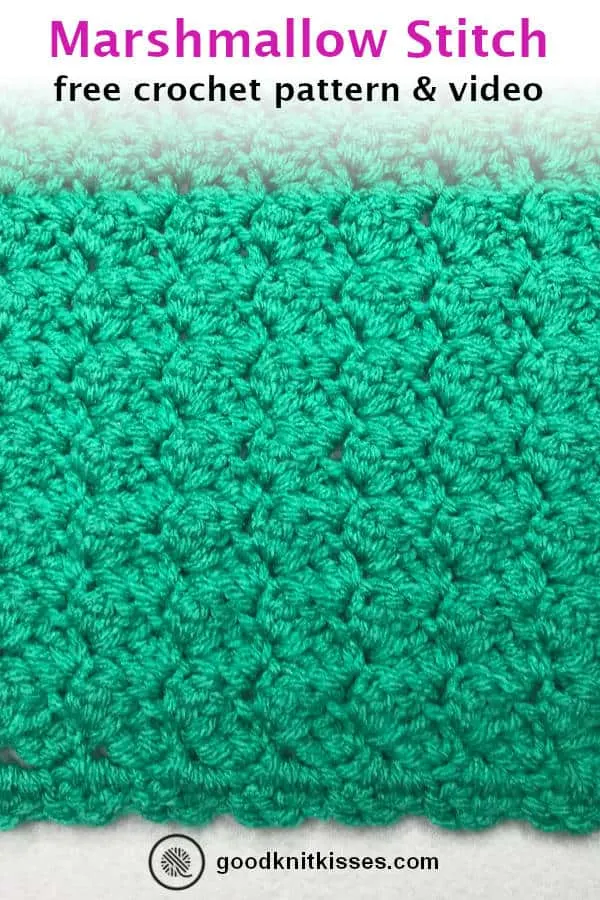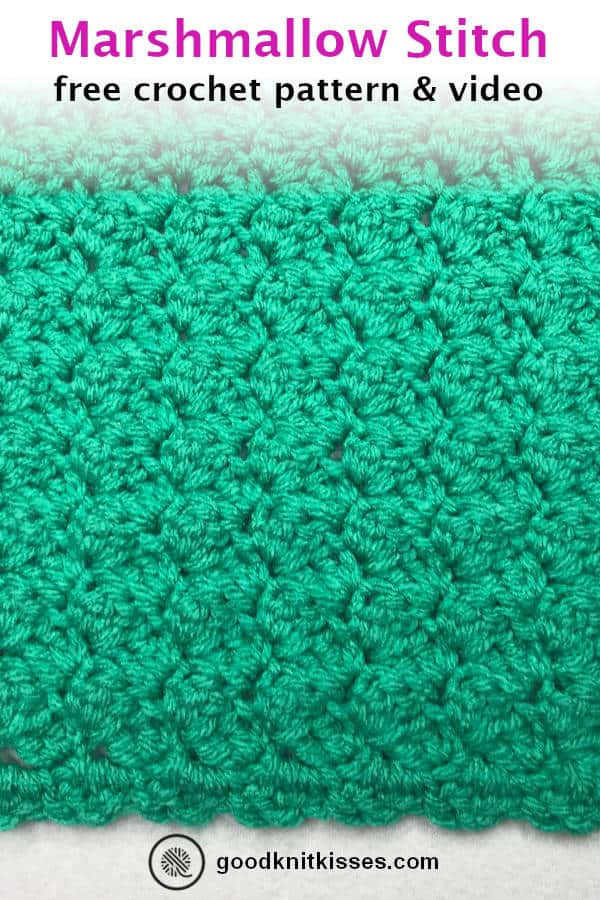 So, where are the marshmallows?
I first designed the Marshmallow Crochet Baby Blanket pattern back in 2014. It was made using super bulky Bernat Blanket yarn.
Blanket yarn is puffy and squishy and this stitch worked up in white blanket yarn looks just like rows of fluffy marshmallows!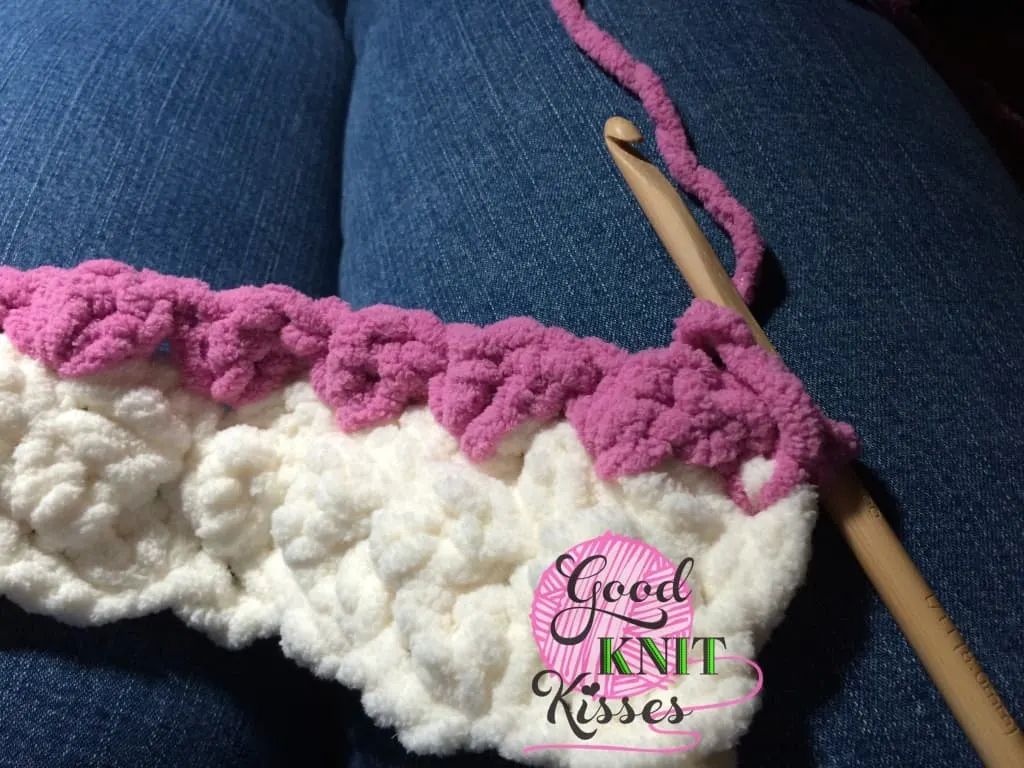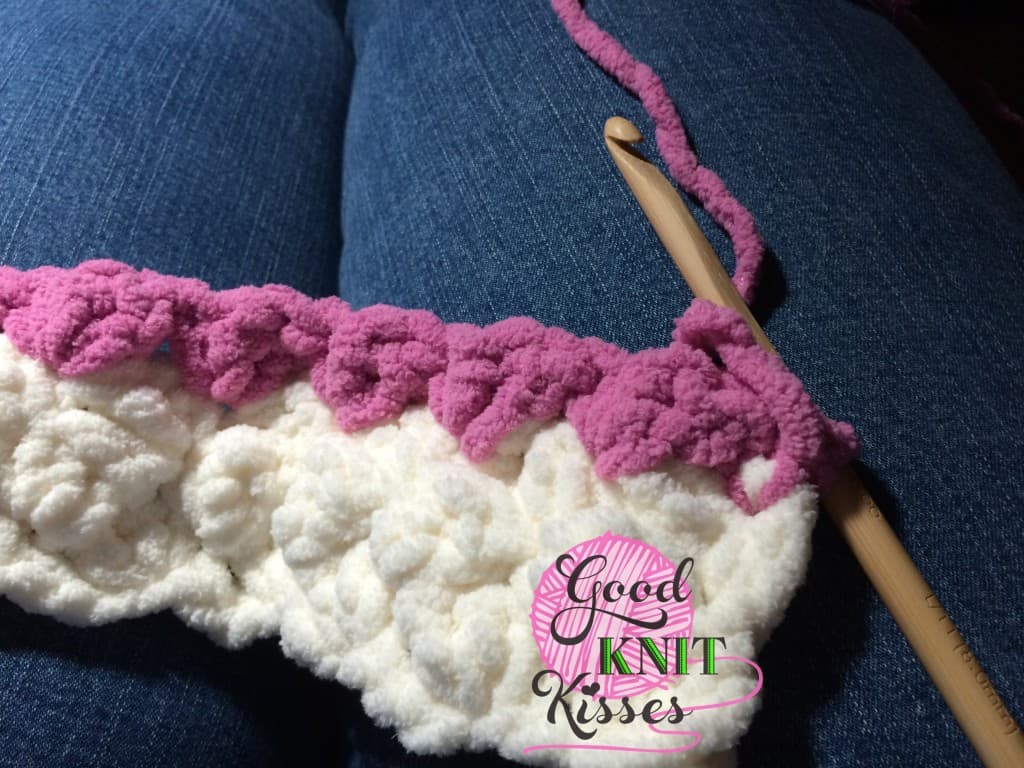 But it's hot here in Texas. Really hot! Blanket yarn is great for a playmat, but not the best for a baby blanket in the middle of summer.
Beat the heat with a mini-marshmallow blanket
One of the biggest draws of my Marshmallow Crochet Baby Blanket is how quickly the pattern works up. With super bulky yarn and a size L hook you're almost done before you started. But what would happen if I switched to using a lighter weight yarn?
I grabbed my trusty Furls Odessey K hook and a new skein of Red Heart With Love ( the color is Jadeite, by the way) to test it out.
I'm not gonna lie.
It doesn't crochet up as quickly as the blanket yarn, but you know what I found?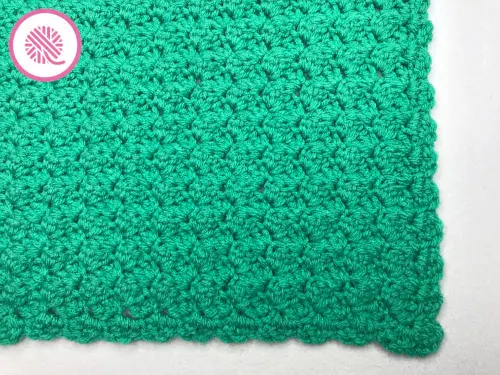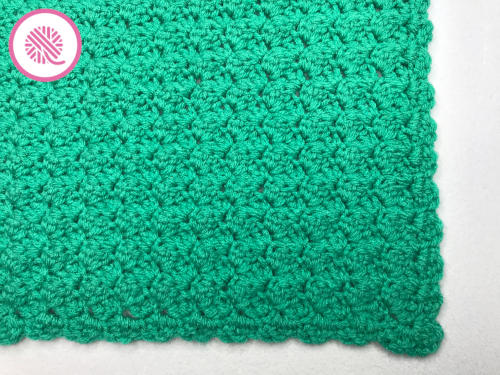 Even using worsted weight yarn and smaller hook (K -10.5 – 6.5mm) the Mini Marshmallow blanket still crochets up quickly.
It's the pattern.
That one little row almost crochets itself after awhile. I really do think that muscle memory kicks in and my hands just know what to do.
So it's a win-win-win! I can crochet, catch up on my shows and not miss a thing all while working a blanket to donate to my favorite charity, Embrace Grace.
Ready to get started?
---
Mini Marshmallow Baby Blanket
A downloadable PDF of this pattern is available on Ravelry.com.

MATERIALS
Products listed below may contain affiliate links.

Red Heart With Love (Solids: 370yds/338m) 3 balls
Crochet hook size K-10.5 (6.5mm) Furls Odessey in Black used to crochet sample
Tapestry needle to weave in ends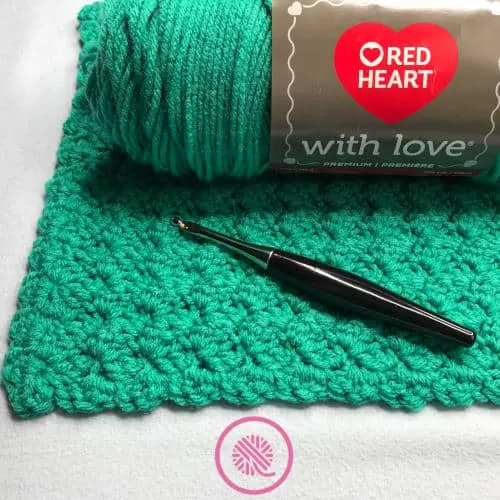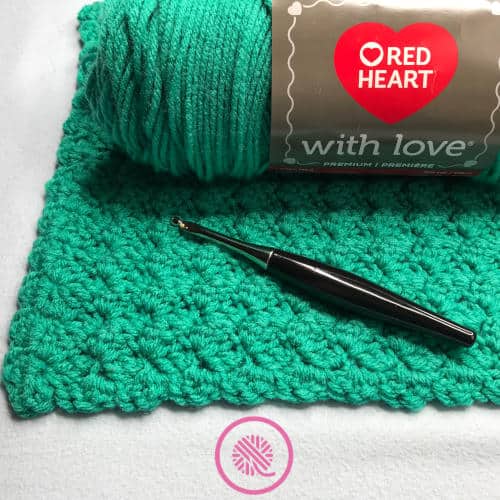 ABBREVIATIONS
Ch = Chain
dc = double crochet
Rep = Repeat
sc = single crochet
St(s) = Stitch(es)
To learn crochet basics see my Beginner Crochet Series:
GAUGE
4.25 textured stitch clusters x 9 rows in 4" in Textured Stitch

SKILL LEVEL
Easy

MEASUREMENTS
Approx 35" x 27" (91.5 cm x 68.6 cm) – Stroller blanket

NOTES
The stitch pattern uses a multiple of 2 plus 3. For a wider blanket increase the length of your chain. To make a smaller lovey size chain fewer. Just make sure that your chain is a multiple of 2 plus 3.
See the tutorial video below for right and left handed videos on working this stitch pattern.
INSTRUCTIONS
Chain 119.
Foundation Row 1: dc in 4th ch from hook. Skip next 2 ch. *(sc, 2 dc) in next ch, skip next 2 ch; repeat from * across, sc in last ch.
Row 2: ch 2, turn, 2 dc in 1st stitch. Skip next 2 sts, *(sc, 2 dc) in next st, skip next 2 sts; rep from * across. sc in top of turning ch.
Repeat Row 2 until you reach 27" or to desired length.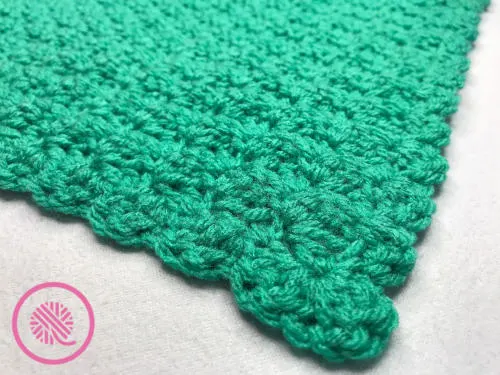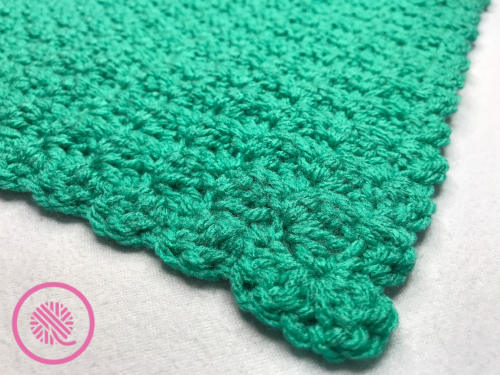 Marshmallow Crochet Border (optional):
Just like the Marshmallow Crochet Blanket we will be using the Textured Stitch pattern.
Textured Stitch: sc, 2dc in the same space, ch1
Begin at a corner without a yarn tail.
Start with a slip knot on your hook and work a Textured Stitch in the space along the top edge just before the corner.
Work another textured stitch in the same space. The second stitch takes us around the corner.
Now let's move to the side border. You will notice two stitches along that edge: two chains and the side of your ending single crochet. Work border only in the single crochets and skip the chains.
Crochet textured stitches along the side to the next corner.
When you reach the corner work the textured stitch two times in the last space to turn the corner.
Repeat Steps 5 and 6 around the blanket. When you reach a yarn tail, hold it along the edge and enclose it in the border.
When you reach the beginning of your border, join with a slip stitch and cut yarn pulling tail through the loop.
Weave in tails.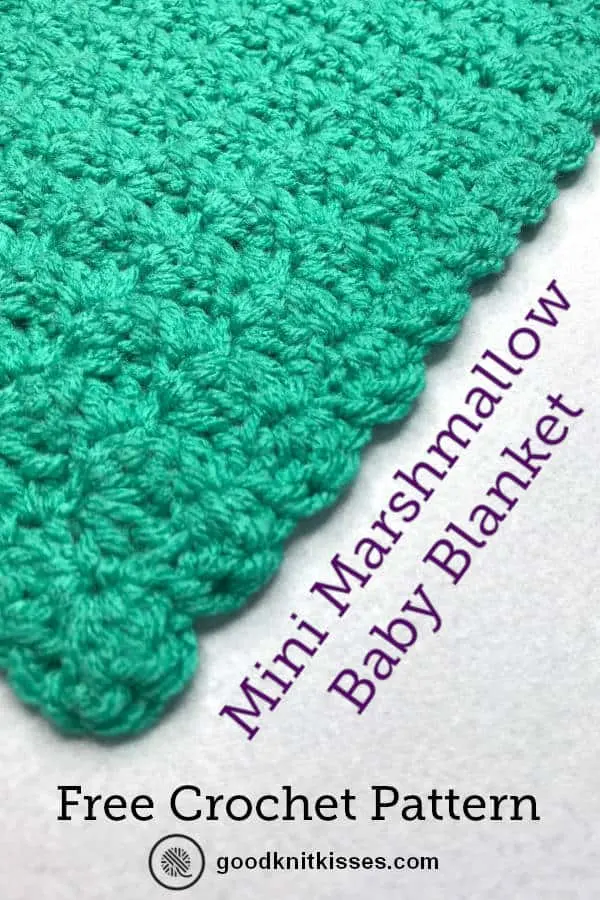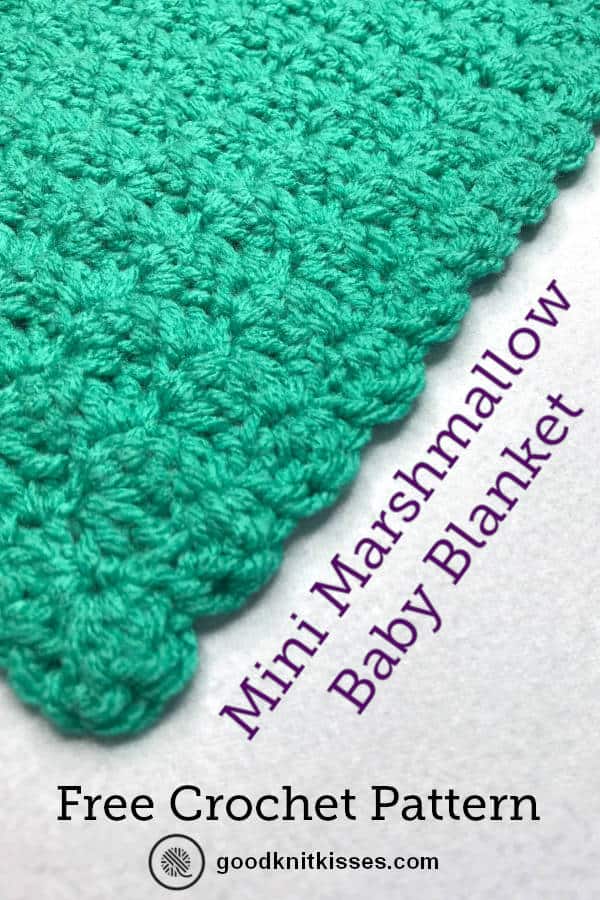 ---
Crochet Marshmallow Stitch Tutorial Videos:
Marshmallow Crochet Border Tutorial