Let's face it, fingerless gloves are a necessity when you use your fingers for, well, everything. I'm always crafting, filming, editing or swiping on my phone and I need my fingers. I've got a stunning pattern by Kristin Omdahl to show you in the video tutorial below.
The Fingerless Mitts pattern is from the book Beginner's Guide to Knitting in the Round from Leisure Arts (used with permission). (Thanks, Leisure Arts, for sending me this wonderful book of patterns! Use the link I provided to get the book from Leisure Arts and help out GoodKnit Kisses too!)
The mitts feature ribbed cuffs at the top and bottom, a beautiful open textured stitch pattern and a knitted thumb. If you're new to working with DPNs, those are double-pointed needles, I'll give you all my tips to make it easy for you.
I love using DPNs because they can actually help you follow your stitch pattern without counting loads of stitches. But more about that in the video.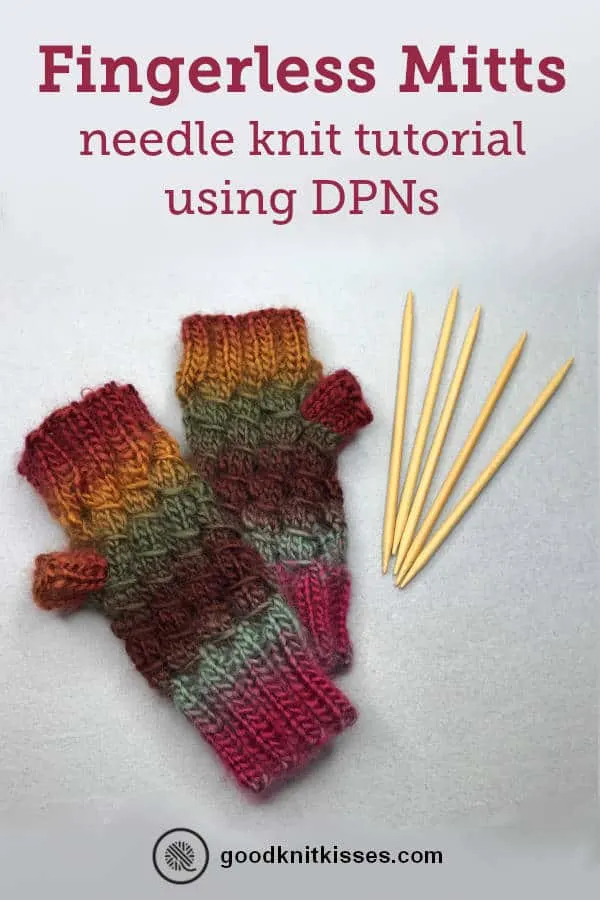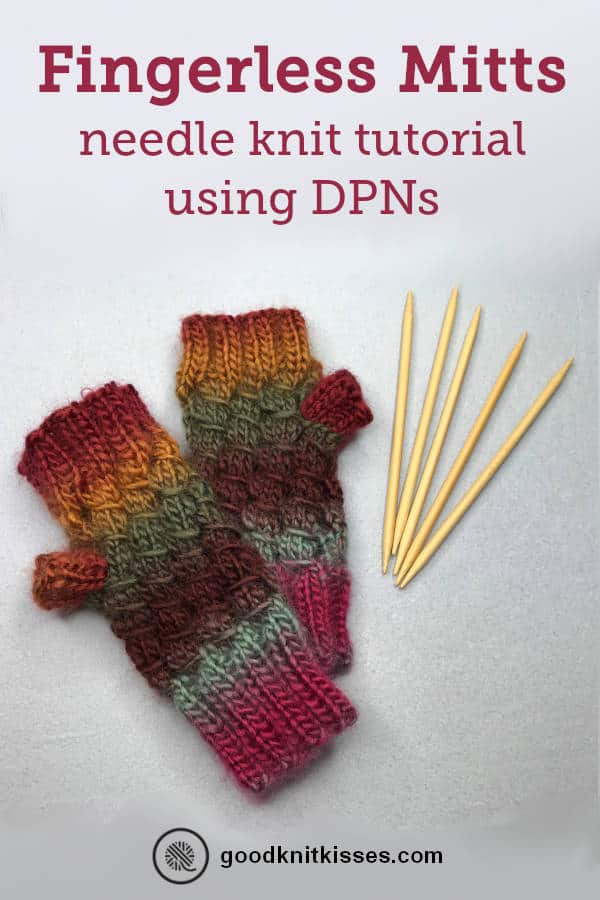 ---
I like to use existing patterns to teach you how to read and follow a knitting pattern. I've been knitting for many years, but I still remember struggling with the terms and understanding the abbreviations. With that in mind I want to help you by sharing the many tips I've picked over the years.
I've got an entire playlist dedicated to not only showing you the stitches, but going over the written directions printed in the pattern. I'll link that playlist below so you can subscribe to it.
Be sure to check out my other pattern reading videos for needle knitters:

How to Read Knit Patterns: Basic Hat on Straight Needles

How to Read Knit Patterns: Ribbon Mug Cozy
---
Let's take a look at what we need to make Fingerless Mitts knit in the round.
The Pattern
Fingerless Mitts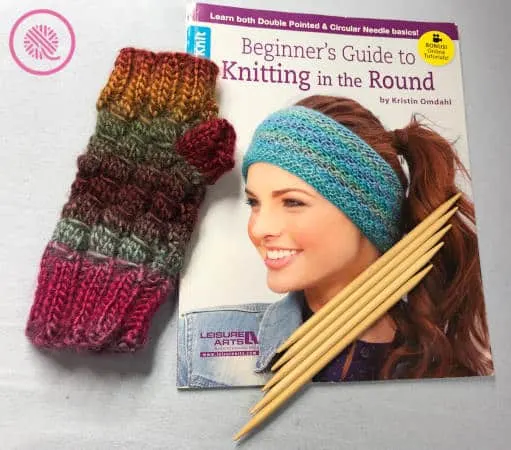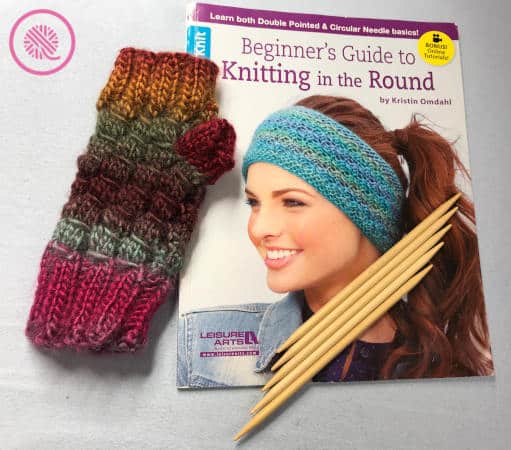 The Fingerless Mitts….. The pattern is found in the Beginner's Guide Knitting in the Round from Leisure Arts.
The Materials
Yarn – Lion Brand Landscapes in color Desert Spring
(Thanks, Lion Brand Yarn, for supplying the yarn for today's tutorial!)
Needles – Size US 8 (5 mm) DPNs (double pointed needles) set of 5
Tapestry needle (for weaving in ends)
split ring stitch marker
measuring tape
Gauge
2 repeats (8 sts) and 12 rows/rnds = 1 3/4″ (4.5 cm)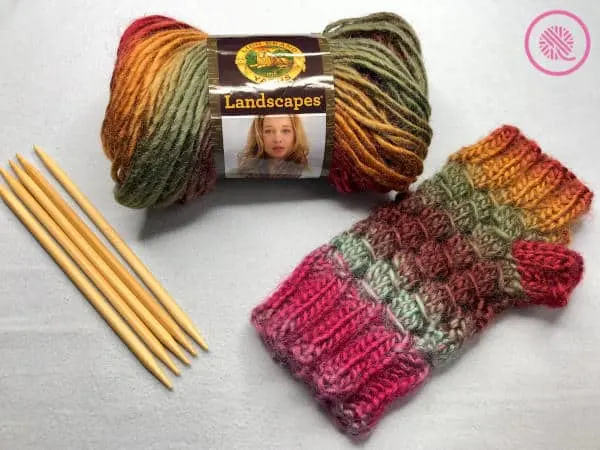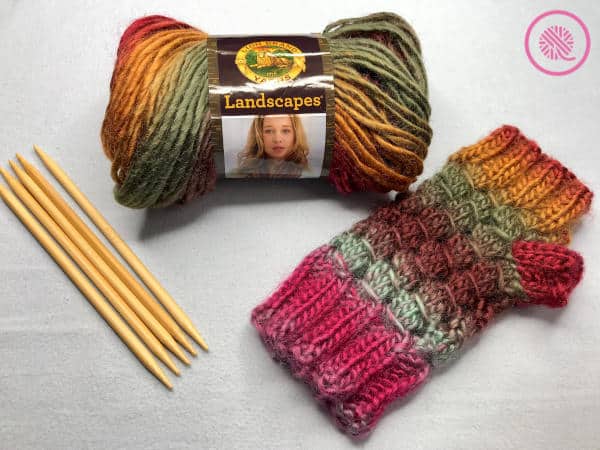 Size
7″ circumference x 8.5″ long (18 cm x 21.5 cm)
Stitches
K – knit
P – purl
Kfb – knit into the front and back of the stitch
Psso 3 – pass slipped stitch over 3 stitches
Sl – slip stitch
YO – yarn over
---
Helpful Video Links:

How to Knit
How to Purl
Longtail Cast On
Bind Off


Skills Taught in this Tutorial:
Easy DPN Cast on
Bottom Ribbing
Stitch Pattern & Body of Mitt
Thumb Opening (Flat Panel)
Top Ribbing & Bind Off
Pick Up Stitches & Knit Thumb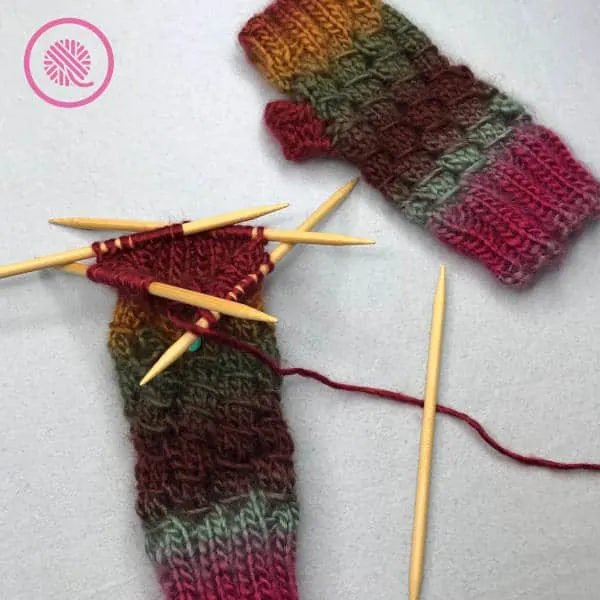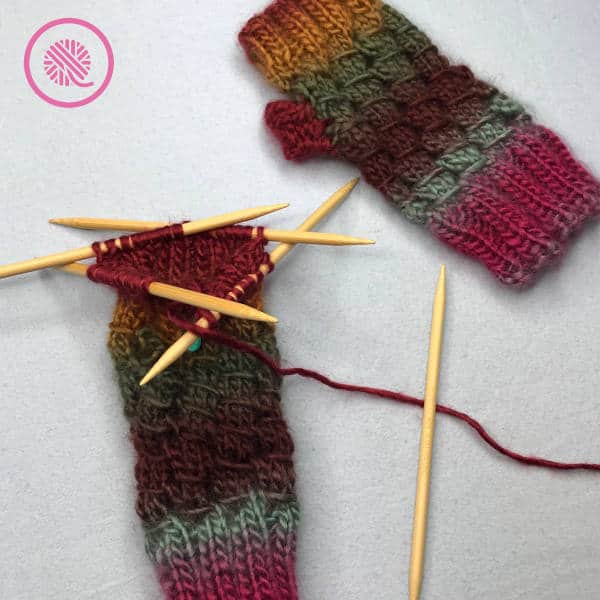 ---
How to make Fingerless Mitts knit in the round tutorial:
---
Fingerless Mitts tutorial for Left-handed knitters:
---
How to Read a Knit Pattern Playlist: