Lesson 2: How to Half Double Crochet
Now that you've learned how to get started with a foundation chain and the single crochet stitch let's continue. If you have any crochet knowledge already you may be expecting to learn how to double crochet next, but you'll have wait until Lesson 3. First, I want to cover it's cousin the half double crochet stitch.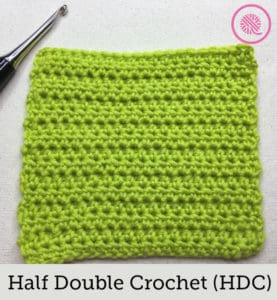 The half double crochet stitch, abbreviated "hdc" is less dense than the single crochet, but still makes a solid fabric. Just like it's name sounds it's shorter than the double crochet. This stitch provides a great building block for stitch patterns and works up quickly.
Skills taught in this tutorial:
• Yarn over (yo)
• Half double crochet into foundation chain
• Half double crochet into stitch
• Working a turning chain ( See the Crochet Turning Chain Chart for reference!)
• Checking your stitch count for accuracy
• Weaving in tails
PIN THIS LESSON!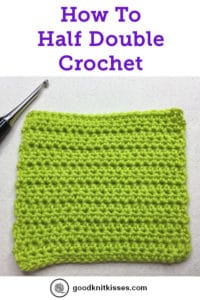 ---
Watch the video below to learn how to crochet the Half Double Crochet stitch!
Video tutorial for LEFT-HANDERS!
---
Go to the next page for Lesson 3: How to Double Crochet