Lesson 6: Easy Loom Knit Stitch Patterns
Are you ready? If you finished all the beginning lessons from the How To Loom Knit Beginner Video series you're likely anxious to make something. Wait no longer! It's time to learn how to loom knit easy stitch patterns like garter stitch, seed stitch and ribbing.
For a refresher on the earlier lessons go here:
Lesson 1: 13 Questions for Beginner Loom Knitters to Get the Best Start
Lessons 2-5: How to Loom Knit for Beginners – Basic Skills
Each of these stitch patterns use both knits and purls to keep your knitting from curling. If you practiced your knit stitches from the earlier lessons you may have noticed that the edges want to curl up.
Who wants a scarf that rolls up into tube when you try and wear it?
Not me!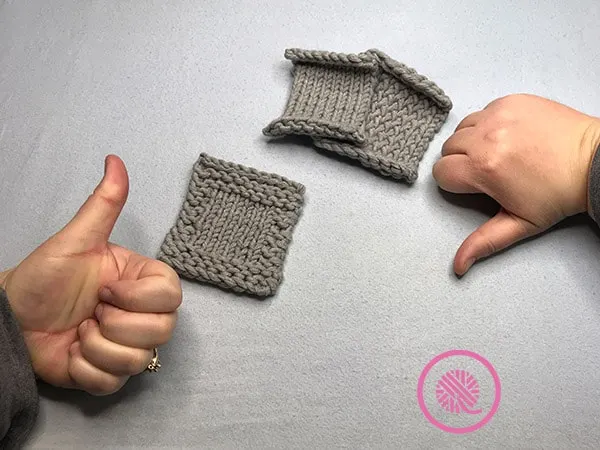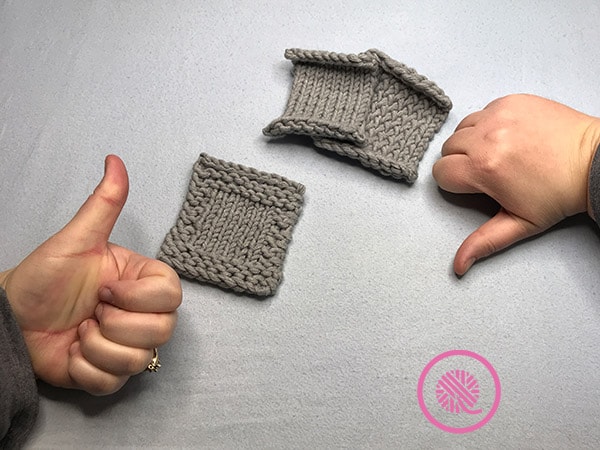 By incorporating both knits and purls into the overall stitch pattern you can prevent the edges from curling. These stitch patterns can be used for a full project or just along the borders to prevent a larger project from curling.
Since you're ready to make a project in addition to teaching you the stitch pattern I also have a free loom knit pattern to go with each stitch. They're designed with a beginner in mind so you don't need to stress about learning to read a pattern or memorize any abbreviations. I'll be teaching you more about that in later lessons.
Let's learn how to loom knit easy stitch patterns!
---
Lesson 6.0 – Garter Stitch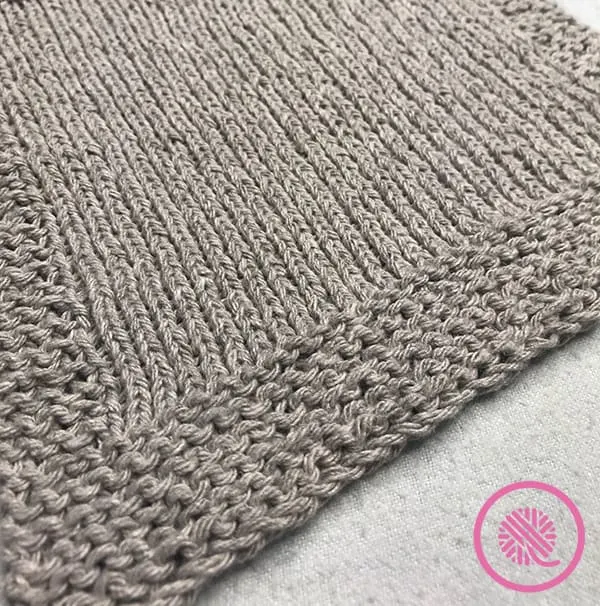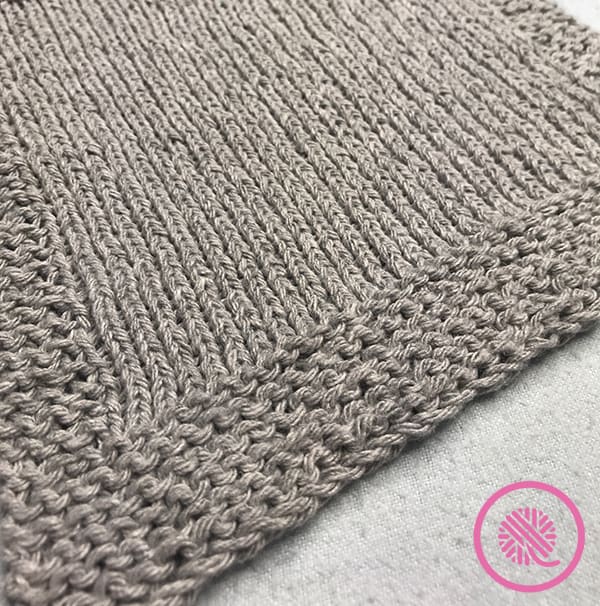 Always classic, always lies flat, always stretchy! That's the garter stitch in a nutshell.
Garter stitch creates a dense stretchy fabric with noticeable ridges running horizontally. The even balance of knit and purl stitches never rolls or curls at the edges making it ideal for borders. You see it most often as a border for blankets, dishcloths, sweaters, scarves… well, almost anything really.
But it's not just for borders. Use all garter stitch for almost any project that you want to lie flat.
Work garter stitch easily as a flat panel or in the round with any number of stitches.
Instructions:
Row 1: Knit all stitches.
Row 2: Purl all stitches.
That's it!
You alternate between one row of knit and one row of purl.
I love loom knitting with garter stitch in a flat panel because it's so easy to remember where you are. I always knit in the same direction and purl back the other way.
Pro Tip:
Right handed loom knitters purl easier from right to left. When you know you need to work garter stitch cast on so you knit from left to right and purl from right to left. You'll find it will be much faster that way!

Left handed loom knitters you'll want to do the opposite. Knit – R to L, Purl L to R.
To help you get started I designed some basic patterns with a garter stitch border:
Loom Knit Basic Dishcloth or Coaster Set
Use the video tutorials below to follow along while you learn to loom knit the garter stitch. Then click the pattern link above and get started on your first project.
How to Loom Knit Garter Stitch (Right Handers)
How to Loom Knit Garter Stitch (Left Handers)
---
Lesson 6.1 – Seed Stitch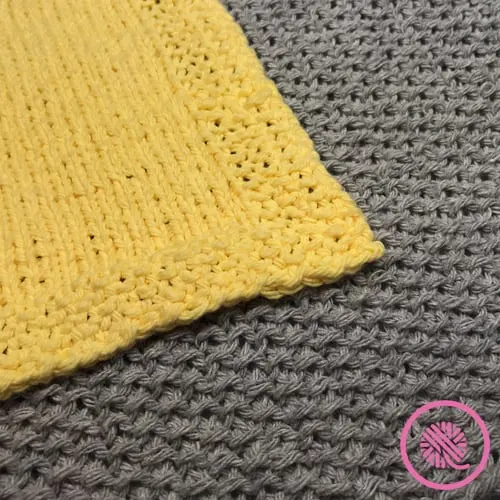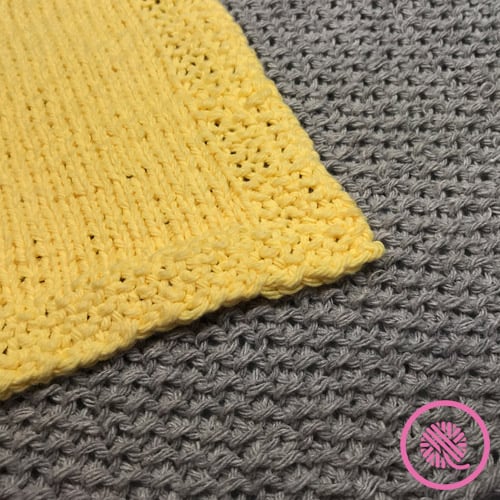 If you want a little more texture than garter then seed stitch fits the bill.
Seed stitch is loom knit by alternating knit and purl stitches on each row. It creates a bumpy texture in a checkerboard pattern.
Again, because there is an even balance of knit and purl stitches your knitting won't curl. This makes seed stitch ideal for borders on blankets, washcloths, and sweaters.
Seed stitch is knit on an even number of stitches.
Instructions
Row 1: *Knit 1, Purl 1. Repeat from * (asterisk) to end of row.
Repeat Row 1 to desired length.
Bind off in pattern* as continuing Row 1 pattern.
*To "bind off in pattern" when working seed stitch you work a basic bind off as if you are continuing the seed stitch pattern. Instead of knitting every stitch before binding off you alternate between knit and purl.
Pro Tip:
When using an E wrap knit while working seed stitch. Wrap the knit pegs (without knitting over) then work each purl peg. At the end of the row all the knit pegs will have 2 loops on them but the purl pegs will only have 1. Check to make sure the whole row is correct before moving on!
I've got some beginner patterns just for you to learn and practice seed stitch.
Loom Knit Seed Dishcloths and Seed Coasters
How to Loom Knit Seed Stitch Video
---
Lesson 6.2 – Ribbing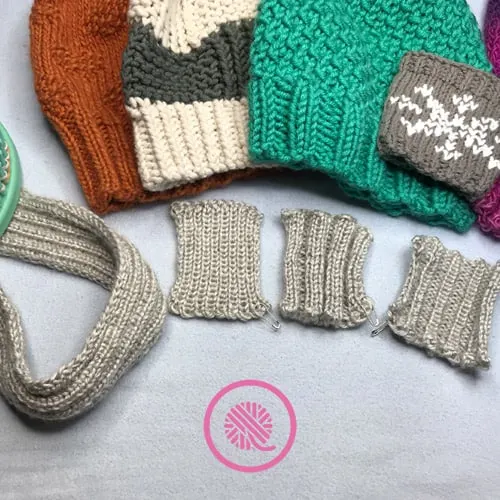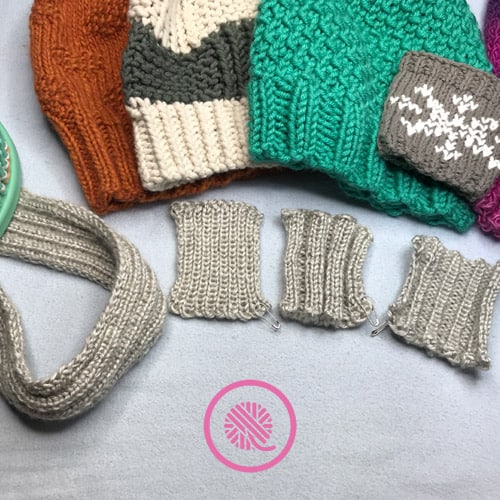 If you like socks that stay up, hats that don't slip over your eyes or never got over your love affair with leg warmers from the 80s then you are already familiar with ribbed stitch patterns.
Ribbed stitches are used most often on hat brims, edging on sweaters (cuffs, bottom edge, neckline, etc.), and sock cuffs.
When you want stretch you want ribbing!
Ribbing isn't just one stitch pattern. The "ribs" are vertical columns of knit stitches and purls stitches. You can combine those columns in many ways to create different rib stitch patterns. The most common ones are 1 x 1 and 2 x 2.
"Wait, what? Numbers, Kristen?"
When you see 1 x 1 the first number refers to the number of columns of knit stitches and the second number is columns of purls.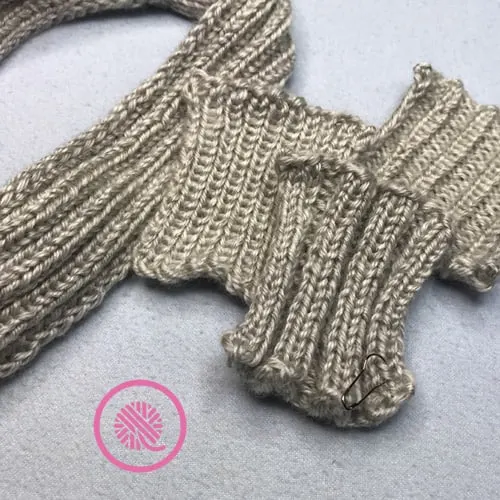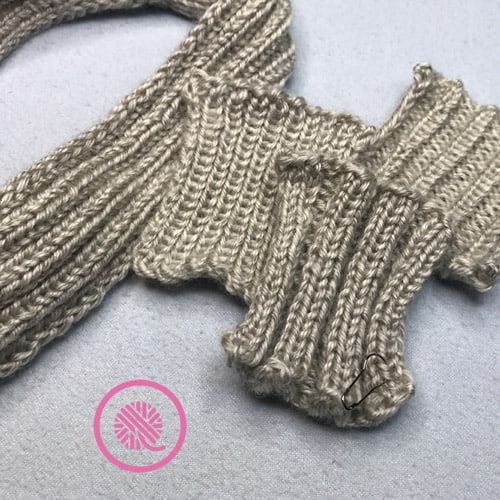 Because you can combine the columns of knits and purls many ways I need to talk about multiples.
When a stitch pattern talks about multiples it refers to how many stitches you work before you start to repeat the pattern. In a 1 x 1 rib you knit one stitch then purl the next so you repeat it every 2 stitches. A 2 x 2 rib has you knit 2 then purl 2 so the multiple is 4 stitches.
To figure out your multiple just add the number of knit columns and purl columns.
You may be asking why multiples matter?
Well, to put it plainly you need to make sure that the number of stitches you are knitting (especially in the round) is divisible by your multiple. Uneven ribbing like 2 x 1 looks great, but it's tough to find a loom that has a number of pegs you can divide by 3 so you don't see it too often on hat brims.
The most common types of ribbing are 1 x 1 and 2 x 2.
1 x 1 Rib Instructions:
Row 1: *Knit, purl. Repeat from * to end of row.
Row 2: *Purl, knit. Repeat from * to end of row.
Work to desired length. Bind off in pattern.
2 x 2 Rib Instructions:
Row 1: *Knit 2, Purl 2. Repeat from * to end of row.
Row 2: *Purl 2, knit 2. Repeat from * to end of row.
Work to desired length. Bind off in pattern.
Try out your rib stitch skills on this beginner pattern:
How to Loom Knit Ribbing
---
Let's move on to Lesson 7: How to Loom Knit in the Round. Plus I've included a free hat pattern to give you a cute project to work on!
---
PIN IT!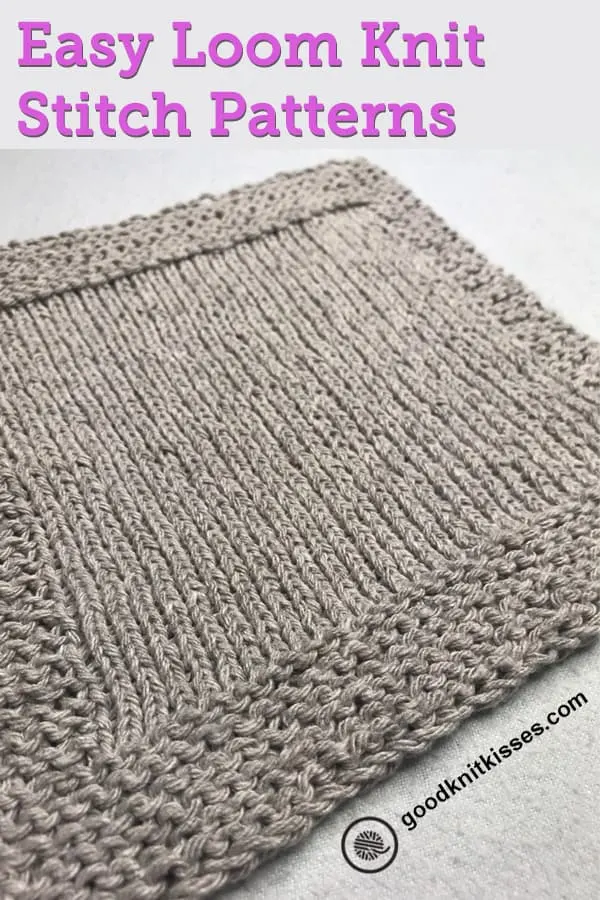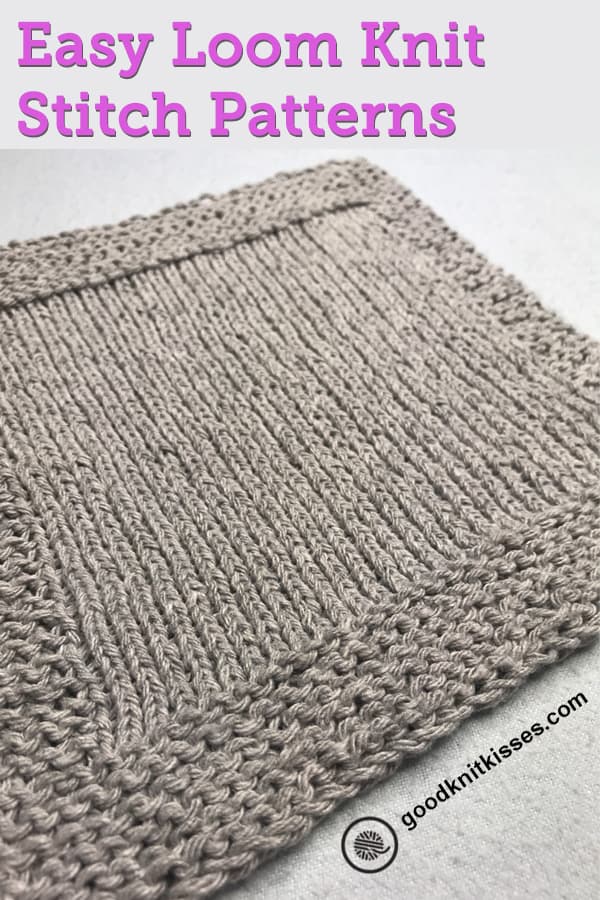 ---
---