Stitchflix Lookbook | Yarnspirations
Season 1 – Snuggle Up and Watch
"Stitchflix? What's that?"
I'm so glad you asked! It's the combining of two fun past times: yarny crafts and binge watching your favorite show or movie. We love family movie night at our house. We grab snacks, blankets and cuddle up for an evening of fun. The Stitchflix Lookbook from Yarnspirations is full of projects for your next family movie night.
The main feature are the snuggle sacks! These cozy, wearable blankets are perfect for cuddling up while watching your favorite shows. They've been wildly popular with kids for years, but the appeal is spreading as adults are finding out how comfy they really are!
Under the Sea!
If you follow crafting at all you know that the most popular snuggle sack design is the mermaid tail. I am super excited to see the Mermaid Tail Snuggle Sack in the Lookbook, and it is available in both knit and crochet versions so we're all happy. Come on, admit it, ladies! You saw the picture, started humming "Under the Sea" and you were a little girl again dreaming of being a redheaded mermaid. I can't make all your dreams come true, but I can show you how to get your fin on! Watch for a tutorial coming soon!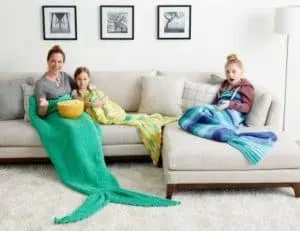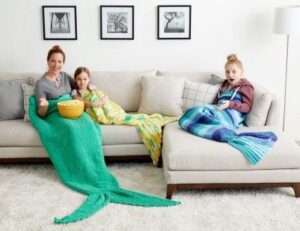 Animal Planet!
But it's not just mermaids! You'll see some other animals in the new Lookbook. Cuddle up with an adorable bamboo-munching panda bear. You could easily change up the colors in this clever knit pattern to make any teddy bear you like. And in case you your little girl is not into mermaids, she'll definitely love the crochet unicorn snuggle sack. What little girl doesn't love a brightly-colored unicorn? Um, I've never met one. The soft, curly mane makes this one so cozy for chilly fall nights.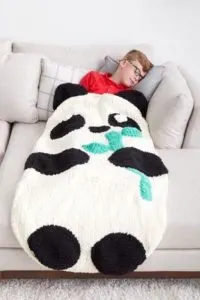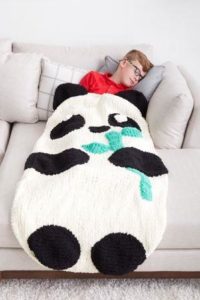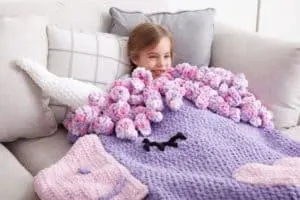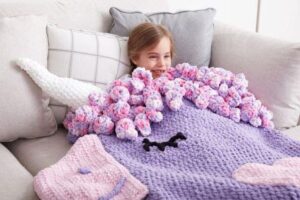 Intermission!
We all love snacks with our movies, but sometimes you just want to BE the snack! Since "you are what you eat" the Pop! Pop! Popcorn snuggle sack is the perfect movie night blanket. I love the Watermelon Wedge Snuggle Sack! Not only because of the little details like the seeds, but the shape could easily become ANY triangular shaped snack. I think there's a bunch of teenagers out there that would love to wear a slice of pizza.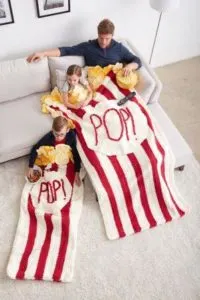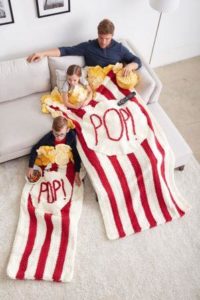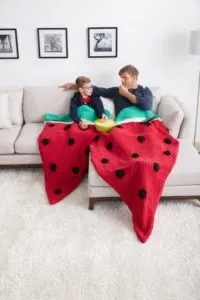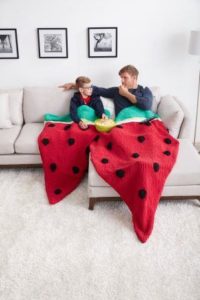 Happy Feet!
Finally, we all know you can't really snuggle up without warm, cozy socks on your feet. Don't worry your toes will be toasty with these knit and crochet sock patterns. The Cozy Knit Cabin Socks will keep your feet wrapped in the softness of Caron Simply Soft Tweeds. For a cute, fun sock you can crochet up a pair of Bear Feet Slipper Socks for everyone in the family.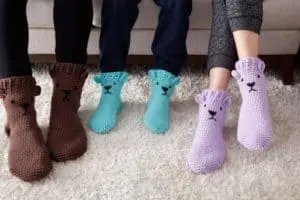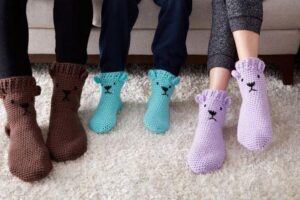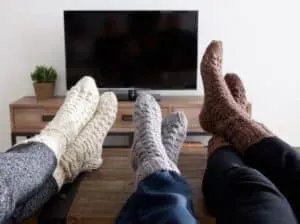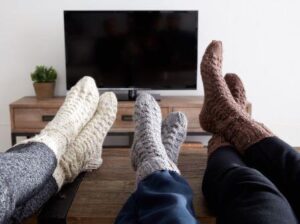 So put your feet up, pop some popcorn, and cozy up for a family movie marathon. What are you going to watch?