Loom knit cowboy hat and be the talk of the nursery!
"Get off your horse and drink your milk" – John Wayne
How sweet will your baby boy or girl look in this adorable loom knit cowboy hat for infants?! Make it a cowgirl hat by simply changing the color of the loom knit cowboy hat, the i-cord or adding the Quick Knit Flower (recently made smaller for this hat on flower loom).


Infant Loom Knit Cowboy Hat
Designed by:
Denice Johnson
Knitting Loom:
31 peg round loom
41 peg round loom
Yarn:
236 yards of Red Heart Super Saver. The sample was done in Red Heart Super Saver Warm Brown. (Recommend a stiff yarn) Use your choice of yarn color to accent the i-cord.
Notions:
knitting loom tool, yarn needle
Pattern note:
Worked as two separate pieces and sewn together
Instructions:
Rounds:
Brim
Using 2 strands of yarn held together E-wrap cast on 41 pegs in the round (41 peg Knifty Knitter Yellow loom used on sample; 40 peg should work)
Rnd 1: purl row
Rnd 2: e-wrap row
Repeat rows 1 & 2 for a total of 8 rows
Rnd 9: purl row
Simple bind off and set piece aside.

Body of Hat
With 31 peg round loom leave a 12 inch tail, place on anchor peg (31 peg Knifty Knitter Red loom used on sample; 30 peg should work)
e-wrap cast on 31 pegs
Rnd 1: purl row
Rnd 2: e-wrap row
Repeat round 1 & 2 for a total of 18 rows
Rnd 19: purl row
Rnd 20- 24: e-wrap row
Gathered bind off
Make an i-cord with accent color desired length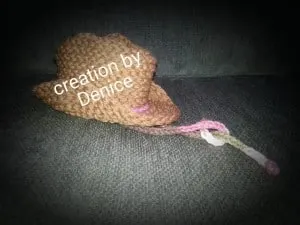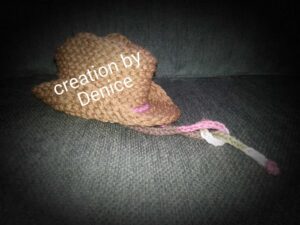 Finishing & Assembly:
Sew hat body to the brim.
Poke the i-cord through each side of hat at the base where brim meets.
Tack up the brim sides where you poked the i-cord through, attach the sides half way up the hat.
The hat will take shape once you press in the top a bit.
PIN IT!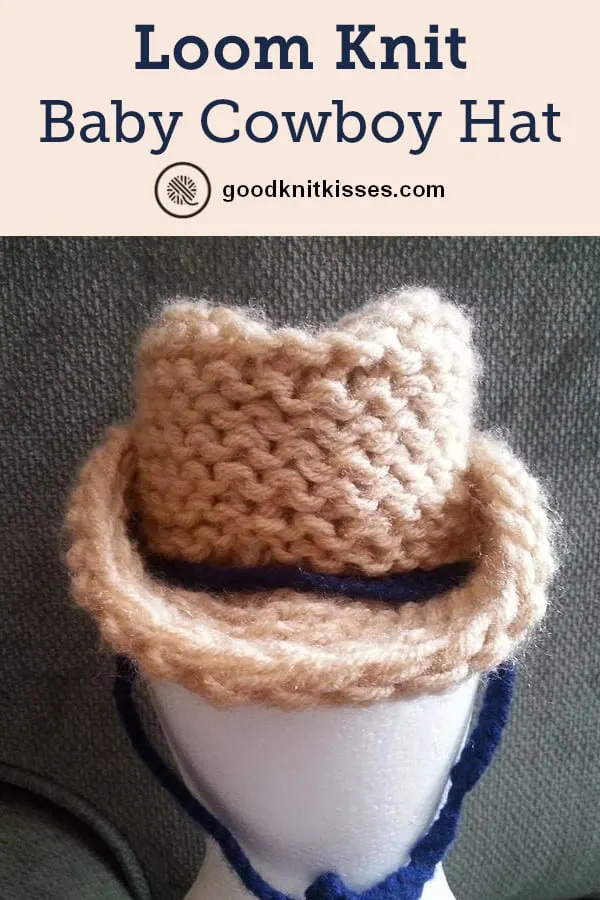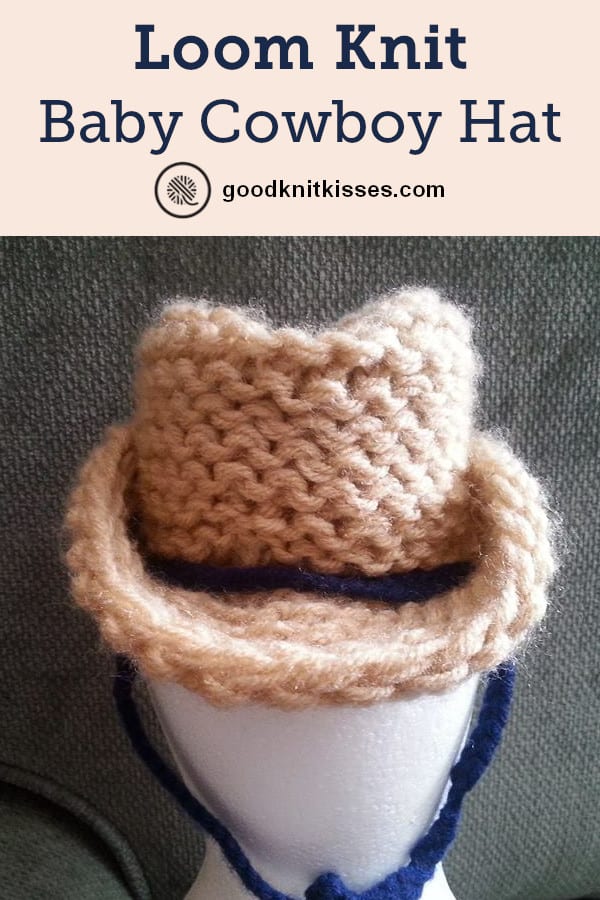 Editors notes:
Pattern is not tested yet by GKK. Conversions to other looms are not tested. Please leave comments if you have success with other looms and would like to help fellow loomers. Thanks! -Kristen
Loom Knit Cowboy Hat is currently available in infant size only. An alternate would need to be made or a stiffener or plastic canvass might have to be made for strength for a child's hat currently.
Loom Knit Diaper cover in next pattern blog.
The baby booties were made by Denice and inspired by "How To Loom Knit Tennis Shoe Booties Circular Loom" on YouTube How To Loom Knit Tennis Shoe Booties Circular Loom: http://youtu.be/dmrIyRdJ_4E.
Yeeehaw!!!