Inside: Free pattern for loom knit Pet Bandana. Includes instructions for 3 different sizes and links to tutorial videos including how to embellish with your pet's initial, name or a design.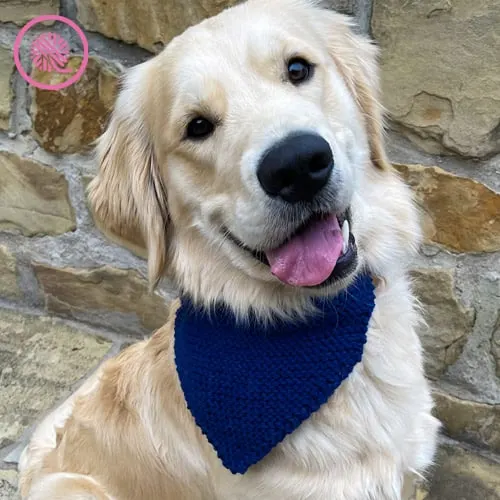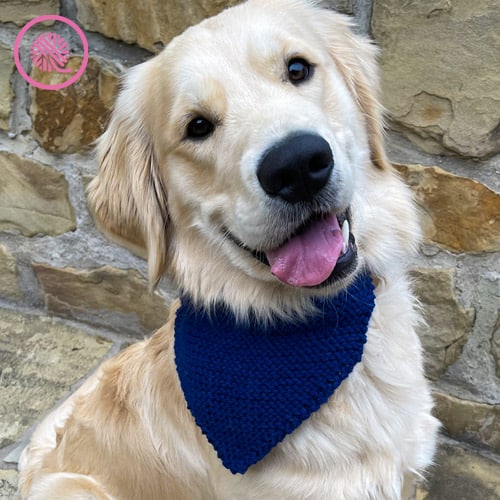 I've got one happy pup at my house!
Since we got Ranger last year I've been wanting to make him something. (Loomers gotta loom, right?)
But I wanted it to be stylish for him and easy for me. The loom knit Pet Bandana is both of those!
This easy loom knit pattern has the classic triangle shape of a classic bandana, but it's worked in one piece and includes a casing to slide it right onto your pet's collar. No knots that can come loose. No ties to dangle and get tangled up.
This pattern is a great stash buster and it perfect for using up the extra yarn from other projects.
I decided to use a wool/alpaca blend for a couple reasons. First, I had some in my stash and this year I'm being purposeful about using what I have on hand. Second, wool holds it shape really well, even if it gets wet. It's less likely to soak up water so when Ranger gets messy in his water dish his bandana still looks great.
Now if you don't happen to have wool on hand you can use any bulky (#5) weight yarn and it will still look great.
I included 3 sizes in the pattern: Small, Medium and Large so the pattern will work for variety of breeds. The small would be good for some small breeds, but it may be too big for some mini breeds. To get a smaller one you may want to switch to a small gauge loom and #4 medium weight yarn.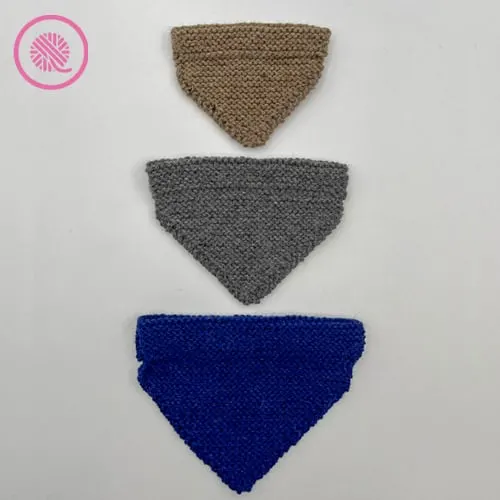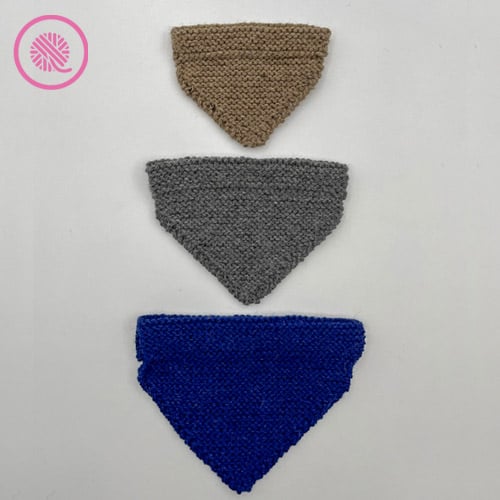 You may like a solid color, but you may want to get extra creative and add a little something extra. In case you do, I've included videos below to help you add a decorative design like a monogram or a traditional bandana paisley design.
This pattern knits up quickly making it the perfect gift for someone adopting a new pet.
Loom Knit Pet Bandana
By Kristen Mangus
A downloadable PDF of this pattern is available in my Etsy store and from Ravelry at the links below:
MATERIALS
Links below are affiliate links to products I used to create this pattern/video. Clicking the links costs you nothing, but helps support GoodKnit Kisses.
Yarn
Bulky (#5) yarn
Red Heart An Italian Story Vera (100 g/3.5 oz, 123 meters/135 yards)
Colors Notte (shown above), Pietra and Caffe used in samples.
Loom
⅝" large gauge (LG) loom with at least 21 (27, 35) pegs.
KB Flexee Loom Chunky used in sample.
Stitch marker
Tapestry needle

ABBREVIATIONS
K = Uwrap knit
P = Purl
Rem = Remain(ing)
Rep = Repeat
St(s) = Stitch(es)
For a refresher on loom knitting basics see the blog posts below to get started:
13 Questions for Beginner Loom Knitters
How to Loom Knit Basics
How to Loom Knit Basic Stitch Patterns
How to Loom Knit in the Round
GAUGE
14 sts x 30 rows in 4" in garter stitch
SKILL LEVEL Easy
SIZE
S (M, L)
MEASUREMENTS
6.75" x 5" (8.25" x 6", 11" x 8") [17 x 12.7 cm (21 x 15.2 cm, 28 x 20.3 cm)]
Fits collars .5" (1", 1.5") wide. [1.3 (2.5, 3.8) cm]
NOTES
I recommend the chain cast on for this pattern.
I used the U knit stitch in this pattern, but you may substitute Ewrap if you prefer.
This bandana is designed to slide onto your pet's existing collar. To create the casing (opening) for the collar, the cast on stitches are picked up and put back on the loom. This is the same technique used to create a thick hat brim.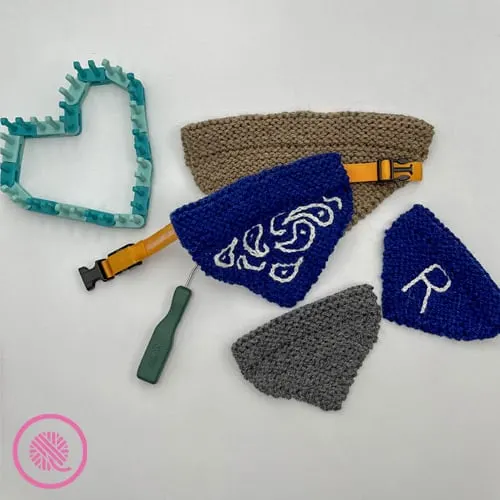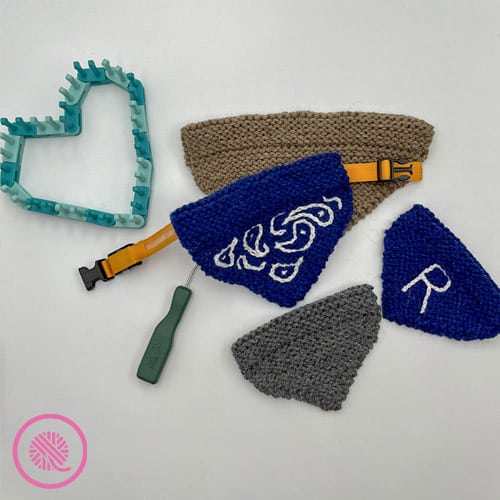 INSTRUCTIONS
Cast on 21 (27, 35) sts.
Row 1: P all
Row 2: K all.
Repeat Rows 1-2 until 20 (24, 28) rows or about 2.5" (3", 3.5").
Casing for Collar:
Row 3: P all.
Row 4: K1. Place first cast on stitch on Peg 2, wrap and knit over both sts. *Place next cast on stitch on next peg, wrap and knit over, Repeat from * until all cast on stitches are picked up and knit over.
Row 5: P all.
Row 6: K all.
Repeat rows 5-6 two (three, three) times.
Row 7: Move sts from Peg 2 to Peg 3, then move Peg 1 to Peg 2. P all sts.
Row 8: Move sts from Peg 2 to Peg 3, then move Peg 1 to Peg 2. K all sts.
Repeat Rows 7-8 until 3 sts rem.
Row 9: Move sts from outside pegs to middle and purl all three sts together on center peg.
Cut tail and pull through. Weave in ends. If desired, slip stitch surface crochet or embroider to add an initial, name or a design!
Now go make one and spam me with pictures of your furry family wearing their own loom knit pet bandanas!
---
PIN IT!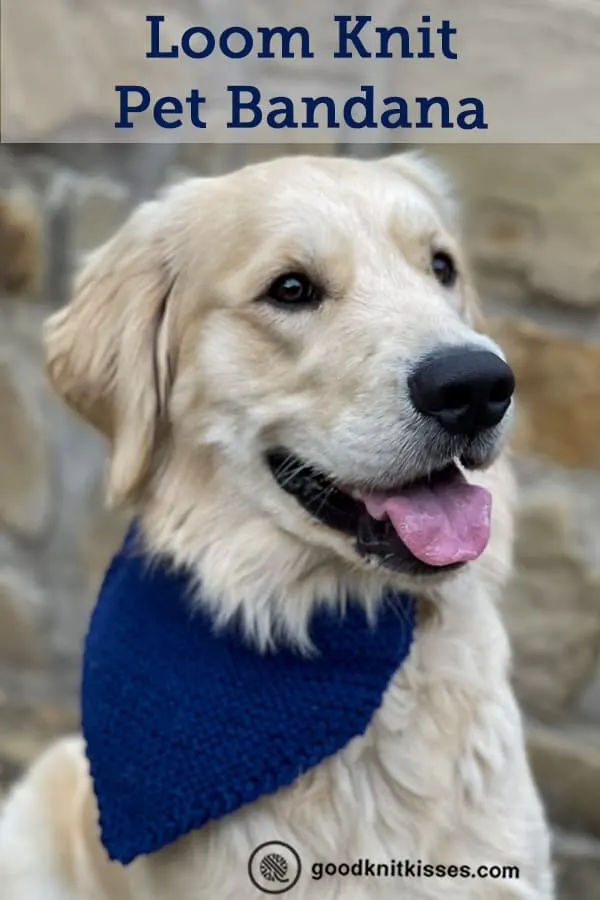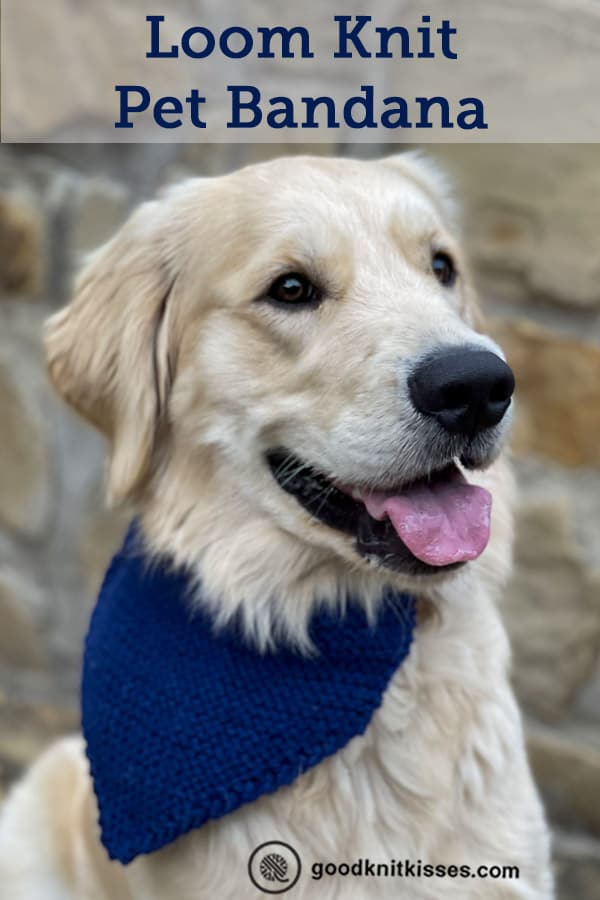 ---
Loom Knit Pet Bandana Video Tutorial
If any of the videos below do not show they may be restricted to GoodKnit Kisses YouTube members only. Find out more about GKK Membership HERE!
The following tutorial videos show how to cast on, loom knit the project and add embellishments if you want a topstitched design like a monogram.
Right handed


Left handed


Other Helpful Tutorials for this Project: