Marshmallow Crochet Baby Blanket
By Kristen Mangus
The Marshmallow Crochet Baby Blanket is a nice fluffy baby blanket with lots of texture. You can make this with any yarn or hook size. Samples shown in photo the Striped Marshmallow Crochet Baby Blanket and the Blanket behind is a single color for a solid look.  Striped version is written, for solid color continue working until desired length or reach 25".
UPDATED April, 2018!
I just added a new video showing how to work the Marshmallow Crochet Pattern using any weight yarn from lace to bulky.  On the video I show examples of each with multiple hook sizes.  Marshmallows aren't just for babies anymore.  This would make a stunning lace shawl!

Size:
Perfect stroller or baby carrier size 35″ x 26″. Foundation makes 35″ wide. For a longer blanket repeat row pattern to desired length.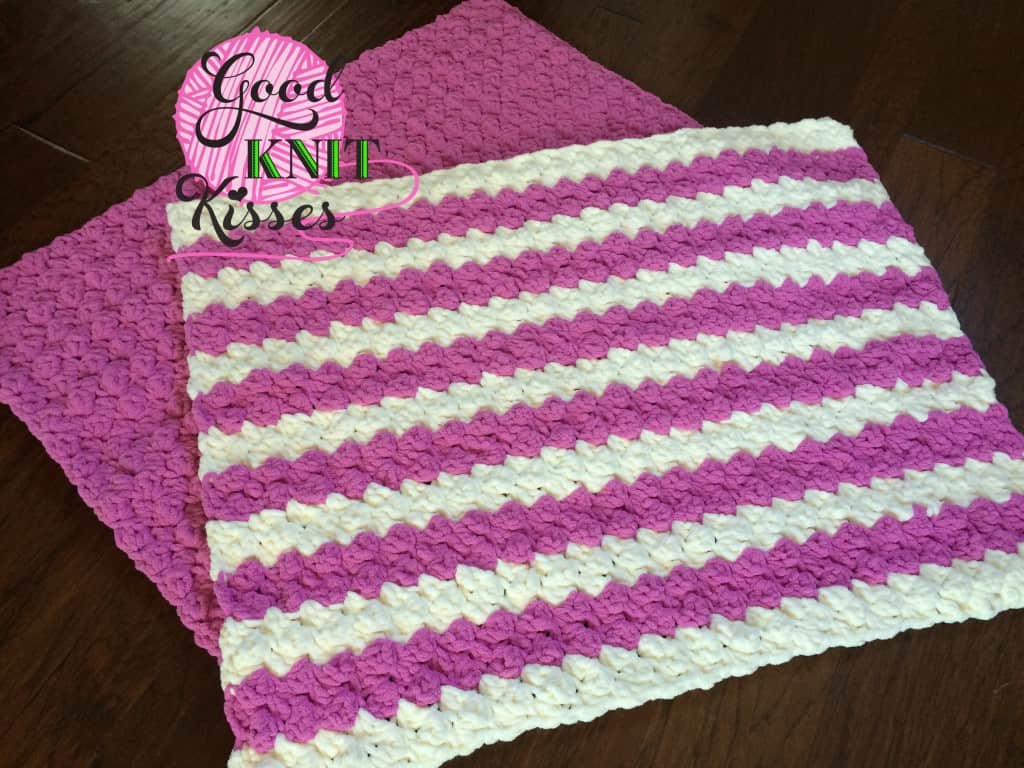 Tools & Yarn:
Size L hook (or L/11 – 8.0mm)
Bernat Baby Blanket yarn used in sample. (Super Bulky- #6 weight)
344 yards Color A – Vanilla 03008
258 yards Color B – Baby Rose 04417
ch – chain
dc – double crochet
sc – single crochet
st(s) – stitch(es)
Gauge:
3 stitches and 6 rows = 4 inches in Textured Stitch pattern
Pattern Notes:
Make a chain that is a multiple of 2 plus 3. Mine was 75. (Made 35″ wide in this yarn & hook). In this sample I used a larger hook (N/15 10.mm) for the foundation chain only to see the stitches better. After creating chain be sure to switch to the main hook size.
Textured Stitch:
Row 1: dc in 3rd ch from hook. Skip next 2 ch. *(sc, 2 dc) in next ch, skip next 2 ch; repeat from * across, sc in last ch.
Row 2: ch 2, turn, 2 dc in 1st stitch. Skip next 2 sts, *(sc, 2 dc) in next ch, skip next 2 sts; rep from * across. sc in top of turning ch. Repeat "Row 2" till desired length.

Pattern Instructions:
Starting on Color A crochet 3 rows following Textures Stitch pattern. Change Color B on the last single crochet yarn over; so when starting the turning chain the loop on the hook is the next color. Crochet 3 rows and change color. Repeat till ending a total of 3 rows Color A at desired final blanket length.
Finishing. Add textured stitch along sides if desired in Color A, B or a combination as desired (sample did not add a border). Weave in ends.

Alternate yarn weight and hook:
Use worsted weight with cast on of 108 with a J-10 hook.
Solid Pink made with 2 skeins (300g ea) of Bernat Baby Blanket in Baby Rose 516 yards. 35″w x 25"l
Add a border to your Marshmallow Crochet Baby Blanket! (Video below)
Begin at a corner without a yarn tail.  Just like the Marshmallow Crochet Blanket we will be using the textured stitch as follows:
sc, 2dc in the same space, ch1
Start with a slip knot on your hook and work a textured stitch in the space along the top edge just before the corner. Work another textured stitch in the same space.  The second stitch takes us around the corner.  Now let's move to the side border.
Look at your side border.  You will notice two stitches along that edge: two chains and the side of your ending single crochet.  You work your border only in the single crochets and skip the chains.  Crochet textured stitches along the side to the next corner. When you reach the end of the side work the textured stitch two times in the last space to turn the corner.
Crochet the textured stitch along this edge in every other stitch holding your yarn tail along the edge so it is enclosed in the border stitches.
Continue around the rest of the edges remembering to work 2 textured stitches in the same space at each corner.
PIN IT!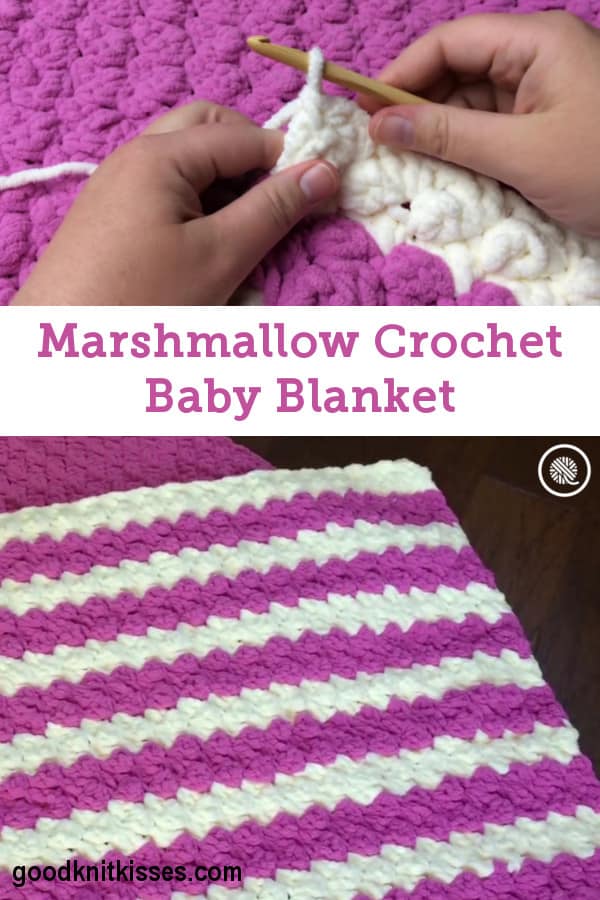 Watch the border video tutorial here!  Grab your yarn and hook and crochet along with me.
https://www.youtube.com/watch?v=RbYXs-NFDxQ
(special note)
As the Marshmallow Crochet Baby Blanket is a nice fluffy baby blanket with lots of texture; it is not a tight stitch and should not be used on unattended baby for risk of catching fingers.  For a tighter stitch use the video below as guide for resizing your Marshmallow Baby Blanket using worsted or baby weight yarn!
NEW!!!  Guide to working the Marshmallow Crochet stitch pattern in ANY weight yarn!  Yes, even lace!