By Kristen Mangus
Fluffy, soft and oh, so easy to crochet. The Marshmallow Crochet Baby Blanket pattern is a crocheter's dream.
The simple, one-row repeat makes it easy to work on while you watch your favorite show or hang out at your daughter's soccer game.
Bernat Baby Blanket yarn feels soft and smooth as it glides through your fingers and across your hook. Being a super bulky #6 weight yarn also means that the blanket just flies off your hook by the inch. There's no painstaking measuring after an hour to find you're only 3/4″ further than you were the last time you checked.
Check out my Mini Marshmallow Baby Blanket for a lighter weight version of the pattern.
Is your calendar packed with baby showers this year?
Do you donate blankets to your local hospital?
Are you busy stocking up for your next craft fair?
No problem. You got this!
You can customize the Marshmallow Crochet Baby Blanket easily by using multiple colors in a striped pattern (instructions below), adding a border (instructions and video below) or adding embellishments. It's an ideal pattern that you'll come back to again and again.
Marshmallow Crochet Baby Blanket Pattern
Get a downloadable PDF of this pattern on Ravelry.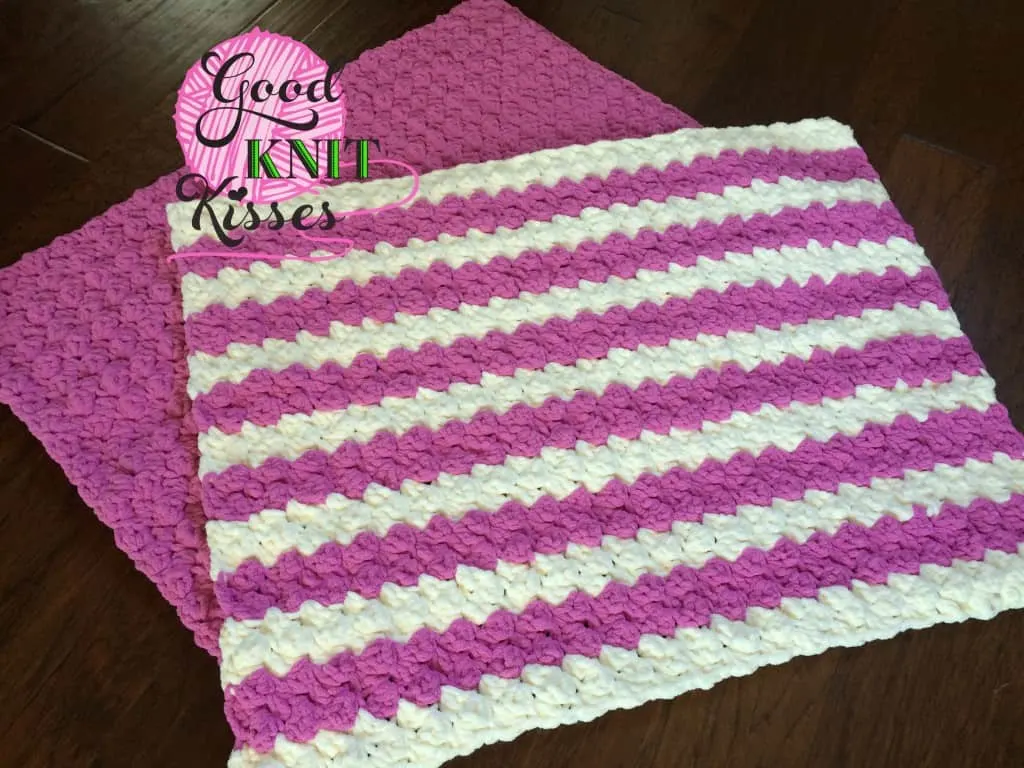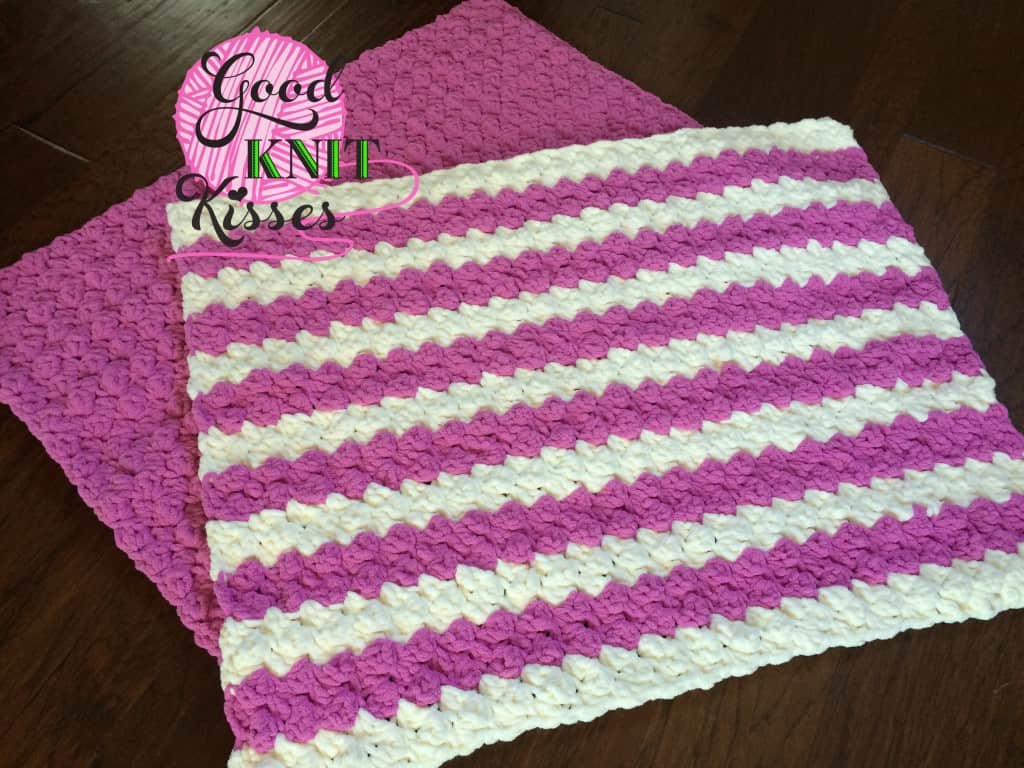 Materials:
Size L hook (or L-11 – 8.0mm)
Bernat Baby Blanket yarn (Super Bulky- #6 weight)
Approx. 350 yards Color A – Vanilla 03008
Approx. 260 yards Color B – Baby Rose 04417
Size:
35″ x 26″ (89 cm x 66 cm)- Stroller blanket
Abbreviations:
ch – chain
dc – double crochet
sc – single crochet
st(s) – stitch(es)
Gauge:
3 Textured Stitch clusters and 6 rows = 4″ (10 cm) in Textured Stitch pattern
Notes:
The stitch pattern uses a multiple of 2 plus 3. For a wider blanket increase the length of your chain. To make a smaller lovey size chain fewer. Just make sure that your chain is a multiple of 2 plus 3.
To work the blanket in worsted weight yarn use a J-10 (6 mm) crochet hook and chain 109 to begin. (NOTE: I used Lion Brand Pound of Love with a J-10 hook or Red Heart With Love and a K-10.5 hook as suggested on the yarn band.) Get the revised Mini Marshamallow Blanket pattern on my blog.

Instructions:
Chain 75.
Textured Stitch:
Row 1: dc in 4th ch from hook**. Skip next 2 ch. *(sc, 2 dc) in next ch, skip next 2 ch; repeat from * across, sc in last ch.
** NOTE: The video says to dc in the 3rd chain from the hook, but I changed to pattern to fix this. Follow the written directions.
Row 2: ch 2, turn, 2 dc in 1st stitch. Skip next 2 sts, *(sc, 2 dc) in next ch, skip next 2 sts; rep from * across. sc in top of turning ch.
Repeat only Row 2 to desired length.
Color Striping (optional):
Begin with Color A.
Crochet 3 rows following Textured Stitch pattern.
Change to Color B on the last single crochet yarn over. (When starting the turning chain, the loop on the hook is Color B.)
Crochet 3 rows and change back to Color A.
Continue switching between colors until you reach desired length. Finish after 3 rows of Color A
Finishing. Weave in ends. Add border if desired (sample shown without border). Border instructions and tutorial video listed below.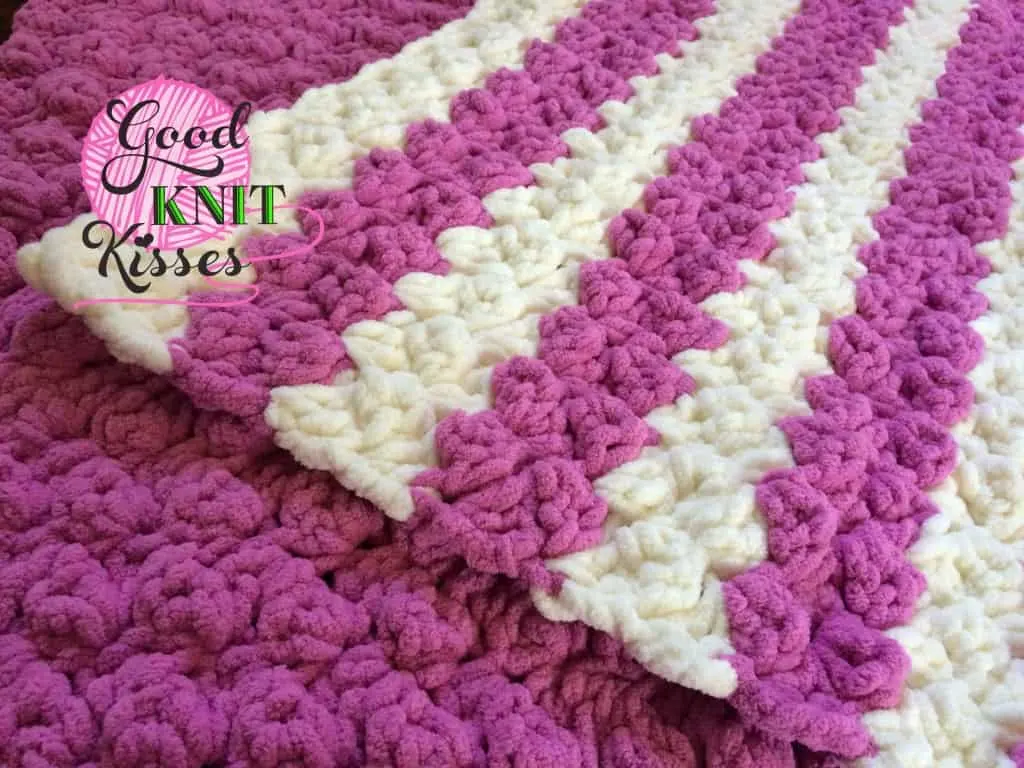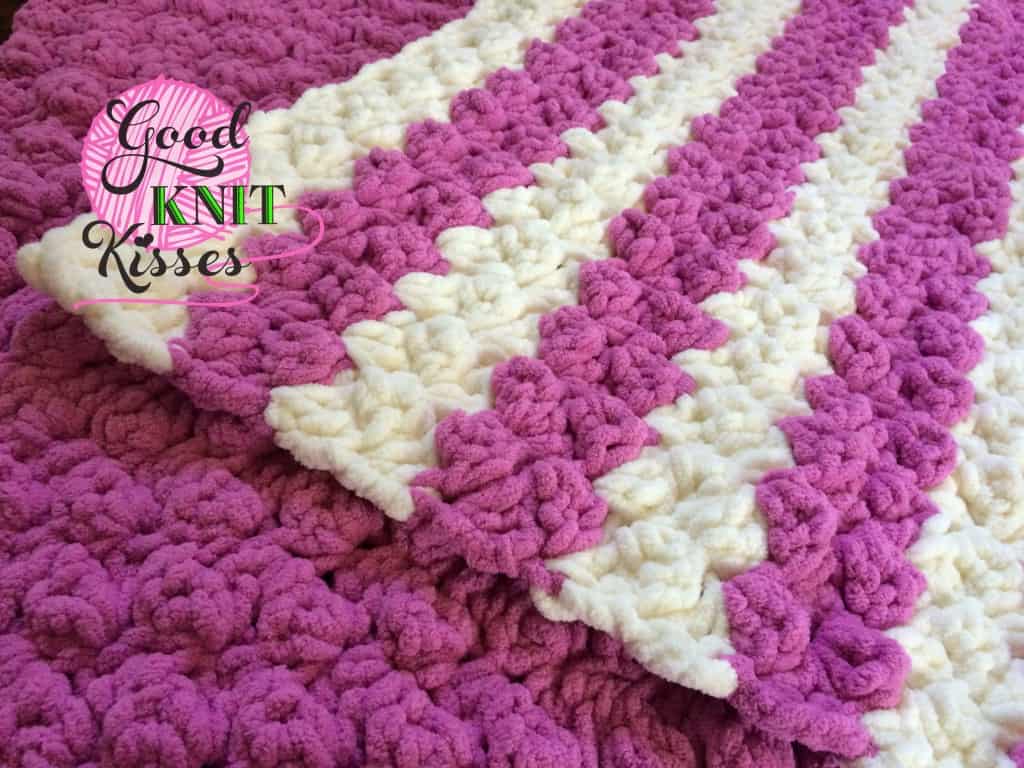 Border (optional)
Just like the Marshmallow Crochet Blanket we will be using the Textured Stitch pattern. (see video below)
Textured Stitch: sc, 2dc in the same space, ch1
Begin at a corner without a yarn tail.
Start with a slip knot on your hook and work a Textured Stitch in the space along the top edge just before the corner.
Work another textured stitch in the same space. The second stitch takes us around the corner.
Now let's move to the side border. You will notice two stitches along that edge: two chains and the side of your ending single crochet. You work your border only in the single crochets and skip the chains.
Crochet textured stitches along the side to the next corner.
When you reach the corner work the textured stitch two times in the last space to turn the corner.
Repeat Steps 5 and 6 around the blanket. When you reach a yarn tail, hold it along the edge and enclose it in the border.
When you reach the beginning of your border, join with a slip stitch and cut yarn pulling tail through the loop.
Weave in tails.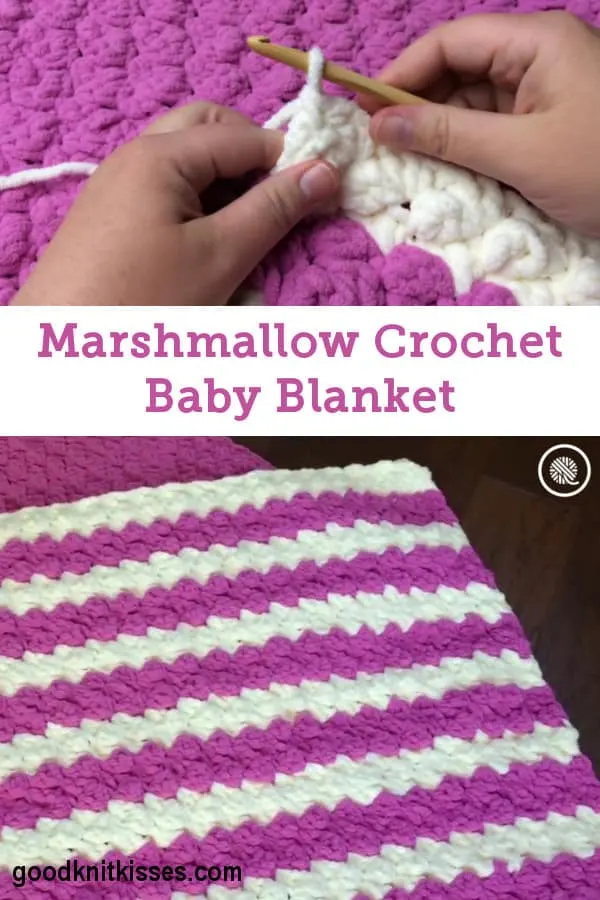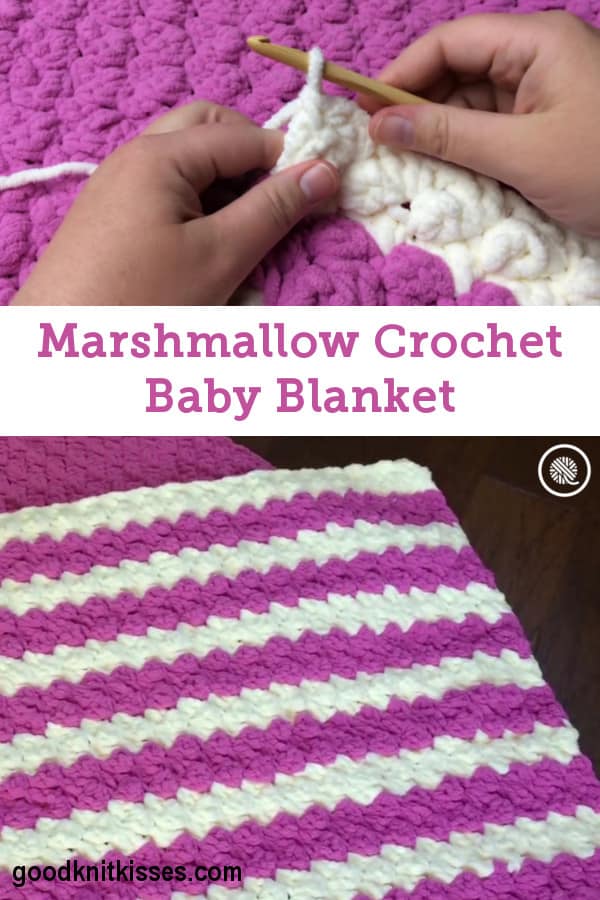 ---
Marshmallow Crochet Baby Blanket Tutorial
Add a Marshmallow Stitch Border
(special note)
As the Marshmallow Crochet Baby Blanket is a nice fluffy baby blanket with lots of texture; it is not a tight stitch and should not be used on unattended baby for risk of catching fingers. For a tighter stitch use the video below as guide for resizing your Marshmallow Baby Blanket using worsted or baby weight yarn!
NEW!!! Work the Marshmallow Crochet stitch pattern in ANY weight yarn! Yes, even lace!