Mermaid Tail Snuggle Sack | Yarnspirations
Make a splash with the Mermaid Tail Snuggle Sack! Mermaid tail blankets have been wildly popular for years, and with good reason. They are such a fun a way to snuggle up on the couch for the evening. If you've been crafting for a while chances are someone has asked to make one, right? This pattern is great because you can make a mermaid tail to fit a baby up to an adult! I know my girls love having one for their doll too.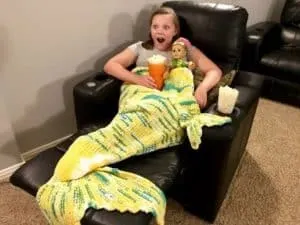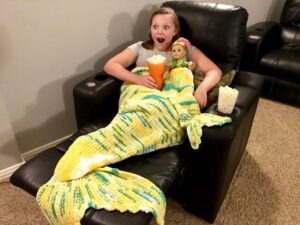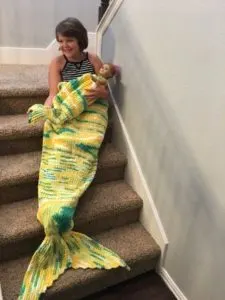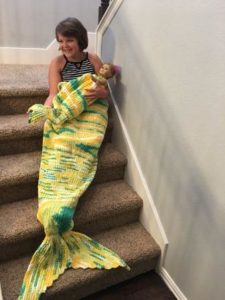 Mermaid Tail Snuggle Sack
Pattern
Click here to get the Mermaid Tail Snuggle Sack pattern from Yarnspirations.
Yarn:
Bernat Blanket Brights (10.5 oz./300g)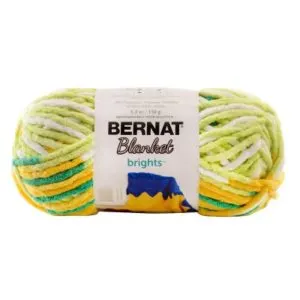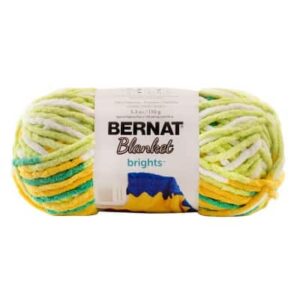 Child Lemonade Variegated (12012) 3 balls or 570 yds/520 m
Adult Go-Go Green (12004) 5 balls or 1050 yds/960 m
Needles & Supplies
Size U.S. 11 (8 mm) circular knitting needles 36″ [90 cm] and 16″ [40.5 cm]
long or size needed to obtain gauge.
stitch marker
tape measure
scissors
blunt tapestry needle (for weaving in ends and attaching fin)
Skill Level
Easy
Sizes
Baby/Doll*
Child Approx 46″ [117 cm] circumference x 45″ [114.5 cm] long (excluding tailfin).
Adult Approx 64″ [162.5 cm] circumference x 66″ [167.5 cm] long (excluding tailfin).
*NOTE: This size is not included on the original pattern. Details are listed below to make this size.
Gauge
8 sts and 13 rows = 4″ [10 cm] in stocking st.
Skills Demonstrated in Tutorial
Longtail Cast-on
K- Knit stitch
P-Purl stitch
Kfb – Knit into the front and back of the stitch (increase)
K2tog – Knit two stitches together (decrease)
Working in the round
Working a flat panel
Cast off (Bind-off)
Sewing the pieces together
If you need a slow motion video on the main stitches or techniques, please check out my slower tutorials on GoodKnit Kisses YouTube playlist.
---
Baby/Doll Size Mermaid Tail
Body
Cast on 42 sts.
Work border as listed in pattern.
Increase round: Increase every 10th stitch. (46 sts now on needle)
Knit body in stockinette st until it measures 12″
Decrease round 1: *K9, K2tog*, Repeat from * to *, K2. (42 sts)
Knit 3 more rounds.
Decrease round 2: *K8, K2tog*, Repeat from * to *, K2. (38 sts)
Knit 3 more rounds.
Decrease round 3: *K7, K2tog*, Repeat from * to *, K2. (34 sts)
Knit 3 more rounds.
Decrease round 4: *K6, K2tog*, Repeat from * to *, K2. (30 sts)
Knit 3 more rounds.
Decrease round 5: *K5, K2tog*, Repeat from * to *, K2. (26 sts)
Knit 3 more rounds.
Decrease round 2: *K4, K2tog*, Repeat from * to *, K2. (22 sts)
Knit 3 more rounds.
Knit until body measures 20″.
Cast off.
Tail
Cast on 16 sts.
Rows 1-3 Knit.
*
Row 4: Cast off 3 sts. Knit to last 4 sts. Turn. Leave rem 4 sts unworked.
Row 5: Knit.
Rows 6-7: Knit across all sts. *
Repeat from * to * until 7 stitches remain.
**
Row 8: Cast on 3 sts. Knit to last 4 sts. Turn. Leave rem 4 sts unworked.
Row 9: Knit.
Rows 10-11: Knit across all sts. **
Repeat from ** to ** until you have 16 sts.
Rows 12-14: Knit.
Cast off all sts.
Finish according to pattern instructions.
---
Let's dive in…
The Body
We'll be making the body of the snuggle sack first. Knit in the round with a seed stitch border the body gently tapers toward the tail fin. Start by casting on the number of stitches needed for your desired size. I recommend the longtail cast on because I like the stretchiness for the top of the snuggle sack. Then work the border in seed stitch as shown. Seed stitch is a simple combination of knit and purl stitches.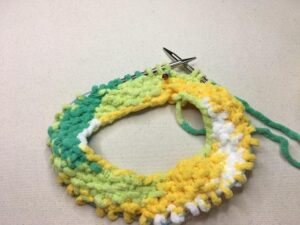 Now we're ready to make the main body portion in stockinette stitch. The first round increases by 4 sts evenly around as follows: Baby/Doll size: Increase every 10 stitches; Child size: Increase every 22 stitches; Adult size: Increase every 32 stitches. After the increases you knit every round until you reach the desired length. So easy!!
Next we'll start decreasing to give the mermaid tail its shape. I highly recommend using a stitch/row counter to keep track of where you need to decrease. The decrease is a simple K2tog or knit two stitches together. After the decrease round you'll knit 5 more rounds for the child and adult sizes or 3 more rounds for the baby size in stockinette stitch.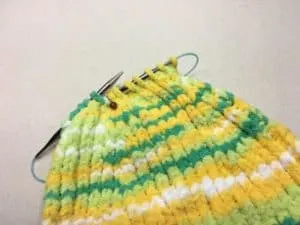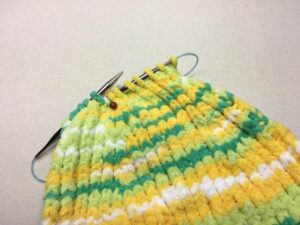 You'll work a total of 6 decrease sections: one round where you decrease your stitches followed by 5 rounds (3 rounds for baby size) in stockinette. At some point along the way you may find the longer circular needle gets tricky to manage so you can switch to a shorter circular or even DPNs to finish this section. Your final stitch counts should be: Baby/Doll size: 22 sts, Child size: 44 sts, Adult size 53 sts.
Now you simply knit each round until your snuggle sack measures 20″ for the Baby/Doll size, 45″ for the Child size or 66″ for the Adult size. Cast off all stitches. Make sure to lay your snuggle out flat the way you want it to be before you sew the end! That's it the body is done. Now for the fun part….
The Tail
The fin for the tail is what just makes this snuggle sack. The garter stitch short rows give the tail the texture and shaping you expect to see in a fish tail.
First we'll cast on again using the longtail method. We'll knit the tail as a flat panel in rows of garter stitch. Nice! That means no purling needed from here on.
Now we're going to be working some fun shaping here by casting off some stitches and working short rows. If you've never worked short rows before have no fear! They are simply rows that are not worked all the way to the end. You'll work a partial row then turn your tail around and work back to the end. This allows the tail to have the fan shape. You'll repeat this process of casting off stitches and working short rows until you reach the halfway point.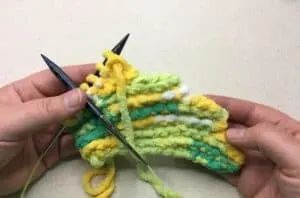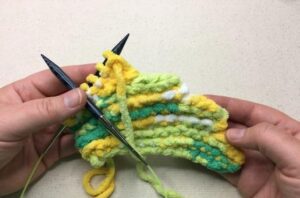 Yay! The tail is almost done! Next we'll be casting on stitches to work the other half of the tail. We'll be using the knitted cast on for this portion. If you are new to this cast on, it is as easy as a knit stitch. You'll notice that this half of the tail is identical to the other half except that you are casting on instead of binding off. So easy! Continue the pattern repeats until you are ready to finish the tail.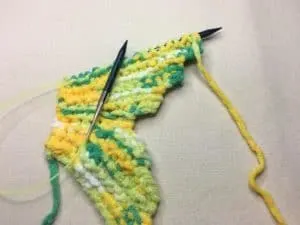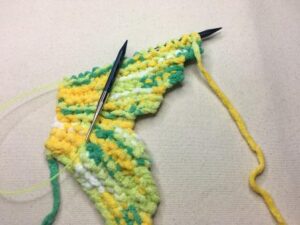 Lastly, you'll bind off all stitches loosely, and I'll show you how to sew the tail onto the body.
That's it you are ready to make a splash in your new Mermaid Tail Snuggle Sack!