Inside: Learn how to needle knit an I-cord Braided Handle for your next bag project. Includes written instuctions and tutorial videos for left and right handed knitters.
Knit a strong, beautiful handle for your next market bag or purse project.
This easy pattern makes a sturdy strap that feels comfortable on your shoulder so you can carry your bag all day. It's easy to customize the length from a short handheld strap to a full crossbody. The choice is all yours!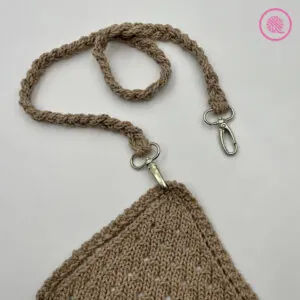 I added swivel snap hooks to make it removable so I can switch out the straps or use the same ones for different totes. You can find these hooks in the sewing notions at your local craft store or online at the link below.
This pattern includes detailed written instructions and links to fully captioned tutorial videos for both right and left handed knitters.
Needle Knit I-Cord Braided Handle/Strap
By Kristen Mangus
A downloadable PDF of this pattern is available in my Etsy store or from Ravelry at the links below:
MATERIALS
(Materials list may contain affiliate links to products I used to make this project. Using these links cost you nothing, but helps support GKK.)
Yarn
Medium (#4) worsted weight yarn
Yarn Bee Fundamental Cotton (164 yds./3.5 oz., 150 m/100 g) 1 ball needed. Color Camel used in samples.
Needles
US 7 (4.5 mm) circular needle with 16" cord
Knitters Pride Mindful Collection Lace Tips used in sample.
Notions
Tapestry needle
Measuring tape
Locking stitch marker (large) or large safety pin
1" Swivel Snap Hooks – 2 per strap
ABBREVIATIONS
Approx = Approximately
RS = Right side
St(s) = Stitch(es)
New to knitting? I've got a How to Knit Beginner Video Series to teach you ALL the basics.
SKILL LEVEL Easy
MEASUREMENTS Approx .5" x 30" (1.3 cm x 76 cm) including hooks
NOTES
This pattern uses three 2-stitch i-cords braided together. Braiding the i-cords and seaming shortens the total length so knit each i-cord at least 2" longer than the length you desire for your final strap.
Swivel Snap Hooks: This product is sewn to either end of the strap and clips onto your bag. This allows you to change the straps. They are found at the affiliate link listed above or in the sewing notions area of your local craft store.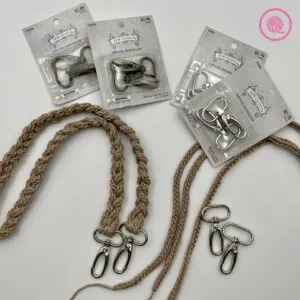 INSTRUCTIONS
Makes 1 braided strap.
Knit 3 I-cords:
Cast on 2 stitches leaving a 12-18" tail.
Knit both stitches.
Next without turning your work,

If using straight needles, slip your stitches back onto your non-working needle.
If using DPNs or circular, slide your stitches to the other end of your needle.
Keep on RS and knit both stitches. (NOTE: Your working yarn should be in the back coming from the last stitch in the row.)
Repeat Steps 2-4 until your i-cord measures 32" or until your desired length plus 2". (NOTE: Remember to tug on your i-cord to lengthen and set the stitches before you measure.)
Bind off both stitches and cut yarn leaving a 12-18" yarn tail for seaming. Tug on yarn tail to tighten.
Repeat Steps 1-6 to make 3 i-cords.
Seam I-cord ends:
Lay all three cords on table next to each other lining up the end of each cord and making sure the ends are not twisted. Measure 1" (approx. 5-6 rows) from edge of cords. On next row secure all 3 i-cords together with a large stitch marker making sure to go through the middle of each cord.
Now we are going to attach the ends of the i-cords into a flat panel. Using yarn tail from middle cord, sew through the first stitch of one of the outer cords. Sew through the edge of the stitch on the row above before sewing through the first stitch on all three cords. Now continue sewing through all 3 cords row by row up to the stitch marker. Working back in the opposite direction, continue sewing through all 3 cords row by row back to the beginning. Weave in tail and cut.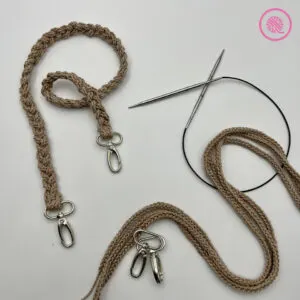 Attach first swivel snap hook:
Slide swivel hook into place pulling through remaining tails. Fold over to line up cord end to stitch marker. Using one yarn tail, sew through both layers from one side to the other making to sure to sew through each i-cord. Sew back through to other side to reinforce. Weave in tail and cut. Repeat this process on the next row down with the other yarn tail. This creates a strong secure seam for the hook. Remove stitch marker.
Braid:
Secure the hook to a table using tape or clip onto something secure for tension. Make a simple 3-strand braid using the instructions below.
Pick up one outer strand and place it crossing the center stand. Pull the center strand toward the outside edge.
Pick up the opposite outer strand and cross it over the center strand. Pull the center strand toward the outside edge.
Repeat Steps and 1 and 2 alternating sides finishing when you have 1" of the i-cord left.
Secure with locking stitch marker as you did with the other end making sure not to twist the cord ends.
Seam ends and attach second hook:
Repeat instructions above to sew the three cords together then attach the second hook.
Repeat all steps to make another strap, if needed.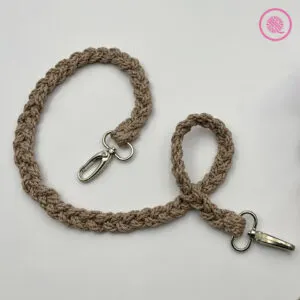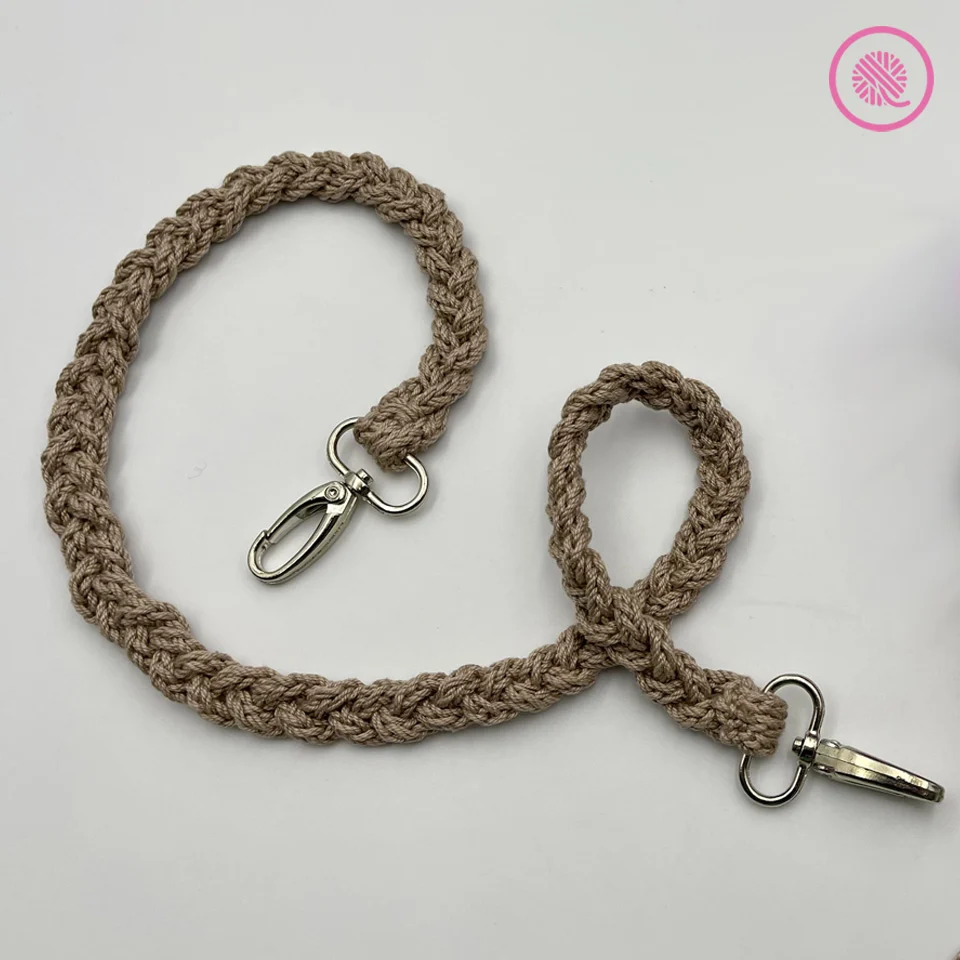 ---
PIN IT!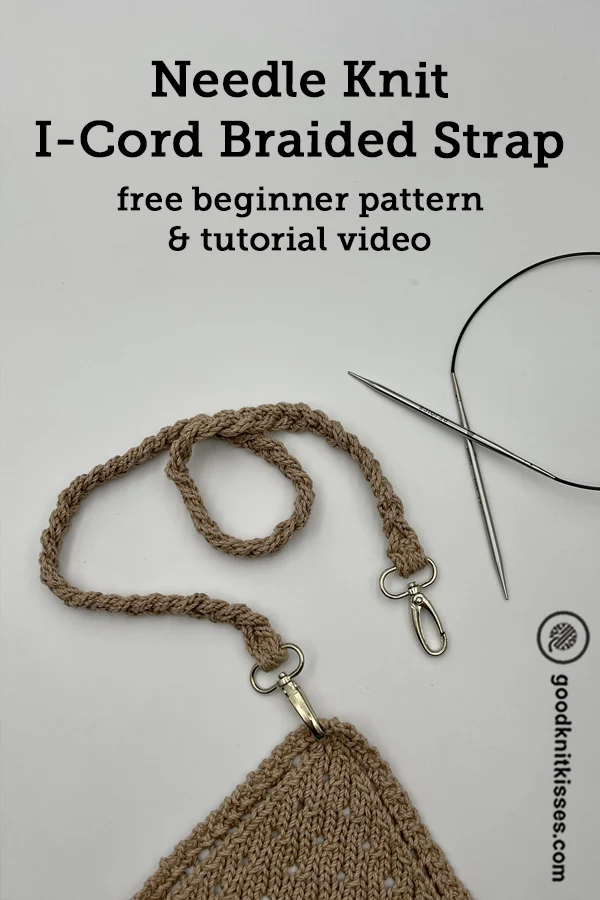 ---
Needle Knit I-Cord Braided Handle/Strap Tutorial Videos
Select videos are available to GoodKnit Kisses YouTube members only. To get exclusive access to GKK VIP-only content, free PDF patterns, weekly Zoom meetup and more, sign in to YouTube and join as a VIP Member today! Find out more about GKK Membership HERE!
Right handed


Left handed