Inside: Written instructions with tutorial video showing the crochet Faux Mistake Rib stitch pattern. Includes blanket square pattern in 2 sizes.
As part of my Stitch of the Month, I showed the Seeded or Mistake Rib stitch for both needle and loom knitters. The challenge is finding a crochet stitch pattern that mimics the same look.
I've already made a video showing some basic crochet rib stitches, but this one took a little more research.
The crochet Faux Mistake Rib has the same deep ridges with textured stitches in between. Like it's knit cousins, it's also reversible making it an ideal stitch for scarves, blankets, cowls and more. It's also easy enough for a beginner to learn and master.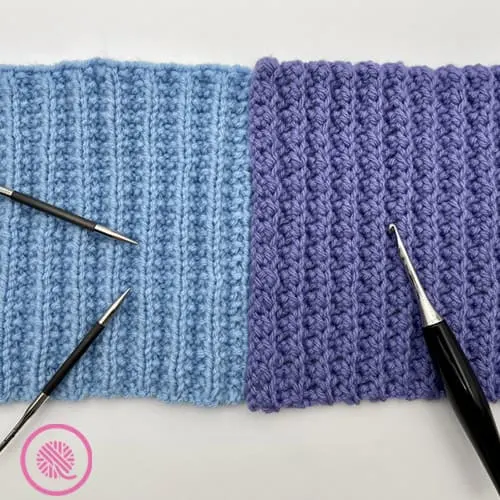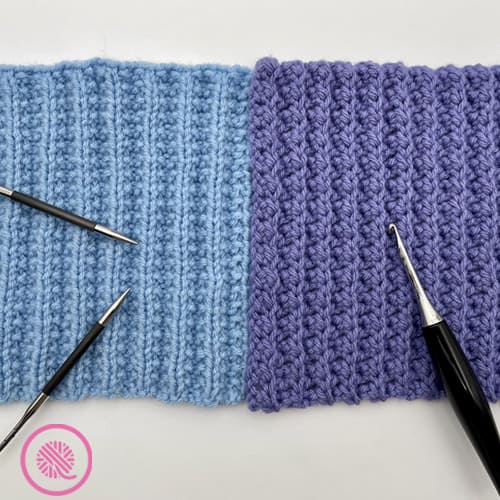 Faux Mistake Rib Stitch Details
Multiple of 2 +1
2 row repeat (with 1 foundation row)
Chain an even number and begin the foundation row on second chain from hook.
Stitch pattern is worked from side to side. The ribs form row by row. If you want the ribs to align vertically your beginning chain must be along the side edge of your project.
Skills include chain, half-double crochet in the back loop and slip stitch in the back loop. (See video below for demo!)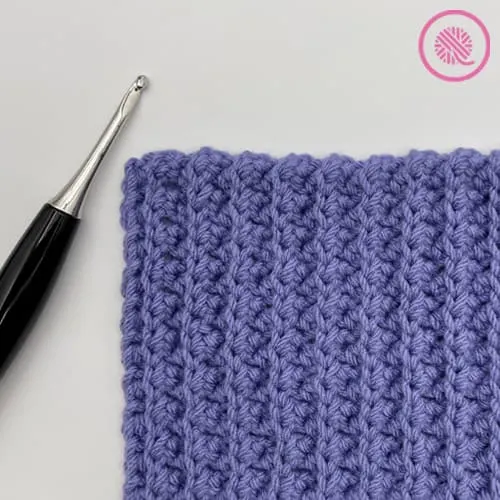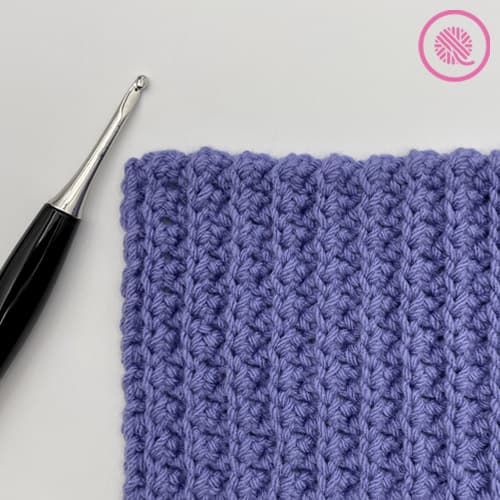 Crochet Faux Mistake Rib Square
Pattern includes written instructions for 2 square sizes and links to fully captioned tutorial videos for both left and right handed crocheters.
A downloadable PDF of this pattern is available in my Etsy store and from Ravelry at the links below:
MATERIALS
(Materials list may contain affiliate links to products I used to make this project. Using these links cost you nothing, but helps support GKK.)
Yarn
Medium (#4) weight yarn in 2 colors
Caron One Pound (120g/ 4.2 oz, 73 meters/ 80 yd.) in color Lavender Blue used in sample.
Hook
US Size H (5 mm) hook
Furls Odyssey (5 mm size H) in Black & Nickel used in sample.
Tapestry needle
ABBREVIATIONS
Ch = Chain
HdcBL = half-double crochet in the back loop
Rep = Repeat
SlstBL = slip stitch through the back loop
St(s) = Stitch(es)
If you need a refresher, be sure to check out my How to Crochet series!
GAUGE
17 sts x 14 rows in 4" in faux mistake rib stitch
SKILL LEVEL Easy
MEASUREMENTS
Option 1: 7" x 9" (18 cm x 23 cm)
Option 2: 12" x 12" (30.5 cm x 30.5 cm)
NOTES
The faux mistake rib stitch pattern is a multiple of 2 +1. Chain an even number to begin this stitch pattern as 1 chain acts as the turning chain on the Foundation Row.
The faux mistake rib stitch is made side to side. To make a rectangle as in Option 1 you can choose to make the ribs vertical by chaining 30 (7" side) or horizontal by chaining 38 (9" side).
INSTRUCTIONS
Chain 30 or 38 for 7" x 9" block (50 for 12" square) OR any even number of stitches of the desired vertical height of your project.
Foundation Row: HdcBL in 2nd ch. *SlstBL in next ch. HdcBL in next ch. Rep from * to last ch. (Now 1 less st than original ch.) Ch 1. Turn.
Row 1: *SlstBL in next ch. HdcBL in next ch. Rep from * to last ch. SlstBL last st. Ch 1. Turn.
Row 2: *HdcBL in next ch. SlstBL in next ch. Rep from * to last ch. HdcBL in last st. Ch 1. Turn.
Rep rows 1-2 until desired length. Weave in tails.
---
PIN IT!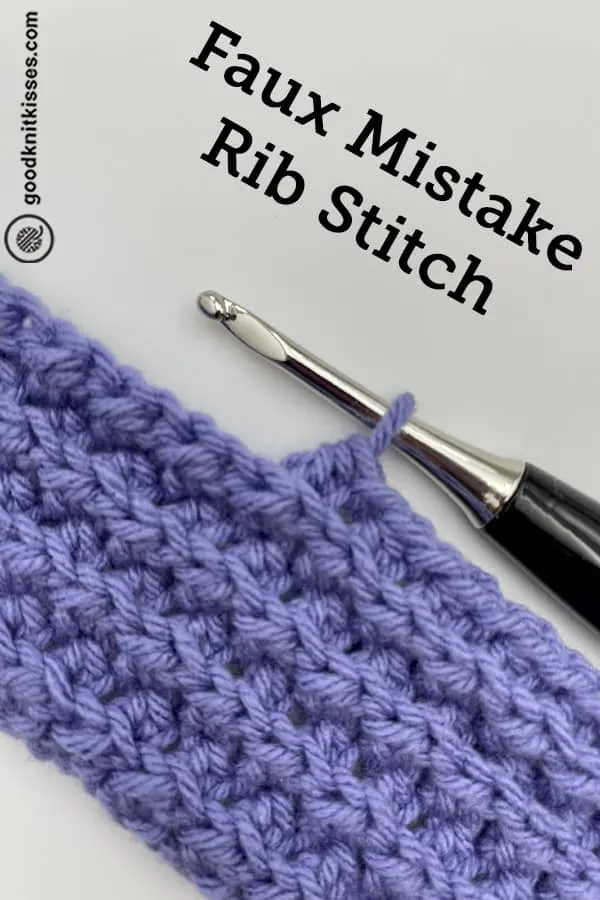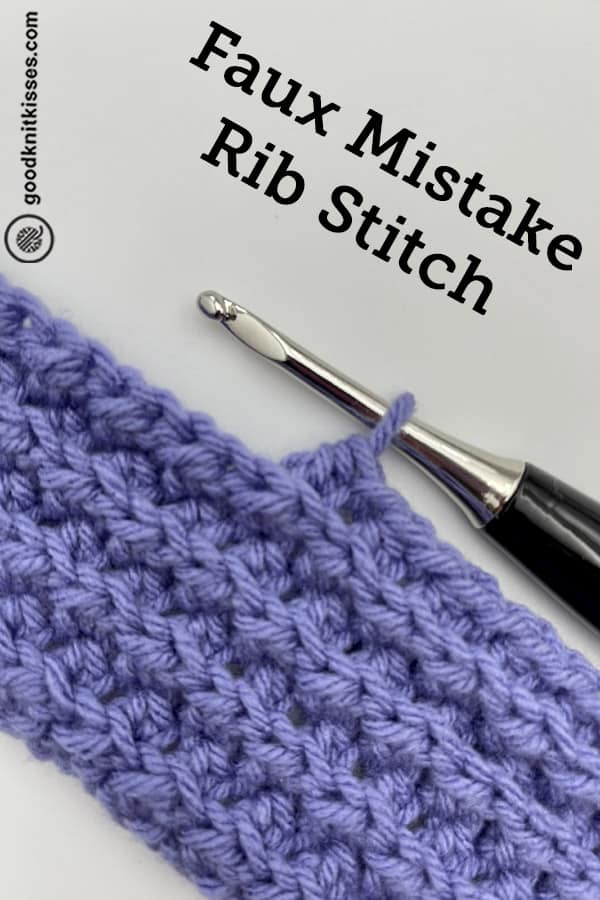 ---
How to Crochet Faux Mistake Rib Video Tutorials
Select videos are available to GoodKnit Kisses YouTube members only. To get exclusive access to GKK VIP-only content, free PDF patterns, weekly Zoom meetup and more, sign in to YouTube and join as a VIP Member today! Find out more about GKK Membership HERE!
The following tutorial videos demonstrate how to crochet Faux Mistake Rib. The videos are fully captioned and are available for both right and left handed crocheters.
Right handed


Left handed
---
If you like the Faux Mistake Rib stitch pattern you might also enjoy these other crochet stitch patterns.
Marshmallow Crochet Stitch
Mock Garter Stitch
Feather Stitch
Crochet Ribbing
Crab Stitch (Border)
Houndstooth Pattern