By Kristen Mangus

There are few things in life more joyful than a baby's laugh. Those unhindered, high-pitched squeals and giggles can brighten your day like nothing else. I want to help you share that joy with my new needle knitting pattern: the easy knit Rattle Ball Baby Toy.
I have the honor of being part of a wonderful group of crafters through Red Heart Yarns call the Joy Creators. We're all independent designers and instructors, but we all share a love of knitting and crochet and, of course, YARN.
One of my fellow Red Heart Joy Creators, Nadia Fuad of YARNutopia, is expecting a baby so several of us got together to design knit and crochet baby gifts for her shower. (She was sooo surprised! You can see all the gifts as she opened them HERE on the YARNutopia blog!)
I knew I wanted to make some baby booties, but I also knew I wanted to include something else. I played and played and played around with my yarn until it dawned on me that playing is fun and a toy would be the perfect thing to go with the booties.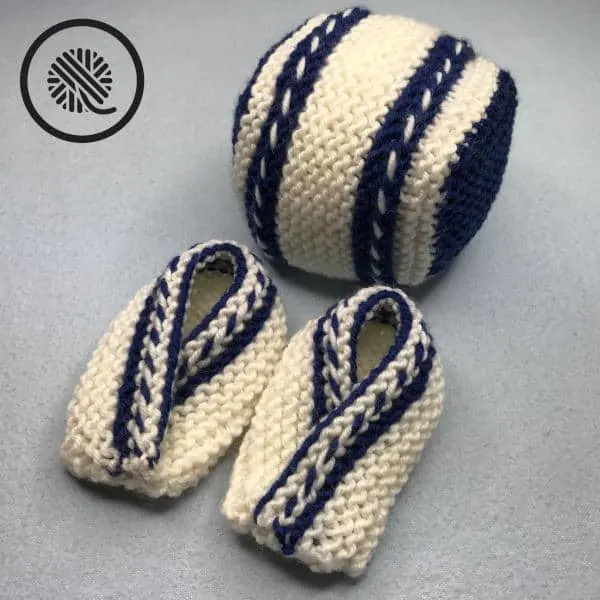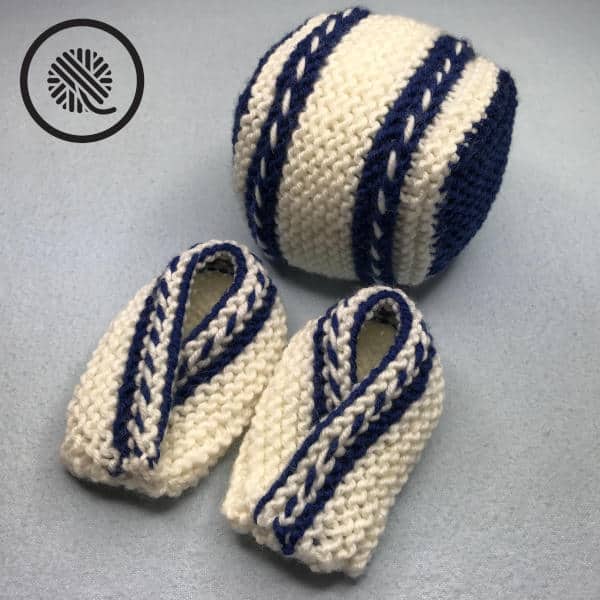 Get the loom knit version of these projects below:
The Rattle Ball Baby Toy provides hours of roly-poly, jingly fun for your baby. The soft, rounded cube has a solid colored top and bottom with a two-toned middle including an eye-catching rope design.
The ball is knit as a flat panel then filled and seamed. I included a jingle bell for sound, but you can use crinkle paper or even leave out the sound component. (I know some moms like quiet toys for baby!)
Enjoy knitting this fun rattle ball and the giggles you'll hear as your baby plays with it.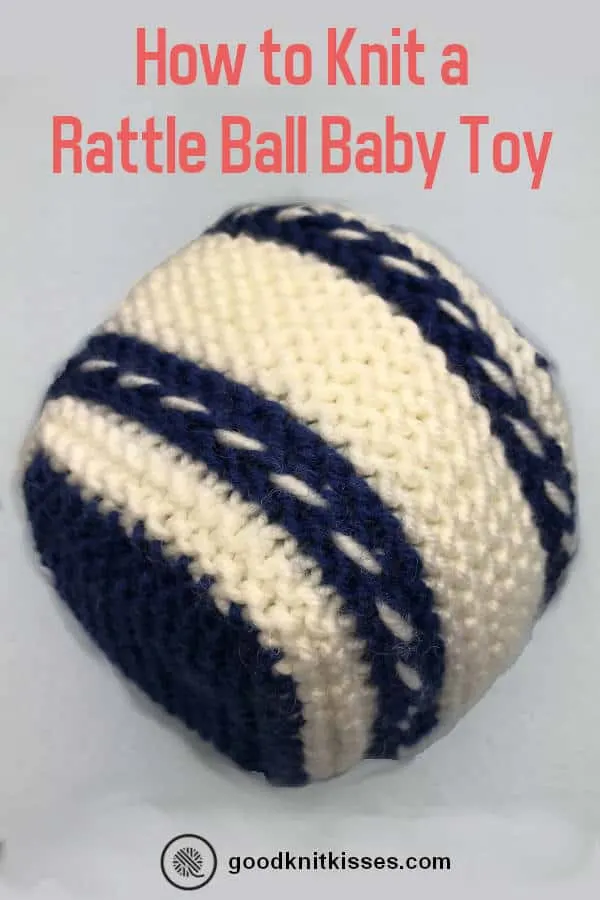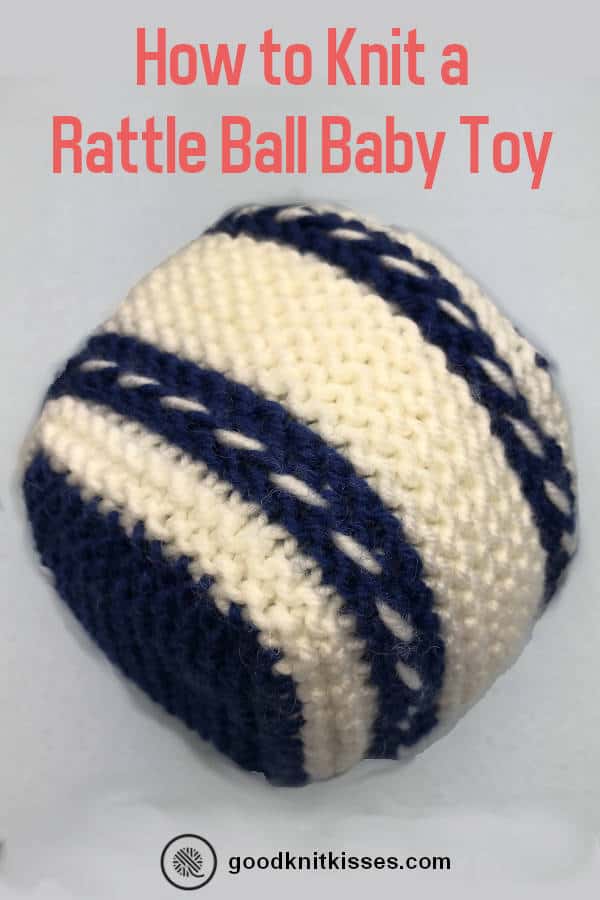 ---
Easy Knit Rattle Ball Baby Toy Pattern
A downloadable PDF of this pattern is available on Ravelry.com.

MATERIALS
Materials list may contain affiliate links to products I use.
Contrast A Red Heart Chic Sheep (100g / 3.5oz, 170 m / 186 yards) Lace [white]; 35 yards
Contrast B Red Heart Chic Sheep (100g / 3.5oz, 170 m / 186 yards) VIP [blue]; 35 yards
Needles US 8 (5 mm) knitting needles or size needed to obtain gauge
1" Jingle bell or other item to add sound like crinkle paper (optional)
Fiber Fill or other filling of your choice
Tapestry needle

ABBREVIATIONS
K = Knit
P = Purl
Rep = Repeat
RS= Right Side
St(s) = Stitch(es)
WS= Wrong Side

GAUGE
5 sts x 10 rows in 1" in garter stitch

SKILL LEVEL
Easy+

MEASUREMENTS
Approx. 3" cube

NOTES
The ball is knit in one piece as a flat panel then seamed.

Half Latvian Braid: This two-color technique is similar to Fair Isle knitting and creates a twisted rope of color on the right side of your fabric. It involves alternating two colors while twisting the strands between each stitch. It's a simple technique that has a striking look. You need to be sure to always pick up the new color from under the color you just used. This will twist your two working strands as you knit. See my note below about using a butterfly bobbin to make this easier to manage.

Using a Butterfly Bobbin: Make a butterfly bobbin with Color B to make working the Half Latvian Braid easier since your yarn will get twisted. You will need about 8-10 yards. See my video for making the butterfly bobbin here: https://youtu.be/ZfENMppCYiA

If you want to block your knitting, wash and lay flat to dry before seaming.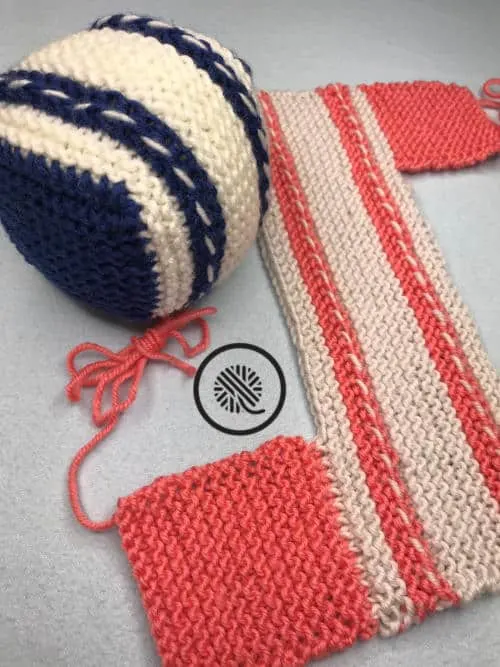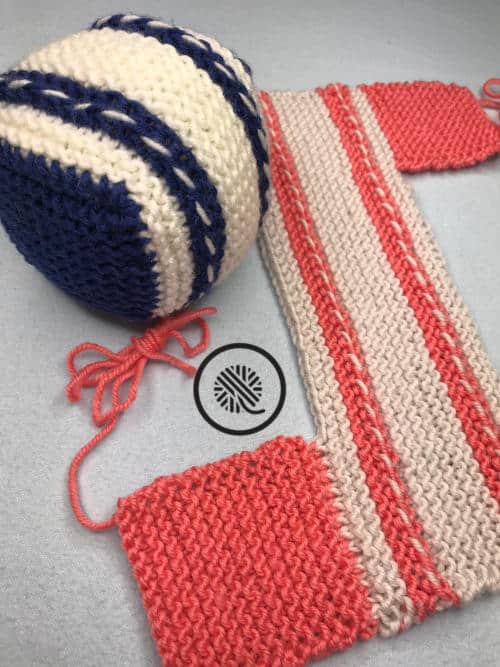 INSTRUCTIONS

Bottom Square:
Leaving a long tail for seaming, with B cast on 13 sts.
Row 1: K all.
Rep. Row 1 26 more times Cut B.

Main Rectangle:
Row 2 (RS): With A K to end. Knit cast on 37 sts. (50 sts total)
Row 3 (WS): K all.
Rep Row 3 3 more times.

Contrast Color Band:
Row 4 (WS): With B P all.
Row 5 (RS): P all.

Half Latvian Braid (see Notes above):
Row 6 (WS): *With A K1, With B K1 rep from * across row carefully pulling new yarn from under last color used.
Row 7: With B K all.
Row 8: K all. Cut B.

Row 9 (RS): With A K all.
Rep Row 9 12 more times

Rep Rows 4-8.
With A rep Row 9 4 times.

Row 10: Bind off 37 sts. K to end of row. (13 sts rem.)

Top Square:
Row 11: (WS) With B P all.
Row 12: K all.
Rep Row 12 26 more times.

Bind off leaving a long tail for seaming. Weave in smaller tails. Wash & block.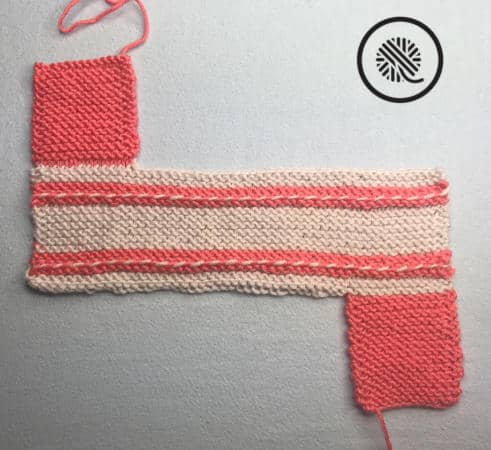 Assembly:

Shape Box:
Using tapestry needle and long tail from Bottom Square, seam the Sides 1, 2 and 3 to long Bottom Edge of Main Rectangle using whip stitch. Bend the Main Rectangle at each corner of the square. This will form a box shape. (See blue lines in diagram.)

Close Side:
Seam Main Rectangle together along side edges with Bickford or invisible seam. (See red lines diagram.) Weave in tail from bottom square now.

Fill Box:
Stuff the inside of the box with polyfill to desired fullness placing jingle bell or other rattle as desired in the center. Make sure the polyfill surrounds the bell/rattle evenly on all sides. In sample a 1" jingle bell was used.

Sew Top Square:
Using a tapestry needle and yarn, whip Sides 1, 2 and 3 of the Top Square to Top Edge of Main Rectangle. (See green lines in diagram.)

To weave in tail pass the needle through the middle of the toy and stuffing to the other side. Then pass through again at different spots until tail is gone.

---
Watch the tutorial videos below to get started on your easy, knit Rattle Ball Baby Toy!
Rattle Ball Tutorial Video for RIGHT handed Knitters:
Rattle Ball Tutorial Video for LEFT handed Knitters