Lesson 4: How to Treble/Triple Crochet
You're in the big leagues now! The last stitch for this beginner series is the treble, or triple, crochet, and it is abbreviated in patterns with "tr". NOTE: This stitch is also called the triple crochet. I've called it both triple and treble throughout the video since they are used interchangeably.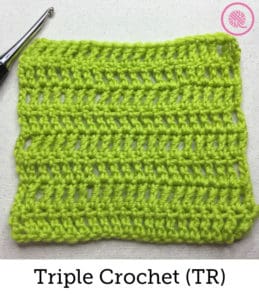 This is the tallest of the stitches I'm going to cover and it's an ideal stitch to incorporate into a design to create texture and height. It's rare to see the triple crochet stitch used as a standalone stitch, but if you want an open airy fabric it will do the job nicely. Again, just like the half double crochet and the double crochet we are simply adding to the stitch to create a tall post. You will see the treble crochet stitch used often in lacework since it's height naturally lends itself to make eyelets or openings in the work.
Skills taught in this tutorial:
• Yarn over (yo) twice
• Treble (triple) crochet into foundation chain
• Work a turning chain (See the Crochet Turning Chain Chart for reference!)
• Treble (triple) crochet into stitch
• Check your stitch count for accuracy by counting posts
• Fasten off and weave in tails
PIN THIS LESSON!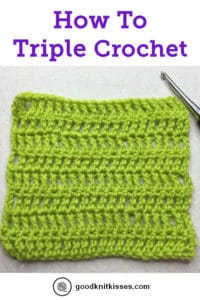 ---
Watch the video below to learn how to crochet the Double Crochet stitch!
Video tutorial for LEFT-HANDERS!
---
I hope you enjoyed Part 1 of the How to Crochet Video Series!
Stay tuned for Part 2: How to Crochet Basic Stitch Patterns!