Inside: Learn how to knit drop stitches with this tutorial video and free Garter Drop Infinity Scarf pattern. Easy-to-follow instructions for beginners.
Drop stitches are a great way to add new life to a project.
They can be used to add an open texture to a simple stitch pattern. Garter stitch is the first stitch pattern you learned as a beginner knitter because it is easy. I'm going to teach you how to add drop stitches between rows of garter to add a lacy look to your knits.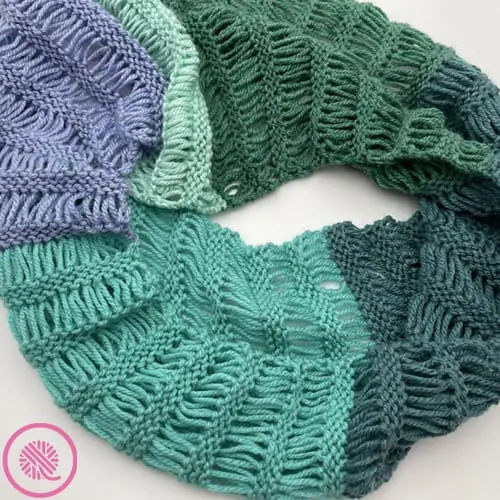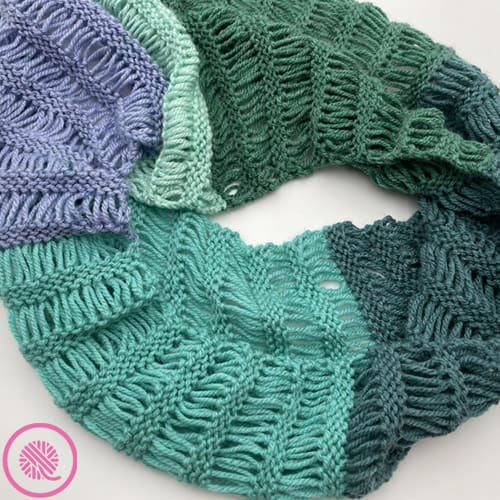 But first, let's talk about how to knit drop stitches…
When you're first learning to knit you learned about dropped stitches that fall off your needle while you're knitting.
These drop stitches are NOT the same thing.
Drop stitches are created on purpose and are actually elongated stitches.
If you look closely at the drop stitch pattern you can still see the "V" of the knit stitches, but they are much longer than they would typically be. This makes a row of knitting that is loose and open.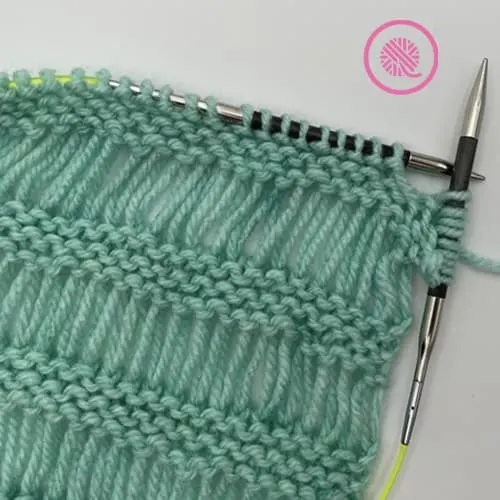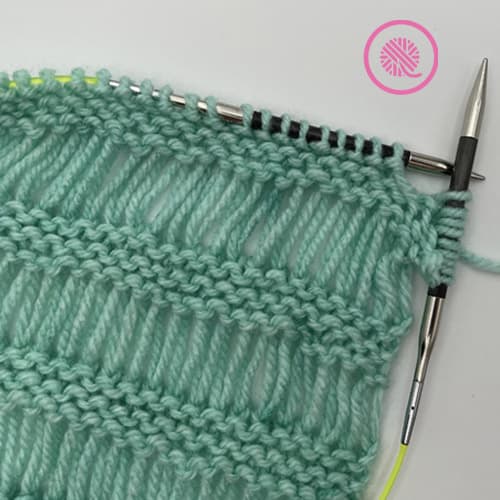 How to customize the garter drop stitch pattern…
The garter drop stitch pattern I'm teaching you today works with any yarn weight and almost any stitch count. I say almost any because you do need at least 3 stitches for this to work.
The garter drop stitch pattern is a multiple of 1+1 and I'm demonstrating it using a 6 row repeat.
After you cast on you need one foundation row of all knit stitches. Then you begin the repeat.
Rows 1-4: Knit all.
Row 5: K1, *yo3xk. Rep from * to end of row.
Row 6: Knit all, dropping yos from previous row as you go.

First, let's talk about the odd abbreviation "yo3xk". This simply means yarnover 3 times and knit 1. So for every stitch on your needle you are going to yarnover 3 times before you knit the stitch.
Next, let's talk about how much drop you want. I chose 3 yarnovers to make the drop row very dramatic, but you may prefer 1 or 2. But if you like more height in the drop row increase it 4, 5 or 6. Choose as many yarnovers as you like for your drop stitch row.
Lastly, you can alter this stitch pattern by adding more garter ridges before the drop stitches. I used 4 rows of garter stitch before I started my drop stitches. You can use any even number of rows between the drop stitch rows.
Here's the full pattern for the scarf so you can see exactly what I did. Be sure to scroll all the way down and watch the fully-captioned tutorial videos. I've got videos for both right and left handed knitters so you can always see the knitting from the proper perspective.
Garter Drop Infinity Scarf Pattern
By Kristen Mangus
A downloadable PDF of this pattern is available in my Etsy store and from Ravelry at the links below:
MATERIALS
Links below are affiliate links to products I used to create this pattern/video. Clicking the links costs you nothing, but helps support GoodKnit Kisses.
Yarn
Medium (#4) weight yarn
Caron Cakes (383 yds. / 350 m, 7.1 oz. / 200 g) color Blueberry Shortcake used in sample.
Needles
US 8 (5 mm) knitting needles
Knitter's Pride Interchangeable used in sample.
Tapestry needle
ABBREVIATIONS
K = Knit
Pat = Pattern
Rep = Repeat
RS= Right Side
St(s) = Stitch(es)
WS= Wrong Side
YO = Yarnover
Yo3xk = Yarnover 3 times, knit 1
New to knitting? I've got a How to Knit Beginner Video Series to teach you ALL the basics.
GAUGE
15.5 sts x 16 rows in 4" (10 cm) in drop stitch pattern
SKILL LEVEL
Easy
MEASUREMENTS
Approx. 10.5" x 53" (26.7 cm x 134.6 cm)
NOTES
You can make this scarf in one color or use color changing yarn like I did to add more colors.
The drop stitch garter pattern is a multiple of 1+1. Any number of stitches will work for this stitch pattern.
I recommend blocking your scarf before connecting the ends. Blocking dropped stitches creates uniform, even stitches.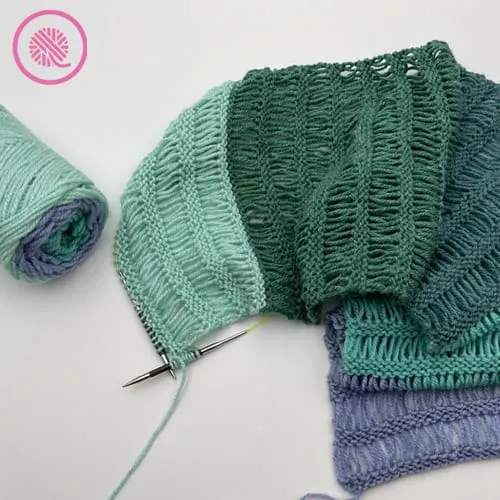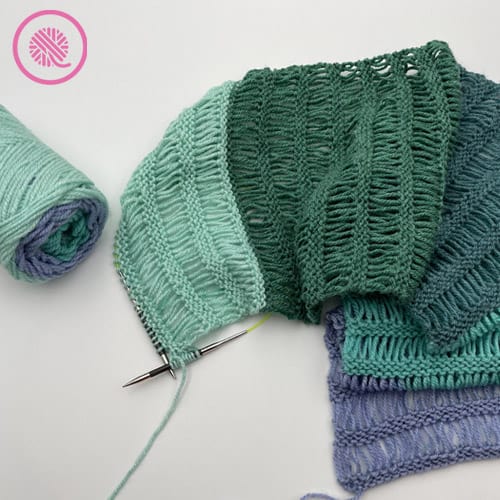 INSTRUCTIONS
Cast on 41 sts using longtail cast on.
Setup:
Foundation Row (WS): Knit.
Drop Stitch Pattern:
Row 1 (RS): Knit all.
Row 2 (WS): Knit all.
Row 3: Knit all.
Row 4: Knit all.
Row 5 (RS): K1, *yo3xk. Rep from * to end of row.
Row 6: Knit and drop all yo's off needle as you work.
Rep Rows 1-6 35 more times or until desired length.
Bind off and cut long tail to sew seam. Weave in beginning yarn tail. Wet block scarf before seaming to set drop stitches and to show open stitchwork. After blocking, place wrong sides together and sew seam. Weave in tail.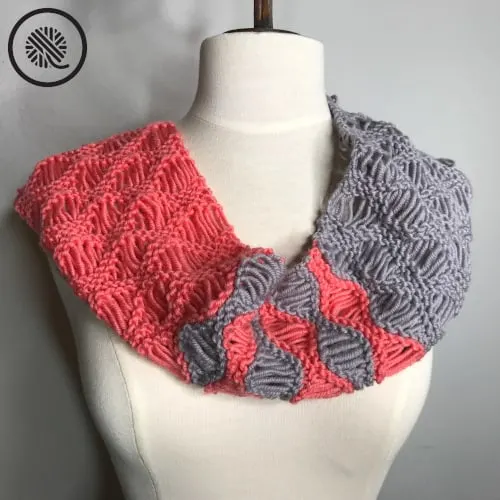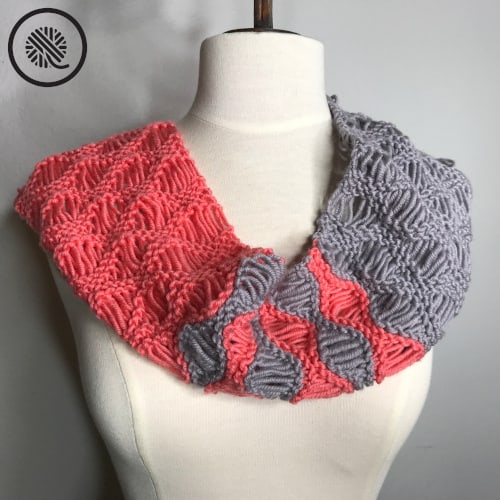 ---
PIN IT!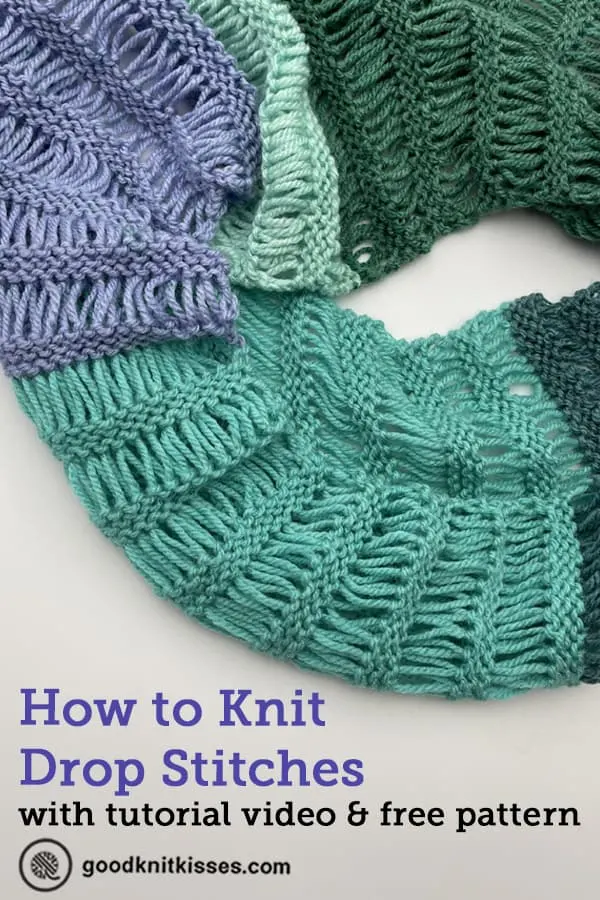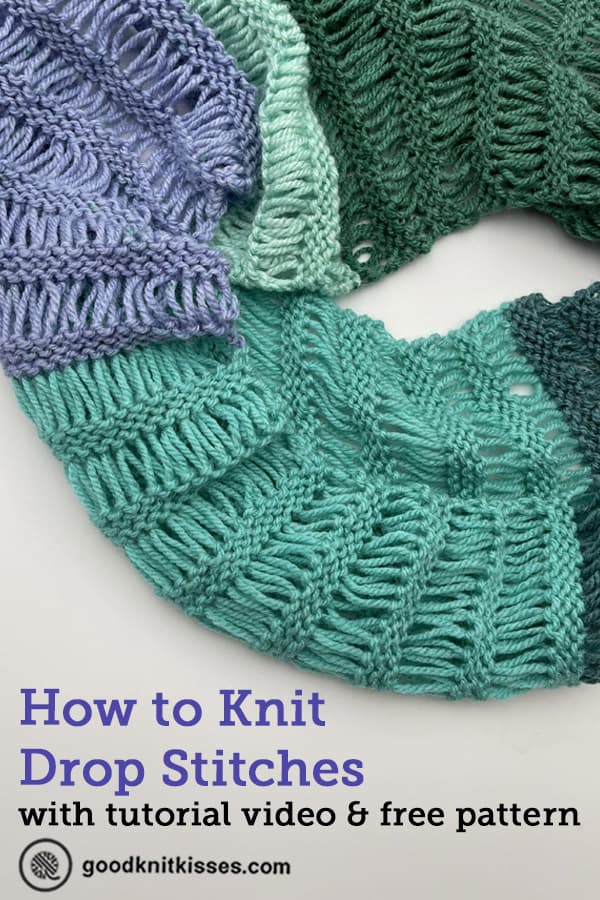 ---
How to Knit Drop Stitches Video Tutorial
Select videos are available to GoodKnit Kisses YouTube members only. To get exclusive access to GKK VIP-only content, free PDF patterns, weekly Zoom meetup and more, sign in to YouTube and join as a VIP Member today! Find out more about GKK Membership HERE!
The following tutorial video on How to Knit Drop Stitches demonstrates the stitch pattern used in this infinity scarf. It does not include the cast on, bind off or seaming, but links to those videos are below.
Right handed


Left handed


How to Knit Garter Stitch for Complete Beginners (includes cast on and bind off):


Longtail Cast On: