Inside: Instructions and tutorial video to show you how to make this easy Pet Bowtie in just a few minutes with supplies you have on hand.
You know what it's like:
You walk into your craft room to find that green ball of yarn you bought on sale a few months ago because it's the perfect color for your new scarf pattern. But as you start looking in cabinets, drawers, and bins you find everything but that ball of yarn. Things like too many unfinished projects, your favorite KB loom hook that you just bought a replacement for, or a pile of swatches.
I like to make small swatches when I try out a new stitch pattern or a new yarn. But when you've been working with yarn as long as I have you end up with hundreds of them!
I decided to repurpose my old swatches and came up with this easy craft project: Pet Bow Ties!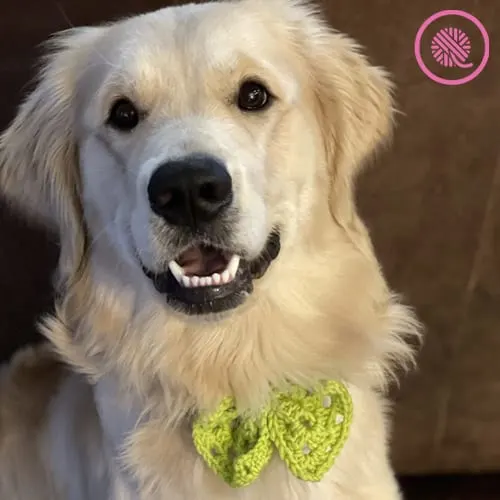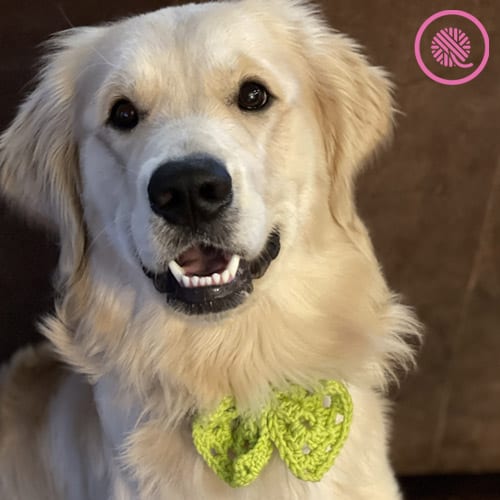 What do I need to make an easy Pet Bow Tie?
This project is easy enough that even your kids can join in the fun. The best part is you probably have all the supplies on hand except for one.
Supplies List:
Swatches
Scrap yarn
I-cord (double the width of your pet's collar)
Tapestry needle
That's it! Aside from an i-cord the proper length you probably have everything else stored with your craft supplies. It doesn't take more than a few minutes to work up 3-6 inches of i-cord. Follow the link to my 3 Easy Ways to Make I-cords post for specific needle knit, crochet, and loom knit instructions to help you.
What kind of swatches will work?
I love this project because I found as long as the swatch is an appropriate size for the dog, it works. It doesn't matter if the swatch is needle knit, loom knit, or crochet. Any of these crafts will work.
I used some basic square swatches in garter stitch, stockinette, seed stitch, and half-double crochet. But I also tried this with a crochet granny square and even a loom knit granny round. Textured stitch patterns look great as bow ties too so don't think you have to stick to the basics.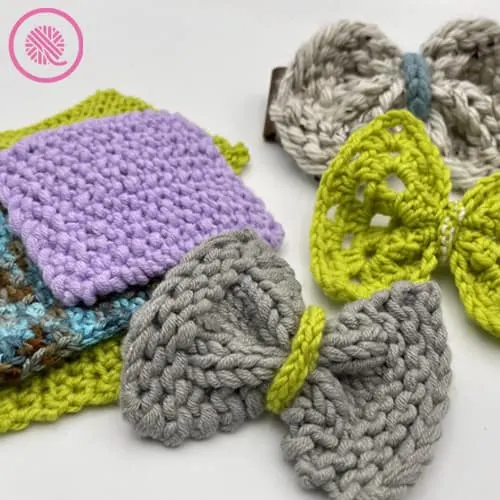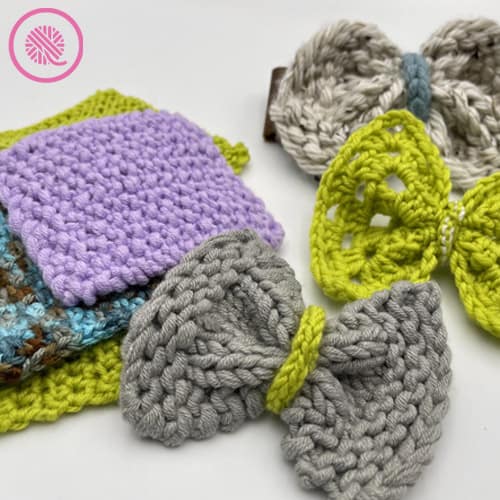 You can even layer a small swatch over a larger one for textured, colorful bow.
Depending on the size of your dog, you want your swatch to be 4-7 inches wide. For small dogs, using medium (#4) weight yarn swatches will be less bulky than heavier weight yarns. Save the bulky and super bulky swatches for the big dogs.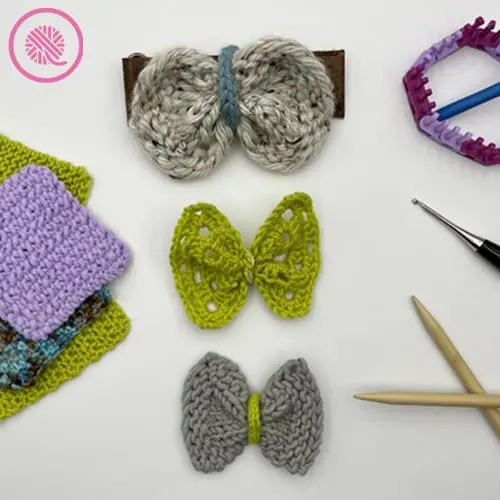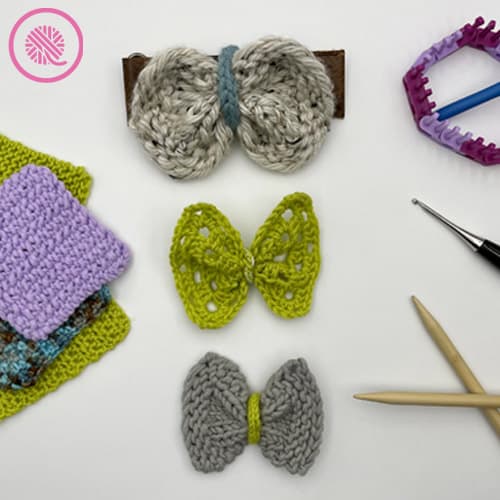 If you don't save your swatches, I've got links below to take you to some easy stitch patterns so you can make some. Use the following instructions to help you make a quick swatch of the appropriate width to fit your pet.
Needle Knit Swatch Ideas:
Garter Stitch
Stockinette with Garter Border
Seed Stitch
Crochet Swatch Ideas:
Single Crochet
Half-Double Crochet
Linen Stitch
Granny Square

Loom Knit Swatch Ideas:
Stockinette with Garter Border
Seed Stitch
Granny Round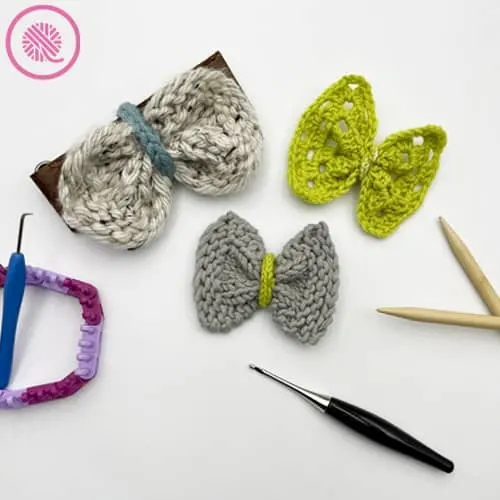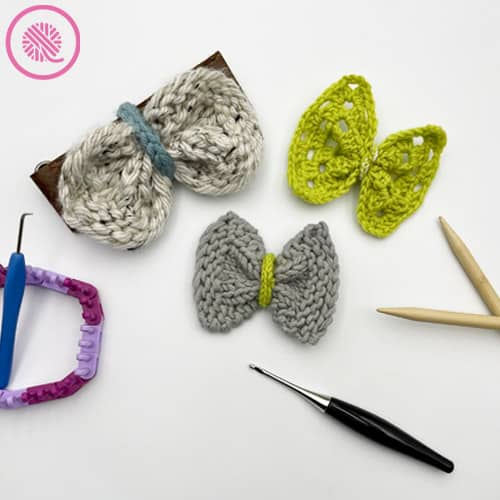 How to make an easy Pet Bow Tie:
First, bunch up your swatch in the middle. Just pinch the middle together between your thumb and index finger. If you need to adjust the top and bottom edges so they don't fold over, do that.
Using scrap yarn, wrap around the center of your swatch several times and pull tightly to cinch together. Tie a square knot on the back.
Center your i-cord over the yarn in the middle of the bow. [Optional: Using the yarn tails from the previous step, sew the i-cord to the bow. If you skip this step, you can use the same i-cord to swap out different bows on your pet's collar.] Tie the ends of the i-cord together tightly using a square knot and weave yarn tails into i-cord.
Slide the Pet Bow Tie onto your pet's collar.
Take loads of pictures and upload them to Facebook or Instagram so I can go, "Awwwwwww!" (Seriously, guys, tag @goodknitkisses so I can see your projects.)
---
PIN IT!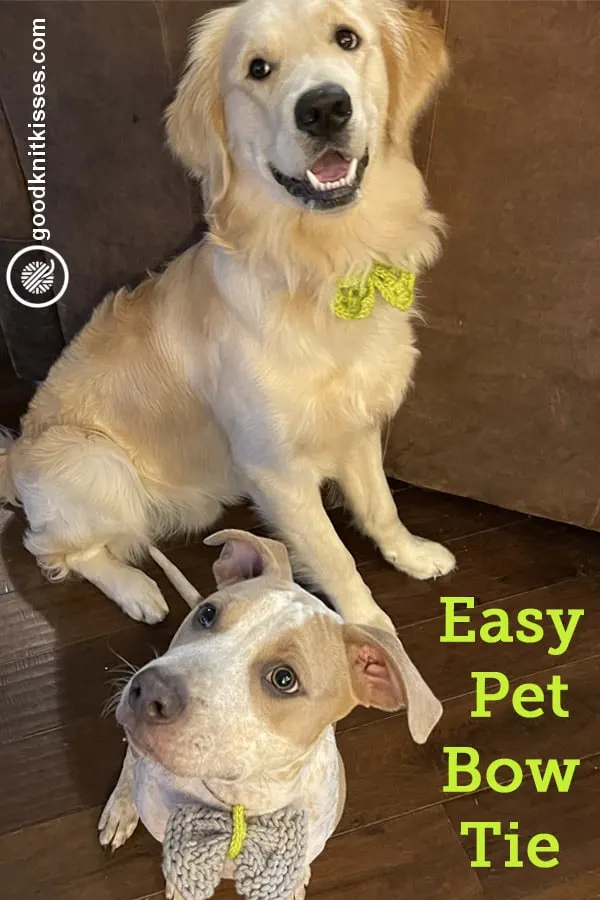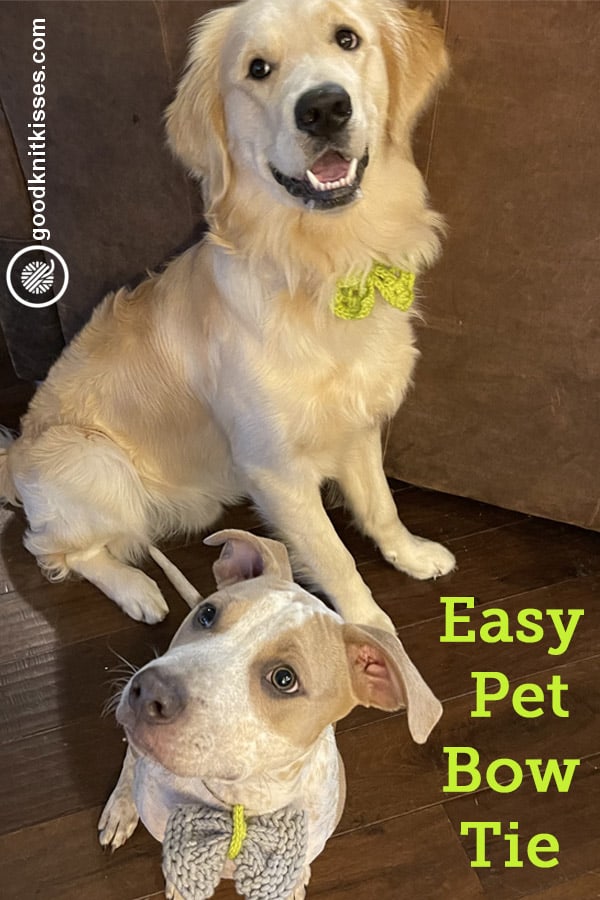 ---
Easy Pet Bow Tie Video Tutorial
Select videos are available to GoodKnit Kisses YouTube members only. To get exclusive access to GKK VIP-only content, free PDF patterns, weekly Zoom meetup and more, sign in to YouTube and join as a VIP Member today! Find out more about GKK Membership HERE!