Splish. Splash. Squish. Ahhhh!
We all love to feel a soft, cushiony bathmat when we step out of the shower in the morning. I'm happy to be able to share a new pattern with you for a loom knit bathmat made of t-shirt yarn. Yes, you heard that right. You can knit with yarn made from the soft stretchy fabric as your favorite tee.
T-shirt yarn is not only soft, but absorbent and durable. It can handle being stepped on, dripped on, washed and dried over and over. It's really the perfect material for a bathmat! You can buy t-shirt yarn at your local craft store, find it online or even make it yourself. I've got a tutorial video that can show you how coming up later.
PIN IT!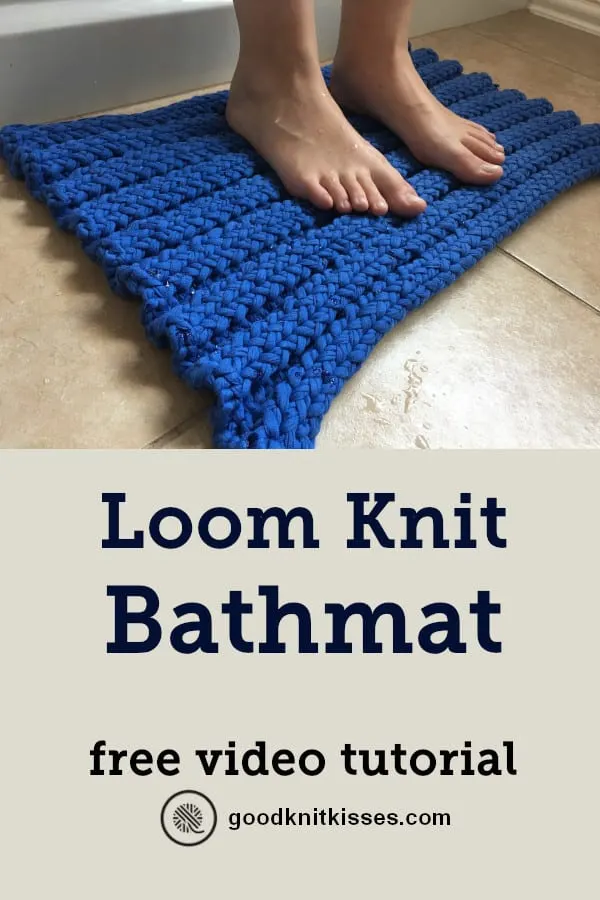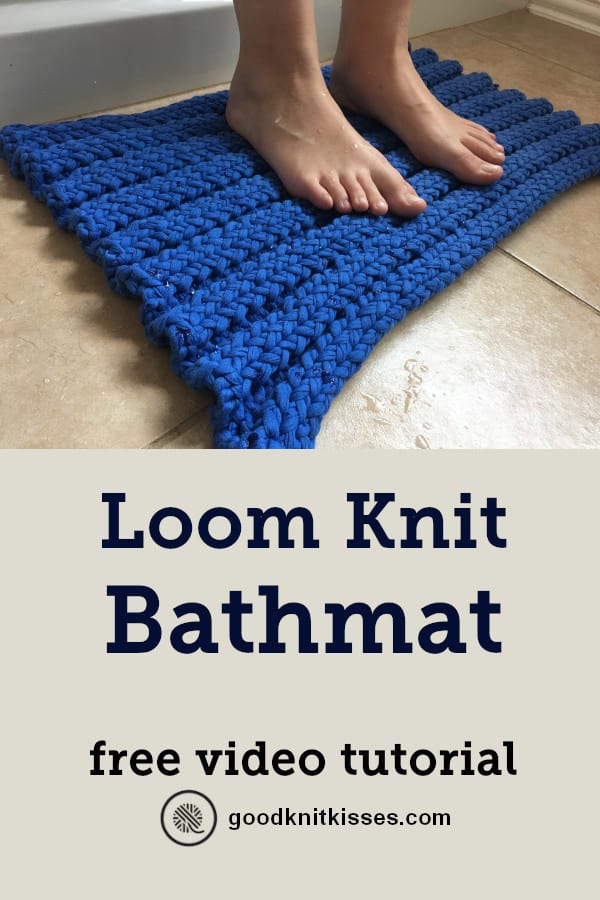 But first I want to give the details about the bathmat. It's loom knit on a long large gauge loom using the triple rib stitch. I love this stitch! Why? (I'm so glad you asked.) Because it's the simplest way for even the most beginner loom knitter to make a thick textured rib without any purl stitches! By using a double rake setup you can get all the depth of a ribbed stitch without ever having to purl. It's so easy. Let's get started…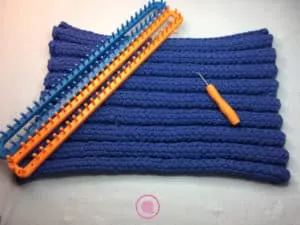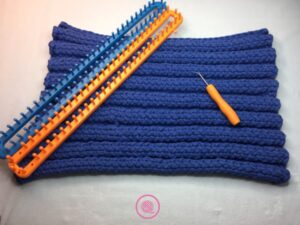 ---
Loom Knit Bathmat
By Kristen Mangus
YARN
T-shirt Yarn – Approx 195 yds 1 ½" wide T-shirt yarn. (Buy it or see video below for How to Make Your Own T-shirt Yarn.)
MATERIALS
11/16" Large Gauge (LG) Long Loom with at least 56 pegs and 2 rails for double knitting – 62 peg Boye orange long loom used in sample. (comparable to Blue Knifty Knitter)
Tapestry Needle
Loom Pick ( preferably heavy duty) – KB Looms Large Ergonomic Hook used in video
Non Slip Rug Pad – DoubleCheck Non Slip Area Rug Pad – Extra Strong Grip
Check out the links below to get your supplies from my the GoodKnit Kisses Amazon Shop.
Disclosure: The links below are affiliate links. That means I get a small commission at no cost to you if you follow the link and decide to purchase any products. Using these links helps support GoodKnit Kisses and allows me to keep providing free patterns and tutorials to you!(affiliate links)


ABBREVIATIONS
Alt = Alternate
Approx = Approximate(ly)
CO = Cast on
EK = E-wrap Knit
Pat = Pattern
Rep = Repeat
Sl St = Slip Stitch; Do not work this stitch.
St(s) = Stitch(es)
SKILL LEVEL
Easy
MEASUREMENTS
14" (36 cm) x 22" (56 cm) approx.
GAUGE
16 sts and 13 rows per 4" x 4" (10×10 cm) in pattern.
NOTES
This bathmat features a 3×3 twisted rib body. The bulky Tshirt yarn worked in this double knit stitch pattern makes the textured ribbing extra soft and squishy. So instead of a flat mat you have a thick soft pad that is stiff enough to massage your feet when stepping out of the shower. The pattern uses a unique one row repeat and does not require purls to get the rib effect. This row is knit working from the front (lower) board to the back (upper) in a slipped stitch panel. You will skip the first peg at the beginning of every row. Numbering on the loom is from left to right. The loom knit bathmat can be made into a larger mat by sewing two panels together at one of the sides. For more on how to sew together see video here for example.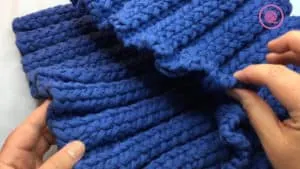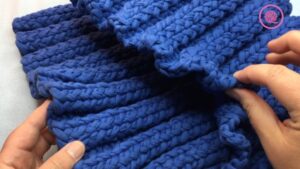 INSTRUCTIONS
Cast on 56 sts using double e-wrap cast on method (wrap each peg twice and knit over). Cast on lower side of loom first 4 stitches. Alternate from back and forth from lower to the upper side of the loom in multiples of 3 until the last 4 stitches.
Use the following sequence; wrapping each peg twice – CO starting with the left peg & pegs 1-4 of the lower loom, next are pegs 3-5 of the upper loom, then pegs 5-7 lower, rep 3 sts at a time alt upper and lower 14 more sets until you reach peg 28* on the lower. Cast on 4 sts again on the upper. *If you do not want to connect to a second panel for a larger rug CO peg 29 and stop.
Your loom should have 1 set of 4 and 8 sets of 3 on both the upper and lower Total CO 56 sts. *If you are making the smaller rug, your loom should have 2 sets of 4 and 7 sets of three on the lower and 8 sets of 3 on the upper; total CO 52 sts. [see photo/illustration]


Row 1: Sl St. EK remaining sts in same sequence as established; E-wrapping once and knitting off.
Row 2: same as Row 1 working opposite direction.
Rows 1-2 form Triple rib stitch pattern.
Rep Rows 1-2 approx 70 more times until 22" or desired length leaving 5 yds (4.5 m) for bind off.
Stretchy Bind Off:
*Knit 2nd peg. Move 2nd to 1st and work stitch; move to empty peg where 2nd peg was (now will be called first peg). Knit 1st peg. *Repeat these steps until last 3 sts. Pick up peg 2 and move peg 3 on peg 2. Place loop back on peg 2; work stitch. Knit peg 2. Move 2nd to 1st and work stitch. Knit 1st peg and cut tail. Pull last loop through to a tail and take off the loom. Weave in tail ends with tapestry needle.
Make sure to use a non-slip rug pad under the bathmat to prevent slips and falls.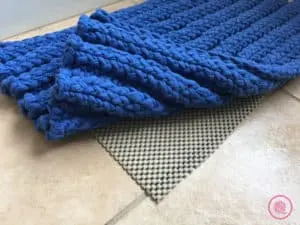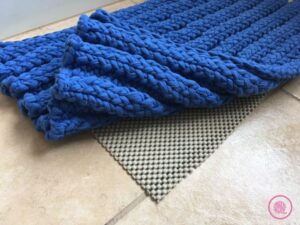 ---
PROJECT VIDEOS
Select videos are available to GoodKnit Kisses YouTube members only. To get exclusive access to GKK VIP-only content, free PDF patterns, weekly Zoom meetup and more, sign in to YouTube and join as a VIP Member today! Find out more about GKK Membership HERE!
Loom Knit Bathmat Tutorial:
How to Make Tshirt Yarn:
Seaming Ribbed Panels (for making an extra large mat):
---