Inside: Free pattern for the loom knit Lacy Table Runner. Includes written instructions for 5 lengths, lace knitting chart, tutorial videos showing the lace pattern plus a bonus calculator tool to help you customize the length of the runner for your table.
I enjoy easy lace patterns!
I know, easy and lace don't always seem to go together, do they? But in this case they go together as well as my Lacy Placemats and Lacy Runner patterns!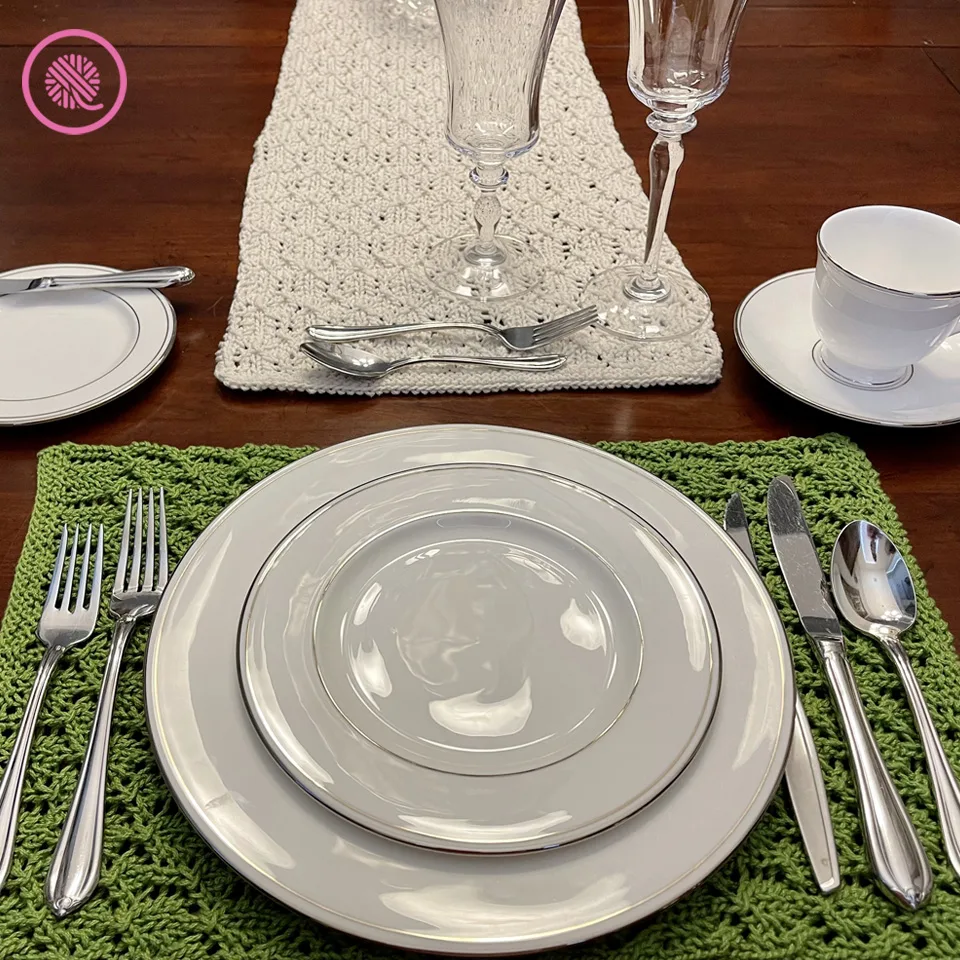 The Lacy Runner adds a touch of simple elegance to your table. This table runner uses a medium-weight, mercerized cotton yarn that washes well and shows off the beautiful lace design. This loom knit pattern features the lofty lace stitch pattern with a garter stitch border.
Pattern contains written instructions for 5 sizes and instructions to customize the size, plus a lace chart, and links to fully-captioned tutorial videos for both right and left handed loom knitters showing the lace stitch pattern.
I've got Lacy Table Patterns for all the crafts!
Crochet
Loom Knit
Lacy Runner (this post)
Needle Knit
Loom Knit Lacy Table Runner
By Kristen Mangus
A downloadable PDF of this pattern is available in my Etsy store or from Ravelry at the links below:
MATERIALS
(Materials list may contain affiliate links to products I used to make this project. Using these links cost you nothing, but helps support GKK.)

Yarn
Medium (#4) worsted weight yarn 150 (200, 260, 310, 360)
Lion Brand 24/7 Cotton (186 yds/3.5 oz., 170 m/100 g) in color Grass used in sample. 2 (3, 3, 4, 5) balls needed.
(Samples in cream were needle knit using Yarn Bee Fundamental Cotton (164 yds./3.5 oz., 150 m/100 g) in color Ivory.)
Loom
⅜" small gauge (SG) loom with at least 57 pegs.
KB Flexee Loom Skinny used in sample.
Tapestry needle for weaving in ends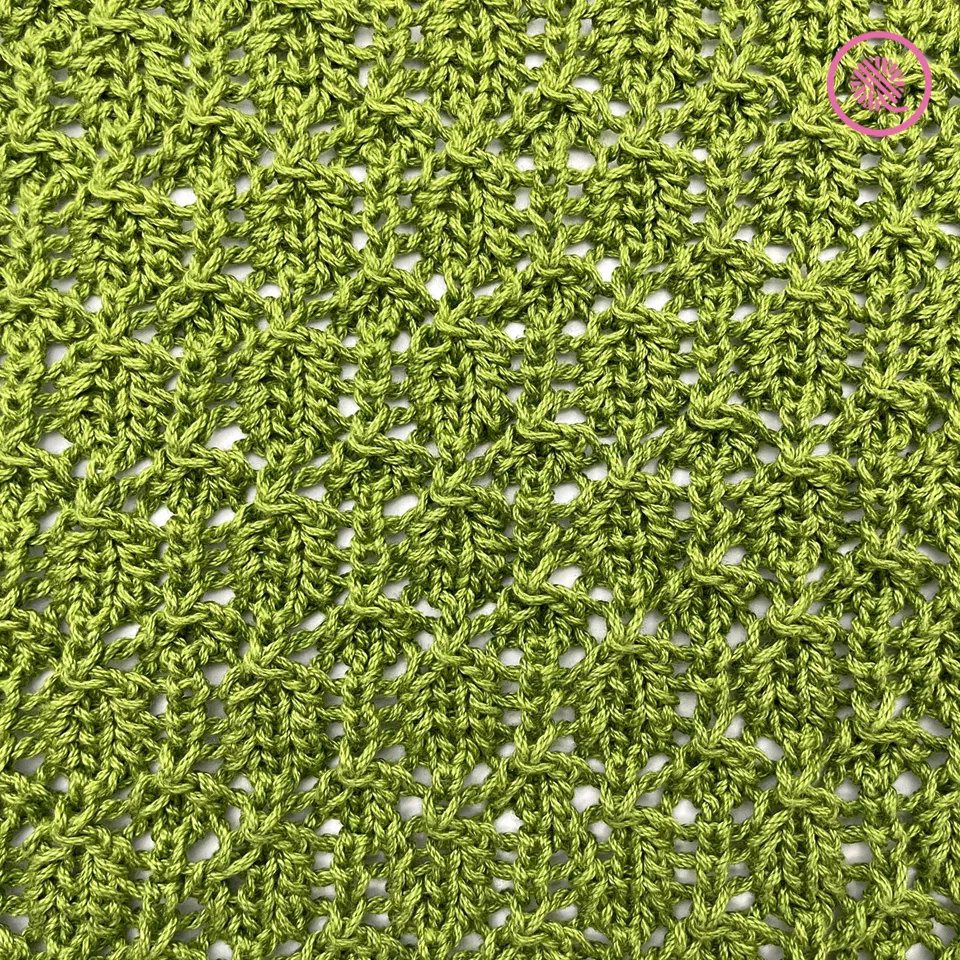 ABBREVIATIONS
Approx. = Approximately
K = Uwrap knit
K2tog = Knit 2 stitches together
P = Purl
Psso = Pass slipped stitch over
Rep = Repeat
Sl1 = Slip 1 stitch
Ssk = Slip, slip knit
St(s) = Stitch(es)
YO = Yarnover
For a refresher on loom knitting basics see the blog posts below to get started:
13 Questions for Beginner Loom Knitters
How to Loom Knit Basics
How to Loom Knit Basic Stitch Patterns
How to Loom Knit in the Round
GAUGE
18 sts x 38 rows in 4" (10 cm) in lofty lace pattern
SKILL LEVEL Easy+
MEASUREMENTS
Approx. 12.5" x 48" (66", 84", 102", 120") [31.75 x 122 (168, 213, 259, 305) cm] after blocking
NOTES
Measuring: I included 5 common lengths, but every table is different. Measure the length of your table. Then decide if you want the runner to fit in the middle of the table with room on the ends for plates. If so, you need your runner to be shorter than your table. But if you want it to drape over the end of the table you will need to lengthen it. Typically, add 12" to your runner to overhang 6" on each end.
Sizing: The lace stitch pattern uses a multiple of 6 +3. If you want to adjust the size of the runner, every additional 6 stitches cast on adds approx. 1.25" (3.2 cm) to the width. Add or remove stitches in groups of 6 to fit your desired width. Each 12-row repeat adds about 1.25" (3.2 cm). Add or remove repeats from the standard lengths listed above to fit your desired measurement. Example: If I need my runner to be 90", I would use the pattern instructions for the 84" length and work 5 more pattern repeats to get the additional 6 inches I need. (5 x 1.25" = 6.25" added)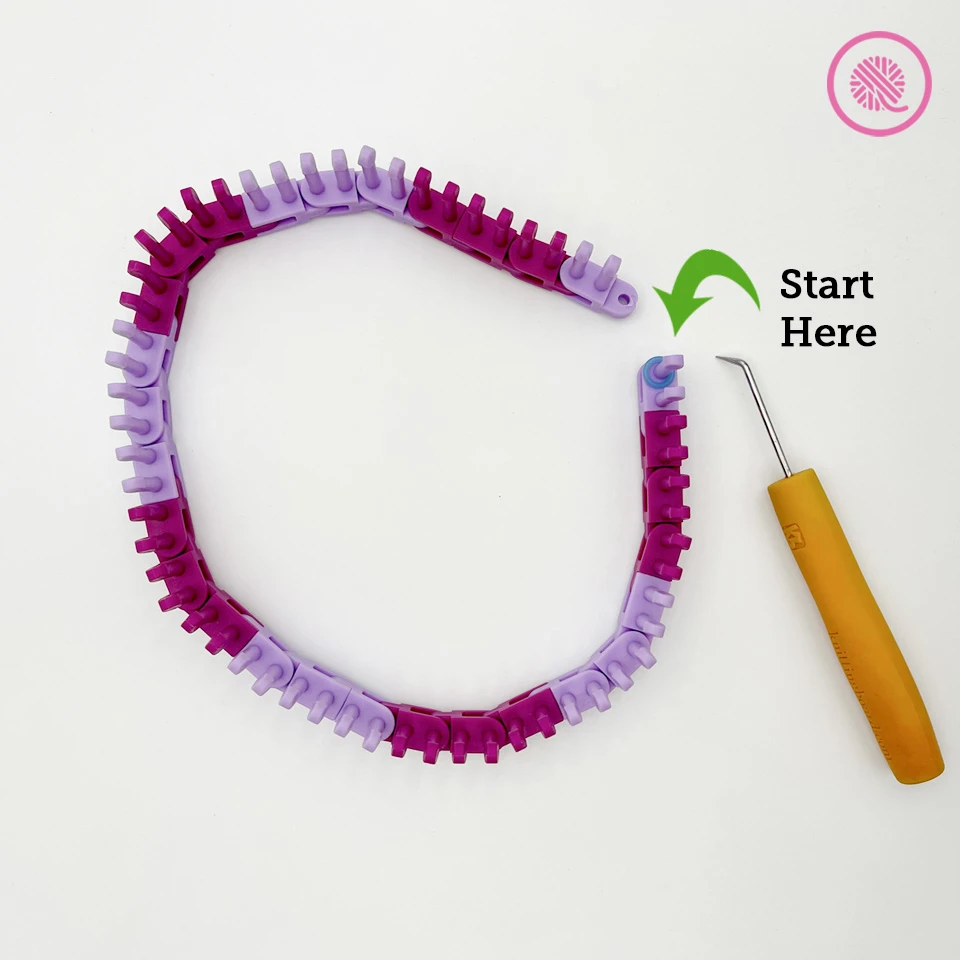 Flexee Loom setup: I recommend setting up your Flexee loom so each repeat of the lace stitch pattern is on a different link color. (See image.) Start with 1 light link, then 3 dark links. Continue alternating groups of 3 light links followed by 3 dark links until you have 5 dark groups and 4 light groups. Finish with 1 more light link at the end. The blue stitch marker marks Peg 1 of the lace stitch pattern.
Cast on: I recommend the chain cast on for this pattern. Start chain at the end you will want to begin Row 1 of the lace pattern.
Optional Longer Repeat: This stitch pattern was converted from a knitting pattern. One of the big differences between the two is the needle knit version shows more elongated hexagons. The length of one pattern repeat is much shorter on the loom. If you want a longer repeat on the loom, simply work Rows 3-6 of the lofty lace stitch pattern twice before continuing with Row 7. This will make it a 16-row repeat.
INSTRUCTIONS
Cast on 57 sts.
Garter border
Row 1: P all.
Row 2: K all.
Rep Rows 1-2 once.
Rep Row 1 once more.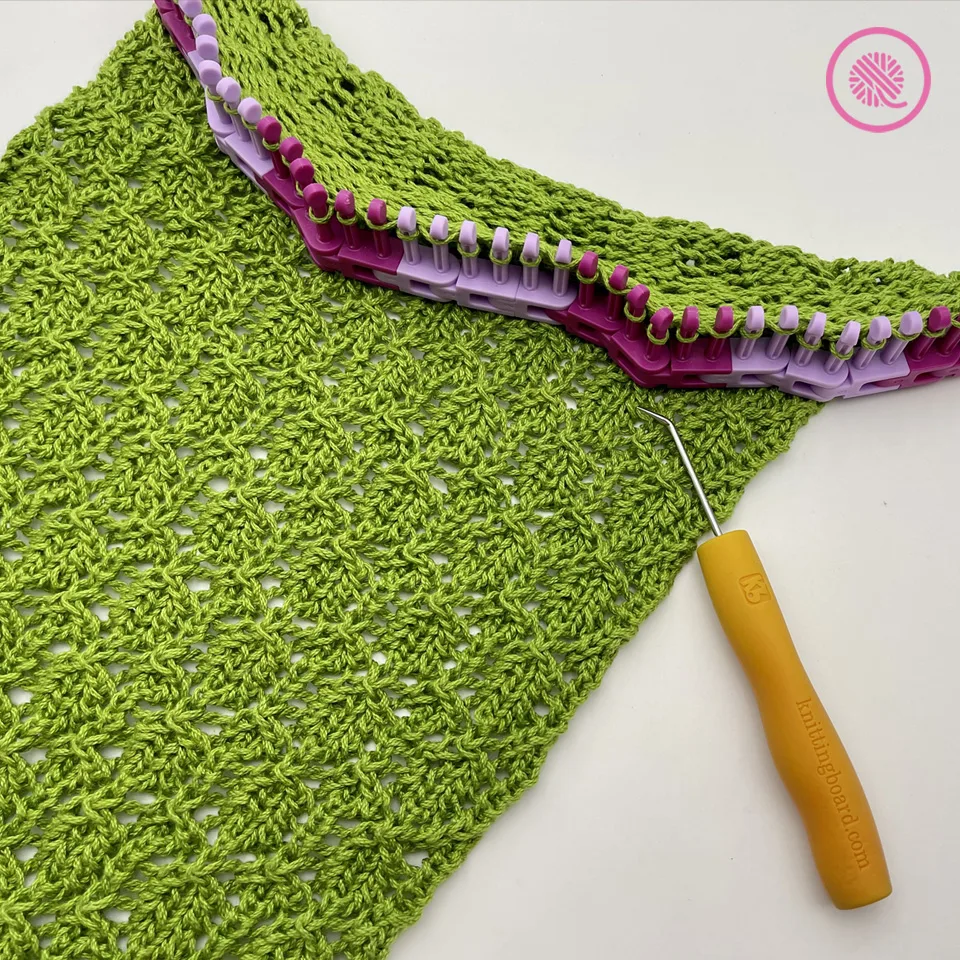 Lofty Lace pattern (see chart below)
Row 1: K2. *Yo, ssk, k1, k2tog, yo, k1. Rep from * to last st. K1.
Row 2 and all even rows: P1, k to last st, p1.
Row 3: K2. *Yo, ssk, k1, k2tog, yo, k1. Rep from * to last st. K1.
Row 5: K2. *Yo, ssk, k1, k2tog, yo, k1. Rep from * to last st. K1.
Row 7: K3. *Yo, (sl1, k2tog, psso), yo, k3. Rep from * to end of row.
Row 9: K2. *K2tog, yo, k1, yo, ssk, k1. Rep from * to last st. K1.
Row 11: K1, k2tog. *Yo, k3, yo, (sl1, k2tog, psso). Rep from * to last 6 sts. Yo, k3, yo, ssk, k1.
Row 12: P1, k to last st, p1.
Rep. Rows 1-12 of the lace pattern 37 (52, 66, 81, 95) times or until desired length ending after a Row 5.
Garter border
Row 1: P all.
Row 2: K all.
Rep Rows 1-2 once.
Rep Row 1 once more.
Bind off and weave in tails. Lightly block lace as needed.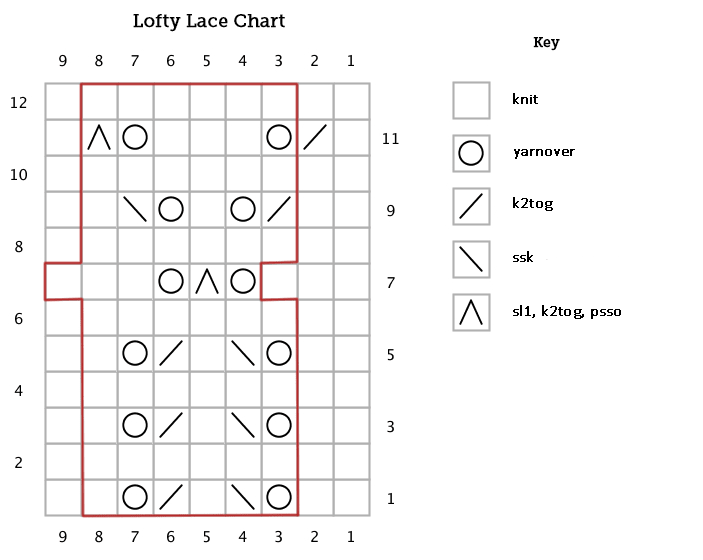 ---
PIN IT!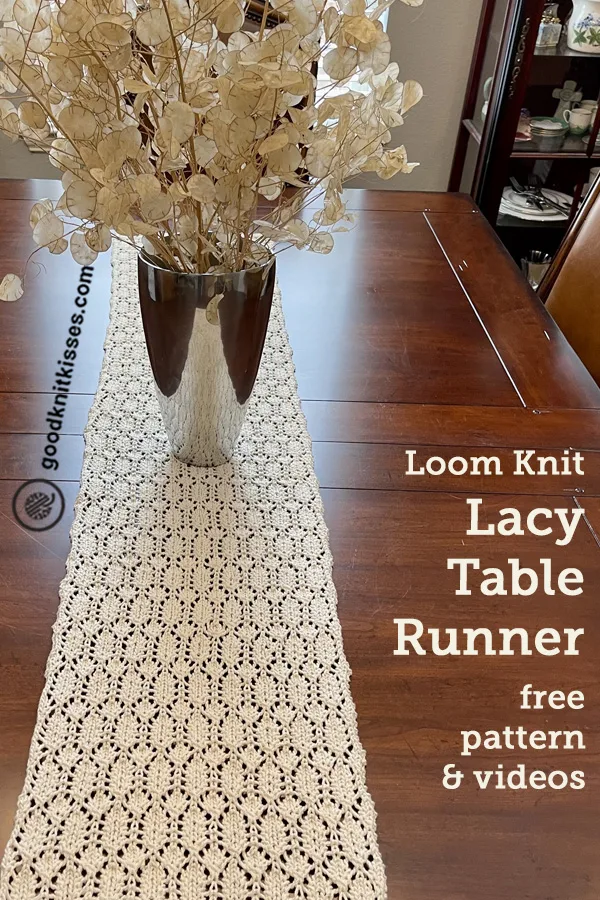 ---
Loom Knit Lacy Runner Tutorial Videos
Select videos are available to GoodKnit Kisses YouTube members only. To get exclusive access to GKK VIP-only content, free PDF patterns, weekly Zoom meetup and more, sign in to YouTube and join as a VIP Member today! Find out more about GKK Membership HERE!
The following tutorial video demonstrates the 12-row lace stitch pattern. It does not include the cast on, bind off or garter stitch border. But links to those videos are listed in the video description, if needed.
Lace stitch patterns look best when wet blocked. See my How to Wet Block post to learn more about the method.

Right handed


Left handed