Inside: Free loom knit Looped Towel. This easy hanging towel needs no buttons. Pattern includes written instructions and tutorial videos for both left and right handed loom knitters.
The perfect hanging towel is here!
My Looped Towel loops securely around any towel bar or oven door handle. It's loom knit in one piece with NO buttons, snaps or ties and it won't slip off.
No more kitchen towels that slip off the oven door when you're baking. And no matter how many little hands tug on it it won't end up on the bathroom floor. Now that's a win.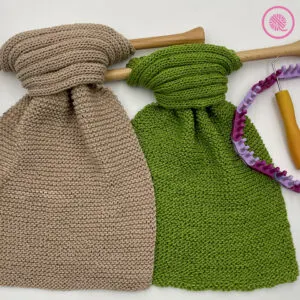 This pattern works up quickly using cotton yarn and it makes a great gift. (NOTE: The holidays will be here before we know it!)
This quick and easy pattern uses a combination of garter stitch for the towel, 4×4 ribbing for the hanging loop, and a seaming bind off to seam it together without sewing. This pattern is inspired by our Seafarers' Dickie pattern.
It contains written instructions and links to fully-captioned tutorial videos showing the unique bind off method for both right and left handed loom knitters.
Loom Knit Looped Towel
By Kristen Mangus
A downloadable PDF of this pattern is available in my Etsy store or from Ravelry at the links below:
MATERIALS
(Materials list may contain affiliate links to products I used to make this project. Using these links costs you nothing, but helps support GKK.)
Yarn
Medium (#4) weight yarn
Yarn Bee Fundamental Cotton (164 yds./3.5 oz., 150 m/100 g) 2 balls needed. Colors Camel & Olive used in sample.
Loom
⅜" small gauge (SG) loom with 48 pegs.
KB Flexee Loom Skinny used in sample.
Tapestry needle
Locking stitch marker (to mark front of fabric)
ABBREVIATIONS
K = U wrap knit
K2tog = Knit 2 stitches together
P = Purl
Pat = Pattern
Rep = Repeat
St(s) = Stitch(es)
For a refresher on loom knitting basics see the blog posts below to get started:
13 Questions for Beginner Loom Knitters
How to Loom Knit Basics
How to Loom Knit Basic Stitch Patterns
How to Loom Knit in the Round
GAUGE 18 sts x 42 rows in 4" (10 cm) in garter st
SKILL LEVEL Easy+
MEASUREMENTS 11" x 26" (total length before seaming/bind off)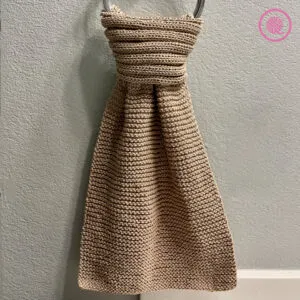 NOTES
Loom setup: I recommend using 12 light links and 12 dark links. Begin with 2 dark links together followed by 2 light links. Continue alternating pairs of light and dark links until you have used all 24 links. Notice you have 4 pegs of each color together which will follow the 4×4 ribbing pattern later on in the pattern.
Seaming bind off – This bind off method involves picking up a stitch along the last garter ridge, placing it on the peg above a live stitch and knitting them together. As you work each pair of stitches you bind one off. This binds off and seams the towel at the same time.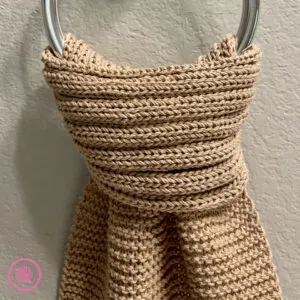 INSTRUCTIONS
Cast on 48 sts
Garter st section
Row 1: Knit all.
Row 2: Purl all.
Rep Row 1-2 in garter st until piece measures 11" ending after a Row 1.
4×4 Ribbing section
Row 3: *K4, P4. Rep from * to end of row.
Row 4: *P4, K4. Rep from * to end of row.
Rep Rows 3-4 until ribbing section measures 15" (26" total length) ending after a Row 4. NOTE: Be sure to tug downward on knitting to relax tension as much as possible before measuring.
Preparing to bind off
Since the 4×4 ribbing has wide knit and purl columns, it's important to seam your towel correctly. If you lay the towel out flat with the RS facing you you will notice a raised knit column on one side and curled purl column on the opposite side. You want to seam your towel so the knit column is on the inside edge when you hang it.
Lay your loom on the table in front of you with your fabric front side down on the table behind the loom (open your Flexee Loom, if needed to make this part easier). The garter section should be away from you. Pick up the loom and move it to the beginning of the ribbing section. This folds the ribbing section in half so your loom is lined up with the last row of garter stitches. From the edge opposite your working yarn, pick up the bottom layer (garter st section) and flip it over. (Do not flip over the entire piece; just the bottom layer.) Now line up your pegs with the last garter row and continue with bind off.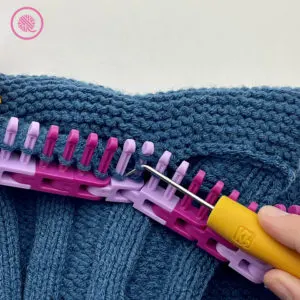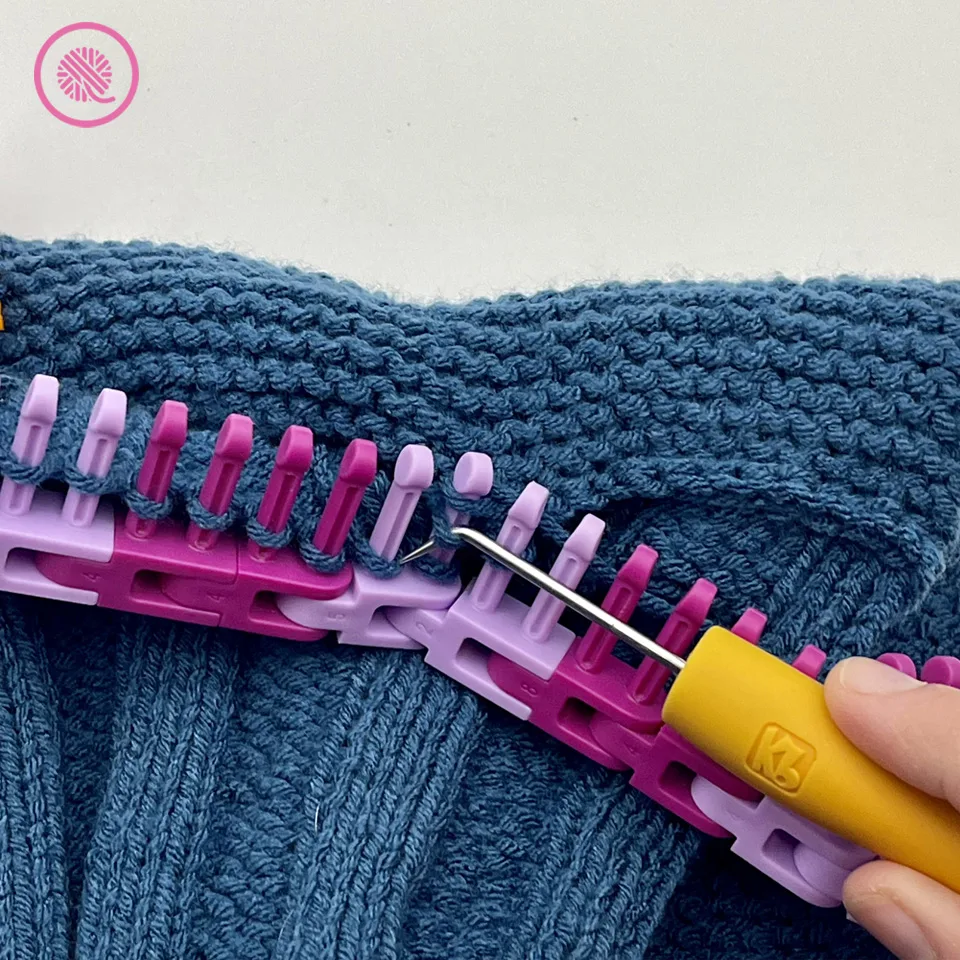 Seaming bind off
With loom hook pick up first purl bump of last garter st row (looks like a smile) and place it on Peg 1. K2tog. Pick up next purl bump from garter stitch row and place it on Peg 2. K2tog. Bind off 1 st.
*Pick up next purl bump and place on next peg, k2tog, bind off 1 st. Repeat from * until 1 st rem.
Cut yarn tail and pull through final st to fasten off. Weave in tails. Flip ribbing inside out so seam is on the inside.
Hang on towel bar, ring or oven door:
With RS facing you fold the ribbing back over the top of the bar.
Lift the bottom of the towel up and bring the ribbing loop under the hanging towel.
Tuck bottom of the towel through top of ribbing loop.
Tug downward until the whole towel is exposed and the beginning of ribbing section is covered by the ribbed loop.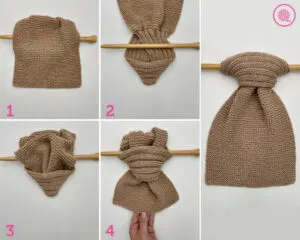 ---
PIN IT!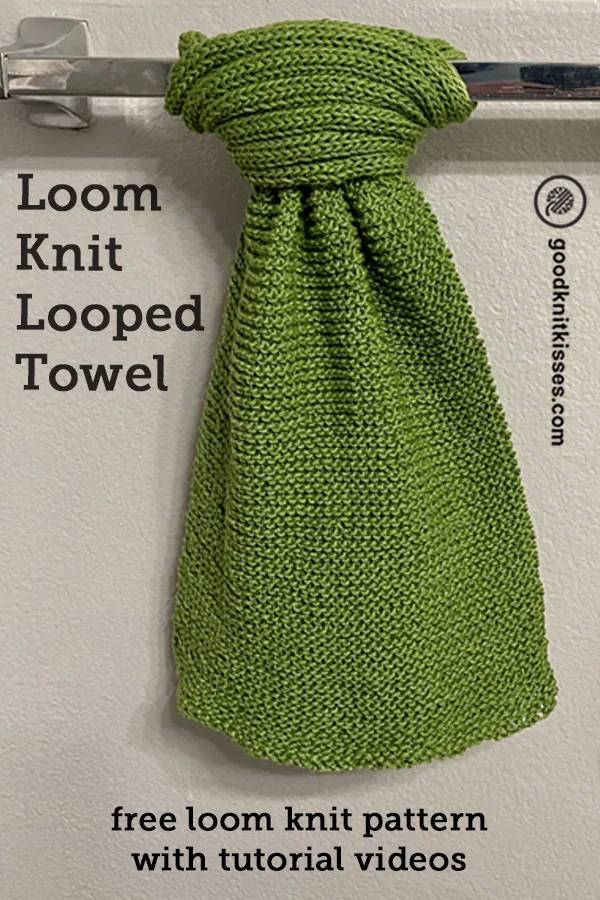 ---
Loom Knit Looped Towel Tutorial Videos
Select videos are available to GoodKnit Kisses YouTube members only. To get exclusive access to GKK VIP-only content, free PDF patterns, weekly Zoom meetup and more, sign in to YouTube and join as a VIP Member today! Find out more about GKK Membership HERE!
The following tutorial videos, for either right or left-handed loom knitters, teach you each skill needed to make this pattern.
Garter Stitch (includes cast on)
Ribbing: Ribbing video does not include 4×4 ribbing specifically, but the method is the same. Just be sure to count your knit and purl and stitches correctly in this pattern.
Seaming Bind Off
Right handed


Left handed