How do I prevent knits from curling? Why do they curl?
These are frequently asked questions from new knitters.
Using all knit stitches is also called stockinette stitch.  Stockinette knitting will curl. When the "RS" or right side of your knitting is all knit stitches, whether they are standard or twisted (ktbl for needles or EW for loom) knit stitches, the fabric will curl. Since all of the stitches bend toward the back of your knitting this happens.

Prevent Knits from Curling
Can I stop this?
To prevent knits from curling add purl stitches.  Knit stitches on the front of your work pull the fabric in one direction while purl stitches pull in the opposite direction.  Balancing knit and purl stitches throughout your knitting or around the borders will prevent curling.  Stitch patterns commonly used to prevent curling include garter stitch, ribbing (1×1, 2×2 3×3 or other combos alternating sets of knits & purls), seed stitch and moss stitch.
No Curl Stitch patterns:
What if my work is finished and I want to fix it AFTER its all done?
Prevent Knits from Curling:
If you can learn or know some simple crochet, you can add a crochet edge. This will prevent knits from curling after the fact. Try a double crochet edge, a texture stitch pattern, or other decorative stitch patterns.


Crochet:

Subscribe to GoodKnit Kisses Channel

How to Single Crochet – Beginner Crochet Lesson 1 – Right Handed (CC)

How to Half Double Crochet (hdc) – Beginner Crochet Lesson 2 – Right handed (CC)

How to Double Crochet – Beginner Crochet Lesson 3 – Right Handed (CC)

How to Treble Crochet – Beginner Crochet Lesson 4 – Right Handed (CC)

Easier Linen Stitch (Moss Stitch) – Beginner Crochet Lesson 5 – Right Handed (CC)

Classic Granny Square – Beginner Crochet Lesson 6 – Right Handed (CC)

Solid Granny Square – Beginner Crochet Lesson 7 – Right Handed

Crochet Corner to Corner (C2C) Afghan with CHART – Beginner Crochet – Lesson 8 – Right Handed (CC)

Marshmallow Crochet Baby Blanket (with Closed Captions CC)

Add Crochet Border to Marshmallow Crochet Baby Blanket (Closed Captions CC)
Rehang the edge or end stitches back on your needles (or loom) and start knitting one of the above stitch patterns to create a non-rolling or non-curling border. Bind off again and weave in all tails.
EASY Option! Make a hem! If you have enough extra fabric made (say your hat is an 1″ or so longer than needed, or your blanket, or panel is a few inches too wide or long) then you can also fold over your knitting and sew it with matching yarn and a wide eyed tapestry needle. [Think of a hemmed brim of an easy beanie hat.  The stitches aren't being placed back on the needles (or pegs) after twice the brim size and then continue to be knitted, but this is being sewn in on the back side.]  Sew consistently the same spacing into the back of the stitches.  I recommend sewing through the purl bump along the back.  Sew it the same and with consistency along that edge so your knitting will look even.  TIP!! If you have a hard time gauging how much to fold over, try cutting a jig or template.  To make a template: use a piece of poster board, cardboard, card stock or even a thin piece of plastic as a guide. Cut to the desired hem width.  Lay this template inside the part folded and leave a thumbs-worth sticking out the end that you are sewing toward.  Pull the template out as you go and continue sewing.  At corners you'll need to fold and tack down one corner lightly first before folding over the other side or it will be bulky looking.  Again, this is a fix for after your knitting is complete and if you have enough room to be short on your project length.
Blocking.  Wet blocking or steam blocking can help some slight curling from happening.  However be careful when using steam.  Too much heat on an acrylic can "kill" the yarn and a wool with heat and friction can cause felting.  Wet blocking is usually the best way to block anything; water, some rust-proof t-pins, a mat and a towel are all you need.

If you are new to blocking, try this first.
I hope these tips have helped you to prevent knits from curling.  Below you will find more information on the techniques described above.
PIN THIS POST: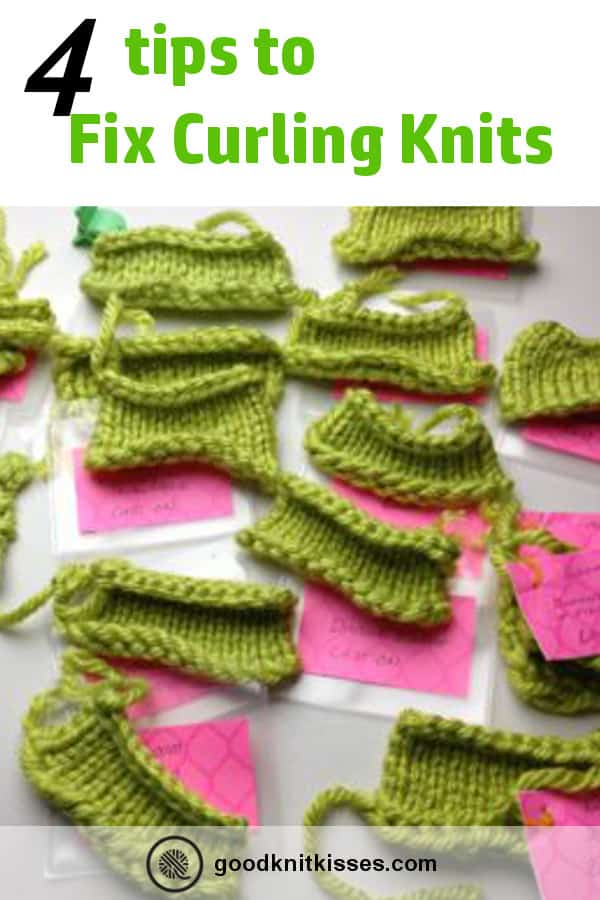 Prevent knits from curling and your friends and loved ones will appreciate the extra care you took.  If not they don't deserve it anyways!! LOL 😉  No seriously. I know people get mortified to see their knit roll up.  I was mortified the first time I knit a flat panel scarf.  It was rolling ridiculously inward and made a tube!  I looked up how to prevent knits from rolling but alas I guess I googled wrong at the time!  I had no one in my life nearby to ask.  I hope this has helped you.  Please do pass onward to help others. 🙂 -Kristen