Inside: Instructions and video tutorial that show you how to knit moss stitch for both right and left handed knitters.
Now we're really starting to have some fun with texture!
The moss stitch is just one of the thousands of ways to combine knit and purl stitches to create a unique design. I'm exited you jumped on board my How to Knit for Complete Beginners series. My goal is teach you to stitch your love and love your stitches through building your knitting skills.
The moss stitch, like its smaller cousin the seed stitch, creates a checkerboard of alternating knit and purl stitches.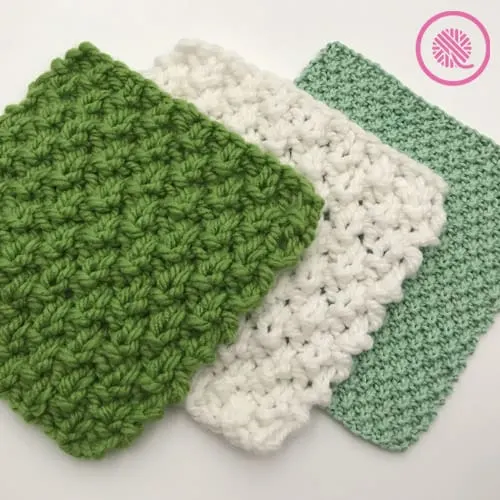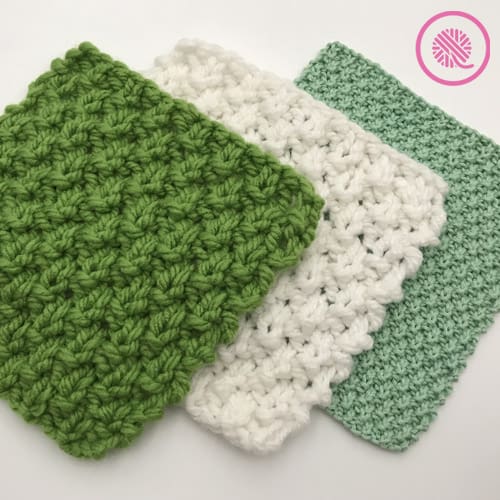 So, what's the difference between seed stitch and moss stitch?
Easy! The seed stitch creates this checkerboard with single stitches and the moss stitch uses larger groups of stitches.
When you knit the moss stitch you create a block of knit stitches then a block of purl stitches as work the rows. That means you will need to knit several rows before you start to see the full stitch pattern emerge.
The moss stitch is knit over a multiple of 4 stitches with a 4 row repeat.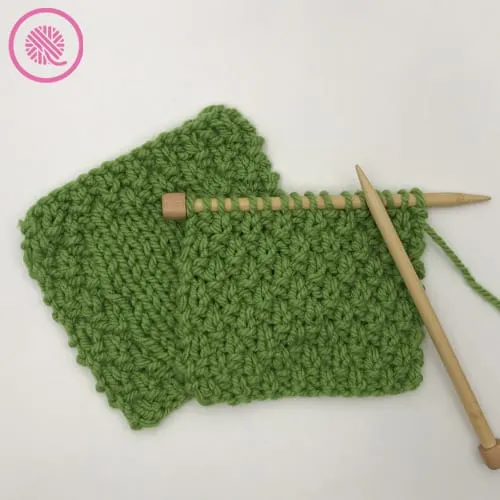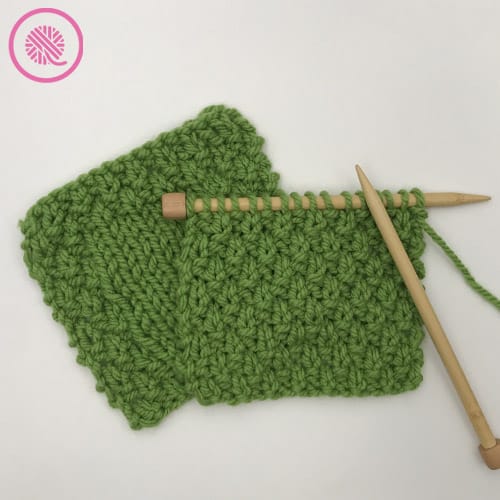 Repeats! Multiples! (Are your eyes glazing over yet?)
You've probably seen this written in the description for a stitch pattern. But if you're a beginner knitter you may not understand what it means. Let me break it down for you.
First, let's talk about multiples. This tells you how many stitches you need before you repeat the sequence. This is typically the number that lets you know how many stitches you need to cast on so the stitch pattern lines up correctly.
In the cast on for the moss stitch this number is 4. That means if you plan to knit your entire project in moss stitch you need to cast on a number that is divisible by 4. You'll notice in the Moss Stitch Washcloths pattern linked below that both cast on counts are multiples of 4: 16 or 32 stitches.
No matter how large your project you want to keep that rule in place.
If there is a + sign after the multiple for a stitch pattern that means there is an extra step to figure out your cast on. For example, a stitch pattern tells you to cast on a multiple of 6+1. That means, first, you need to find a multiple of 6 that will give you the correct size project. For a washcloth using medium #4 weight cotton that would be 36 stitches. Then you need to ADD 1 more stitch to that, so your actual cast on would be 37 stitches for the project.
Next, let's talk about repeats. Some stitch patterns need several rows to complete the design. The moss stitch needs 4 rows before you finish the full design. Every 4 rows of the moss stitch you repeat the process.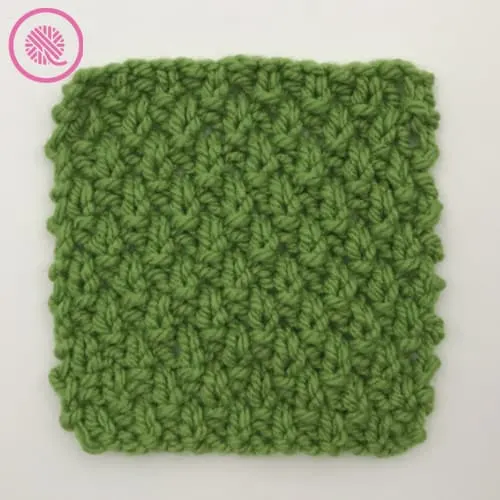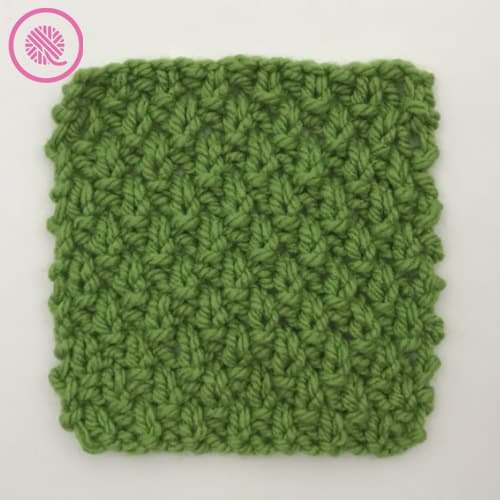 How to Knit Moss Stitch
ABBREVIATIONS
K = Knit
P = Purl
Rep = Repeat
RS = Right side
St(s) = Stitch(es)
WS = Wrong side
Cast on a multiple of 4 stitches.
Row 1 (RS): *K1, P1. Rep from * to end of row.
Row 2 (WS): *K1, P1. Rep from * to end of row.
Row 3: *P1, K1. Rep from * to end of row.
Row 4: *P1, K1. Rep from * to end of row.
Repeat Rows 1-4 until 3 rows before desired length. Rep Rows 1-3 once more and bind off in pattern as if working a Row 4.
Bind off in pattern means that as you bind off you keep the stitch pattern going while you work the bind off.
Now that you know how to knit the moss stitch practice your new skill with the free Moss Stitch Washcloths pattern.
---
PIN IT!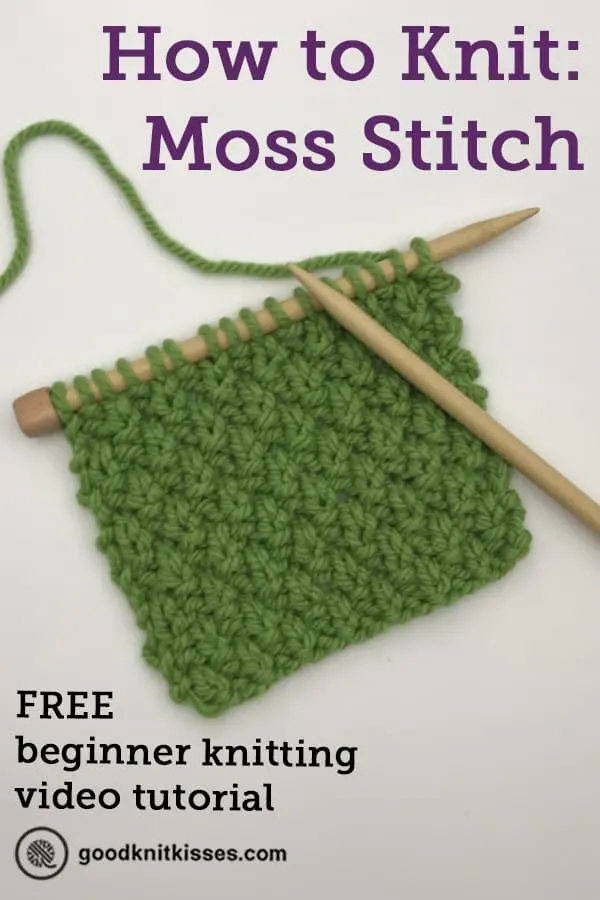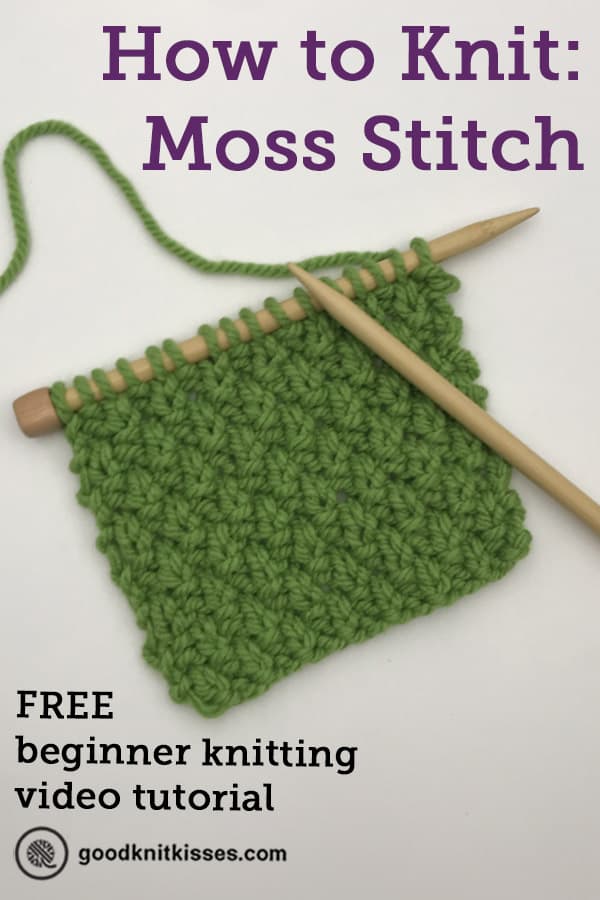 ---
Lesson 6: How to Knit Moss Stitch Video Tutorial
If any of the videos below do not show they may be restricted to GoodKnit Kisses YouTube members only. Find out more about GKK Membership HERE!
Right handed


Left handed
---
Be sure to follow all the How to Knit for Complete Beginners Lessons.