There nothing sweeter than a little baby! Unless it's a baby wearing something you made. I love expressing my love through giving hand made gifts. Whether it's a shower gift for an expectant friend or a donated blanket for a struggling new mom I love making baby gifts. Now I can add a loom knit baby sweater to my basket.
Sweaters can strike fear into the heart of the most experienced knitter, but this one is so easy! What makes it simple is that the pieces are all squares or rectangles. There is no armhole or neck shaping that you need to get right. If you can knit a flat panel, you absolutely CAN loom knit a sweater.
The best part about this sweater is that you could even resize it to fit an older child or adult.
Looking for other loom knit baby items:

Quick Garter Stitch Blanket
Loom Knit Cowboy Hat
Loom Knit Baby Sandals
Picot Layette Set
Loom Knit Diaper Cover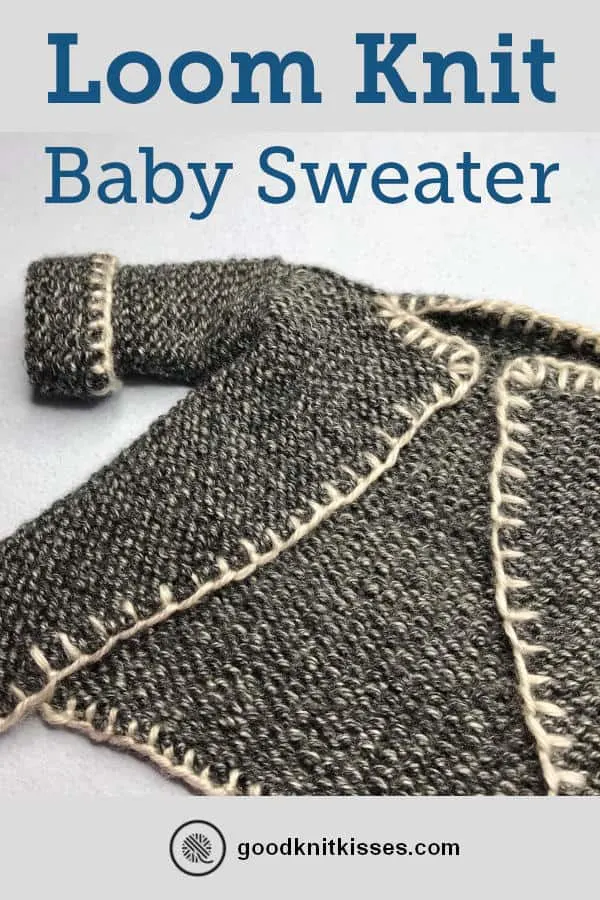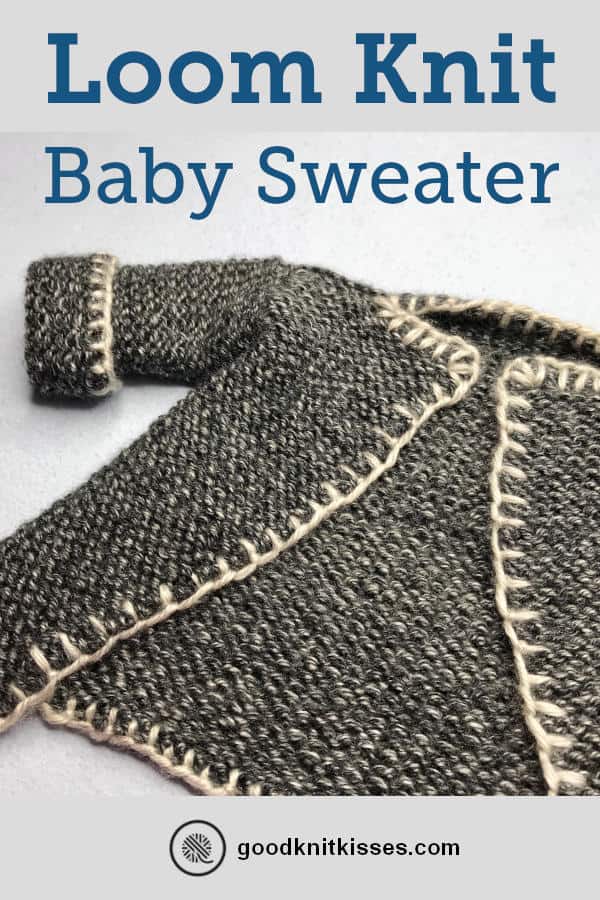 Let's make a Loom Knit Baby Sweater!
PATTERN
Loom Knit Baby Sweater Pattern from Lion Brand
(Pattern PDF requires registration at Lion Brand Yarns website.)
MATERIALS
Yarn: Lion Brand Heartland (142 g / 5 oz., 230 m / 251 yds.)
Main Color: 3 balls, Great Smoky Mountains used in sample
Accent Color: 1 ball, Katmai used in sample
NOTE: This is different than the yarn listed in the pattern and changes the gauge and pattern instructions slightly. See below for details.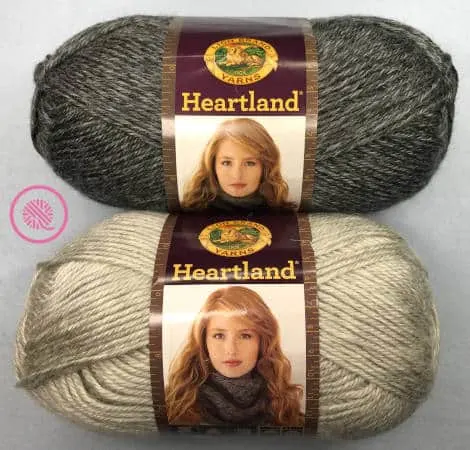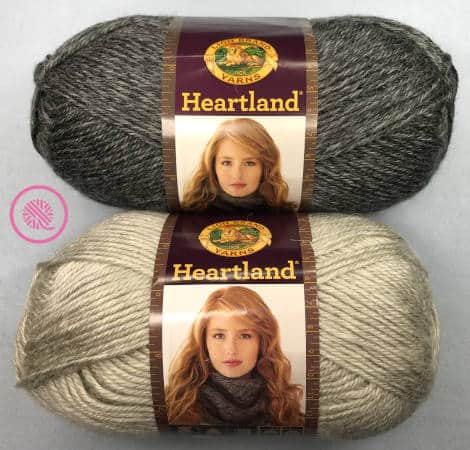 Loom: 3/8″ gauge loom with at least Martha Stewart Lion Brand Yarn Knit & Weave Loom Kit
Notions:
Stitch markers 2 locking markers and 5 other markers
Tapestry needle (for weaving in ends and seaming)
Tape measure
GAUGE
5 sts per inch (2.5 cm) in garter stitch
NOTE: This is different than the gauge listed in the pattern.
SIZE
6 months (12 months, 18 months, 24 months)
Pattern Notes for the Loom Knit Baby Sweater
GAUGE and SIZE!
There are five pieces to loom knit for this pattern: 2 fronts, 1 back and 2 sleeves. Each piece is a simple square or rectangle so there's no shoulder shaping you need to worry about. You want to make sure each piece is the correct size.
Gauge!!! Due to changing the yarn, I got a different gauge than the one listed in the pattern. This is important because if I didn't change my cast on number my pieces would not be the correct size.
I got 5 sts per inch, but I recommend you test your gauge to make sure you get a good fit. Instead of loom knitting a separate gauge swatch just begin the front of the sweater casting on the number of pegs I list below. If your gauge is correct you can just continue your sweater!
Using a 3/8″ gauge loom and Lion Brand Heartland yarn I recommend the following:
# of Pegs to Cast On
Fronts: 25 (26, 28, 30)
Back: 50 (53, 55, 60)
Sleeves: 35 (38, 40, 45)
I recommend the Double Ewrap Cast On for this pattern. You may, however, use the cast on of your choice.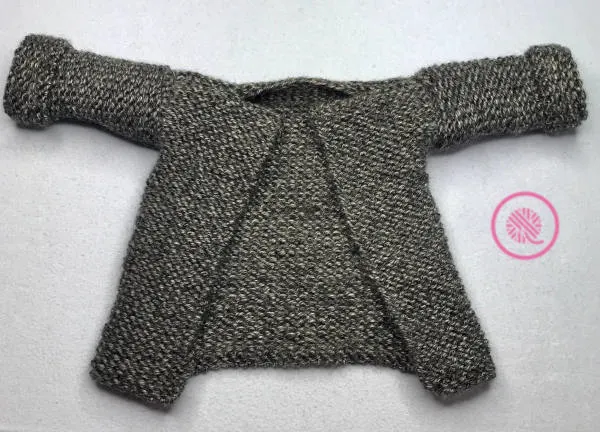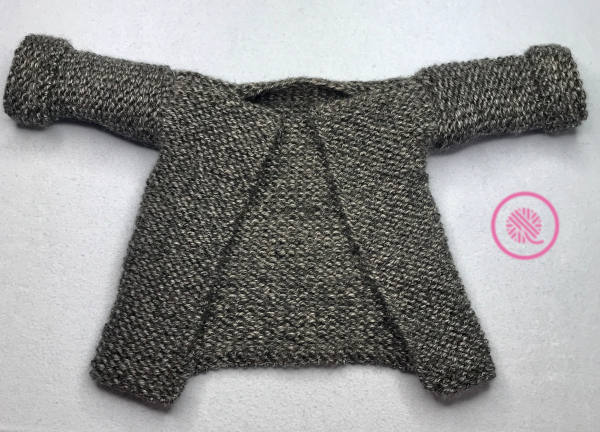 SEAMING
I know, I know! I'm talking about all the knitting topics no one likes. Gauge and seaming! They can be tricky, but I've got tips on seaming using the mattress stitch so your pieces will line up perfectly and smoothly.
Seaming Techniques:
Front to Back: Joins bind off edges of both pieces at the shoulder. Use the mattress stitch for a strong seam.
Sleeve to shoulder of sweater: Joins bind off edge of sleeve to side of shoulder. Use the mattress stitch for a strong seam.
Sides of sweater/sleeve: Joins up the side and across the bottom of the sleeve. Use the Bickford seam for a less bulky finish.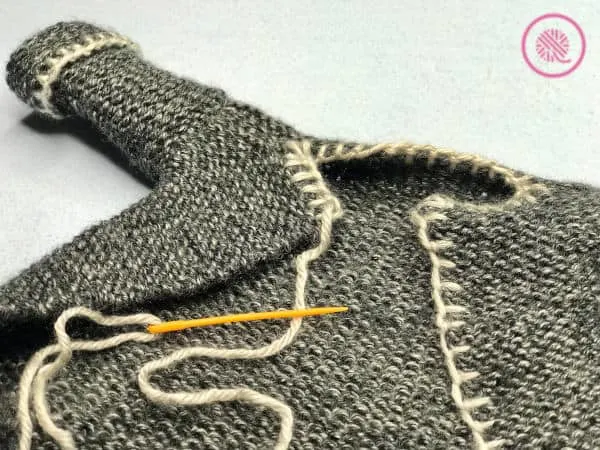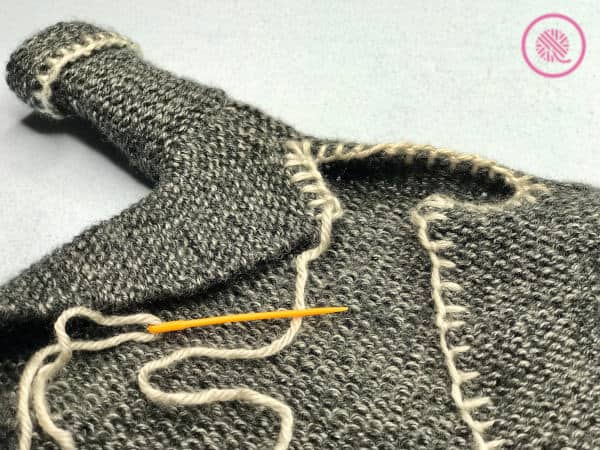 FINISHING
Topstitch the cuffs and around the front opening of the sweater in a contrasting color to finish. While you can use any embroidery technique for finishing the edges I recommend the blanket stitch. It is very simple to do and adds a beautiful smooth edging.
NOTES FOR NEEDLE KNITTERS: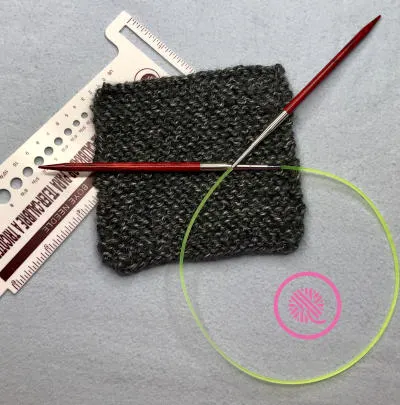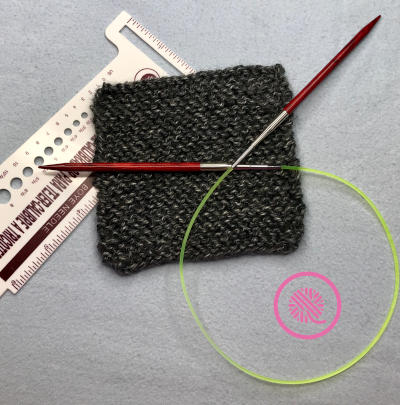 While this is a loom knit pattern, it is very simple to work on needles as well. Get the Loom Knit Baby Sweater pattern from Lion Brand to see the diagrams

NEEDLES: US 8 (5mm) needles
Knitters Pride Dreamz Interchangeable used in sample.

GAUGE: 4.5 sts and 9 rows in 1"

RECOMMENDED CAST ON:
Back 45 (47, 50, 54)
Fronts 23 (24, 25, 27)
Sleeves 32( 34, 36, 41)

INSTRUCTIONS:
Remember that on needles you need to knit every row for garter stitch. That is the only stitch used in this pattern.
---
Full Tutorial for the Loom Knit Baby Sweater: