Inside: The loom knit basic beanie full pattern with video.
Basic can mean lots of things. Easy, plain, or an outdated computer language.
But basic can also mean tried-and-true, tested and comfortable. The basic beanie pattern is your go-to hat pattern.
Need a quick gift? Basic Beanie to the rescue.
Looking to make hats for the homeless? Basic Beanie is the one.
Need a reliable pattern in multiple sizes? Yup, Basic Beanie for the win!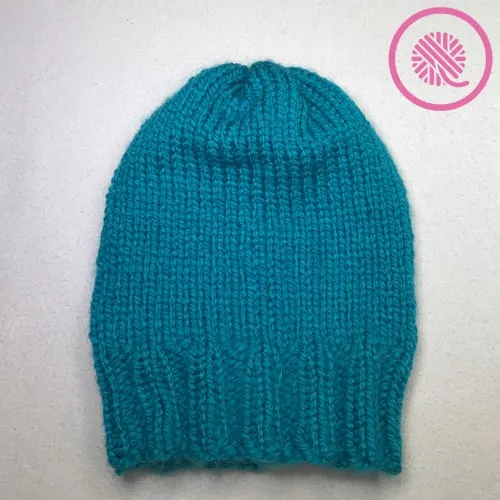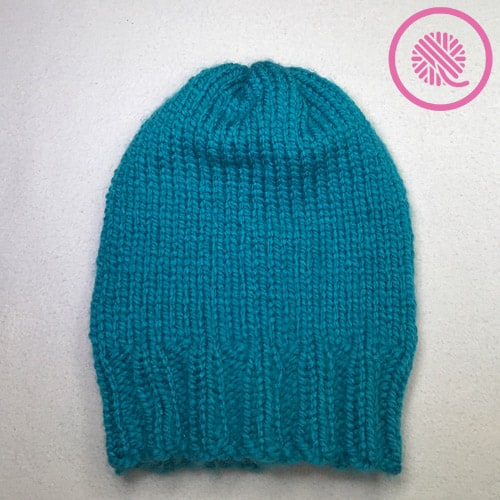 The loom knit basic beanie has all the features of an easy hat pattern.
Ribbed brim for a good fit
Bulky yarn for a quick knit
Stockinette stitch for the main part of the hat (Let's face it. Even when you know how to purl well working all knit stitches really is faster.)
Gathered (drawstring) bind off for a quick finish. (I've also included the modified gathered bind off to make the top of the hat less bulky.)
This pattern was designed just for beginners, but it's ideal for any level loom knitter.
I also decided to make this a multi-size pattern so you can use one pattern from newborn to adult woman.
Also, you won't want to miss my tips and notes. The tutorial video below is LOADED with information to not only help you make the pattern but correct some common problems that crop up when knitting in the round on a loom.
---
Loom Knit Basic Beanie
By Kristen Mangus

Cozy, warm and easy enough for a beginner to loom knit in no time. This ribbed brim beanie is worked in stockinette stitch (that's all knit stitches) for the main body of the hat and uses a modified crown to make a less bulky top. Sized to fit newborn to adult woman.

MATERIALS
Links below are affiliate links to products I used to create this pattern/video. Clicking the links costs you nothing, but helps support GoodKnit Kisses.
Yarn
Bulky #5 yarn. 22 (41, 75) yds
Loops & Threads Charisma Big (300 g / 10.5 oz, 300 m / 328 yds) in color Electric Blue used in sample.

Loom
5/8" large gauge (LG) loom with 24 (36, 48) pegs.
Suggested looms:
Knitting Board 'Premium' Chunky Round Knitting Loom 24 (36, 48 pegs); used in samples.
Kiss Looms Small Gauge Short 2-Way Adjustable Loom (set up to use 24, 36 or 48 pegs in the round) [NOTE: This loom has an adjustable gauge so you can insert 3 washers to increase the gauge to 5/8".]
CinDWood 5/8″ gauge Adult Hat Loom (24, 36 or 48 pegs)

Notions
Tapestry needle
1 Stitch marker to mark starter peg 1

ABBREVIATIONS
K = Uwrap knit
P = Purl
Rem = Remaining
Rep = Repeat
Rnd(s) = Round(s)
St(s) = Stitch(es)

If you need a refresher on any stitches or skills check out these posts:

How to Loom Knit: The Basics
How to Loom Knit: Stitch Patterns
13 Questions for Beginner Loom Knitters
GAUGE
5.75 sts x 11 rows in 2" (5 cm) in stockinette using the Uwrap knit

SKILL LEVEL
Easy

MEASUREMENTS
9 (14, 17) inches circumference [fits heads 13 (19.5, 23) inches] x 5.5 (7, 9.5) inches high
23 (36, 43) cm circumference [fits heads 33 (50, 58) cm] x 14 (18, 24) cm high.

SIZE
Newborn (6 months-5 yrs, 6 yrs-Adult Woman)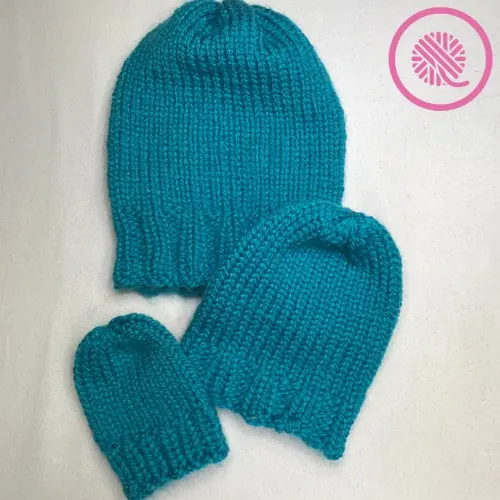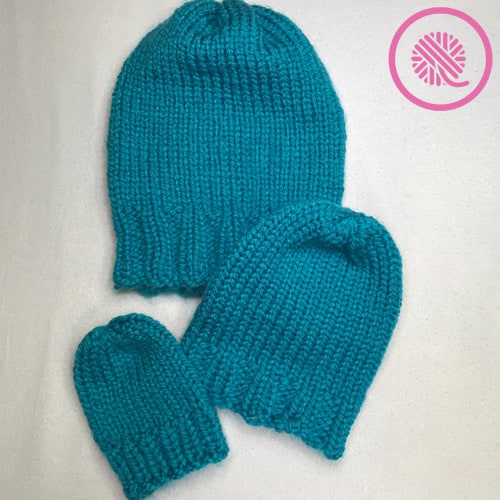 NOTES
Beanie is worked in the round. For right handed knitters work from right to left (clockwise); work in the opposite direction for left handed knitters (counter clockwise).

Cast on: I recommend the longtail cast on, but you may use another cast on method if you prefer.

Brim: Pattern is written using a 2 x 2 ribbing for brim. 1 x 1 ribbing can be substituted as follows: Rnd 1: *K1, P1 rep from * to end of rnd.

Knit stitch: I recommend using the Uwrap knit. Be sure to work loosely to achieve the correct gauge. Tight knitters may be able to use the true knit stitch. While Ewrap can be for this project it will make a looser knit and larger beanie. With the same loom and yarn I knit a gauge of 5 sts x 8 rows in 2" (5 cm) in E wrap stockinette stitch.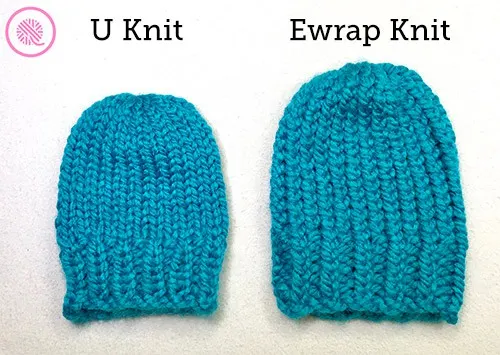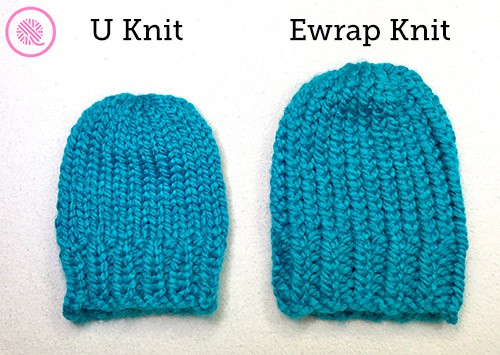 Adjustments: To change yarn or loom sizes cast on a multiple of 4 for best results. Work brim and work length of hat to desired length based on hat sizes chart below.
INSTRUCTIONS

Cast on 24, (36, 48) sts and connect in the round. Place marker on Peg 1.

Brim:
Rnd 1: *K2, P2 rep from * to end of rnd.
Rep Rnd 1 5 (5, 11) more times until piece measures about 1.5 (1.5, 2) inches [4 (4, 5) cm] or until desired length of brim.

Stockinette Stitch Pattern:
Rnd 1: K all sts.
Rep Rnd 1 until knitting measures 5.5 (7, 9.5) inches [14 (18, 24) cm].

Modified Gathered Bind-off:
ROUND 1
Step 1: Wrap working yarn around entire loom circumference one and a half times and cut yarn.
Step 2: Place working yarn below the stitch on the first peg, and pull up a loop as if to purl. Pull the yarn all the way through and take stitch off peg.
Step 3: Pass the working yarn behind the next peg and skip this peg.
Repeat Steps 2 and 3 all the way around the loom. At the end of this round every other peg will be empty. Do not fully tighten or pull the slack yet.
ROUND 2
Step 4: Place working yarn above the stitch on the first peg, and pull down a loop as if working the true knit stitch. Pull working yarn all the through and take stitch off of peg.
Step 5: Pass the working yarn behind the empty pegs and repeat Step 4 for the remaining stitches. Continue until all stitches are off the loom.

Turn knitting inside out and gently pull on working yarn to tighten the top of the hat.
Tip: It helped me to place my finger in the opening and tighten the drawstring around my fingertip as a guide while tightening. Make sure all the stitches are tightened fully before tying off.

Tie a knot and weave in ends.
---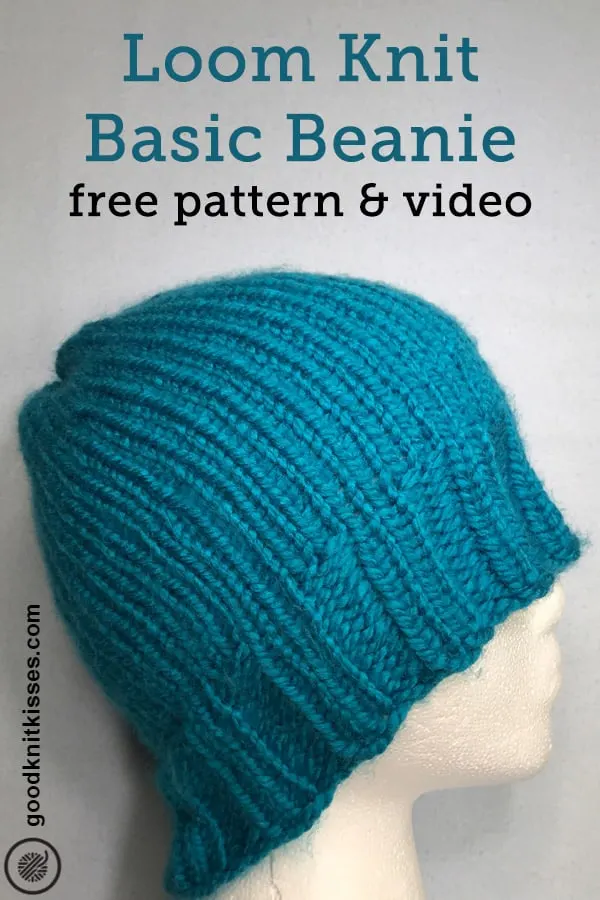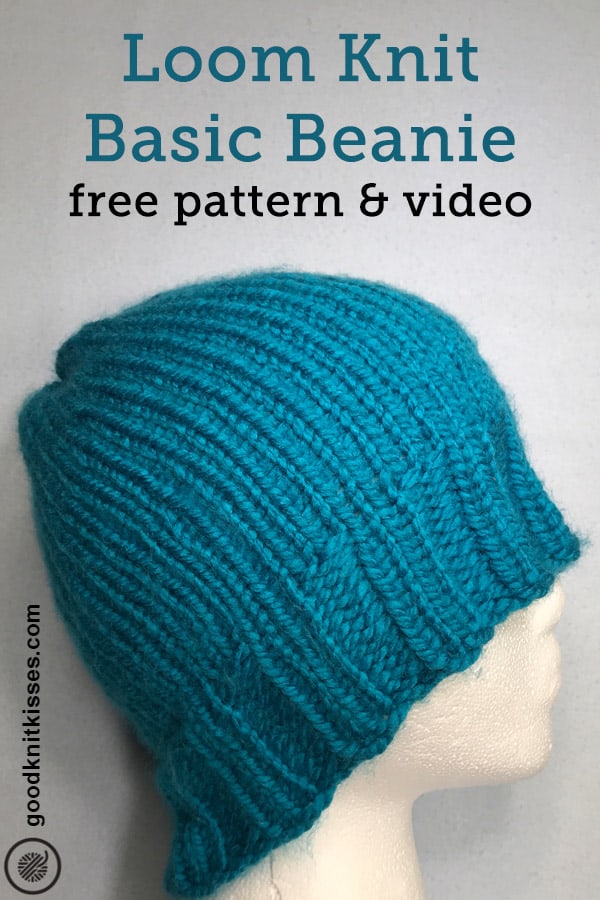 ---
Watch the full tutorial for the Loom Knit Basic Beanie: