Inside: Learn how to loom knit a hat from brim to crown! Includes sizing, brim options, cast on, stitch patterns and shaping the crown. See tutorial videos and links below.
Loom knitting a hat is often one of the first project you learn as a beginner.
When loom knitting first began to gain popularity the only looms widely available were the round Knifty Knitter style looms. Often times we made hats using a basic ewrap stitch and cinched the top to finish it off. I've even got a tutorial video below showing exactly how to loom knit a hat like that.
But we've come a long way since then with dozens of new looms in a variety of gauges on the market. We've also had many designers developing techniques and stitch patterns just for the loom.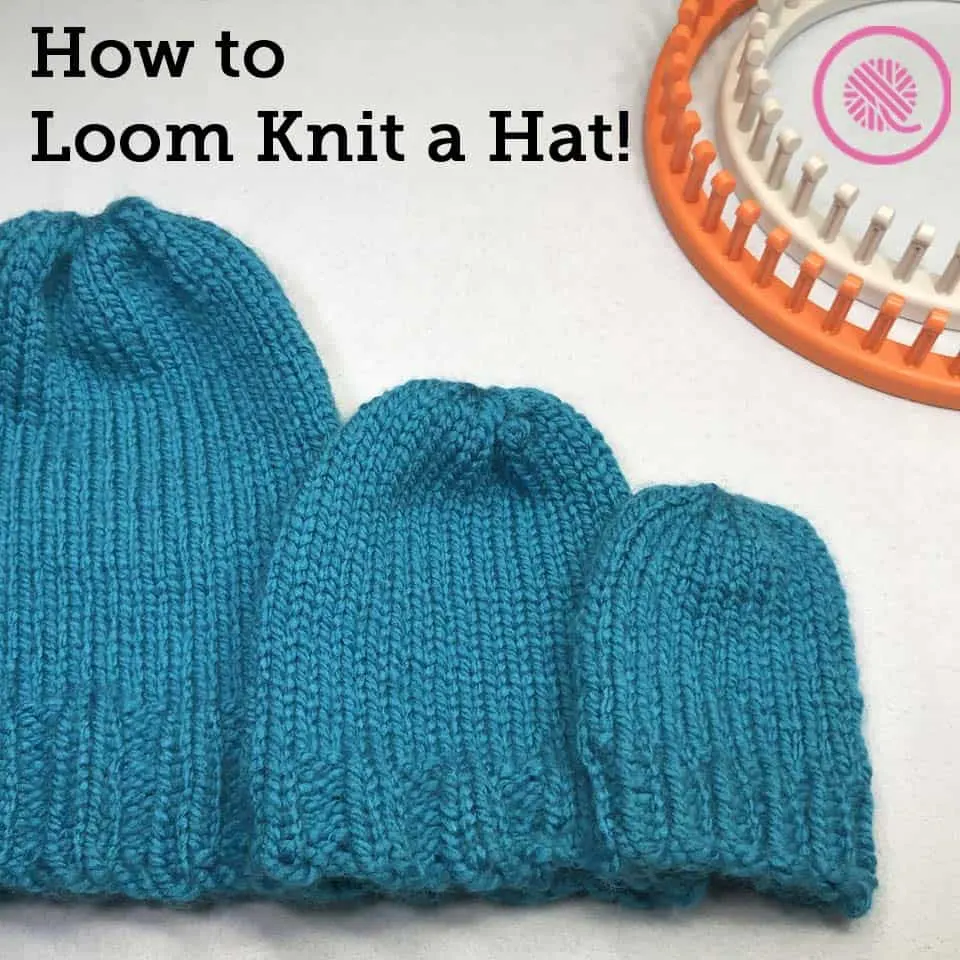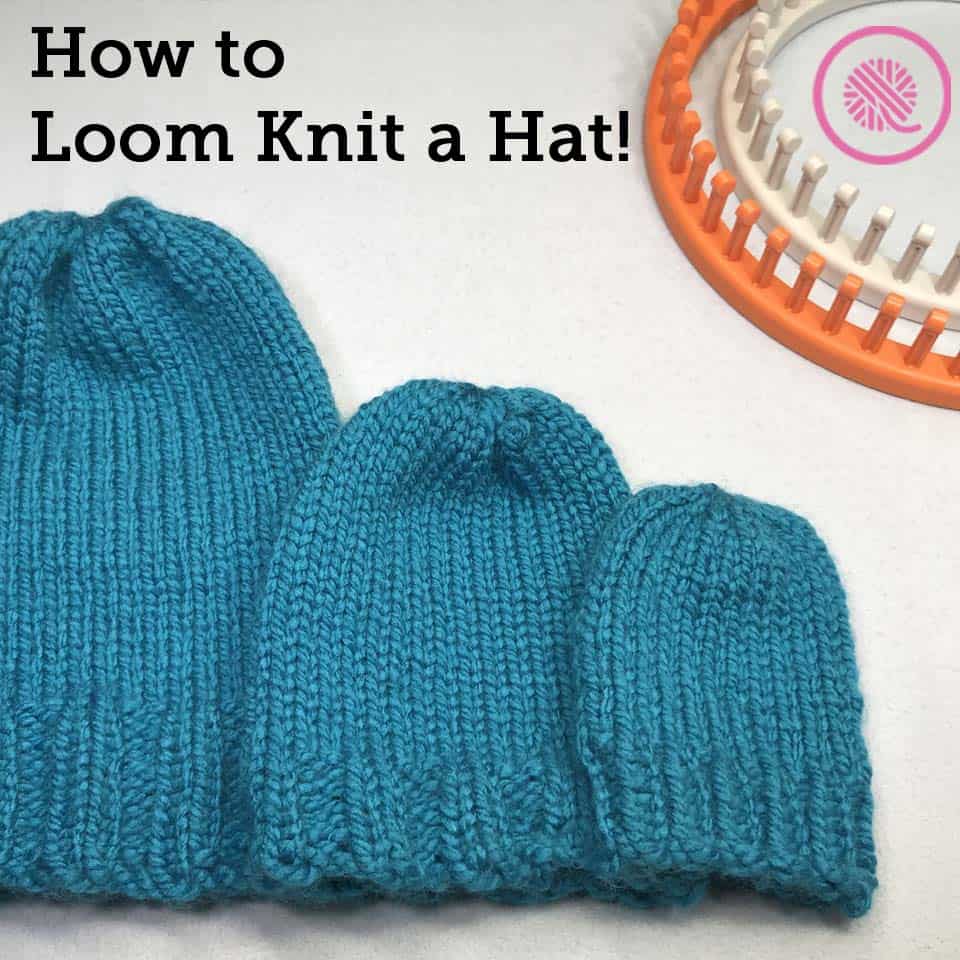 Hat Sizing
Many of the first looms on the market were designed to make hats. Each loom was designed to make a particular size. But now we have a wider variety of looms available to us.
Circular Looms: These round looms each make one size hat. Although there are now circular looms in many different loom gauges from Fine to Jumbo, the rule that each loom makes one size still applies.
Adjustable Looms: These looms allow you to change the number pegs available to loom knit in the round by using a slider, or moveable peg, to change the size. This allows you to make a variety of sizes on the same loom. They also come in several shapes: rectangle, S-curve, and X-shaped to name the most common. If you plan to use an adjustable loom I suggest using my Hat Sizes Chart to find the correct size to make. It includes measurements from Preemie to Adult.
For more information on finding just the right loom for your project, check out my Knitting Loom Guide book. It lists all the popular loom brands by size, gauge and peg count. I update the book every year to add new looms that were introduced during the year.
---
Hat Brim Options
Hat brims can vary in style and size. Many hat patterns include a few inches of ribbing as a brim to allow for a snug fit. Others allow for a longer ribbed section that is intended to fold up to create a thicker brim. I included 2″-3″ extra in the numbers below for a brim to fold up on adult hats and 1″ for baby sizes. For preemies and newborns I suggest keeping a brimless hat to allow for a gentle fit for baby.
Common suggested brims style are:
Brimless (also called rolled)
Rib or Ribbed: Stitch pattern that includes alternating series of knits and purls. Cinches up and creates a snug fit around the head.
Garter Stitch: Alternating rounds of knit and purl are worked until desired brim length is achieved
Folded: Additional length is knit at the brim edge (usually in ribbing or the main stitch pattern of the hat) and it is intended this edge will be folded up to double the thickness.
Hemmed: Made by bringing the cast on edge back up after brim length is doubled and added back onto needles/loom before continuing to work in the round. This creates a seamed brim that will not unfold.
For a refresher on loom knitting basics see the blog posts below to get started:
13 Questions for Beginner Loom Knitters
How to Loom Knit Basics
How to Loom Knit Basic Stitch Patterns
How to Loom Knit in the Round <— This lesson is essential for making a hat!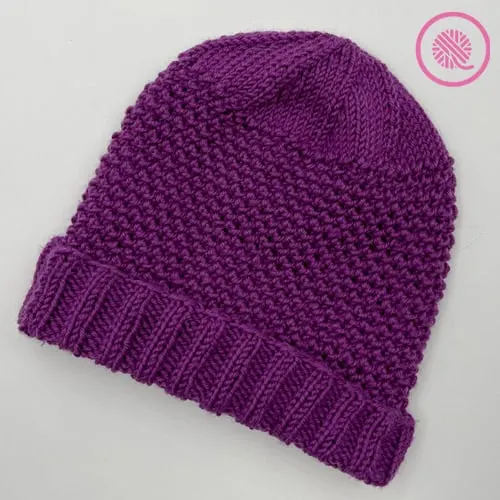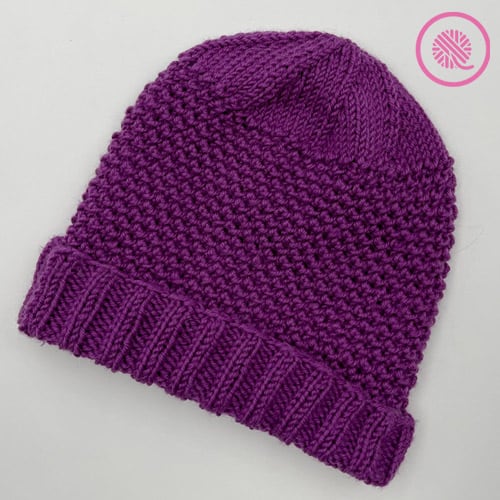 ---
Hat Crown Options
The crown refers to the top of the hat. The top of the hat can be shaped to fit snugly on the head like it does for a skull cap. It can also be bulky and bunched up with a big pom pom like we see on winter hats. The choice is often a personal preference.
Drawstring Bind Off: Traditionally, when learning to loom knit, you finish a hat by threading the end of the yarn through the stitches on your loom, pull them off and cinch it closed. This works fine on small hats, but can be a bit bulky on larger hats.
Modified Gathered Bind Off: This bind off method has you bind off half the pegs on one round and the other half on the next round. This essentially creates two layers of bind off stitches that are stacked. This bind off is less bulky than the drawstring bind off.
Decreased Crown Before Bind Off: This hat crown option is a little more advanced since it involves shaping the crown of the hat to fit the head. You decrease the number of active stitches for several rounds before you work the bind off. For example, if you are working on a 48 peg loom, you knit 2 stitches together all the way around the loom to decrease to 24 stitches. That's already half as much bulk on the top of the hat. You can repeat the process to decrease the hat crown even more before working a modified gathered bind off.
---
Hat Stitch Patterns
Hats can use almost any stitch pattern as long as the loom has the correct number of pegs to repeat the stitch pattern correctly. But there a few that are easier for beginner loom knitters.
Ewrap Stockinette: Using all ewrap knit stitches is fast. This is, by far, the fasted stitch pattern for making hats on round looms wince can quickly wrap several pegs (or even the whole loom) at once then go back and knit the stitches over. It's also the most common method for beginner loom knitters.
U wrap Stockinette: This also uses just knit stitches, but since the U wrap is worked one peg at a time it can take a little more time. The advantage to this stitch pattern is it creates a very smooth fabric if you want sew on an applique, patch or any other embellishments on the body of the hat.
Ribbed: Using ribs for the entire hat makes a super stretchy hat. This is great if you're not sure about the size. The disadvantage is that you're working every other stitch as a purl and for loom knitters that can slow us down.
---
Other Hat Options:
There are several other styles that you can add to your either while you're loom knitting it or afterwards.
Pom poms: You can add a pom pom to the top of your hat. It can be sewn on or you can make it removeable.
Visor or partial brim: Add a visor to your loom knit hat is easier than you think.
Ear flaps: These are great addition to hats for young kids when they're building a snow fort or sledding.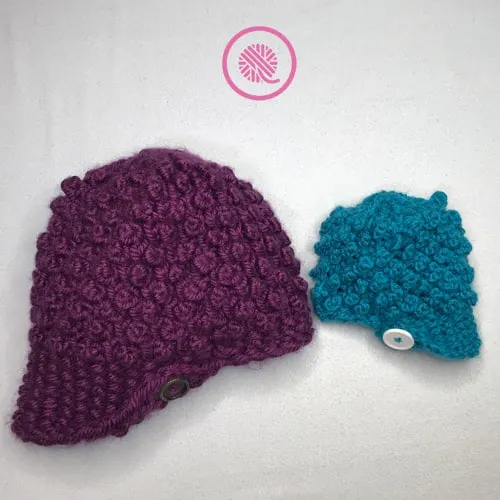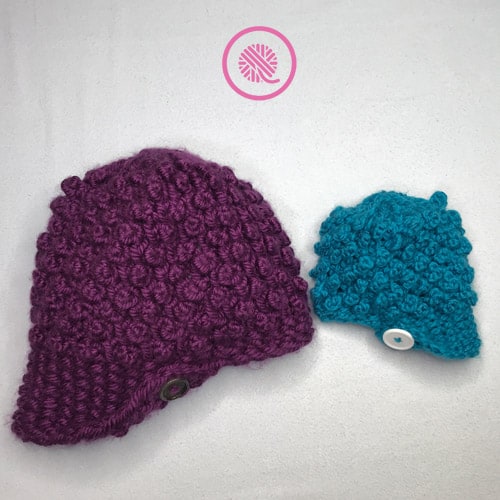 ---
How to Loom Knit a Hat: Beginner Tutorial Videos
This first video teaches the easiest hat you can loom knit. It's a brimless (or rolled brim) baby hat with a drawstring bind off. This style is ideal if you like to make hats to donate to your local NICU. You can also use this method for making larger hats on the bigger round looms. The instructions are the same.
Tutorial 1:
Tutorial 2
This next video is part of my How to Loom Knit for Beginners video series. This is still a beginner hat, but does use a bit more technique. It has a ribbed brim, stockinette body and uses the modified gathered bind off. This Basic Beanie pattern has sizes listed for the whole family.
---
Other helpful videos on the GoodKnit Kisses YouTube channel related to loom knit hats.
Banded Beanie
Part 1: Banded Beanie with Decreased Crown
Part 2: Banded Beanie with Decreased Crown
Part 3: Banded Beanie with Decreased Crown
GoodKnitKisses Vlog talk on decrease crowns
Infant Hat Loom Decrease Crown 24 Peg Round Loom Loom a Hat
Youth Hat Loom Decrease Crown 30 or 31 Peg Round Loom or Child beanie Loom a Hat
Adult Hat Loom Decrease Crown 36 Peg Round Loom with CC Loom a hat
PART 1 Decrease Crown 48 Peg Round Purple Knifty Knitter loom sm gauge Adult
PART 2 Transfer 48 peg Decrease Crown to 24 peg Round Knifty Knitter Loom
How to Loom Knit: Visor for Newsboy Hat 48 peg loom Loom a Hat
Loom Knit: Earflaps Part 1 Start Earflaps
Loom Knit: Earflaps Part 2 Join Earflaps to hat
Formulas Ear flaps, Visor Brims & Decreased crowns on knitting loom
Earflap Talk on Knitting Loom: 24 peg blue circle loom Knifty Knitter
Loom Knit Basics: Weave in extra yarn tail
Finish and Weave in drawstring of hat