STEP IT UP LOOM KNIT SHAWL
By Kristen Mangus
The Step It Up Loom Knit Shawl is a beautiful crescent shape that drapes easily around the neck. The long, sawtooth edge is an eye-catching design feature that you'll love. The striping? Don't worry the yarn takes care of that for you. Using Caron Cakes, long-color changing yarn, the striping happens naturally while you knit a simple 10 row repeat.
This pattern is a conversion of the needle knit Step It Up Knit Shawl. You will need a small gauge (SG) loom with at least 114 pegs. I've listed recommendations below.
This isn't your typical wide triangle shawl but you can make this shawl wider and longer than the pattern here just by continuing the repeat until you reach your desired size. Just make sure your loom has enough pegs to accommodate the larger size.
PIN IT!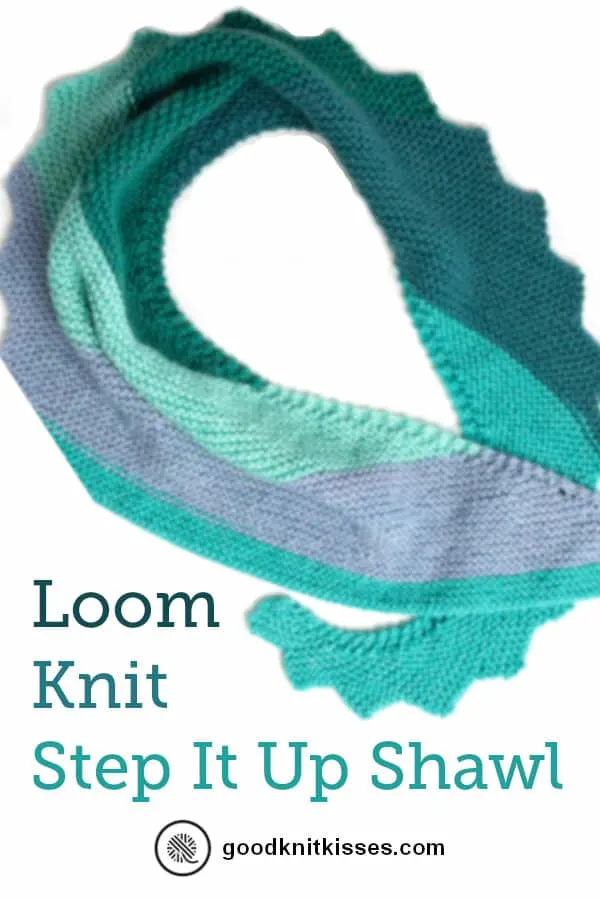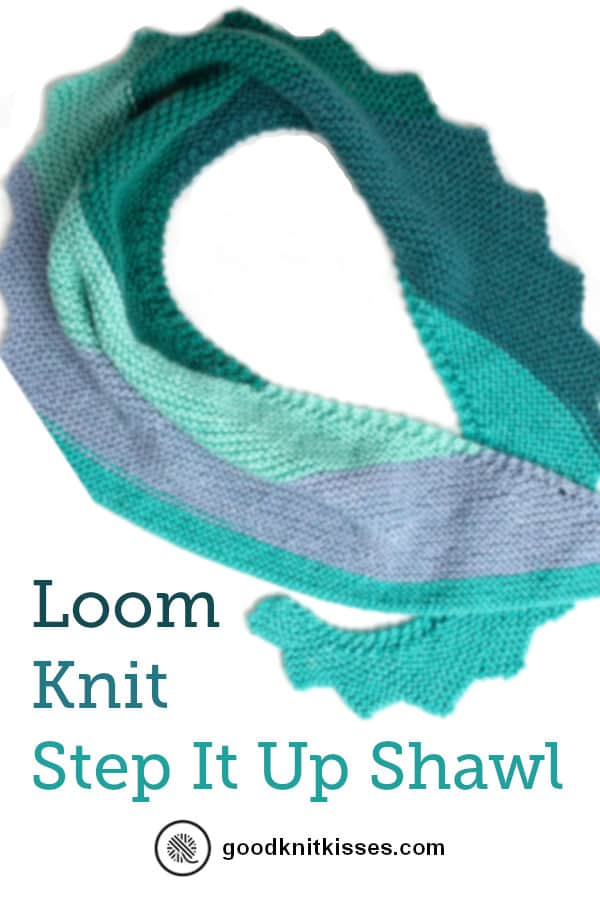 MATERIALS
Yarn – Caron® Cakes™ color Blueberry Shortcake (affiliate link); 1 cake or more if longer shawl desired (383 yds / 350 m / 7.1 oz / 200 g). Bernat Pop (affiliate link) or another long color change cake yarn can be substituted.
Loom – ⅜" Small Gauge (SG) with at least 114 pegs in the round. Knitting Board All in One loom (affiliate link) with 20 peg extenders used in test sample. (Knitting Board 28" loom with peg extenders (affiliate link) could also be used.)
2 stitch markers (optional)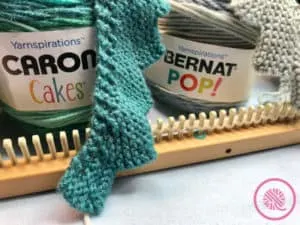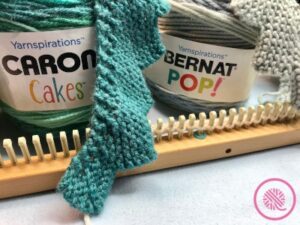 ABBREVIATIONS
Approx = Approximately
K = Knit (Uwrap or Ewrap)
P = Purl
SMD = Stitch Marker on decrease edge
SMI = Stitch Marker on increase edge
St(s) = Stitch(es)
YO = Yarn Over
GAUGE 8 sts x 18 rows in 2" stockinette stitch
SKILL LEVEL Easy
MEASUREMENTS
Approx. 62″ [158 cm] long x 15″ [38 cm] at deepest point
NOTES
A crescent-shaped shawl gradually gets wider and longer as you knit. Every row increases by one stitch. Over the 10 row repeat you add 10 stitches. At the end of the pattern repeat you will bind off 6 of those stitches to create the "step", or sawtooth edge. Over each pattern repeat your number of stitches increases by a total of 4 (10 increases and 6 stitches bound off). This series of increasing on one end and binding off on the other is what creates the crescent shape.
It also means that your shawl "walks" around the loom. On the increase side you will be adding one peg to your shawl each row. While on the sawtooth edge every tenth row you will bind off so that edge will shorten. This causes the shawl to constantly move around the loom as you work each repeat. It's also the reason why you need to have a loom with enough pegs set up to work in the round.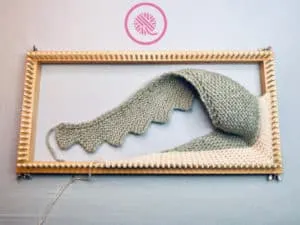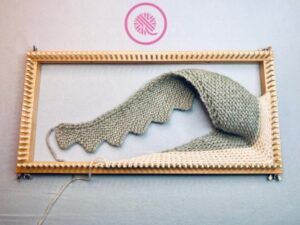 To keep track of each repeat without having to count rows try this trick. After Row 10 place SMD on the 6th peg from the end of the row of the sawtooth edge. Now place SMI on end peg on the increase edge (the edge with the yarnovers). You are ready to bind off when there are 9 new stitches to after the SMI marker. You will have completed Row 9. On next row bind off all stitches up to and including the one with the SMD. You will bind off 6 stitches. Finish row 10 then move your stitch markers on each side and repeat the process.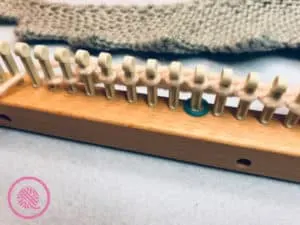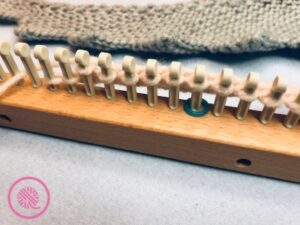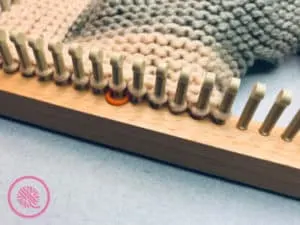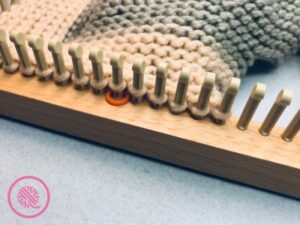 This pattern is very versatile. Use fewer repeats to make a shorter neck scarf, use more to make a longer wrap. If you want to make a larger shawl you can easily calculate how many more pegs you will need. The written pattern below uses 26 pattern repeats and 113 pegs. For each additional repeat you will need to have 4 more pegs. The All in One with the 20-peg extenders will allow a maximum of 34 repeats. The KB 28" loom with peg extenders allows for a maximum of 39 repeats.
You can also work the shawl to use exactly one full Caron Cake. To make sure that you leave enough yarn to bind off measure 3 times the length of your current row. This will ensure that you will enough yarn to bind off.
Loom Knit Shawl INSTRUCTIONS
Beginning Section
Cast on 3 sts.
1st row: K2. YO. K1. (4 sts)
2nd row: P2. YO. P2. (5 sts)
3rd row: K2. YO. Knit to end of row. (6 sts)
4th row: Purl to last 2 sts. YO. P2. (7 sts)
5th to 10th rows: As 3rd and 4th rows 3 times more. (13 sts)
11th row: As 3rd row. (14 sts)
12th row: Bind off 6 sts purlwise (purl stitches instead of knitting when binding off). Purl to last 2 sts. YO. P2. (9 sts)
Pattern Repeat:
1st row: K2. YO. Knit to end of row.
2nd row: Purl to last 2 sts. YO. P2.
3rd to 8th rows: As 1st and 2nd rows 3 times more.
9th row: As 1st row.
10th row: Bind off 6 sts purlwise. Purl to last 2 sts. YO. P2.
These 10 rows form the pattern repeat.
Continue repeating these 10 rows 25 more times, or until you reach your desired length, ending on a knit row.
Bind off purlwise.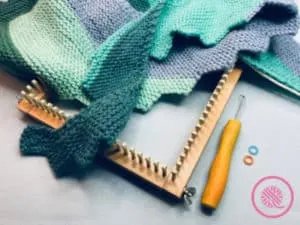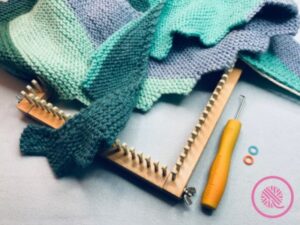 ---
Step It Up Loom Knit Shawl Tutorial Video:
Tutorial for Left-handed Loom Knitters: